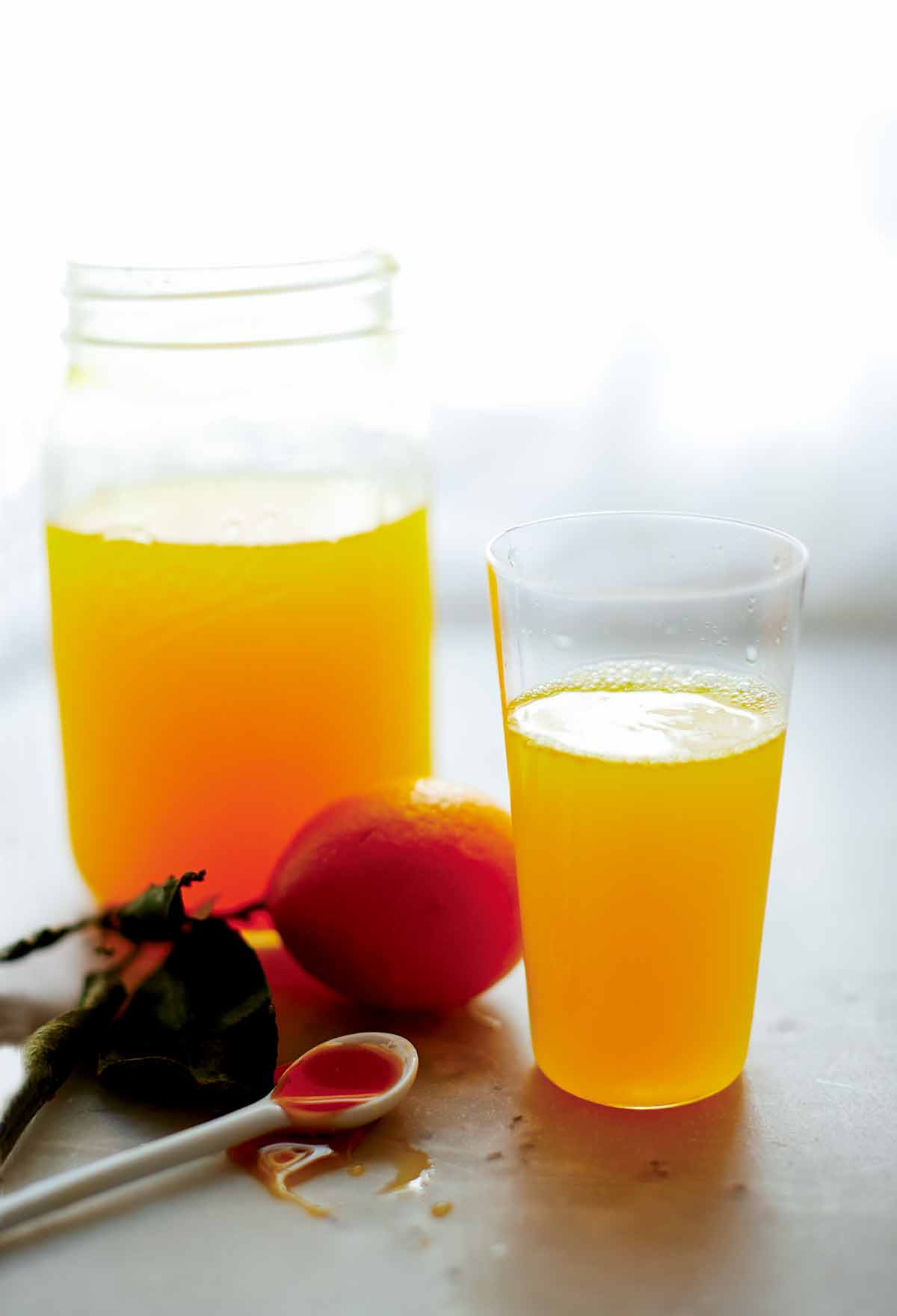 We'll discuss turmeric lemonade in a moment. Before that, we're curious to know, you've heard the hoopla about turmeric, yes?
Turmeric has been revered in Ayurvedic medicine for literally thousands of years for its balancing and purifying qualities and has only recently become the darling of contemporary health gurus for its anti-inflammatory, antibacterial, and antioxidant properties and the boatload of ways in which it boosts immunity and well-being. But the reason turmeric rocks our world? It's "uniquely earthy, tropical flavor," as author Amy Chaplin describes it. We're partial to the taste of fresh turmeric as opposed to the dried powdery stuff in spice jars that've probably been sitting on the store shelf for lord knows how many years. The fresh root sorta resembles fresh ginger root—which makes sense since both are rhizomes—but is smaller in stature and has an almost neon orange cast to it. You'll find it in well-stocked health-food stores as well as most Indian markets and some Asian grocery stores.
This potent concoction, which is subtly earthy and spicy and sweet, is used in Ayurvedic medicine and can be served room temperature or chilled during summer and warm come winter.–Renee Schettler
How To Store Fresh Turmeric Root
In case you end up with a little fresh turmeric root left over from the turmeric lemonade recipe, simply wrap it in a clean, dry paper towel and tuck it inside a small resealable plastic bag but do not close the bag. Stash the bag in the fridge and use within a week or two.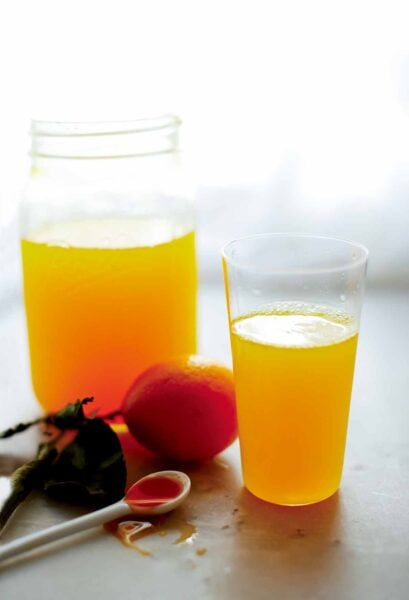 Turmeric Lemonade
I love the clean flavor of this turmeric lemonade, as well as the natural anti-inflammatory properties it has. Drink up!
Ingredients
2

tablespoons

unpeeled finely grated fresh turmeric root

,

(or substitute 1/2 to 1 teaspoon ground turmeric found in the spice aisle of your grocery store)

1

teaspoon

finely grated fresh ginger

3

cups

boiling filtered water

1

tiny pinch

sea salt

2

tablespoons

raw honey

,

plus more to taste

1/4

cup plus 2 tablespoons

fresh lemon juice

,

plus more to taste

1/4

cup

fresh orange juice

,

plus more to taste
Instructions
Place the turmeric and ginger in a heatproof jar or pot, add the boiling water and salt, and let steep, uncovered, for 10 minutes.

Add the honey to the turmeric and ginger mixture and stir until it's dissolved. Strain the mixture into another jar or pitcher and let it cool to room temperature.

Stir in the lemon and orange juices. Take a sip and adjust the amount of honey and lemon juice and orange juice to taste. Serve the turmeric lemonade at room temperature or place it in the fridge to chill before serving, or serve it hot by pouring 1/2 cup in a mug and topping it off with boiling water. The turmeric lemonade will keep in the fridge in a jar or other closed container for up to a week.
Nutrition
Serving:
1
glass
Calories:
55
kcal
Carbohydrates:
14
g
Protein:
0.5
g
Fat:
0.4
g
Saturated Fat:
0.1
g
Polyunsaturated Fat:
0.1
g
Monounsaturated Fat:
0.1
g
Sodium:
108
mg
Potassium:
143
mg
Fiber:
1
g
Sugar:
10
g
Vitamin A:
32
IU
Vitamin C:
15
mg
Calcium:
15
mg
Iron:
2
mg
Nutrition information is automatically calculated, so should only be used as an approximation.
Recipe © 2014 Amy Chaplin. Photo © 2014 Johnny Miller. All rights reserved.
---
Recipe Testers' Reviews
I love this take on lemonade—not too sweet, not too acidic, and layered with flavor. I was drawn to the ingredients. I'm always enticed by fresh turmeric but always walk past it in the Indian grocers. Every time I've used turmeric it's been dried and buried in a recipe with a hundred other ingredients. I was excited to see it shine on its own. Turmeric is the main player here, followed by citrus. The ginger lingers in the background as a subtle spiciness after each sip. This is a versatile drink that plays well hot or cold and could just as easily be the base to a great cocktail. I can easily envision this as part of my regular rotation! I think this a really nice drink and I would serve it iced and throw in a little chiffonade of fresh mint and basil for color and brightness. I wouldn't mind a touch more acidity.
This has a very nice, refreshing, gentle taste. I tried it hot and at room temperature. Will definitely be making more of this during the winter. To my taste, it needed a little more honey (but no more than another tablespoon). As for the summer, perhaps adding a berry will make it summery.
With a strong, medicinal flavor and a brilliant, golden orange color, this drink is intense! Earthy and spicy, you will feel like you are doing your body a favor by sipping on this fresh mix. Of all the suggested serving temperatures I tried, I preferred to sip it warm or at room temperature. There is a natural warming element to both turmeric and ginger that, for me, seems lost when served cold. This recipe comes together incredibly quickly–in under 10 minutes hands-on time. The slowest part is waiting for the drink to cool to room temperature. A fat 2-inch piece yielded the required 2 tablespoons grated turmeric. And warning, if you have never worked with turmeric before, it stains! Your hands. Your dish towels. Possibly your counter, dependent on the material. Be advised. I will definitely make this again. Next time, I will play with increasing the honey and orange juice. The ginger, lemon, and turmeric flavors are so strong, the sweeter ingredients get lost. I'm curious how a sweet boost would alter the overall profile of this already yummy drink.