This vegan miso soup is so lovely no one will ever notice the difference between it and classic Japanese miso soup made with dashi.
This vegan miso soup recipe casts Japanese tradition aside by not relying on dashi as its base. (Dashi is a seaweed broth enriched with bonito, which is a form of dried, fermented tuna with a stench that's exactly like you would expect but a taste that's fairly mild.) Instead this miso soup draws its subtle flavors from gently sautéed ginger, garlic, and scallions. It's so lovely, we dare say no one will notice the difference.–Renee Schettler Rossi
Soup For Breakfast
"If you've never had soup for breakfast, you should try treating yourself with a bowl of hot miso soup." says author Dunja Gulin. It's true. Miso soup—or, in this case, vegan miso soup—is traditionally served in Japan first thing in the morning along with rice and pickled vegetables. Next time you're bored with cold cereal, consider miso soup. Of course, this recipe is also lovely for supper. Feel free to add some soba or udon noodles for substance.
Vegan Miso Soup
Quick Glance
45 M
45 M

Serves 2
Print Recipe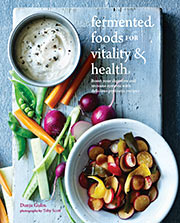 Ingredients
2 rounded tablespoons (.085 ounce or 2 1/2 grams) dried wakame (seaweed)

1/2 cup (120 ml) cold water

1-inch (2-centimeter) piece ginger, peeled

4 scallions

2/3 cup (110 grams) fresh tofu

2 tablespoons untoasted sesame oil

4 garlic cloves, crushed

2 cups (480 ml) hot water

1 to 2 tablespoons miso*

2 tablespoons flat-leaf parsley or cilantro leaves, chopped (optional)

Freshly squeezed juice of 1/2 lemon
Directions
1. Toss the wakame in a small bowl, add the cold water, and let soak until softened. Drain the seaweed, reserving the water, and cut the wakame into small pieces. Finely mince half of the ginger and finely grate the other half. Chop the scallions. Cut the tofu into small cubes.

2. In a skillet over medium heat, sauté the white part of the scallions for 1 minute in the sesame oil, then add the garlic and minced ginger. Sauté a little longer, just until softened, about 2 minutes. Add the hot water, tofu, and wakame and cover. Bring to a boil, then lower the heat and simmer for 4 minutes. Remove from the heat.

3. Pour approximately 1/4 cup (60 milliliters) hot water into a small bowl. Add the miso, grab a fork, and stir really well, until the miso is completely dissolved. Pour the miso mixture into the soup, cover, and let sit for 2 to 3 minutes.

4. Take the grated ginger in your hand and squeeze it to release the juice directly into the hot soup. (Toss the remaining ginger pulp in the compost or pour hot water over it and let it steep for a cup of soothing tea.) Add the chopped scallion greens, parsley or cilantro, and lemon juice and serve immediately.
*What Kind Of Miso To Use In Soup
There are numerous types of miso in supermarkets and any of them can be stirred into miso soup. If you're new to miso, keep in mind that the darker the color, the more intense the taste. Hatcho (soy) miso is of high quality but has a strong taste. Try 1/2 tablespoon soy miso with 1/2 tablespoon barley miso to get all the benefits of both kinds of soy paste. In warmer weather, you may want to substitute darker miso pastes with the milder sweet white miso.
Vegan Miso Soup Recipe © 2015 Dunja Gulin. Photo © 2015 Ryland Peters & Small. All rights reserved. All recipes and photos used with permission of the publisher.
If you make this recipe, snap a photo and hashtag it #LeitesCulinaria. We'd love to see your creations on Instagram, Facebook, and Twitter.