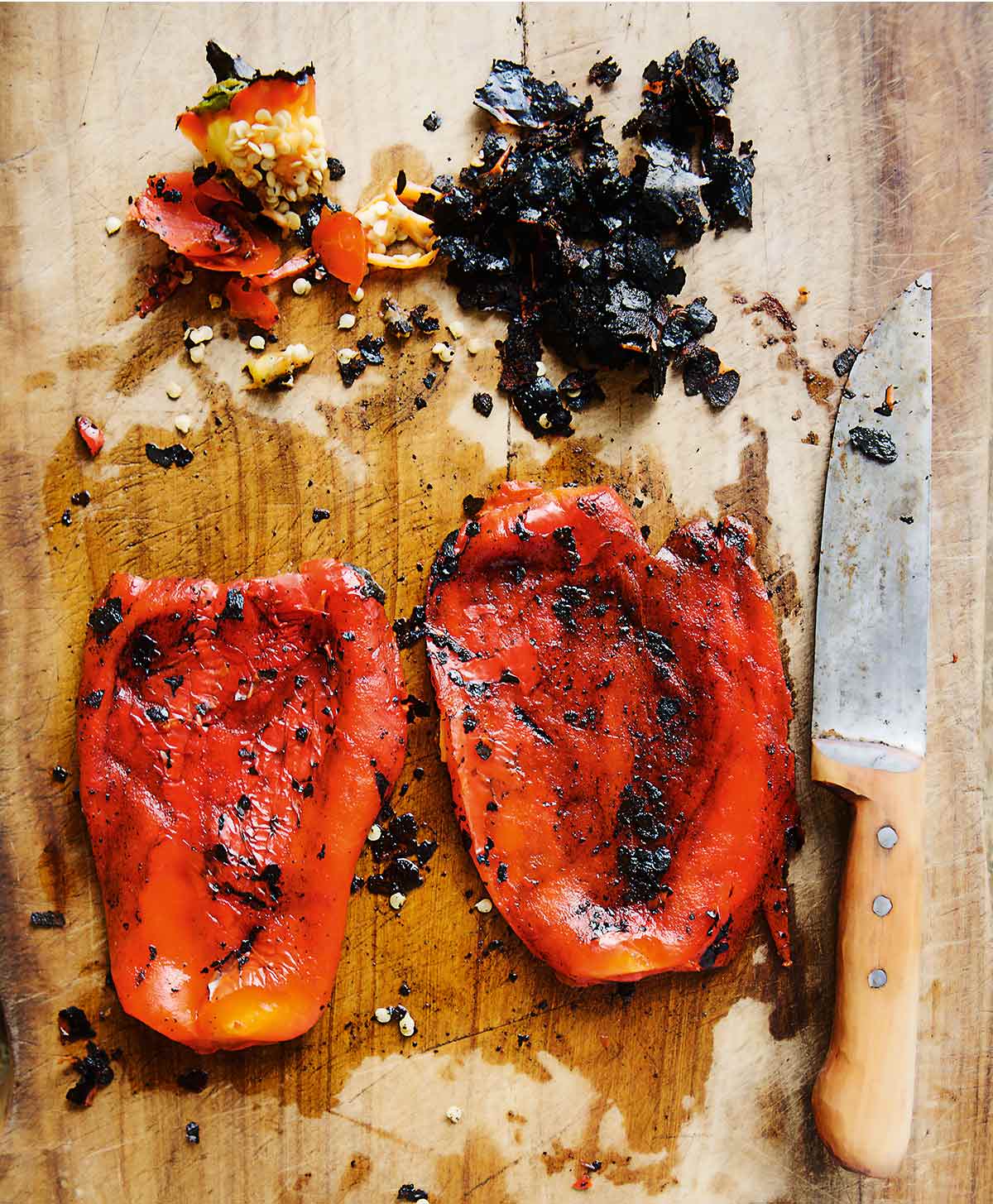 Knowing how to roast bell peppers is an indispensable life lesson. Sort of like learning to tie your shoelaces and remembering to say please and thank you. You can roast bell peppers on the grill, on the stovetop, or in the oven. It's up to you. The results are always the same—and are something you're going to find indispensable in everyday cooking. Here's how to make them.–Colman Andrews
How to Roast Bell Peppers
Knowing how to roast bell peppers on the grill, in the oven, or on the stovetop is gonna up your everyday cooking game. It'll also put you in touch with your inner nonna. Here's how to make yourself some roasted bell peppers.
Equipment
Long-handled tongs (optional)
Ingredients
Bell peppers* (any color)

Olive oil (optional)
Instructions
Preheat a grill or a gas stovetop burner on high.

If using a grill, toss the bell peppers on the grill rack, directly over the heat, and cook, turning frequently with tongs, until blistered and blackened on all sides. If using a gas stovetop burner, roast a single bell pepper at a time by grasping it with tongs and holding it over the flames of a gas burner turned on high, turning occasionally, until blistered and blackened on all sides. If using a broiler, adjust the oven rack so the bell peppers are a few inches from the heating element and cook, turning frequently with tongs, until blistered and blackened on all sides.

Toss the charred bell peppers in a brown paper grocery bag and tightly close the bag by rolling the top over several times or dump the charred bell peppers in a bowl and cover tightly with plastic wrap. Let the bell peppers steam for about 10 minutes.

Grab a paring knife and halve each bell pepper lengthwise. Cut out the stem, seeds, and ribs and dump them in the compost. Place the bell pepper, interior side down, on a cutting board and flatten the bell pepper with the palm of your hand. Pull the charred peel off with your fingers, using a sharp knife to scrape or to cut off patches that don't readily come off. You want to leave some bits of black on for flavor.

Use the peppers immediately or store them in a plastic container, refrigerated, for up to 1 week. If desired, you can pack the roasted bell peppers in olive oil to cover.
Notes
*Can I use this method on other peppers?
It turns out that you can. And pretty easily, too. You'll have to make adjustments to the timing for smaller or more thin-skinned varieties but any pepper with benefit from a smoky, roasted flavor. And speaking of thin-skinned peppers, you might find that those varieties don't even need to be peeled. Use your own judgement but you'll likely find that some smaller ones are tender enough to leave as-is.
Nutrition
Serving:
0.25
pepper
Calories:
13
kcal
Carbohydrates:
2
g
Protein:
1
g
Fat:
1
g
Saturated Fat:
1
g
Polyunsaturated Fat:
1
g
Sodium:
2
mg
Potassium:
87
mg
Fiber:
1
g
Sugar:
2
g
Vitamin A:
1284
IU
Vitamin C:
52
mg
Calcium:
3
mg
Iron:
1
mg
Nutrition information is automatically calculated, so should only be used as an approximation.
Recipe © 2016 Colman Andrews. All rights reserved.
---
[recipe-testers-choice]