Most people are potato crazed; I am polenta crazed. I remember once eating soft polenta with roast pork at Chef Gualtiero Marchesi's three-star Michelin restaurant in Milan, Italy, in the early 1990s, and when we asked for seconds, they brought the pot from the kitchen, and scooped the golden polenta straight onto our plates.
Polenta is cornmeal cooked with liquid–usually water or stock–until it thickens. A careful cook stirs it with a wooden spoon, never altering the direction of the stir. Soft polenta has the consistency of hot cereal, while firm polenta, which is cooked with less liquid, cools to form a firm, sliceable block. In Italy, firm polenta is traditionally sliced with a length of taut string. Both types of polenta can be sautéed, grilled, baked, or fried, and served as a side dish or as part of a main course. I like to serve it as an amuse with a tumble of earthy mushrooms cooked with shallots until softened. When you select polenta meal for this recipe, try to buy a good imported brand. If you cannot find it, substitute stone-ground domestic cornmeal. Try not to buy instant polenta, which never quite achieves the desired consistency.–Rick Tramonto with Mary Goodbody
WHAT ARE FOREST MUSHROOMS?
This recipe calls for a mix of wild and exotic mushrooms, and if you wanted to sub your personal favorites in place of any of them, we wouldn't tell. The polenta is ready to make best friends with any variety of 'shroom you care to mention–chicken of the woods, hen of the woods, morels, oyster, honey, lion's mane, chanterelles, lobster, and black trumpet–are some of the more common ones you'll find. But like we said, use whatever tickles your fancy.
Soft Polenta with Forest Mushrooms
Soft polenta is as versatile as mashed potatoes–mix it with cheese, mushrooms, vegetables, even lobster. The key is to add enough butter so that it's irresistibly rich.
Ingredients
1/2

cup

polenta meal or cornmeal

2 1/2

cups

heavy cream

2

tablespoons

grapeseed oil

1/4

cup

chopped shiitake mushrooms

1/4

cup

chopped black trumpet or chanterelle mushrooms

1/4

cup

chopped oyster mushrooms

2

garlic cloves

,

finely chopped

2

shallots

,

finely chopped

1

bay leaf

3

tablespoons

dry white wine

Salt and freshly ground black pepper

3

tablespoons

grated Parmigiano-Reggiano cheese

,

or more

2

tablespoons (1 oz)

unsalted butter
Instructions
Put the polenta meal and cream in a large saucepan and bring to a boil over medium-high heat. Reduce the heat to low and simmer for 45 minutes, stirring occasionally to prevent the bottom from burning.

Heat the oil in a large sauté pan over medium-high heat. When the oil is hot, add the mushrooms and sauté for 10 to 15 minutes or until the mushrooms are browned and softened. Add the garlic, shallots, and bay leaf and cook for an additional 3 minutes or until the garlic and shallots are softened. Add the white wine while stirring the bottom of the pan with a wooden spoon to dissolve any browned solids into the liquid.

Remove from the heat, remove and discard the bay leaf, and season to taste with salt and pepper. Cover to keep warm.

Add the cheese and butter to the warm polenta. Stir until the butter melts and the cheese is incorporated. Taste and add more cheese, if desired.

To serve, arrange a mound of polenta on a small plate or in small bowls. Top with some of the mixed mushroom sauté. Repeat to make 5 to 9 more servings.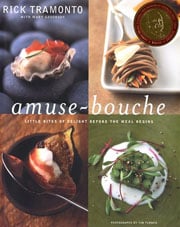 Nutrition
Serving:
1
serving
Calories:
496
kcal
Carbohydrates:
15
g
Protein:
5
g
Fat:
47
g
Saturated Fat:
26
g
Polyunsaturated Fat:
5
g
Monounsaturated Fat:
13
g
Trans Fat:
1
g
Cholesterol:
148
mg
Sodium:
82
mg
Potassium:
213
mg
Fiber:
2
g
Sugar:
1
g
Vitamin A:
1597
IU
Vitamin C:
2
mg
Calcium:
102
mg
Iron:
1
mg
Nutrition information is automatically calculated, so should only be used as an approximation.
Recipe © 2002 Rick Tramonto. Photo © 2002 Tim Turner. All rights reserved.
---
Recipe Testers' Reviews
We unexpectedly found fresh wild chanterelles at a market recently and I just knew I had to make them with polenta. This recipe really showcased the wild mushrooms (we also used hen-of-the-woods) yet the creamy polenta refused to fade from the spotlight. It was luxuriant, rich, decadent, smooth, and positively irresistible.
The added Parmesan really didn't hurt, either. Cream, butter, and cheese—not the healthiest ingredients out there, especially as they were in profusion here, but it was healthy for my soul. And the mushrooms! They were simply sautéed, mixed with shallots and garlic and bay leaves, and deglazed with white wine. This is restaurant-quality food. It looked like it, too.
I served it with simple steamed broccoli so at least I could feel satisfied that it was, after all, a little healthier. Or so I convinced myself…Today's lunch was leftover creamy cheesy polenta (alas, the mushrooms were all eaten, but it was all I wanted). And it satisfied.
I keep cornmeal in my pantry for two staples—cornbread and polenta. And with a lot of lovely shiitake mushrooms on hand from our CSA this week, this recipe was a no-brainer. Who can resist a creamy base of cheesy polenta topped with a fragrant mushroom ragout? (I do have to confess though, that I did 1 1/4 cups of heavy cream in the polenta pot mixed with 1 1/4 cups of water instead of solely using heavy cream. I like to combine water with milk, half and half or cream here; I think it cooks better and doesn't stick to the pan and the end result seems to be a better texture.) That said, my only suggestion for this recipe would be to swap in a dry Marsala wine for the white wine if you have it. The combo of Marsala and mushrooms is such a wonderful one in my book. Red wine would also work well if that is what you have open at home.
Cooking time for the polenta over low heat was just about 40 minutes; I whisked it just about every 2 or 3 minutes each time I saw big bubbles forming. My mushrooms in Step 2 only took 10 minutes soften; 3 minutes after that with the garlic, shallots and bay leaf was right on. After I added in my wine/Marsala, I cooked it (stirring with a wooden spoon to remove any stuck bits) for 5 minutes over medium-low heat. I seasoned the mushroom mixture with 1/2 teaspoon of salt and a big grinding (1/4 teaspoon) of black pepper.
Even though you are adding cheese to the cooked polenta, I recommend adding about 1/4 teaspoon of salt into the cream/liquid mixture while cooking the polenta itself. I like to season as I go along! Such a dreamy side dish overall–I served ours with some snipped fresh chives on top for color.