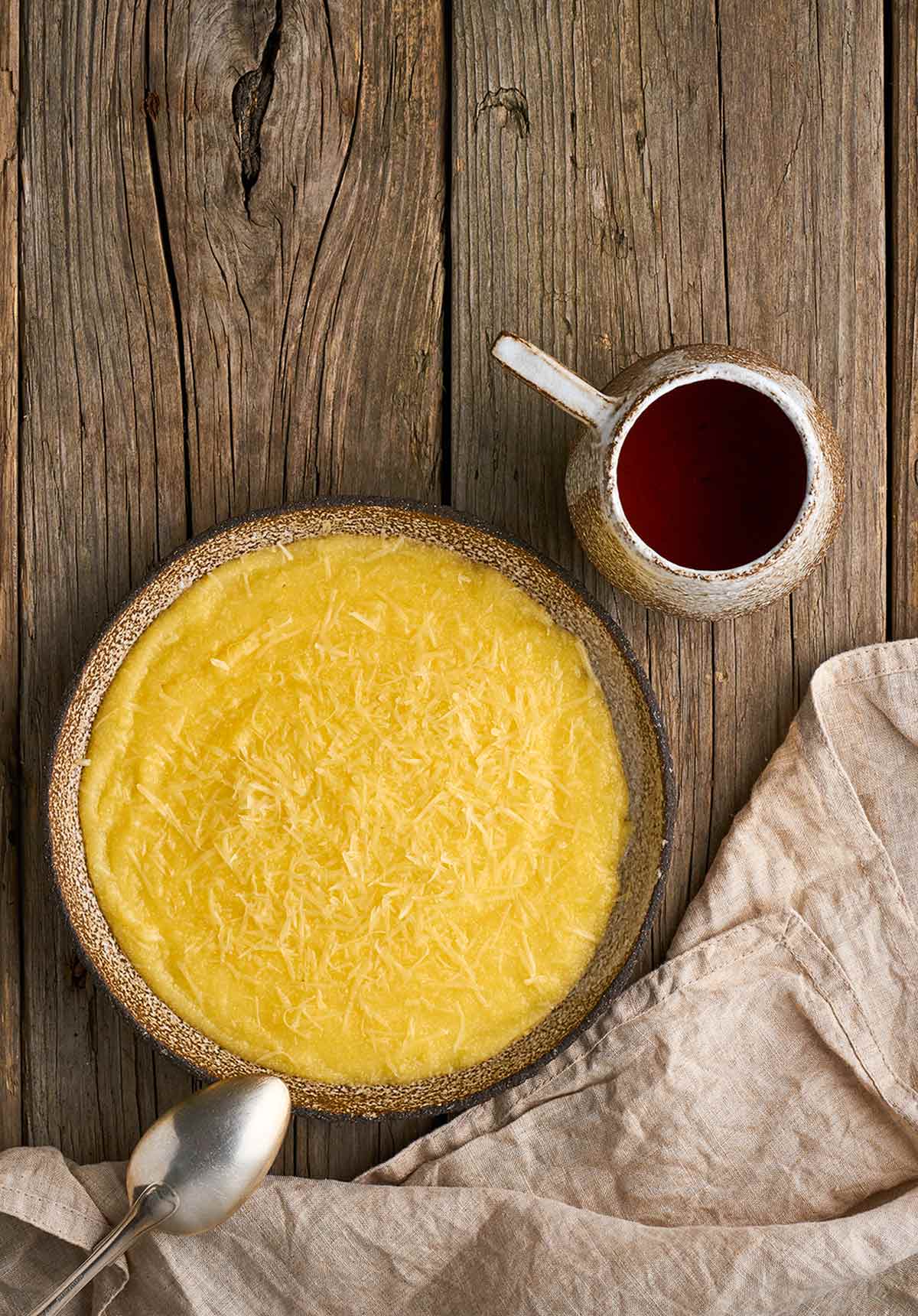 …hard surface, allowed to become firm, then cut into squares. These pieces have endless uses, especially for antipasti. Whether fried or sautéed in olive oil, or brushed with olive oil and grilled, they become crostini di polenta, delicious crunchy "toasts." Note that polenta must be made from polenta cornmeal. Cooked ground corn used for corn bread will not result in an edible cornmeal porridge.–Julia della Croce
What is polenta, exactly?
Polenta, a Northern Italian dish made from coarsely ground yellow corn, is marvelously versatile and delicious. A classic preparation of polenta requires just a few basic on-hand ingredients, like water or stock, butter, salt, and pepper. Similar to grits in both taste and preparation, polenta instead comes from stone-ground, dried yellow corn. Some recipes call for cornmeal, but not polenta specifically—when shopping for it, look for packages that are clearly labelled "polenta" cornmeal. It's not as finely ground and has a better texture for serving as a side dish.
☞ Like polenta recipes? Try these: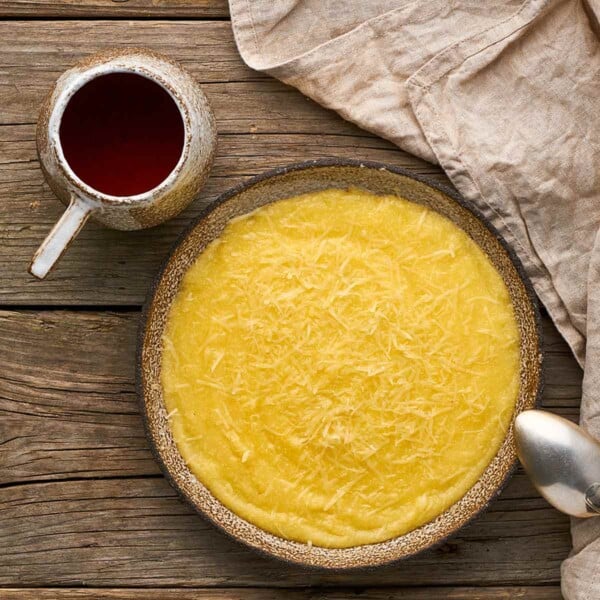 Basic Polenta
Basic polenta is a traditional Northern Italian dish that is the basis for a multitude of dishes. Served soft or firm, it's incredibly comforting, filling, and pretty easy to prepare.
Ingredients
7

cups

water

1

tablespoon

kosher salt

2

cups

polenta cornmeal

Boiling water

,

as needed

Grated Parmesan cheese

,

optional
Instructions
Bring the water to a boil in a deep pot. Add the salt and bring the heat down to medium. Add the cornmeal very slowly, almost in a trickle or, as the Italians say, a doccia, "like a shower." This gradual introduction of cornmeal to the boiling water prevents lumps from forming.

Keep the polenta at a constant simmer and, from the instant the cornmeal is added to the water, continuously stir it with a long-handled wooden spoon or whisk, always in the same direction. After all the cornmeal is absorbed, continue to stir until the polenta is thick and pulls away easily from the sides of the pan. If the polenta is quite thick but still not pulling, add a little more boiling water and continue to stir until it is ready. It should be thick, creamy, and perfectly cooked in 25 to 30 minutes.

If serving the polenta loose as-is, pour the hot polenta onto a platter at once, dress according to your recipe, sprinkle with Parmesan, if desired, and serve. If making polenta crostini, pour the hot polenta out onto a clean oiled work surface or rimmed baking sheet. Using a rubber spatula, spread it to a thickness of 1/4 inch. Allow it to set. If desired, refrigerate overnight. Then cut into shapes and grill or fry or bake, as preferred.
Nutrition
Serving:
1
serving
Calories:
147
kcal
Carbohydrates:
32
g
Protein:
3
g
Fat:
1
g
Saturated Fat:
1
g
Sodium:
431
mg
Potassium:
54
mg
Fiber:
1
g
Sugar:
1
g
Vitamin A:
85
IU
Calcium:
7
mg
Iron:
1
mg
Nutrition information is automatically calculated, so should only be used as an approximation.
Recipe © 2010 Julia della Croce. Photo © 2021 Nata Bene. All rights reserved.
---
Recipe Testers' Reviews
Not only was this polenta easy to make, but it tasted wonderful. The toughest part was making sure my toddler wouldn't steal bites, as I needed it to finish the recipe! She absolutely loved it plain.
I was disappointed, at first, to see that the liquid called for in this recipe was water. I've always favored polenta recipes that use stock or milk, so I didn't think this would be any good made with water. I was wrong. For what it is, and for what it's going to be used for, it's spot-on.
I was amused that the directions advise you to stir "always in the same direction." It reminded me of when I was helping friends prepare dinner. I was asked to stir the risotto when my friend went to get something. She came back, and was upset that I was stirring in a figure-eight motion. She explained that Bugialli says that you always stir in the same direction because if you don't, it confuses the risotto. Well, I didn't want the polenta to be confused, so I stirred in one direction. (Note: It's nice to have someone to help, since you're supposed to "continuously stir" for 25 to 30 minutes.)
The polenta set up beautifully, and was easy to cut and assemble. It's nice, and rustic, and I can see using it in other ways. I'm looking forward to making a mushroom sauce to serve over it.