Kimchi tacos. Believe it. They're simply bulgogi tacos (that is, Korean-style beef tacos made with short ribs) smothered with kimchi and Korean taco sauce. And they taste just like something you'd get from the most incredible taco truck ever. Includes a vegetarian kimchi taco variation.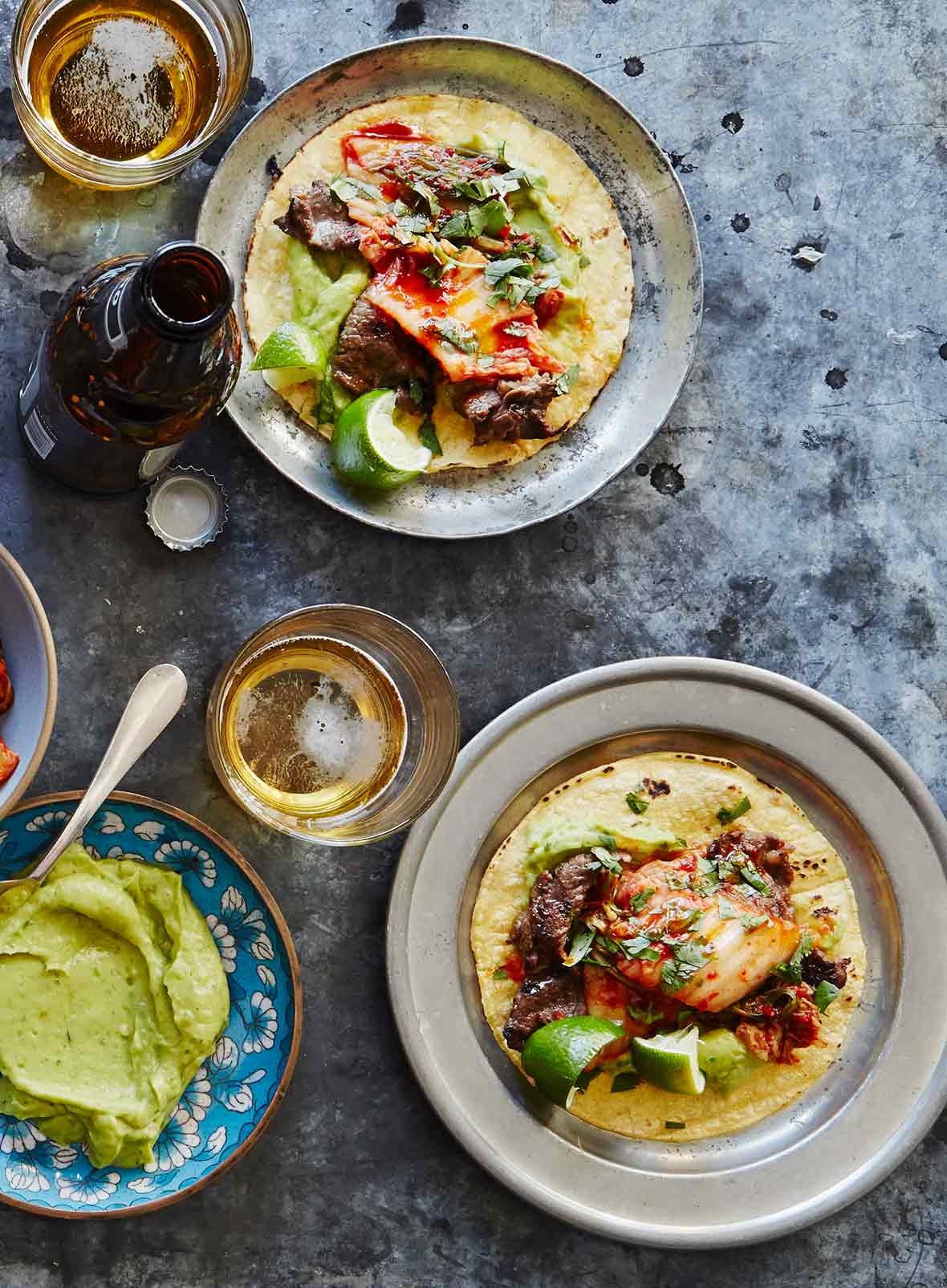 Kimchi tacos. Yep. You heard right. Taco night will never be the same after you've noshed on these spicy, saucy, fusion cuisine tacos. Tender beef short ribs are marinated bulgogi-style, grilled to perfection, tucked into corn tortillas, and smothered with kimchi as well as a spicy Korean taco sauce along with all your fave taco fixings. Almost as incredible as the taste of these Korean beef tacos is the fact that it's incredibly easy to prep all the components in advance, so when hunger (or guests) strike, everything is ready and waiting. All you have to do is grill the meat at the last moment, let folks assemble their tacos, and accept accolades. Need we say more?–Angie Zoobkoff
HOW TO BUY SHORT RIBS FOR THESE KIMCHI TACOS
Many Korean markets sell a LA Galbi cut. It's a thinly sliced short rib that's cut across the bone. If you don't have access to this cut, buy boneless short ribs and then slice them 1/4-inch thick. (If you toss the boneless short ribs in the freezer for 30 minutes before slicing, they'll be much easier to slice.)
Kimchi Tacos
Quick Glance
30 M
1 D

Serves 3 to 4
Print Recipe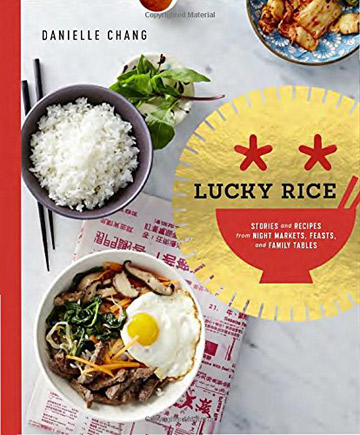 Ingredients
For the bulgogi (marinated short ribs)

1 medium yellow onion, quartered (about 200 g)

6 to 8 garlic cloves (about 40 g)

A 1-inch knob fresh ginger, smashed (about 30 g)

1/2 cup (99 g) granulated sugar

1 teaspoon (5 g) freshly ground black pepper

1/2 cup (118 ml) soy sauce

1 medium pear, preferably an Asian pear, quartered (about 175 g)

1/2 cup (118 ml) mirin or other rice-based wine

1 pound (454 g) beef short ribs, cut LA Galbi–style*, deboned

For the Korean taco sauce

2 tablespoons (13 g) granulated sugar

1/4 cup (60 ml) store-bought or homemade gochujang (Korean chile paste)

1/4 cup (60 ml) soy sauce

1 tablespoon (15 ml) Asian sesame oil

2 teaspoons (10 ml) rice vinegar

Vegetable oil, for the grill

For the kimchi tacos assembly

8 corn tortilas

2 cups (300 g) store-bought or homemade kimchi

Chopped fresh cilantro leaves, for serving

Lime wedges, for serving

Guacamole, for serving (optional)
Directions
Make the bulgogi (marinated short ribs)

1. In a blender, purée the onion, garlic, ginger, sugar, black pepper, soy sauce, pear, and mirin until smooth.

2. Place the meat in a large resealable plastic bag. Pour the puréed marinade into the bag, squeeze out as much air as you can, seal the bag, and massage the marinade into the meat. (You may not need all the marinade to coat the short ribs. You can reserve the unused marinade for use on chicken or tacos.) Toss the bag of short ribs in the refrigerator and leave it overnight.

Make the Korean taco sauce

3. In a small bowl, stir together the sugar, gochujang chile paste, soy sauce, sesame oil, and rice vinegar together in a small bowl.

Grill the bulgogi (marinated short ribs)

4. Heat a charcoal or gas grill to medium-high and oil the grate. Sear the beef 2 to 5 minutes on each side for medium-rare (about 130°F or 54°C), and then let it rest on a cooling rack placed over a plate for at least 5 minutes. Cut the meat diagonally across the grain into slices about 1/2 inch (1 cm) thick.

Assemble the kimchi tacos

5. Heat the tortillas by wrapping them in a clean damp towel and microwaving them for 30 seconds or by giving them a quick turn on the grill, about 30 seconds per side.

6. Divvy the grilled short ribs among the warmed tortillas. Top with the kimchi, Korean taco sauce, chopped cilantro, a squeeze of lime, and guacamole, if desired. Devour immediately.
HOW TO MAKE VEGETARIAN KIMCHI TACOS VARIATION
These kimchi tacos taste equally spectacular when you marinate tofu in place of the bulgogi or marinated short ribs. (Well, okay, ALMOST equally spectacular.) Simply follow the above directions substituting 1 pound firm tofu, pressed and thickly sliced, for the short ribs.
Kimchi Tacos Recipe © 2016 Danielle Chang. Photo © 2016 Christina Holmes. All rights reserved. All recipes and photos used with permission of the publisher.
If you make this recipe, snap a photo and hashtag it #LeitesCulinaria. We'd love to see your creations on Instagram, Facebook, and Twitter.