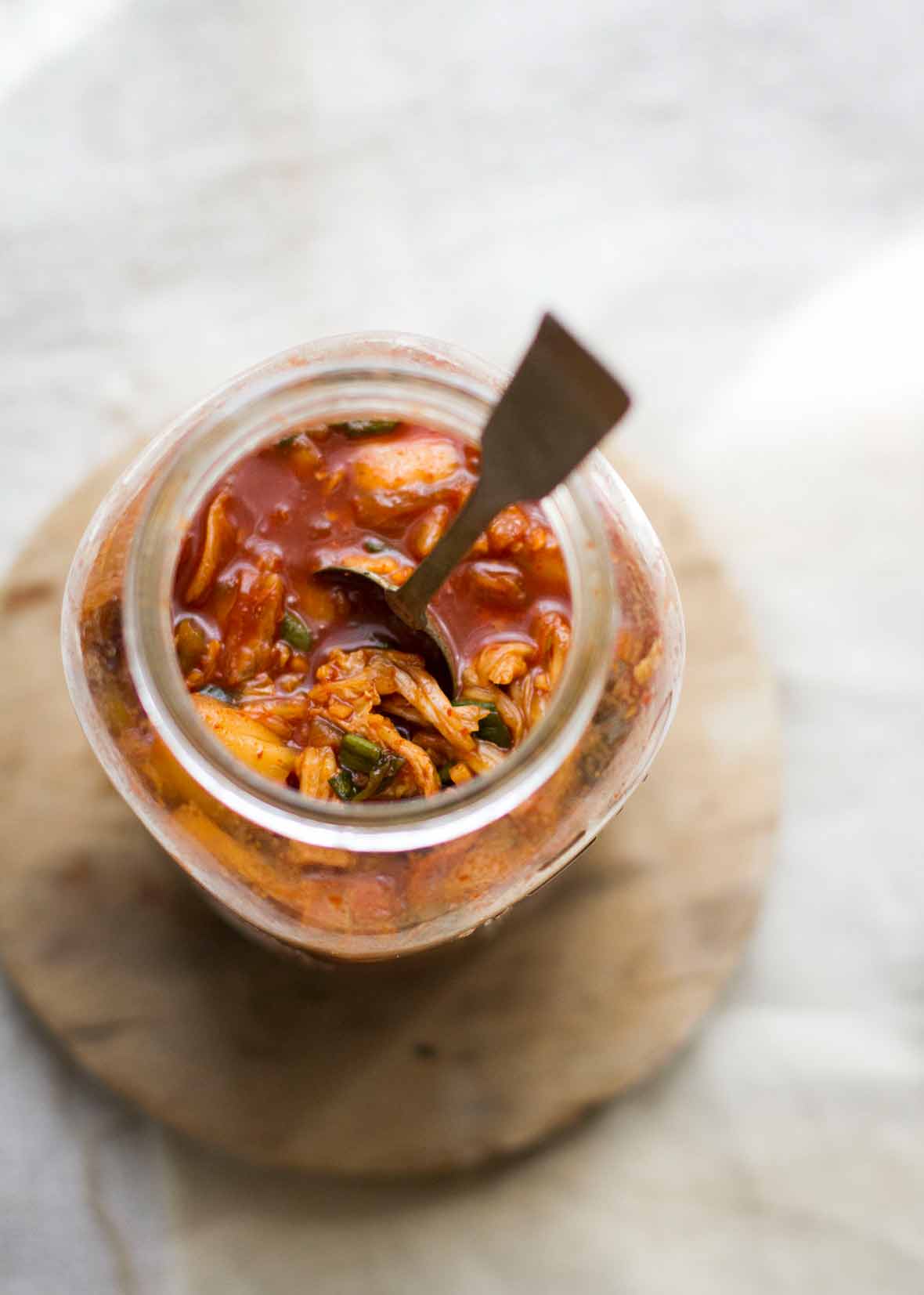 Though this Korean kimchi recipe tastes authentic as heck, it actually comes to us by way of a chef whose Canadian by birth and a Southerner by choice. The acclaimed Hugh Acheson considers kimchi an integral part of his Southern restaurant kitchens, where this recipe is stirred into rice grits as a funky spicy soulful foundation for crisped pork belly. When asked about the collision of cultures on a plate, Acheson explains his kimchi is "an ode to the modern proliferation of Asian cultures in the South." We're with Hugh.
Although we're not so certain we're still with him when he waxes poetic about the aroma of kimchi in the making. "My kitchen at home is very scented with fermenting kimchi," he writes in his blog. "My wife, she doesn't really get into the smell, but I find it strangely calming." Consider yourself warned.–David Leite
Classic Cabbage Kimchi
This kimchi, made with traditional ingredients including Napa cabbage, Korean chile powder, garlic, ginger, sugar, fish sauce, and scallions, is a classic Korean condiment that's mind-blowingly versatile.
Ingredients
2

large heads (5 lbs)

Napa cabbage

4

tablespoons

kosher salt

2

tablespoons

light brown sugar

1/3

cup

minced garlic

1/3

cup

minced ginger

1/4

cup

hot smoked paprika (pimentón)

1/4

cup

Korean chile powder

,

(often labeled kochukaru or or gochugaru or Korean red pepper powder)

1

tablespoon

crushed red pepper flakes

2

tablespoons

fresh lime juice

,

(from 1 lime)

1/2

cup

fish sauce

1/2

cup

salted, fermented shrimp

,

finely chopped (sometimes labeled "brined shrimp," these tiny, sea monkey-like shellfish are found in jars at Asian markets)

2

bunches

scallions

,

white and green parts, cut into 1/2-inch (12-mm) pieces
Instructions
Rinse the cabbages and then quarter each head lengthwise. Sprinkle 1 tablespoon salt over the quarters, place them in a large pot or bucket, and set aside for 1 hour.

Rinse the cabbage under cold running water and then pat it dry. Cut the cabbage into 1-inch chunks, toss them back in the large bowl or bucket, and toss with the remaining 3 tablespoons salt. Let sit for 2 hours. The salt will draw out quite a lot of moisture from the cabbage.

Drain off the accumulated liquid and lightly rinse the cabbage. In a large bowl, combine the cabbage with all the remaining ingredients and toss well.

Transfer the mixture to a large crock or other container with a lid, cover it, and store it in a cool, dark place for 3 days to ferment and mature.

Once the kimchi is tasting all kinds of yummy, transfer it to jars (quart-size jars work nicely but suit yourself), cap them, and store them in the fridge for up to 2 weeks. Kindly bear in mind that the kimchi will get funkier and stinkier as time goes on—and yes, that means it will be more inclined to transfer its smell to other items in the fridge with each day.)
Notes
What You Need To Know About How To Use Kimchi
Tasting is believing. And believe we do, both in kimchi and it's insane versatility. Witness the below ways we prefer to take our kimchi…
Stir it into some steamed white rice (and, even better, plop a fried egg atop the rice and dribble with sesame oil)
Tuck it into grilled cheese sandwiches, quesadillas, even tacos Mix it into Thanksgiving stuffing or dressing
Plop it atop burgers, pulled pork sandwiches, or hot dogs
Fry with day-old rice and leftover veggies and meat (try Spam, if you dare) Toss it with popcorn
Use it to stuff dumplings or pierogis
Scramble it with eggs or tuck it in an omelet
Stir it into butter
Purée it and add it to a Bloody Mary or michelada (yowza!)
Nutrition
Serving:
0.25
cup
Calories:
18
kcal
Carbohydrates:
4
g
Protein:
1
g
Fat:
0.4
g
Saturated Fat:
0.1
g
Polyunsaturated Fat:
0.2
g
Monounsaturated Fat:
0.1
g
Sodium:
799
mg
Potassium:
170
mg
Fiber:
1
g
Sugar:
1
g
Vitamin A:
853
IU
Vitamin C:
13
mg
Calcium:
47
mg
Iron:
1
mg
Nutrition information is automatically calculated, so should only be used as an approximation.
Recipe © 2014 Hugh Acheson. Photo © 2014 Rinne Allen. All rights reserved.
---
Recipe Testers' Reviews
This is a simple, easy-to-follow kimchi recipe that's near perfection. The balance of salty, sweet, and sour were perfect, a difficult thing to do, and the only off note was the level of heat. After 4 days in the crock, the resulting kimchi hits almost all the right notes for salty, sweet, sour, and spicy. It was just a little too hot. Several of my tasters said that it was the closest homemade kimchi to what they had eaten in restaurants or purchased in jars.
I would suggest that it is worth the effort to source out the traditional Korean chile powder and dried shrimp, as this is what will make or break your kimchi. To get the ingredients, I went to an Asian market a couple of towns over to make sure I had the proper ingredients. I found the brined shrimp easily enough but had some difficulty locating the kochukaru. The gentleman in the store pointed me to the shelf of chile pastes and powders. I had to ask again to find what I was looking for and had to rely on the store personnel, as all the labels were written in various Asian languages. Despite the language barrier, I left with what I was assured was correct.
The end result was hot and spicy kimchi that 95% of my tasters liked as is. Three said it could use more salt. The biggest test was letting our Korean friend Bing try it. Her immediate reaction was that we had been sold the wrong chile. This would explain why it was as hot as it was. Other than the level of heat, she said it very very good. She offered to show me where to get the proper chiles, so we could make it perfect.
Once the proper chili powder had been acquired, I once again proceeded as instructed. It was not weighted down, as this was a quick ferment and weighing it down would not allow the cabbage at the bottom of the crock to ferment properly. Fermented shrimp can be a little tricky to find; however, any Asian market that caters to Korean shoppers carries dried shrimp. While slightly larger in size than fermented shrimp, they are more widely available and will blitz to powder well in a small chopper or mortar and pestle. Reviews were again very good. This batch was deemed practically perfect. All my tasters loved the slow, gentle, lingering heat of the Korean chile powder. A couple tasters said they'd have liked it a little sweeter.
Batch #1 was brighter in color, crunchy, very hot at first with the heat quickly dissipating, and the cabbage was clearly visible in the jar. The tastes of sweet, salty, and sour were perfectly balanced, with only the hot note being slightly different from a traditional kimchi. This was due to using the wrong chile. Batch #2 was softer in texture, not in a bad way, however the first batch definitely had more crunch to it. Also this batch was decidedly redder in color, and the cabbage sort of blended more with the juices in the jar. This could be because of the lesser weight of the cabbage the second time or could be due to the effect of the chile powder used or both. We noticed that this batch also had a good balance of salty, sweet, and heat with a little more tang on the sour note. It did have the appropriate "funkiness" of the traditional stuff. Final results were six 1/2 pint jars of kimchi.
Kimchi is one of those things I always have in the fridge. I love it, even as a snack with just a little white rice. The taste wasn't quite the same as store-bought kimchi but it was extremely tasty. One thing I actually liked better was the fact that the cabbage was crunchier.
Luckily finding the ingredients here was pretty easy as we have a large Korean population. What really intrigued me was how little the end amount was compared to when I started. I was afraid I was going to have too much kimchi but ended up with just a little over 2 quarts.
There's nothing subtle about kimchi. It's easy to make, although it's one of those dishes that required stops at 3 different markets. When I asked for "brined shrimp" at my local Asian market, they had no idea what I was talking about. I researched different kimchi recipes, and they generally call for either fish sauce, shrimp paste, anchovies, etc. I decided to use shrimp paste, which was easy to find, and was just shrimp and salt and very funky.
The first salting of the cabbage made it silky. The second drew a LOT of water from the cabbage resulting in the loss of a lot of volume. While the cabbage was shrinking, I put cloves of peeled garlic and chunks of ginger in the food processor and finely chopped them. I then added the rest of the ingredients and whizzed it together. It was quite salty from the shrimp paste; I could have done with a lot less. The Korean red pepper powder is the classic flavor. I don't think I'd use the paprika again, but I'll certainly make this recipe again, maybe adding some daikon.
Anyway, I packed most of the kimchi into a bean pot (the pot I use for Boston baked beans) and put the rest in a plastic container in the fridge. Both fermented nicely, although I think the refrigerated one is a little less, shall we say, funky. It just depends on how you like it.