This roast chicken and and pan gravy is seriously something we cannot get enough of. It's got our heads spinning and everyone clamoring for more. Here's how to make it.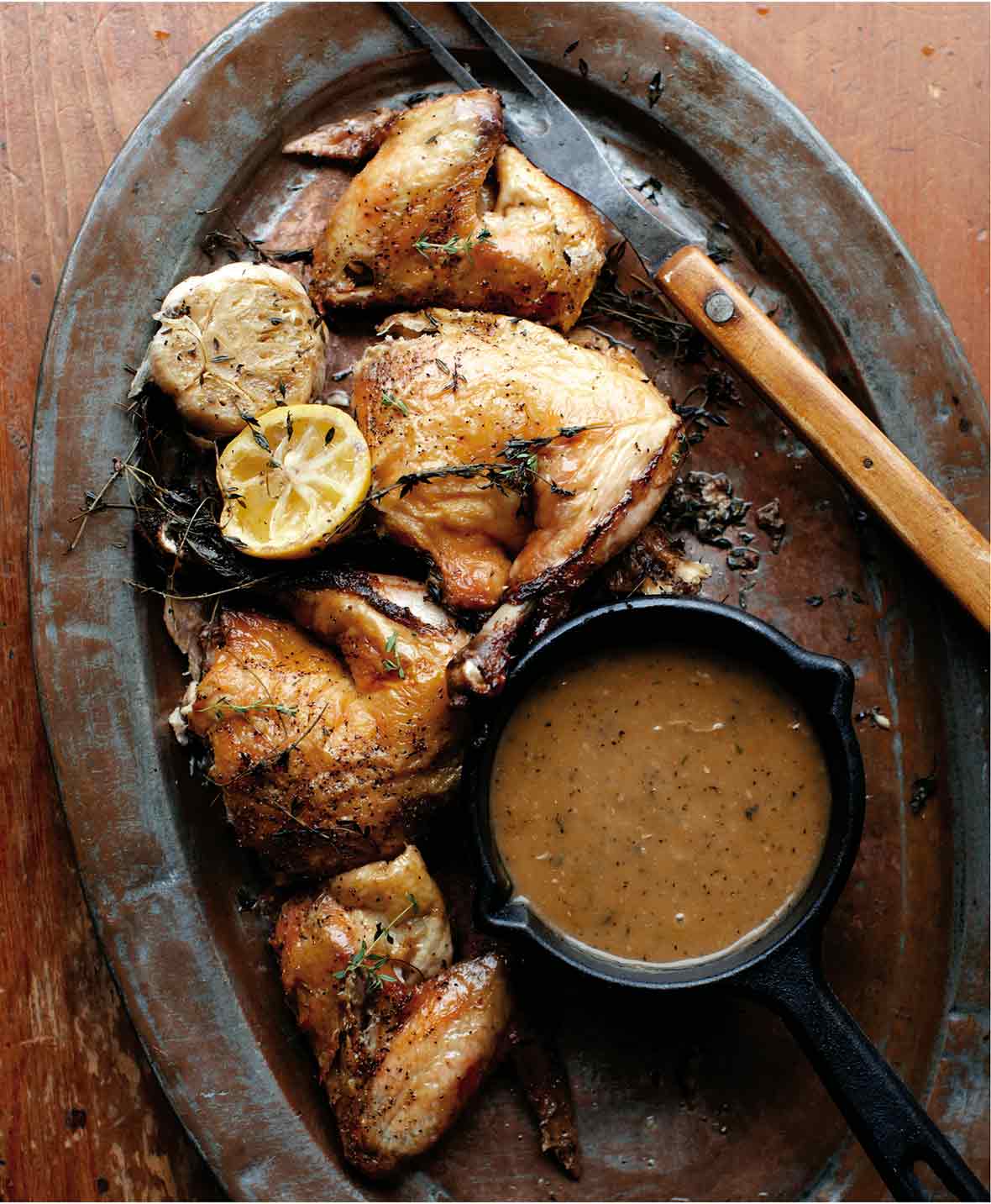 Roast chicken and pan gravy is something you're gonna want to make over and over and over again. It's easy enough to throw together on a weeknight and elegant enough to impress dinner guests. As if a perfect roast chicken wasn't enough to get excited about, the herb blend and pan gravy will keep you coming back for seconds. And thirds. Maybe fourths. We're not judging.–Angie Zoobkoff
Roast Chicken and Pan Gravy
Quick Glance
45 M
1 H, 40 M

Serves 4 to 6
Ingredients
Email Grocery List
For the roast chicken

One 5- to 6-pound (2.2- to 2.7-kg) whole chicken

1/4 cup (60 ml) extra-virgin olive oil

Kosher salt

Freshly ground black pepper

1 small sweet onion, quartered (about 150 g)

1 small head garlic, top third cut off (about 50 g)

1 small lemon, quartered (about 125 g)

1 bunch (about 7 g) thyme

For the big herb blend

1 bunch flat-leaf parsley, leaves chopped (about 1 cup)

3 tablespoons chopped rosemary leaves

3 tablespoons chopped thyme leaves

2 tablespoons chopped sage leaves

For the pan gravy

1/2 cup (4 ounces or 113 g) unsalted butter

1/2 cup (60 g) all-purpose flour

3 to 3 1/2 cups (710 to 830 ml) store-bought or homemade chicken stock, depending on how thick you want the gravy

2 tablespoons (30 ml) Worcestershire sauce

1 tablespoon (15 ml) store-bought or homemade hot sauce
Directions
Make the roast chicken

1. Preheat the oven to 425°F (220°C).

2. Pat the chicken dry and reserve the giblets for another use or discard them. Place the chicken in a large cast-iron skillet or Dutch oven. Drizzle the oil evenly all over the chicken, rubbing it into the skin, and sprinkle it liberally with salt and pepper inside and out. Turn the chicken so it's breast side down. Stuff the inside of the chicken with the onion, garlic, lemon, and thyme. If you can't fit quite everything inside the chicken, just toss them alongside the hen and be sure to occasionally stir them during roasting.

3. Roast the chicken until the juices run clear when you cut into the thigh and a thermometer inserted into the thickest part of the thigh registers 165°F (75°C), 70 to 80 minutes. Transfer the chicken to a plate to rest for 10 minutes while you make the big herb blend and pan gravy.

Make the big herb blend

4. While the chicken is roasting, combine the parsley, rosemary, thyme, and sage in a small bowl. [Editor's Note: The big herb blend makes more than you'll need for the recipe, but you'll be grateful for the extra when you discover the pop of flavor it adds to pretty much everything. Cover and refrigerate it for up to several days and see how many uses you can come up for it. Sprinkle it liberally over grilled meats, poultry, or fish, stir it into roasted potatoes or steamed rice, fold it into an omelet, or use it however else you feel compelled—and let us know in a comment below!]

Make the pan gravy

5. Pour off all but 3 tablespoons of the drippings from the roasting pan. Set the pan on the stove over medium-high heat, toss in the butter, and wait until the butter is bubbling. Whisk in the flour and cook, whisking constantly, until it turns golden brown, 3 to 4 minutes.

6. Slowly add 3 cups chicken stock to the pan, still whisking constantly to avoid lumps. Bring the gravy to a simmer and cook until it's thick and bubbly, 5 to 7 minutes. (If it gets too thick, thin it with an additional 1/2 to 3/4 cup chicken stock.)

7. Mix in 1/2 cup of the big herb blend, the Worcestershire sauce, hot sauce, and 1/2 teaspoon salt. Taste and adjust the seasoning with additional salt and pepper as needed.

Serve the simple roast chicken with pan gravy

8. Carve the chicken, discarding the onion, garlic, and lemon. Pour the gravy over the carved chicken or pass the gravy on the side.
Recipe Testers Reviews
Is there anything better than a roast chicken? I think it's one of my five favorite foods. But it can get a little boring. This recipe for roast chicken with pan gravy is anything but that—it was moist, full of flavor, tender, and, as a bonus, pretty simple to put together. I made the herb blend earlier in the day so prepping the bird for the oven only took minutes. We roasted it for 70 minutes and it was perfection. (I did check the internal temperature with a meat thermometer before pulling it from the oven.) The gravy only took 5 minutes to make while the chicken rested and was rich and full of flavor. I did added some leftover chicken broth to the pan in addition to the drippings to get a pan full of gravy. We got 4 generous dinners and 3 lunches from our chicken. We served the chicken and gravy with steamed new potatoes and a zucchini casserole. As for the the Big Herb Blend, ah well, what can I say. I used this to flavor the gravy and it was one of the best gravies I've made in a long time. I also used it to season the zucchini casserole that we make frequently during zucchini season to rave reviews. I used the last of the herb blend to season the butter for the new baby potatoes for our meal. It gave a whole new taste to something ordinary that we've had dozens of times. I've already put the herbs back on the shopping list to make this herb blend again next week.
While this recipe is quite standard for roast chicken, the big herb blend really makes it stand out. The herb blend made about 1/2 cup which I've been using on everything from eggs to roast salmon. The herb blend is almost used up now and lasted well enough for 4 days in the refrigerator. I will continue to make this to have on hand! I purchased a 5.56-pound chicken and was unable to fit all of the lemon and onion into the cavity. I used 3/4 cup stock to make a slurry with the flour before whisking it into the drippings and remaining stock in order to avoid lumps that can occur when whisking flour into liquid for a pan gravy.
Roast Chicken and Pan Gravy Recipe © 2016 Heather L. Earnhardt. Photo © 2016 Jim Henkens. All rights reserved. All materials used with permission.
If you make this recipe, snap a photo and hashtag it #LeitesCulinaria. We'd love to see your creations on Instagram, Facebook, and Twitter.