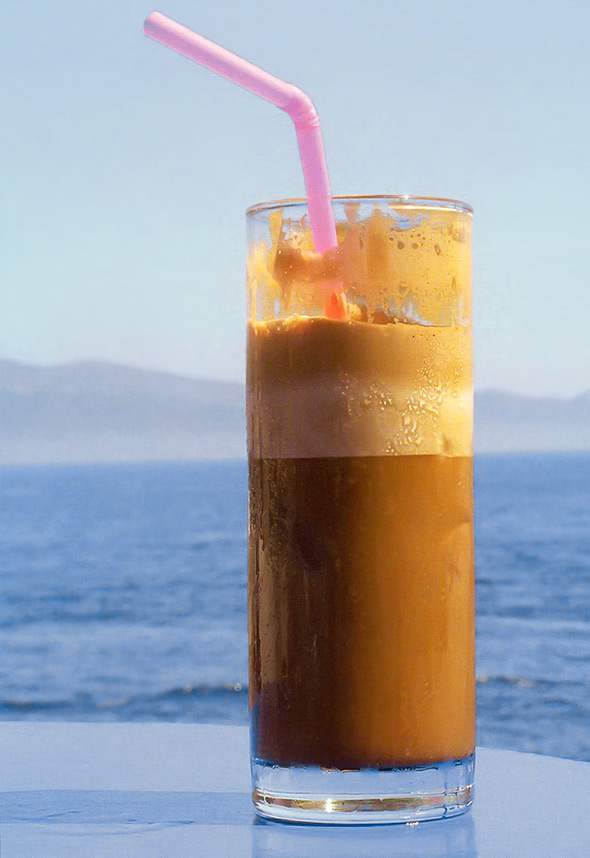 For the Greek who lives by this sensationally frothy iced coffee frappe and the non-Greek initiate who swears by it, the way they drink their frappe—one, two, or more teaspoons (level, rounded, or heaping) of coffee; with milk or black; unsweetened, medium-sweet, or super-sugary—is a matter of personal expression. Setting down specific quantities for its preparation therefore contradicts the frappe spirit. The amounts suggested below are best used only as a departure point; adjustments should then be made according to personal taste and mood.–Daniel Young
Greek-Style Frappe Recipe
Quick Glance
5 M
5 M

Makes 1 serving
Ingredients
2

teaspoons

instant coffee

2

teaspoons

sugar

Cold water

Ice cubes

2

tablespoons

evaporated or regular milk
Directions
1. Place the coffee, sugar, and 2 tablespoons cold water in a shaker, jar, blender, or drink mixer. Cover and shake well for 30 seconds, or, if using a blender, drink mixer, or handheld frother, mix for 15 seconds to produce a thick, light-brown foam.

2. Place a few ice cubes in a tall glass. Slowly pour the coffee foam into the glass. Fill the glass with water, adding milk if desired. Serve the frappe immediately with a thin, flexible straw and glass of cold water on the side.
Thirsty for more?
Sip on these:
Greek-Style Frappe Recipe © 2009 Daniel Young. Photo © 2009 Daniel Young. All rights reserved.
Hey, there. Just a reminder that all our content is copyright protected. Like a photo? Please don't use it without our written permission. Like a recipe? Kindly contact the publisher listed above for permission before you post it (that's what we did) and rewrite it in your own words. That's the law, kids. And don't forget to link back to this page, where you found it. Thanks!