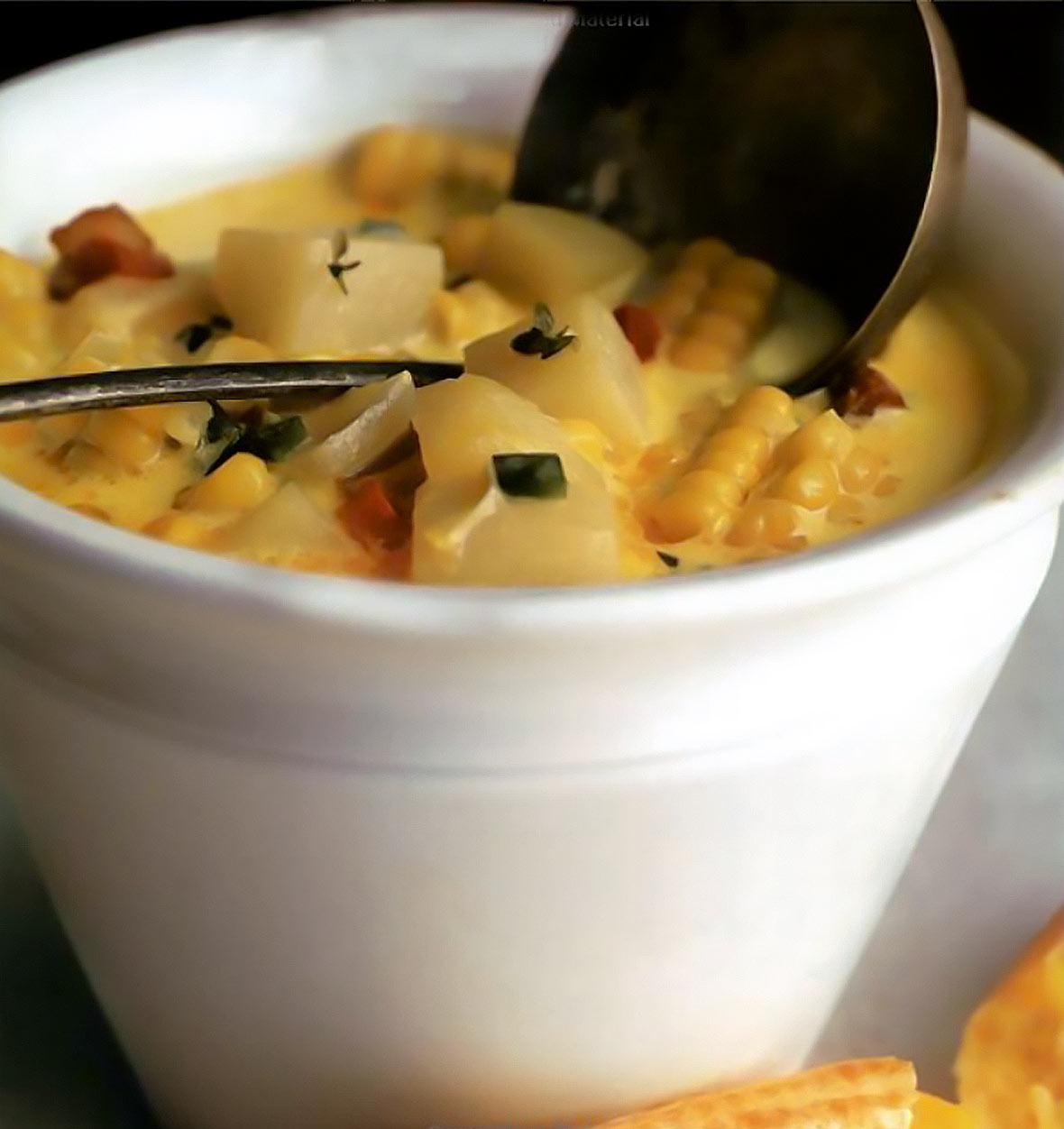 Corn chowder is the king of farmhouse chowders. Hundreds of recipes for it have been published over the years, but since corn and salt pork were staples of the American farm, it's likely that corn chowder was being made and enjoyed long before any recipe was ever printed. The use of milk, cream, or condensed milk also varies from recipe to recipe. The Shakers are renowned today for their austere yet beautiful furniture, but they were also highly regarded for their cooking skills, especially their farmhouse chowders. My version of corn chowder is made similar to the Shaker style, according to a recipe from the Shakers at Hancock Village in Pittsfield, Massachusetts (circa 1900), using fresh corn, butter, and cream. Its mellow, sweet flavor and lovely, pale golden color are very comforting, and it's a favorite with children as well as adults.–Jasper White
LC Children of the Corn Note
Looking for new ways to play with, er, prepare corn? Best to consult with children of the corn—you know, farm folks who grew up shucking, cooking, and eating corn since they were knee high to a grasshopper.
Corn Chowder
Quick Glance
40 M
1 H, 15 M

Serves 6
Print Recipe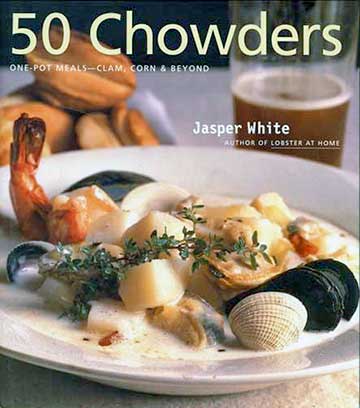 Ingredients
3 medium ears fresh yellow or bicolor corn

4 ounces slab (unsliced) bacon, rind removed, cut into 1/3-inch dice

2 tablespoons unsalted butter

1 medium onion (7 to 8 ounces), cut into 1/2-inch dice

1/2 large red bell pepper (6 to 8 ounces), cut into 1/2-inch dice

1 to 2 sprigs thyme, leaves removed and chopped (1/2 teaspoon)

1/2 teaspoon ground cumin

1/8 teaspoon turmeric

1 pound Yukon Gold, Maine, PEI, or other all-purpose potatoes, peeled and cut into 1/2-inch dice

3 cups homemade chicken stock or canned chicken broth

Kosher or sea salt and freshly ground black pepper, to taste

2 teaspoons cornstarch, dissolved in 2 tablespoons cold water

1 cup heavy cream

2 tablespoons minced chives or thinly sliced scallions
Directions
1. Husk the corn. Carefully remove most of the silk by hand and then rub the ears with a towel to finish the job. Slice the kernels from the cobs and place them a bowl. You should have about 2 cups. Using the back of your knife, scrape downwards along the cobs and add the milky substance that oozes out to the corn kernels. Discard the cobs.

2. Heat a 3- to 4-quart heavy pot over low heat and add the diced bacon. Once it has rendered a few tablespoons fat, increase the heat to medium and cook until the bacon is crisp and golden brown. Pour off all but 1 tablespoon bacon fat, leaving the bacon in the pot.

3. Add the butter, onion, bell pepper, thyme, cumin, and turmeric and saute, stirring occasionally with a wooden spoon, for about 8 minutes, until the onion and pepper are tender but not browned. Add the corn kernels, potatoes, and stock, turn up the heat, cover, and boil vigorously for about 10 minutes. Some of the potatoes will fall apart, but most should retain their shape.

4. Use the back of your spoon to smash a bit of the corn and potatoes against the side of the pot to thicken the chowder. Reduce the heat to medium and season the chowder with salt and pepper. Stir the cornstarch mixture and slowly pour it into the pot, stirring constantly. As soon as the chowder has come back to a boil and thickened slightly, remove from the heat and stir in the cream. Adjust the seasoning if necessary. Serve immediately or et it sit at room temperature for up to an hour, allowing the flavors to meld. If you are not serving the chowder within the hour, let it cool, then cover and refrigerate for up to a few days. Reheat the chowder over low heat and do not let it boil.

5. Ladle the chowder into cups or bowls and sprinkle with the chopped chives.
Corn Chowder Recipe © 2000 Scribner. Photo © 2000 Gentl & Hyers. All rights reserved. All recipes and photos used with permission of the publisher.
If you make this recipe, snap a photo and hashtag it #LeitesCulinaria. We'd love to see your creations on Instagram, Facebook, and Twitter.