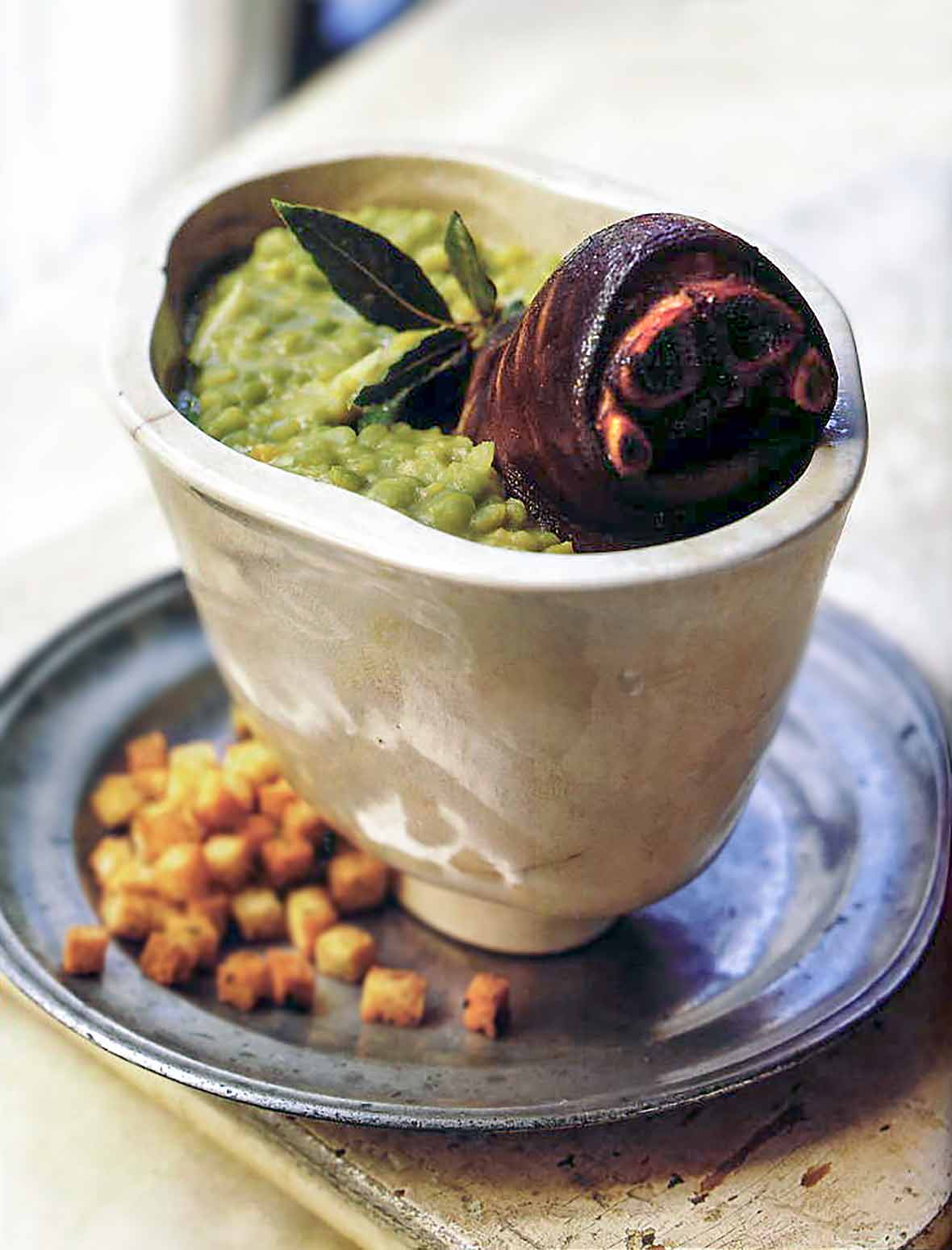 Split pea soup with ham hock illustrates how split peas and ham hocks are meant to go together, so much so that a minimum of supporting ingredients are called for to flesh them out into a satisfying soup. Though it's typically thought of as a thick-as-can-be affair, it doesn't need to be. If you like, add a bit more liquid to thin the soup and see what you think. –Tom Valenti
Split Pea Soup with Ham Hock
This split pea soup with ham hock is hearty, inexpensive comfort food that's made with everyday ingredients including carrots, onion, celery, fresh herbs, and broth or water. Garlic croutons add crunch but are completely optional.
Ingredients
For the split pea soup
2

cups

green split peas

2

tablespoons

olive oil

1

large

carrot

,

peeled and cut into small dice

1

medium

Spanish onion

,

peeled and cut into small dice

1

celery stalk

,

cut into small dice

Coarse salt

Freshly ground black pepper

Sugar

1

large

garlic clove

,

smashed and peeled

1

bay leaf

3

marjoram or thyme sprigs

2

quarts

homemade chicken stock or low-sodium canned chicken broth, or vegetable broth, water, or a combination

2

pounds

smoked ham hocks

Extra-virgin olive oil

2

tablespoons

fresh thyme leaves

,

optional
For the garlic croutons (optional)
4

tablespoons

unsalted butter

3

tablespoons

minced garlic

1

loaf

country-style bread

Coarse salt

Freshly ground black pepper
Instructions
Make the split pea soup
Put the split peas in a bowl and cover with cold water for at least 20 minutes while you cook the vegetables.

Heat the oil in a large, heavy-bottomed pot over medium heat until hot but not smoking. Add the carrot, onion, and celery and season with salt, pepper, and a pinch of sugar. Cook, stirring, until the vegetables soften, 5 to 7 minutes. Add the garlic and cook for another 2 minutes.

Drain the split peas and add them to the pot. Add the bay leaf, marjoram, broth, and ham hocks. Give everything a good stir and bring the liquid to a boil over high heat, continuing to stir to keep the peas from scorching. Lower the heat, cover, and simmer for 1 hour. The peas will be partly disintegrated.

If the ham hocks aren't tender, leave them in. Otherwise use tongs or a slotted spoon to remove them from the pot and set them aside on a plate. Cook the soup for 30 minutes longer, or until the peas and other vegetables have completely broken down and the soup has thickened considerably. If it seems too thick, add more stock or water.

While the split pea soup is simmering, and as soon as the ham hocks have cooled enough to work with, use your hands to remove the meat from the bones, shredding it as you work. There won't be a lot of it, but what is there is very flavorful.

When the pea soup is done, use tongs or a spoon to remove and discard the bay leaf and marjoram sprigs. Taste and correct seasoning, bearing in mind that the bits of ham are salty. Add the reserved ham to the pot. If not serving immediately, let cool, cover, and refrigerate for a few days or freeze for up to 1 month. Reheat before proceeding.
Make the croutons (optional)
Melt the butter in a wide, deep saute pan over medium-high heat. Add the garlic and cook for 1 minute to soften it and infuse the butter with its flavor.

Add the bread to the pan and cook, tossing frequently, until the bread is crisp and golden brown 4 to 5 minutes. Transfer to paper towels to drain. Use at once, or let cool and keep at room temperature for up to 6 hours.

To serve, ladle the split pea soup into individual bowls and drizzle with extra-virgin olive oil. Scatter some thyme leaves over each serving, if desired, or float a garlic crouton on top of each bowl.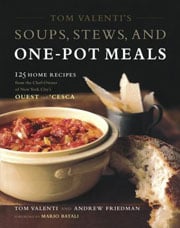 Adapted From
Tom Valenti's Soups, Stews, and One-Pot Meals
Buy On Amazon
Nutrition
Serving:
1
portion
Calories:
1305
kcal
Carbohydrates:
69
g
Protein:
92
g
Fat:
73
g
Saturated Fat:
28
g
Polyunsaturated Fat:
7
g
Monounsaturated Fat:
32
g
Trans Fat:
1
g
Cholesterol:
287
mg
Sodium:
2355
mg
Potassium:
2046
mg
Fiber:
27
g
Sugar:
12
g
Vitamin A:
3744
IU
Vitamin C:
13
mg
Calcium:
176
mg
Iron:
10
mg
Nutrition information is automatically calculated, so should only be used as an approximation.
Recipe © 2003 Tom Valenti. Photo © 2003 Beatriz da Costa. All rights reserved.
---
Recipe Testers' Reviews
This soup is perfect for a cold winter night, however, it's easy enough to make after work for a taste meal. A ham hock shouldn't be too hard to find, just ask your butcher at the grocery store. The ham is a delicious addition to this recipe and add extra saltiness and heartiness to the already full-bodied soup.
If you can't locate a ham hock, or you have leftover Christmas ham, this is a great way to use it up. Just cube the ham instead of pulling off the hock. This recipe is one that is a culinary surprise because just when you think that it can't be done in the time is says, it turns out a perfect soup.
Also, it freezes well and makes fantastic leftovers, if it isn't devoured the first time around!
If you're like me, you grew up with an innate dislike for split pea soup. Why? I can only guess that something with that name was served in my elementary school cafeteria, perhaps from a can. This is not that abomination! Quite the contrary, in fact. THIS split pea soup is an excellent example of comfort food, good on a cold "shelter-in-place" evening and even better as leftovers for a few days afterwards if the family doesn't beat you to it.
I fixed my soup with smoked ham shanks, which I learned are similar to hocks but meatier, which I feel makes them superior. The shanks I found were larger than called for but not double in size so I had the tough choice of using significantly more, or significantly less, than the recipe called for. I went with "more" and I felt the end result was improved by the adjustment.
There is nothing difficult here, and once the vegetables are diced the hands-on work is pretty much over. Sit back and enjoy the aroma of cooking ham and peas.
An hour and a half of cooking was sufficient to break down the peas and other vegetables but the end result was not homogeneous and was not as thick as the picture. We ate some of the soup immediately and refrigerated the rest. When it came out of the refrigerator a day or two later, it was thick like in the photo.
Select a Tester
This was a very tasty traditional split pea soup, nice and smoky flavored.
I used a shank as hocks are hard to find here. I let the peas soak for as long as it took me to prep the vegetables. Split peas really do not need to be soaked. I used my food processor to chop the vegetables so the dice was very fine. After adding all the other ingredients and simmering for 1 hour, the peas were mostly but not completely broken down. I removed the shank and cooked for another hour. During the additional simmer, I shredded the meat and got 12 ounces to add back in.
I decided to the let the soup sit overnight to develop its flavor. I thought the soup was a bit thin but we like thick soup.
The next time I make this soup, I will probably purée half of it for a smoother texture. I think the recipe should be rewritten to use a whole bag of split peas, which is about 3 cups. I dislike having a small amount of things like this left over and there really is no reason to not just use the whole bag. I would not change the amount of stock.
We served the soup with cornbread and a salad.
Split pea and ham soup is one of my all-time favorites. I usually make it a couple of times during the winter season. This is a very basic recipe, probably no different than many other recipes for split pea soup. Nothing revolutionary here, just a good honest bowl of soup!
I did not make the optional croutons. Instead I just toasted a slab of crusty sourdough bread, rubbed with a clove of garlic and drizzled it with olive oil for a nice accompaniment.
The ham wasn't done at the one-hour mark, so I left it in for the additional 30 minutes. Both soup and ham were done at that time.
This type of soup recipe is frankly why I love soup; simple ingredients that yield maximum flavor. And soup recipes like this one are why I keep homemade chicken stock in my freezer at all times! Homemade stock is such an important factor in a flavorful soup or stew, as are staples like onions, garlic, carrots, and celery. We loved not only the flavor of this soup but also its rustic texture and the salty bite from the shredded meat.
I used fresh thyme leaves for my garnish and did not puree the soup—the components broke down very well after 1 1/2 hours of cooking and I liked the rustic look of the veggies, shredded meat and a portion of the split peas still in tact. In Step 2 I cooked the veggies in oil for 5 minutes; in Step 3 after 1-hour of cooking the ingredients covered, the liquid had reduced by about half and it was simmering. In Step 4 after the additional 30-minutes of cooking my soup did not need any more stock added, it was just soupy enough and very broken down. I got about 3/4 cup of shredded meat from my ham hocks in Step 5. This made a big pot of soup! I would say it feeds 8 people easily, so I am going to keep half of the leftovers in the fridge for lunches this week, and I am going to freeze the other half for a rainy soup day.
(All of this said, I wonder if this would be a good base recipe for any dried beans you have in the pantry? Lentils, black beans, chickpeas or even cannellini beans would work well I think? Also, could you sub in smoked turkey necks for the ham hocks? Or even add in cubed ham, bacon, prosciutto or pancetta if that is what you have at home?)