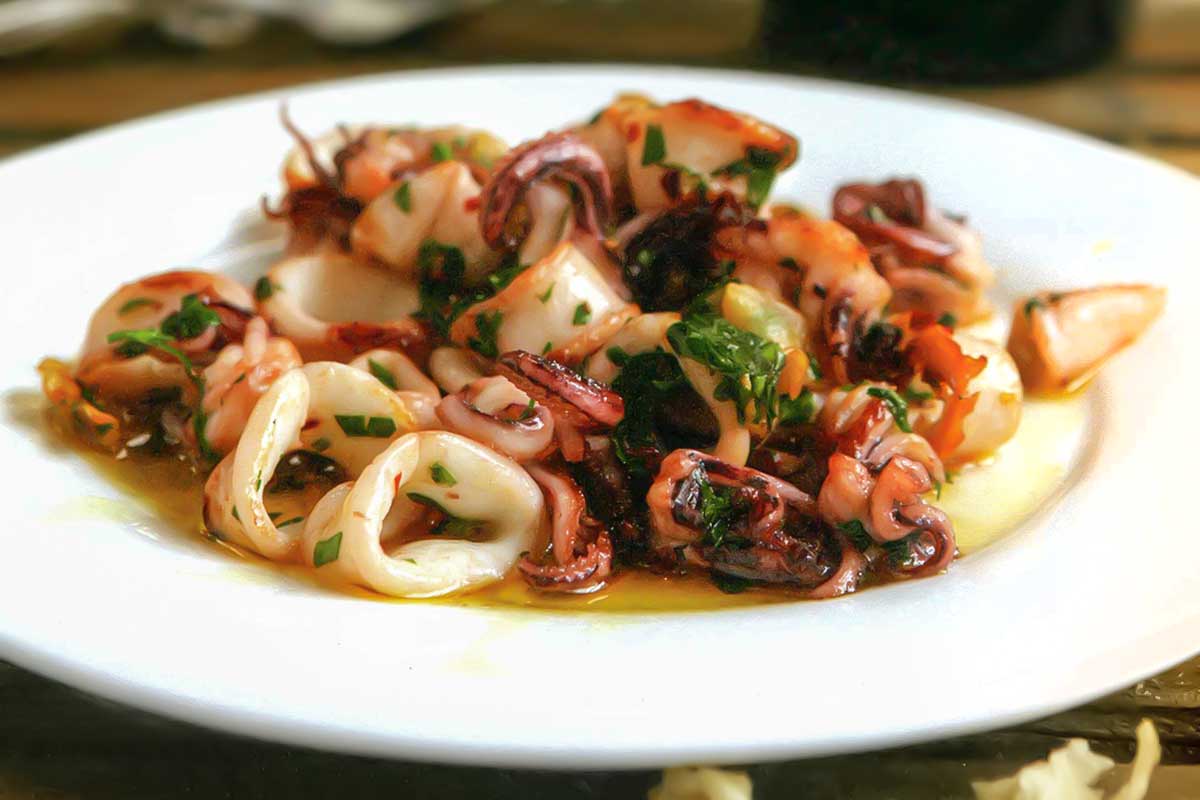 À la plancha is a Spanish term that refers to a method of searing food over a very hot metal plate. We go through about 15 tons of fresh calamari a year. Squid is seasonal—it's at its peak in the summer through early fall—and there are times of the year when it's hard to find. We serve this dish only when we have fresh calamari, because the frozen product contains too much water and never really caramelizes the right way. Don't be shy with the seasonings; this is not supposed to be a subtle dish.–Sasa Mahr-Batuz and Andy Pforzheimer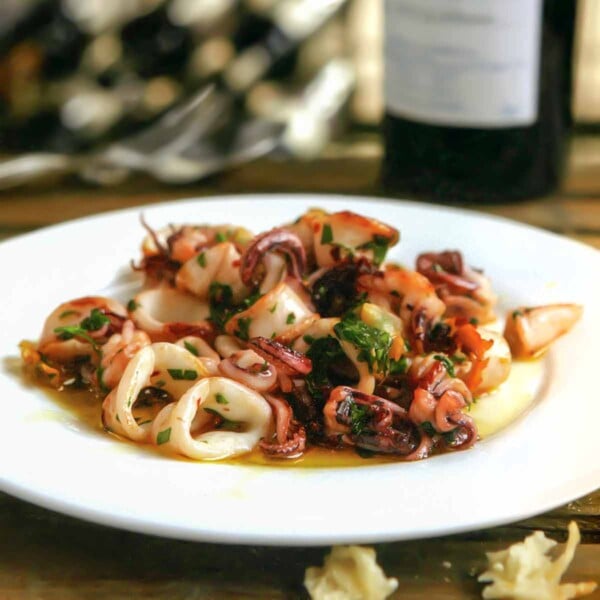 Calamari à la Plancha
Calamari à la plancha is a delightfully crisp and spiced dish, popular in Spain and Portugal. Seared over high heat in cast iron until caramelized, then given a hearty spicing, it's a quick yet impressive meal.
Ingredients
1

pound

cleaned fresh calamari

,

cut into 1- to 1 1/2-inch-thick (25-to-40-mm) rings, and tentacles, if included with the squid

Kosher salt

1/4

cup

olive oil

1 1/2

tablespoons

chopped garlic

,

3 to 5 cloves

1

tablespoon

chopped flat-leaf parsley leaves

1/8

teaspoon

hot red pepper flakes

1/4

cup

extra-virgin olive oil

Sea salt,

for garnish

4

lemon wedges

,

for garnish
Instructions
Put 2 large saute pans (cast iron if possible) over high heat until very hot, about 3 to 4 minutes.

Pat the calamari dry with paper towels and then season them lightly with salt.

Pour 2 tablespoons of the olive oil in one of the pans and sear the calamari until it releases its liquid, about 4 minutes.

Put the remaining 2 tablespoons of olive oil in the other pan and then remove the pan from the heat and hold it, at an angle, near the pan with the calamari. Lift the calamari from the first pan with a slotted spoon and move to the second pan, leaving the juices in the first pan.

Return the second pan to the heat and add the garlic and tentacles. Cook until the calamari is nicely browned. Add the parsley and pepper flakes, stir, and remove the pan from the heat.

Divide the calamari among 4 serving plates, drizzle with extra-virgin olive oil, and garnish each plate with sea salt and a lemon wedge.
Notes
What does cooking a la plancha mean?
Basically, in Spanish, it means cooking on a metal plate. But in reality, it's more than that. Essentially a flattop grill, cooking on a plancha is like using a griddle, except that it's usually round—which allows for the heat to spread out in a circular motion and results in a very hot surface.
Perfect for searing proteins like beef or fish, a plancha easily reaches temps of 450°F (232°C) and gives your meat a golden-brown crust that makes everything so flavorful and juicy. Not only that, planchas are loved for their ability to cook quickly without a lot of added fat or oil. This means that not only is it healthy but it also lets all those flavors shine through. Whatever you choose to cook this way, from calamari to beef to fresh veggies, expect a luscious level of caramelization and some subtle charring.
Nutrition
Serving:
1
portion, ~4 ounces
Calories:
242
kcal
Carbohydrates:
6
g
Protein:
18
g
Fat:
16
g
Saturated Fat:
2
g
Cholesterol:
264
mg
Sodium:
333
mg
Potassium:
323
mg
Fiber:
1
g
Sugar:
1
g
Vitamin A:
144
IU
Vitamin C:
17
mg
Calcium:
48
mg
Iron:
1
mg
Nutrition information is automatically calculated, so should only be used as an approximation.
Recipe © 2009 Sasa Mahr-Batuz | Andy Pforzheimer. Photo © 2009 John Blais. All rights reserved.
---
Recipe Testers' Reviews
I was so very glad to have tried this recipe, as I'd tried making calamari à la plancha from what I recall eating in Portugal and Spain, yet the calamari never came out crisp enough. Using two cast iron skillets totally did the trick. I can't wait to have more gatherings so I can make this as an appetizer. This recipe brings back great, great memories of southern Europe.
This is a great way to eat squid, although I feel this recipe is written to be a little fussier than it needs to be. I ignored the author's warning not to use frozen squid, as that was all I could get. I made sure the squid was dry by cutting it a couple of hours in advance and spreading the pieces on a paper towel-lined baking sheet and refrigerating them until ready to cook. I had no problem with excess moisture.
I did follow the method in the recipe of using two pans, which is also intended to prevent excess moisture in the dish, although I believe this wasn't really necessary. The main thing is to make sure the squid is dry going into the pan, that the pan is large enough to hold it without crowding, and that the pan is hot enough that any liquid released evaporates immediately. I made this recipe on the stove, as I wanted to test the author's instructions, but next time I would make it on the cast-iron griddle outdoors on the grill. The ingredients in this calamari à la plancha are simple but there is a lot of flavor here. Use high-quality olive oil to finish, and don't skip the lemon.