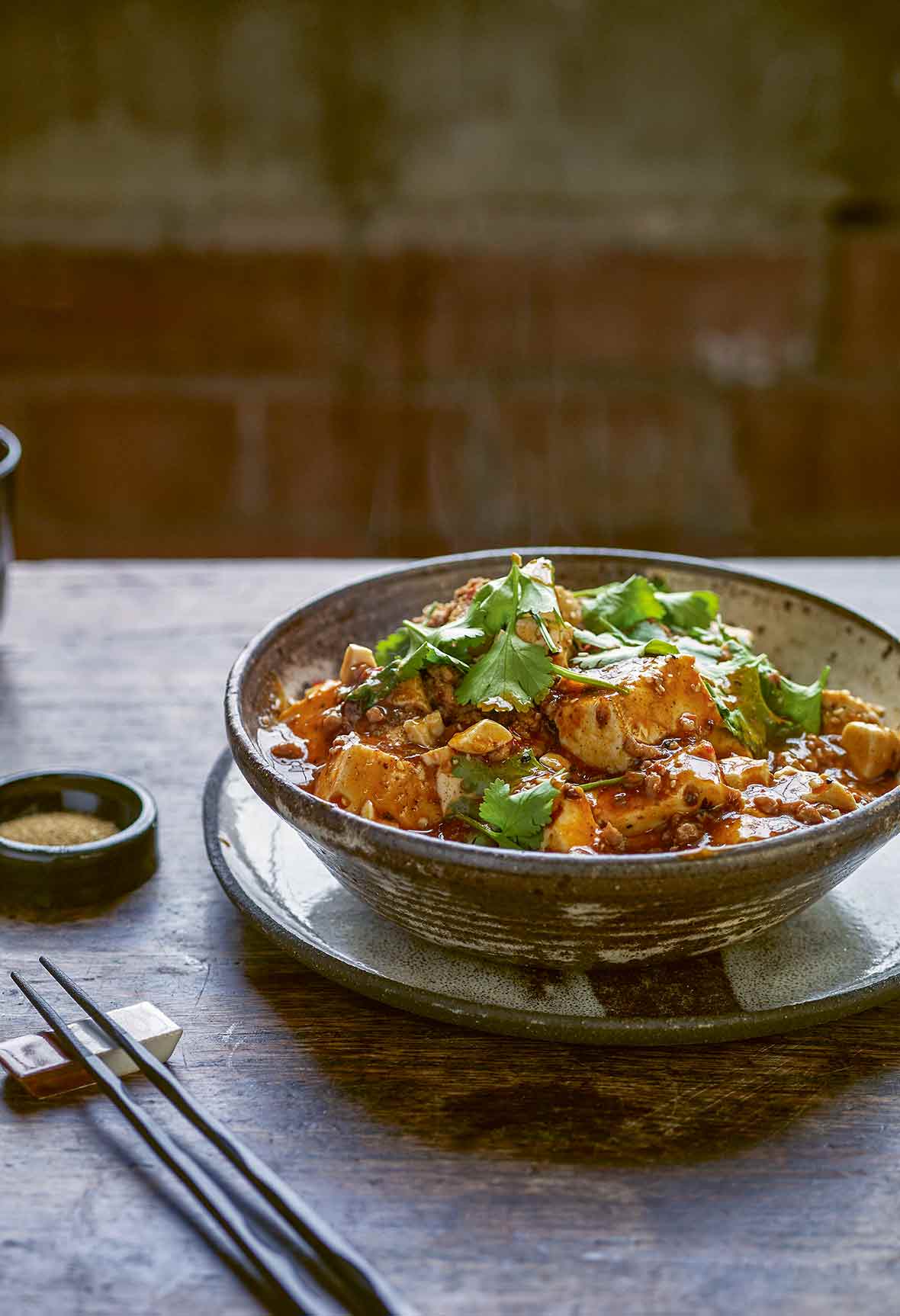 Mapo tofu ramen?! You're correct if you're a touch confused at the etymology of that term. It's actually a trendy (and justifiably so) bowl of noodles that combines the ever-popular Chinese mapo tofu with Japanese ramen. Mouth tinglingly hot without being too hot, this flavor-forward dish is easier than you'd imagine to make when you're careful to do your mise en place before you begin to cook (that's just a fancy French way of telling you to prep and organize your ingredients).–Angie Zoobkoff
*NOTE: What Is Sansho Pepper?
Sansho (sometimes spelled sansyo) pepper, is from the prickly ash and has a tongue-numbing tingle and slightly citrusy lilt to its heat. It's been referred to as the Japanese version of Chinese Sichuan (Szechuan) peppercorns (although both are actually unrelated to black peppercorns, despite their name).
Mapo Tofu Ramen
This mapo tofu ramen is made with ramen noodles that are smothered in a mouth-tingling sauce of tofu, ground pork, plenty of chiles, preserved black beans, and bean sauce. An easy and comforting mash-up of Chinese mapo tofu and Japanese ramen.
Ingredients
Big

pinch salt

Two

(21-to 25-oz) packages

firm or extra-firm silken tofu

2

tablespoons

Sichuan (Szechuan) peppercorns* (see NOTE above)

4

dried red Chinese chile peppers

1/4

cup

mild vegetable oil

1

bird's eye or Thai chile (or more, to taste)

,

thinly sliced and, if desired, seeded

2

anchovy fillets (optional)

4

garlic cloves

,

thinly sliced

1/2

ounce

piece of ginger root

,

peeled and finely grated (juices reserved)

10 1/2

ounces

ground pork

1

tablespoon

preserved black beans

3

ounces

doubanjiang or chili bean sauce (about 4 tablespoons)

1 1/2

tablespoons

caster (superfine) sugar (or just blitz granulated sugar in a blender until finely ground but not powdery)

2

cups

canned chicken broth or homemade chicken stock

1

tablespoon

toasted sesame oil

1 1/2

tablespoons

cornstarch mixed to a paste with a little water

, Worcestershire sauce, and/or soy sauce, to taste

Four

portions

fresh or dried thick ramen noodles

Small

handful cilantro leaves

,

roughly torn

Sesame seeds

,

toasted until deep golden brown
Instructions
In a large pot over medium-high heat, bring 3 quarts (2.8 l) water and the salt to a boil and reduce the heat to a low simmer. Cut the tofu into 1-inch (24-m) chunks, slip them in the water, and gently simmer for 10 minutes. Line a plate with paper towels and, using a slotted spoon, transfer the tofu to the paper towels to drain.

Meanwhile, in a large skillet or wok over low heat, toast the peppercorns and dried red Chinese chiles, shaking the skillet or wok occasionally, until fragrant and beginning to color, 3 to 7 minutes. Transfer to a plate and let cool.

Transfer the cooled peppercorns and chiles to a spice grinder and process to a coarse powder.

In the same skillet or wok over high heat, add the oil and the chile pepper along with the anchovies, if using. Cook for a minute or two and then add the garlic, ginger, and pork and fry until the pork is browned, about 4 minutes.

Stir in the black beans, doubanjiang, sugar, and ground pepper and chiles. Cook for a few minutes, stirring often, to let the flavors meld.

Add the chicken stock and sesame oil and bring to a boil. Stir in about 3/4 of the cornstarch-water mixture and let the sauce boil, stirring continuously, until it thickens, which should take just a few minutes. You want the sauce to resemble a glossy gravy that will cling to the noodles. If you think it needs to be a little thicker, simply add a little more of the remaining cornstarch slurry.

Taste the sauce and, if desired, adjust with more Worcestershire and/or soy sauces. Carefully stir the tofu into the sauce, using a gentle pushing motion with the back of your spatula and shaking the pan to coat the tofu without it crumbling into pieces.

Set a large pot of water over high heat, bring to a boil, and cook the noodles until al dente. Drain well and divvy the noodles among 4 bowls. Top with the hot tofu mixture and garnish with the cilantro, sesame seeds, and sansho.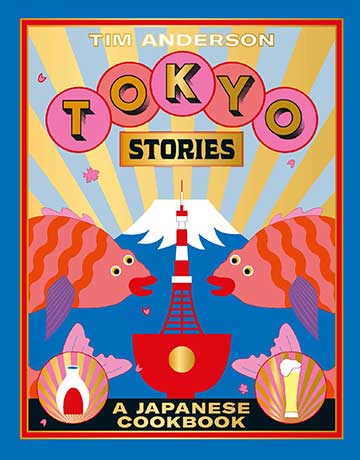 Nutrition
Serving:
1
portion
Calories:
956
kcal
Carbohydrates:
76
g
Protein:
46
g
Fat:
53
g
Saturated Fat:
16
g
Polyunsaturated Fat:
15
g
Monounsaturated Fat:
18
g
Trans Fat:
0.1
g
Cholesterol:
54
mg
Sodium:
2015
mg
Potassium:
1071
mg
Fiber:
4
g
Sugar:
11
g
Vitamin A:
508
IU
Vitamin C:
30
mg
Calcium:
160
mg
Iron:
9
mg
Nutrition information is automatically calculated, so should only be used as an approximation.
Recipe © 2019 Tim Anderson. Photo © 2019 Nassima Rothacker. All rights reserved.
---
Recipe Testers' Reviews
I've been on a ramen kick for a while, so when I saw this recipe, I knew I wanted to try it. The recipe didn't disappoint. The overall flavor profile was fantastic. The funkiness of the doubanjiang and preserved black beans combined with the fresh ginger, garlic, and peppers made for a great sauce. It packs a punch with the dried and fresh chile peppers and it's a heat that lingers. The addition of ground pork made this dish a hearty delight.
I used an extra-firm tofu and it held together just fine. It was a nice compliment to the dish.
If you haven't tried Sansyo pepper, I encourage you to do so. It really added so much to the finished dish. The citrusy smell reminds me of freshly ground coriander seeds but it has a delicate flavor and a long-lasting numbing effect. I found the Sansho pepper on Amazon.
The only caution I have is go easy with the sesame oil. A little goes a long way and it can quickly overpower the dish.
This is a great intro to making mapo tofu, whether you serve it alone, over rice, or over noodles to satisfy a craving for ramen and that happy mouth experience you get with Sichuan peppers! The seasoning was perfect, although of course some folks might take it up a bit hotter by adding more dry or fresh peppers.
Your organized mise en place is your friend, prepping all ingredients—I try to place them on a quarter sheet pan next to the stove, in order if I can, so the quick cooking goes without a hitch. Once you start the recipe, it all goes quite quick and you don't want to be scrambling to locate and measure something you missed. You could toast the peppers and grind those ahead.
I let the sauce cook just until it resembled a glossy gravy and then gently tipped in the tofu. While the tofu is heating in the sauce, if you have a pan of water already simmering, you can cook your noodles. We used rice ramen, which cook in 4 to 5 minutes, and then drained and divided them among bowls and topped them with the Mapo tofu. After plating and topping with sesame and sansho, I made cilantro available for those who wanted it (more for me!). Nice dinner, easily done on a weeknight and once you have made this once, you will not be hesitant to riff on it to adjust for what pepper you have and the heat level you like. This was a complete meal with no sides needed.
My husband and I agreed that this was one of the best recipes I have tested for Leite's Culinaria. There was so much complexity of flavor: the nice, citrusy, menthol-like sensation of the Szechuan peppercorns and the heat from the chiles as well as the earthy sweetness of the black beans.
I was able to find everything at an Asian market here except for the sansho pepper. Instead, I substituted some togaroshi since it includes sansho pepper. I did include the anchovy filets because I'm a fan.
I recommend having every step prepped and lined up in order, because once you start cooking, things move fast. My ramen was fresh but on the thin side, which I actually preferred.
This dish is saucy and hearty and just the best. Served it with some tamarind beer and it was perfect.