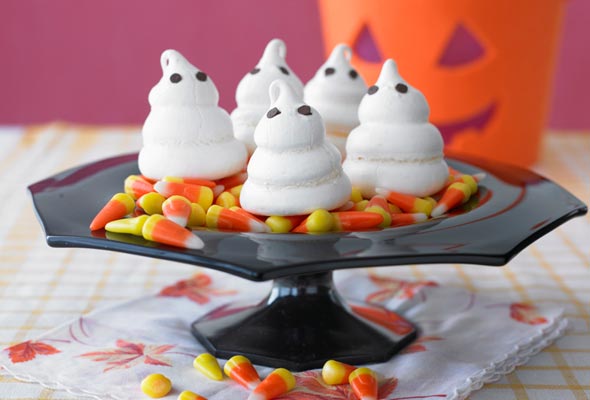 I still remember my third-grade Halloween party. So when my oldest daughter, Olivia, was in the third grade, I decided to throw her a party, too. I satisfied my inner Martha and draped the furniture in white sheets and spent hours tea-dying ripped cheesecloth to hang as curtains. Olivia and I cut hundreds of bats from black construction paper and taped them all over the walls and ceiling. We laid a ghostly buffet set with our scariest tarnished silver cake stands and platters and piled them high with chocolate bats, shortbread pumpkins, and these ghost-shaped meringues. The scariest thing about this party was how exhausted we all were when it was over. But these little meringue ghosts have reappeared over the years. They make a great nibble as you relax with your feet up and wait for the first trick-or-treaters to knock at your door.–Jill O'Connor
LC How Cute! Er, We Mean, Eek! Note
If you can squeeze the last drops from a pack of ketchup from a fast-food joint, you can make these cute little Halloween meringue specters. Okay, there's a little more nuance and artistry required, but it's easy peasy. It just takes a little practice to get just the right-size blobs—and a lot of restraint to not demolish the entire batch in one nosh.
Ghostly Halloween Meringues
Quick Glance
30 M
2 H, 30 M

Makes about 2 dozen 4-inch meringue ghosts
Print Recipe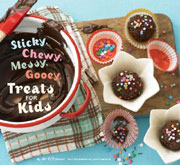 Ingredients
6 egg whites, at room temperature

1/2 teaspoons cream of tartar

Pinch of salt

1 teaspoon vanilla extract

1 cup superfine sugar (or just blitz granulated sugar in a blender until finely ground but not powdery)

1 cup confectioners' sugar

48 mini (about 1/2 cup) chocolate chips
Directions
1. Preheat the oven to 200°F (93°C). Adjust the oven rack to the middle position and place a second rack on the top position. Line 2 baking sheets with parchment paper.

2. In a large metal bowl with an electric mixer on low speed, beat the egg whites and cream of tartar until foamy. Add the salt, increase the speed to medium-high, and continue beating until soft peaks form. Beat in the vanilla until combined. Gradually add the superfine sugar, 1 tablespoon at a time, and beat until the meringue forms stiff, glossy peaks.

3. Sift the confectioners' sugar in a bowl to remove any lumps. Then sift it a second time over the meringue. Using a rubber spatula, gently fold the confectioners' sugar into the meringue only until no more streaks of sugar remain. Do not fold any more than is necessary as overmixing will deflate the meringue, resulting in sad little ghosts.

4. Spoon the meringue into a piping bag or create your own makeshift piping bag with a large resealable plastic bag. After filling it with meringue, use a sharp pair of scissors to snip 1/2 inch from a bottom corner of the bag.

5. Hold the bag upright and squeeze a stack of 3 blobs of meringue onto the parchment to form a wide base, a slightly smaller middle, and a curled top (almost as if you were piping a soft-serve ice-cream cone). If you use your imagination, it should look like a chubby, upright ghost shape. Pipe 12 meringue ghosts onto each lined baking sheet. Press two chocolate chips into the face of each ghost, flat side of the chips facing outward, to form eyes.

6. Bake the meringue ghosts for 2 hours, or until crisp. (Baking the meringue ghosts for a long time at a low temperature ensures they will remain crisp and very white. If the meringues start to color, reduce the oven temperature to 175°F (79°C).) When the meringue ghosts are crisp, turn the oven off and allow the meringues to cool in the oven for at least 2 hours and preferably overnight.
Recipe Testers Reviews

These little confections were great. They were easy to mix up and fun to shape. I left mine in the oven overnight and removed them from the pan the next morning. I love the idea of using a disposable bag but next time I'll go for my large pastry bag with the big round tip. I do know that I need more practice shaping my ghosts. Let's just say some of my ghosts looked a little off. I thought it made them look more scary, but the grandkids thought they just looked funny.

Simple, straightforward, and super cute, this idea is perfect for Halloween. Or you can play around with other ideas for other holidays, such as adding green and red sprinkles for Christmas and so on. The taste was that perfect crunchy-then-melt-in-your-mouth feeling and the color stayed nice and white. The timing was also spot on.
Ghostly Halloween Meringues Recipe © 2009 Jill O'Connor. Photo © 2009 Leigh Beisch. All rights reserved. All materials used with permission.
If you make this recipe, snap a photo and hashtag it #LeitesCulinaria. We'd love to see your creations on Instagram, Facebook, and Twitter.