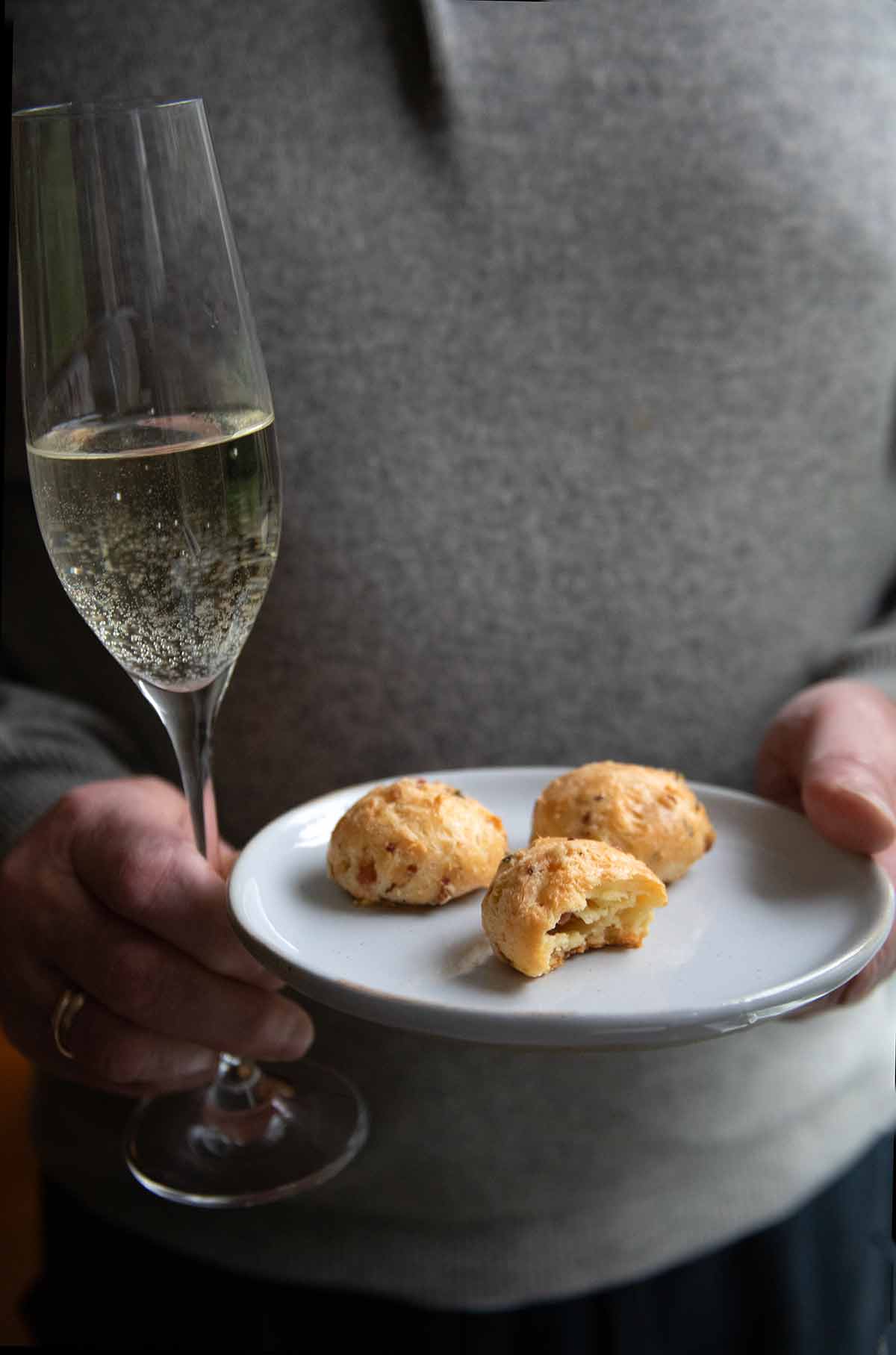 I believe that of all the puffs, the savory gougère is the pinnacle of puffery perfection. The reason being that the pastry used for sweet profiteroles, cream puffs, and even the Eiffel tower-like croquembouche is, at the core of its being, no more than a vehicle for the filling. It's what you have to get through to get the Cracker Jack prize within, whether pastry cream, ganache, caramel, you name it.
But the gougère, well, the gougère is the prize. It's sorta the edible version of a Chinese takeout food container.
In this version, I went one better by adding to the batter classic Prosciutto di Parma as well as one of the noble cheeses of Italy, Grana Padano, along with thyme and rosemary to ensure every bite literally explodes with indulgence. Okay, perhaps I'm a little hyperbolic. But these are indeed not your ordinary savory gougères. Indeed, a fine piece of puffery.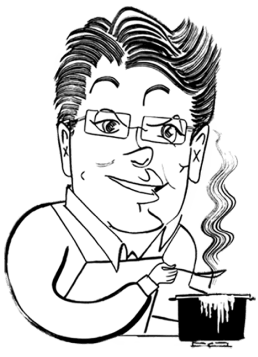 Why Our Testers Loved This
Tester Karen D sums up the many wonderful traits of these cheesy gougères by describing them as "irresistible, one-bite morsels of goodness and delectability." Enough said.

Notes on Ingredients
Unsalted butter–If you substitute salted butter, skip adding the pinch of kosher salt.
Prosciutto–You could use a thinly sliced ham, or even finely diced leftover ham, if you've got it on hand.
Finely grated cheese–Regardless of the type of cheese you use, do make sure it's freshly grated. Preshredded cheese doesn't melt well.
How to Make This Recipe
Preheat the oven to 425°F. Line two rimmed baking sheets with parchment.

Make the dough. Heat the water, salt, and butter until boiling, then dump in the flour and mix vigorously with a wooden spoon. Continue to cook, stirring over medium-high heat until the dough begins to pull away from the pan.

Beat the dough. In a stand mixer, beat the dough until cool. Add the eggs one at a time, beating until each egg is fully incorporated before adding the next egg.

Stir in the prosciutto, cheese, herbs, and pepper. Drop rounded scoops of dough onto the baking sheets.

Bake the gougères. Cook until golden brown, then let cool slightly before serving.
Recipe FAQs
Can I make these in advance?
These prosciutto-cheese gougères can be baked up to 2 hours before serving and rewarmed in a 350°F oven for 5 to 7 minutes. Alternatively, you can bake them, let them cool, and store them in the freezer for up to 1 month. Reheat from frozen in a 350°F oven for 10 to 12 minutes.
Can these be made gluten-free?
Yes. Our readers have had success substituting cup for cup gluten-free all-purpose baking blend for the flour here.
How do you pronounce gougère?
Goo-zhehr. Both the singular and plural forms, gougère and gougères, are pronounced identically.
Helpful Tips
When scooping your choux dough, spray your cookie scoop with cooking spray or dip it in a glass of cold water between scoops to make it easier for the dough to release.
The cheese gougères recipe can be scaled up to make 1 1/2 or 2 batches (which we highly recommend so you can keep some for snitching.)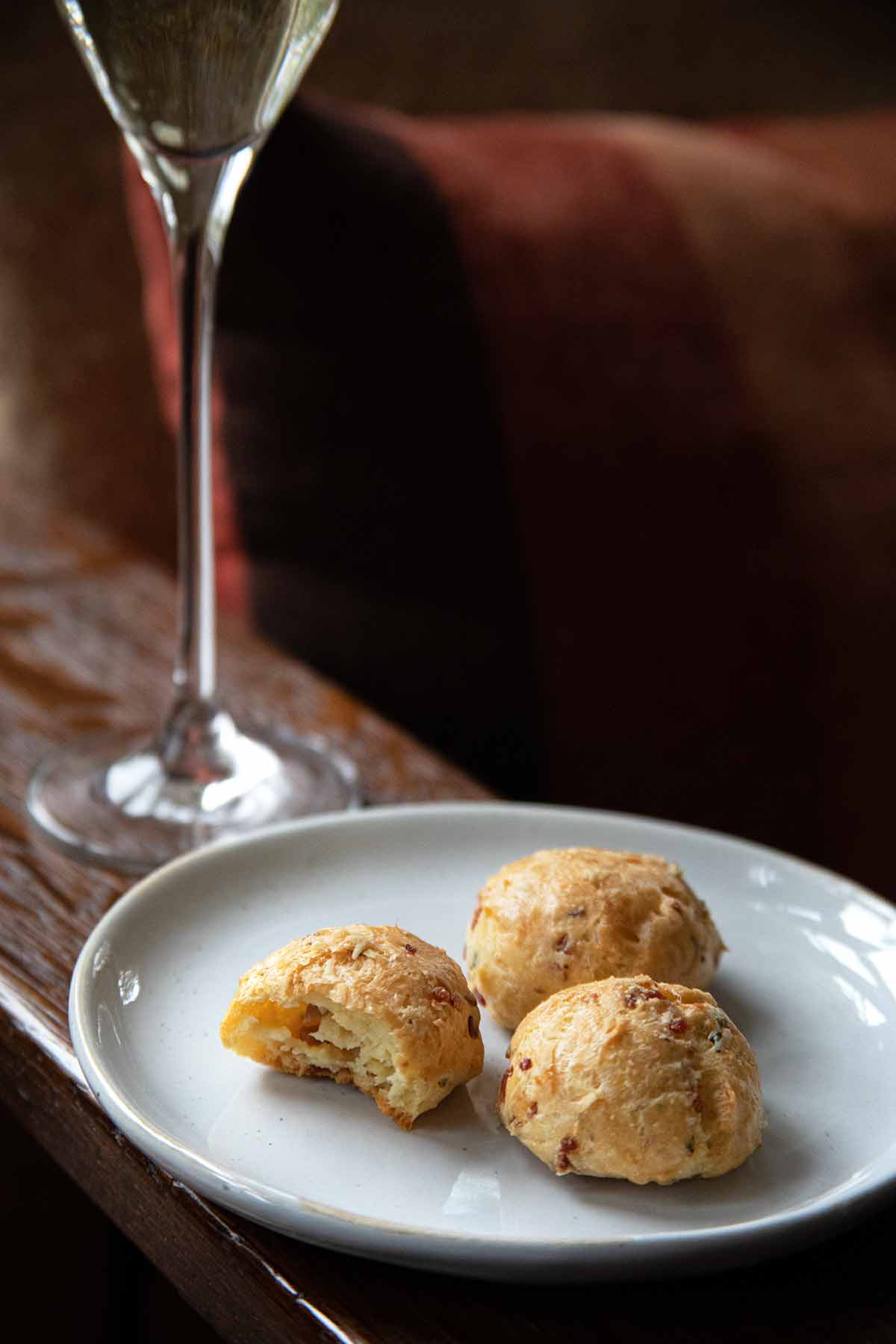 Write a Review
If you make this recipe, or any dish on LC, consider leaving a review, a star rating, and your best photo in the comments below. I love hearing from you.–David
I made a huge mistake when I made these. I made them for my son to take to a New Year's party. The minute I tasted one, I knew I should not have promised them away.

These were so good I've been planning an after New Years dinner party just so I can make them again! The prociutto and spices in the dough gives a great savory flavor that goes so well with drinks.

I didn't find them too chewy at all, just nice and crisp and plenty airy. And so easy, too. Man, I love these little gems.

susan
Prosciutto-Cheese Gougères
For these gourgères, I went one better by adding to the batter classic Proscuitto di Parma as well as one of the noble cheeses of Italy, Grana Padano, along with thyme and rosemary to ensure every bite literally explodes with indulgence. Okay, perhaps I'm a little hyperbolic. But these are indeed not your ordinary savory gougères. Indeed, a fine piece of puffery.
Ingredients
1

cup

cold water

6

tablespoons (3 oz)

unsalted butter

,

cut into 6 pieces

Pinch

kosher salt

4

large

eggs

,

at room temperature

4

ounces

Prosciutto

,

thinly sliced and finely chopped

4

ounces (1 1/4 cups)

finely grated cheese such as Parmiggiano-Reggiano or Grana Padano

2

teaspoons

rosemary leaves

,

minced

2

teaspoons

thyme leaves

,

minced

1

teaspoon

freshly ground black pepper
Instructions
Crank the oven to 425°F (218°C) and position racks in the top third and bottom third positions of the oven. Line 2 baking sheets with parchment paper or nonstick baking sheets.

Bring the water, butter, and salt to a boil in a medium saucepan over medium-high heat.

Dump the flour all at once into the boiling butter mixture and, using a wooden spoon and good old elbow grease, stir until the flour clumps into a ball and pulls away from the sides of the pan. Continue stirring over medium-high heat until the dough leaves an even, dry film on the bottom of the pan, 2 to 3 minutes. (Don't you dare skimp on this step.)

Drop the ball of dough into the bowl of a stand mixer fitted with the paddle attachment and mix on low speed until the dough is just barely warm to the touch, about 5 minutes.

Plop in an egg, increase the speed to medium, and beat until incorporated. The dough may look hopelessly soupy and broken at first, but fear not and continue mixing until the blob turns smooth and slick. Repeat with the remaining eggs, adding them 1 at a time.

Using a spoon, stir in the Prosciutto di Parma, Grana Padano, rosemary, thyme, and pepper.

Drop rounded tablespoons of the dough, or use a 1-tablespoon cookie scoop to make plump mounds, on the prepared baking sheets, spacing them about 2 inches apart. Have a glass of cold water handy and dip the spoon in it every so often to help make the dough easier to scoop.

Bake the puffs until golden brown, 20 to 25 minutes, rotating and switching the positions of the sheets once halfway through baking.

Transfer the sheets to a wire rack to cool slightly. Then whip off your apron, pop as many puffs as can fit into your mouth, place the rest of the puffs on a platter, and offer them to your guests post haste.
Notes
Holiday variations–To glam these up for the holidays, they can be split and stuffed as follows.

For Thanksgiving, you can fill them with a mix of cream cheese and cranberry compote.
For Christmas, think thin slivers of leftover rare roast beef and a dollop of horseradish sauce.
And for New Years, well, I think a tiny mound of caviar and a spoonful of sour cream is exactly what Father Time craves.

Make ahead–

You can bake these up to 2 hours in advance, then reheat them in a 350°F (176°C) oven for 5 to 7 minutes. Or freeze a batch of baked, cooled puffs for up to a month and, just before guests arrive, pop the frozen puffs into a 350°F (176°C) oven for 10 to 12 minutes.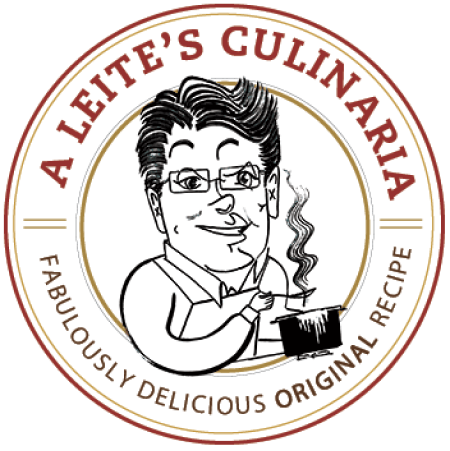 Nutrition
Serving:
1
puff
Calories:
76
kcal
Carbohydrates:
3
g
Protein:
3
g
Fat:
5
g
Saturated Fat:
3
g
Polyunsaturated Fat:
1
g
Monounsaturated Fat:
2
g
Trans Fat:
1
g
Cholesterol:
36
mg
Sodium:
133
mg
Potassium:
27
mg
Fiber:
1
g
Sugar:
1
g
Vitamin A:
145
IU
Vitamin C:
1
mg
Calcium:
51
mg
Iron:
1
mg
Nutrition information is automatically calculated, so should only be used as an approximation.
Recipe © 2019 David Leite. All rights reserved.
---
Recipe Testers' Reviews
This cheese gougères recipe is perfect for that irresistible, one-bite morsel of goodness and delectability that we're all looking for on the cocktail buffet. It's the perfect bite that includes cheesy, salty, savory, and herbal goodness. It's the Rocky Mountain High of Poufs, the Sultan of Savory Puffs.
I can see it pairing well with a great single-malt Scotch, a nice, cool Chardonnay, a good, hearty Cabernet, and an icy Abita Turbodog. Yes, all of them! And I have to admit, I did sneak one right out of the oven with a diet Coke (decaf, of course).
These French cheese puffs are puffy and chewy, cheesy, and salty, and perfect coming right out of the oven. They're great to serve before dinner to friends, but I recommend making two batches for a party. You'll want to check the taste of one as they start cooling, then you'll find yourself popping "just one more" in your mouth. They're almost too easy to eat. One of these times I swear I'll serve them with something, instead of just eating them while standing at the counter.
But make the two batches of dough separately, instead of just doubling everything in one pan.
These gougères are freakin' fantastic. I made them too late at night after a frustrating day at work, so I brought most of the batch to the office the next day, warmed them up, and fed them to my clamoring audience. They loved them even though they'd been sitting overnight. In fact, most people flocked to them.
I used a #40 cookie scoop (that's the one that yields a generous tablespoon) to scoop the dough. Spray it lightly with cooking spray and the puffs will slip right out.