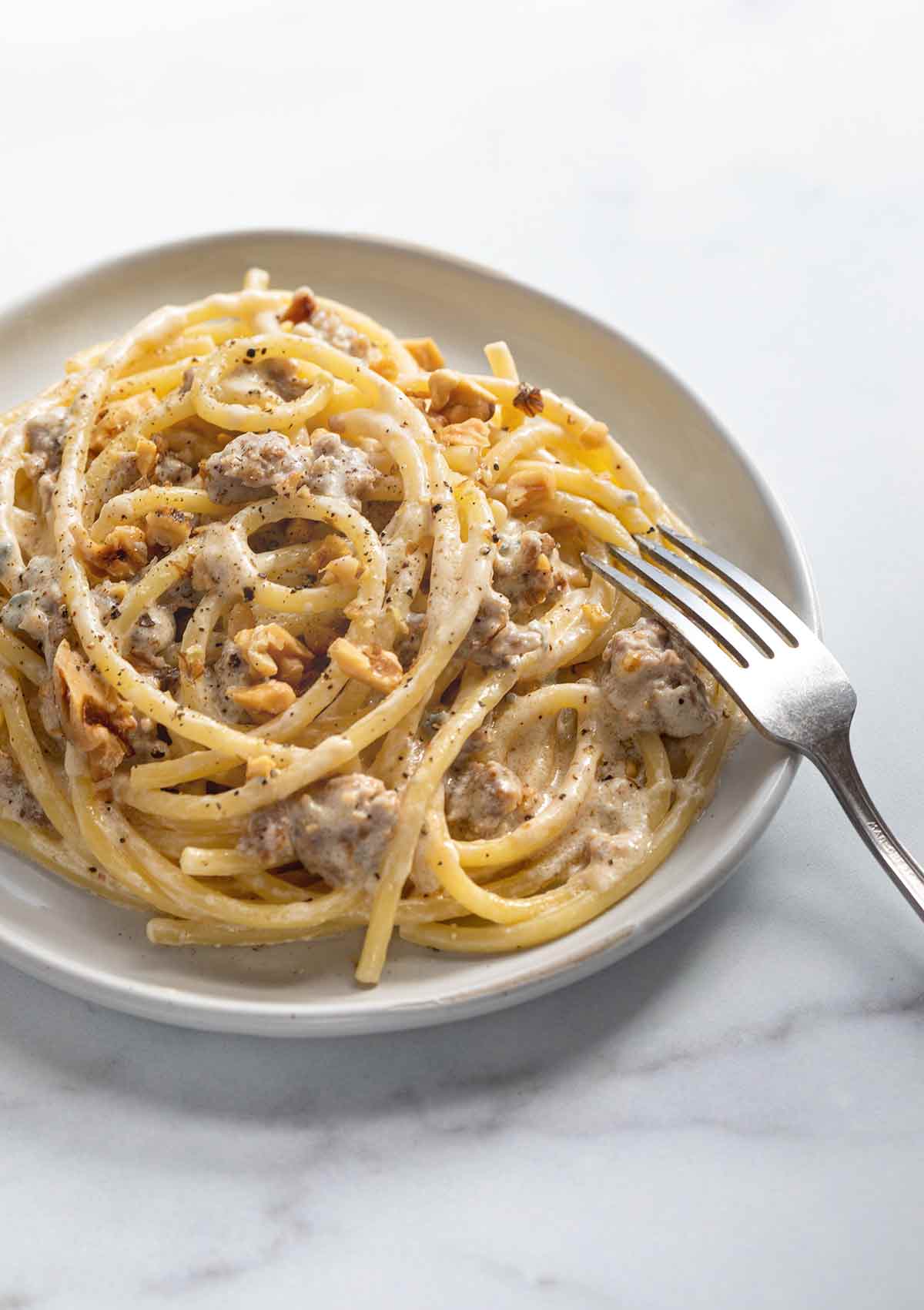 This blue cheese, sausage, and walnut pasta is so creamy and indulgent it feels worthy of a special occasion but is completely doable on a weeknight.
By David Leite
This pasta dish is one of those true pantry meals. I was rooting around the kitchen one weeknight for something to make. I was hangry and not in the mood for lots of peeling, cutting, dicing, and stirring. I wanted to eat RIGHT then and there. When that happens, I usually put a pot of water on the stove and crank up the heat and figure things out from there.
Pasta is a given. Roquefort always lurks in the fridge because The One is a huge blue cheese aficionado. So two ingredients down. We had sweet Italian sausage in the fridge, so a swirly-twirly in the microwave on "defrost" took care of that. And, well, walnuts? Who doesn't have them on hand?
I confess, the first time I made this, I reached for heavy cream instead of half-and-half because, well, honestly, do I even have to say?!–David Leite

Why Our Testers Loved This
Boy, did our testers love this dish. They found it easy and quick to make. And the taste? P. Morena wrote, "The combination of blue cheese, sausage, and walnuts is amazing."

Angie Zoobkoff, our managing editor, thinks it "spectacularly rich and creamy" and "worthy of a special occasion."


Notes on Ingredients
Sweet Italian sausage–The sweetness in the Italian sausage balances nicely against the rich, tangy cheese and creamy sauce. You can substitute another type of sausage, such as spicy Italian. Be sure to use a fresh uncured sausage that can be crumbled.
Pasta—Fresh pasta is wonderful here, but dried pasta will work just as well. Choose a long noodle, such as bucatini, spaghetti, or fettuccine so that the sauce has plenty of space to cling to.
Blue cheese–Any type of blue cheese will work in this blue cheese pasta sauce, but note that if you use cheese with a lot of veining, the sauce will take on a greyish color. The flavor of the cheese you choose will be noticeable, so if you have picky diners, select a mild blue, such as Gorgonzola or Danish blue. If you love the funky flavor of strong blue cheese, select a crumbly bold-flavored cheese, like Roquefort.
Half and half–This adds the perfect amount of creaminess without making the dish too heavy. You can substitute heavy cream for some of the half-and-half if you want exceptionally rich and indulgent pasta.
How to Make This Recipe
Heat the oven to 350°F. Have ready a rimmed baking sheet. Bring a large pot of salted water to a boil.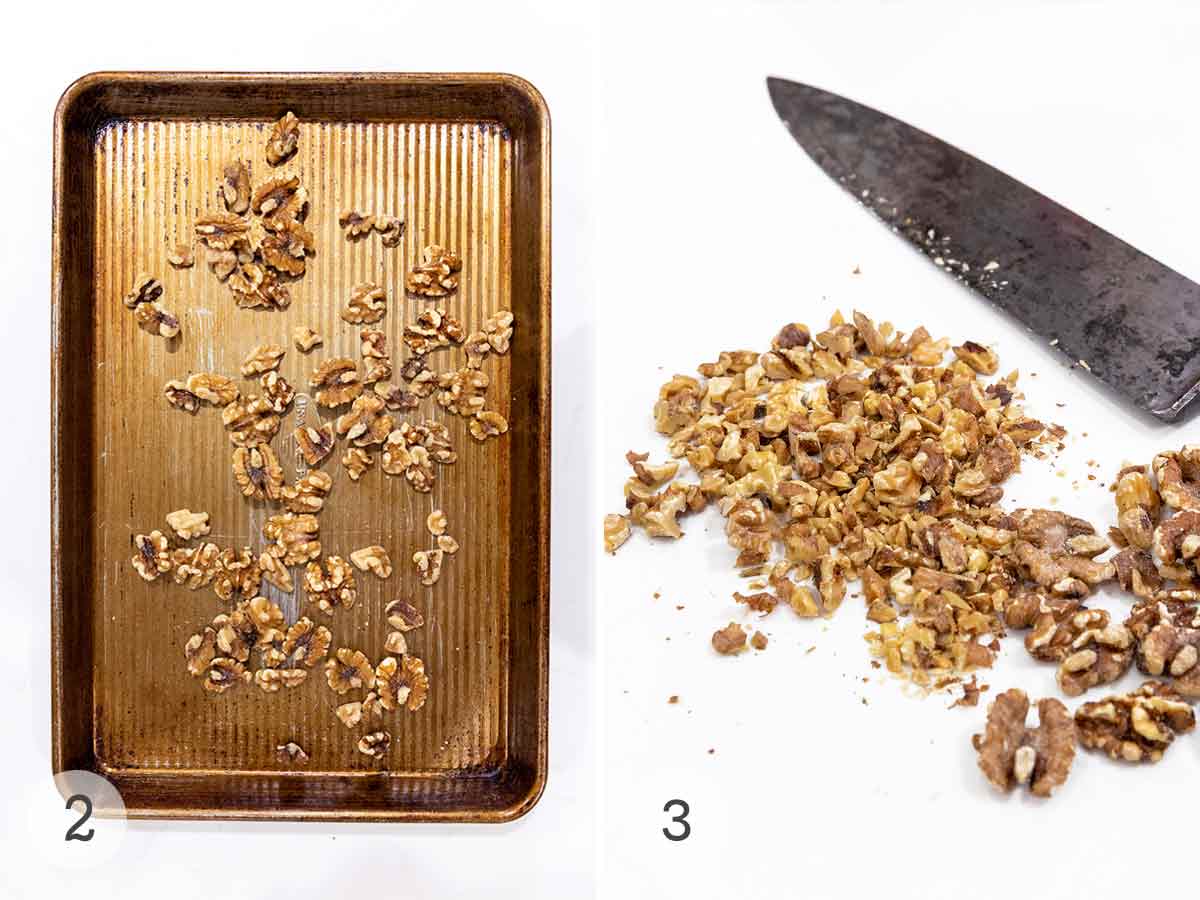 Scatter the walnuts over the baking sheet. Toast the walnuts until fragrant and lightly browned.

Cool the walnuts completely. Chop them coarsely and set them aside.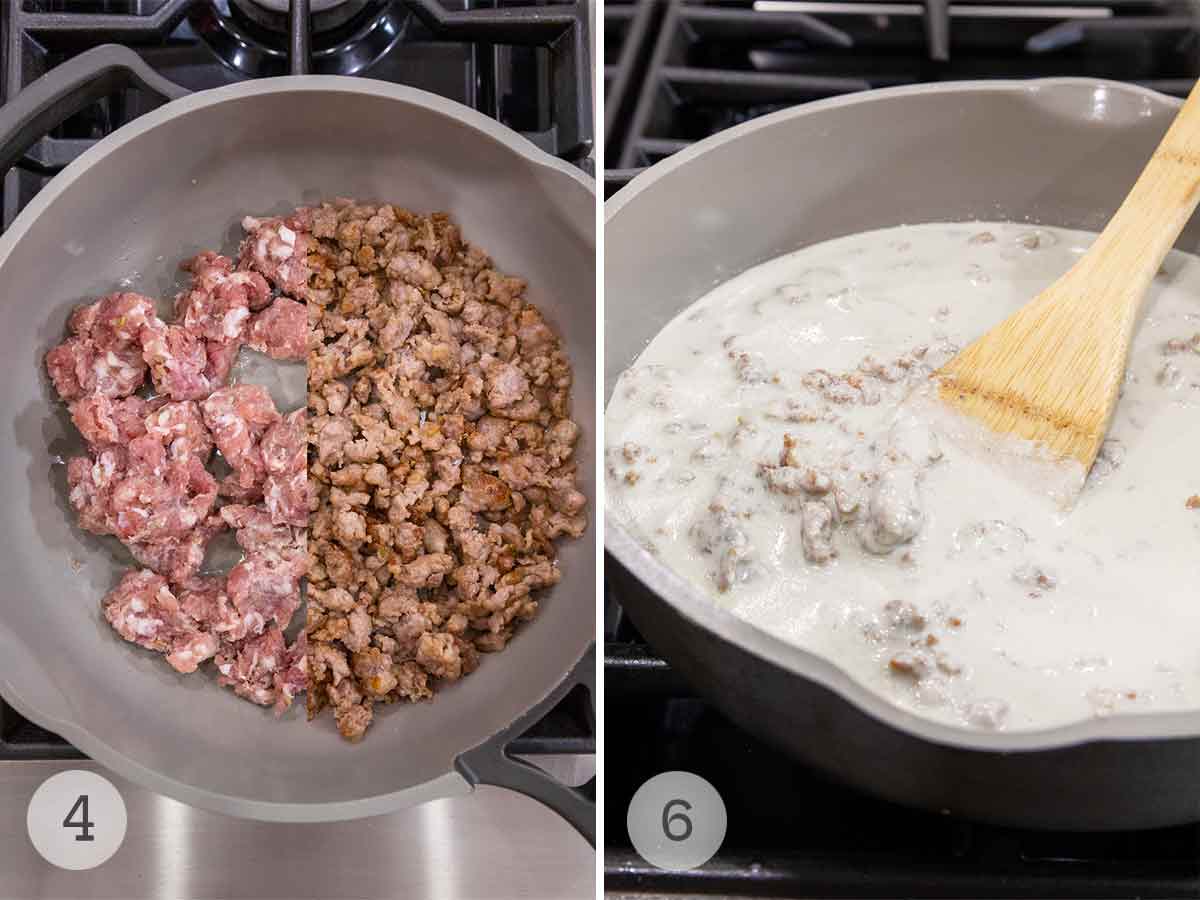 Brown the sausage. Add the sausage to a skillet, and cook, breaking the sausage into pieces, until browned and cooked through.

Cook the pasta. While the sausage is browning, add the pasta to the boiling water and cook until al dente, then drain, reserving 1/2 cup of the cooking water.

Stir the half-and-half and cheese into the sausage. Bring the sauce to a boil and cook, stirring frequently, until the sauce thickens.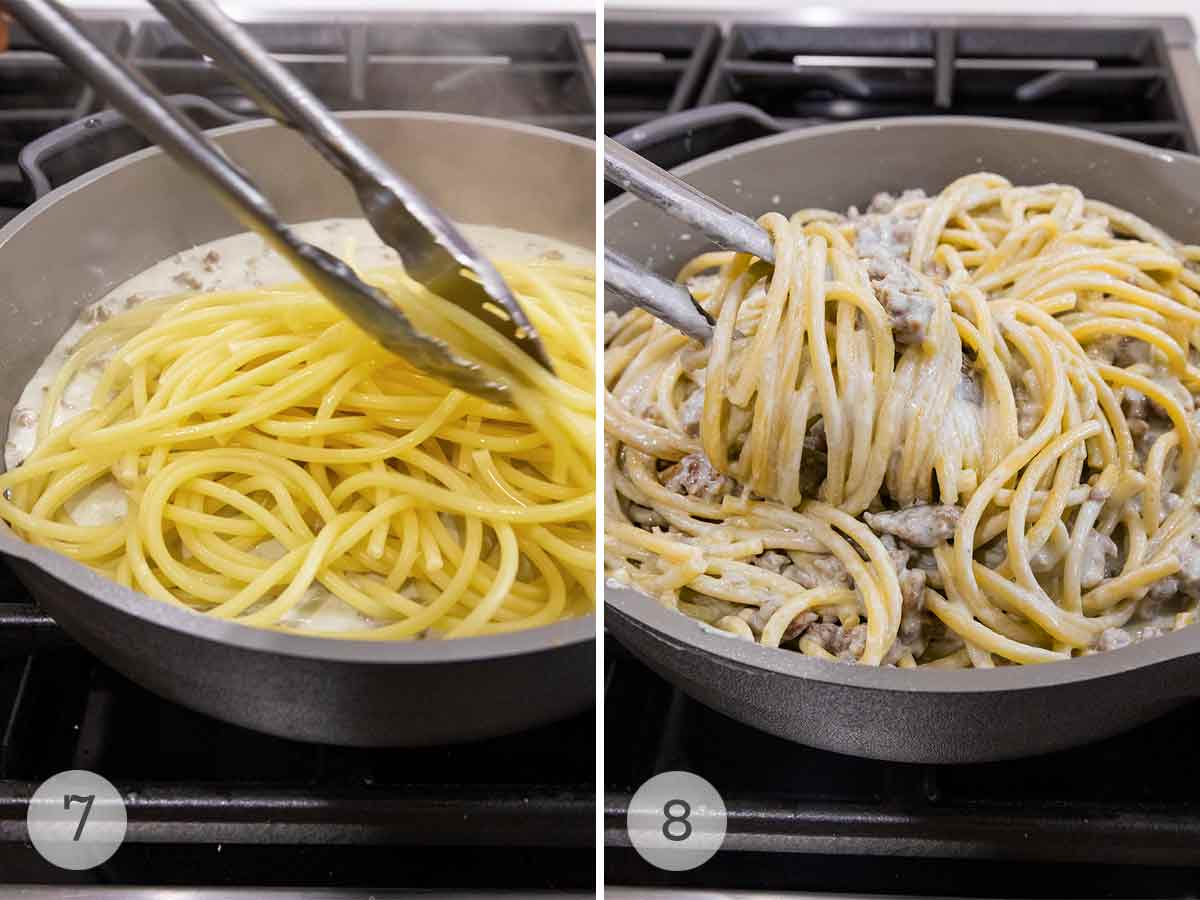 Dump the pasta into the sauce. Cook the pasta in the sauce, stirring constantly, until the pasta is cooked through. Add the reserved pasta water, if needed, to loosen the sauce.

Finish the pasta. Season to taste with salt and pepper. Divvy between bowls and top with the chopped walnuts and more blue cheese.
Recipe FAQs
What type of blue cheese should I use?
There are essentially two types of eaters in the world: Those who adore blue cheese, and can't have it pungent enough, and everyone else. It may sound sort of obvious, but keep your blue cheese preference level in mind as you select cheese at the store (or pull it from your cheese drawer in the fridge) because while this recipe is magnificent, it will not magically alter your blue cheese threshold.

Crumbly blue cheeses, including Roquefort and Stilton and Cabrales and Cambozola, are more robustly flavored and pungent. Creamy young blue cheeses tend to be milder. Even those who swear they can't stand it tend to swoon to recipes made with young blues such as gorgonzola dolce. And those that fall more in the middle spectrum include blues such as Maytag blue (made in Iowa) and gorgonzola (not dolce) and Valdeon.
Can you make this ahead of time?
Like most creamy pasta, this is best served as soon as it is made. If you do have leftovers, reheat on the stovetop over low heat, adding a splash of half-and-half if needed to loosen the sauce.
What's the secret to cooking perfect pasta?
The key to cooking perfect pasta is to make sure you don't cook it past al dente, save some pasta water, and be sure to finish cooking your pasta in the sauce.
Helpful Tips
Take care to only boil the pasta until al dente as it will continue to cook when added back to the sauce.
This pasta is best served the day it is made, but leftovers can be stored in an airtight container in the refrigerator for up to 3 days.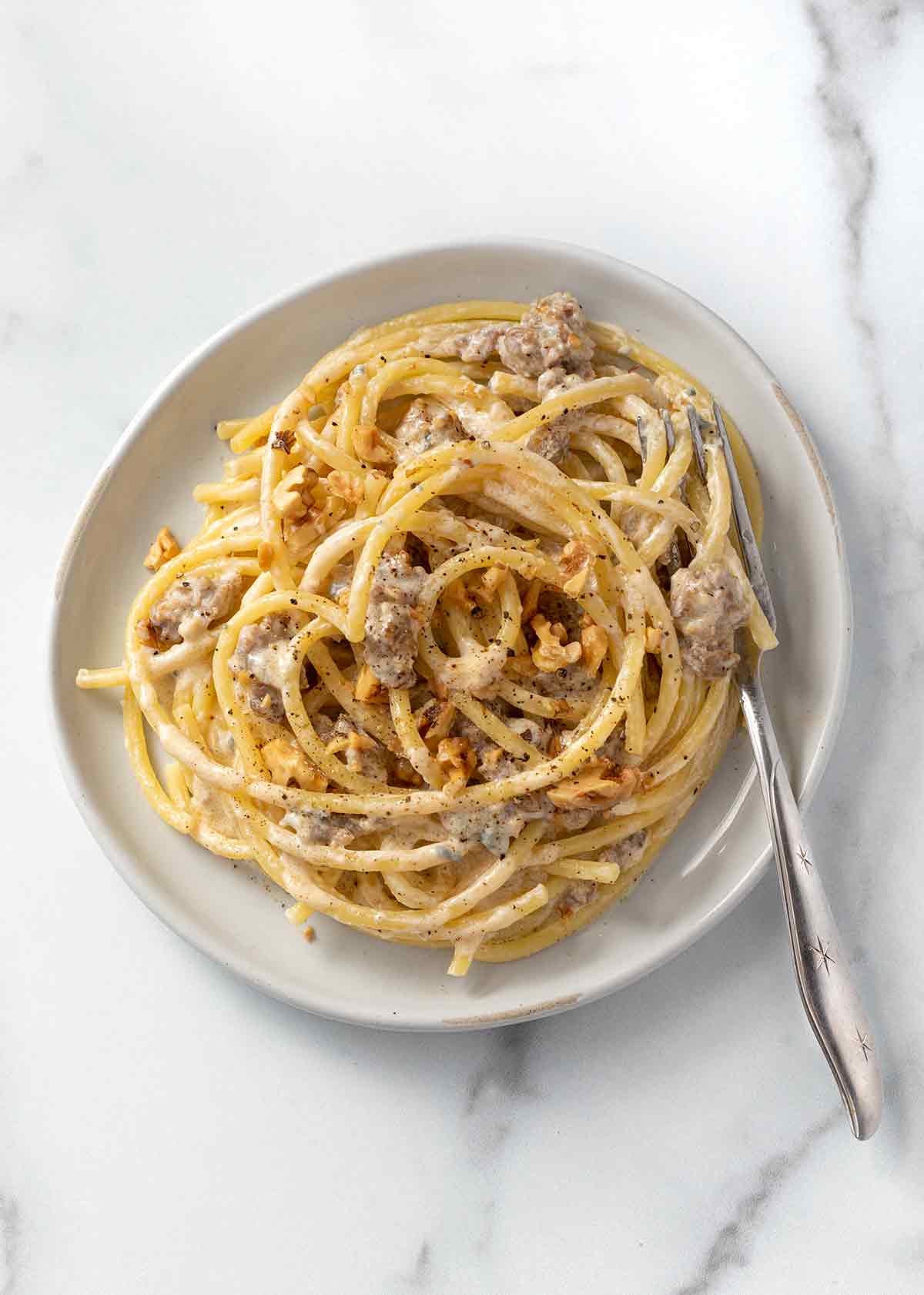 ☞ If you make this recipe, or any dish on LC, consider leaving a review, a star rating, and your best photo in the comments below. I love hearing from you.–David
Blue Cheese, Sausage, and Walnut Pasta
This blue cheese, sausage, and walnut pasta is rich, creamy comfort food made with walnuts, sweet Italian sausage, pasta, and blue cheese. It's an easy-peasy way to have dinner on the table when you're getting antsy for a quick yet ultra-satisfying meal.
Ingredients
Salt

1

cup

walnut halves

1

tablespoon (1/2 oz)

butter

1

pound

sweet Italian sausage

casings removed

1

pound

store-bought or homemade fettuccine, spaghetti or bucatini

6

ounces

blue cheese

crumbled, plus more for sprinkling

2

cups

half-and-half

Freshly ground black pepper
Instructions
Preheat the oven to 350°F (177°C). Line a rimmed baking sheet with parchment paper. Bring a large pot of salted water to a boil.

Scatter the walnuts on the baking sheet and roast until fragrant and lightly browned at the edges, 7 to 10 minutes.

Immediately transfer the walnuts to a cutting board and let cool before coarsely chopping them.

Meanwhile, in a large skillet over medium-high heat, melt the butter. Add the sausage and cook, breaking up the meat with a spatula, until browned and no trace of pink remains, 8 to 10 minutes.

Cook the pasta in the boiling water, stirring often, until al dente, about 2 minutes less than the package instructions. When the pasta is done, drain it, reserving at least 1/2 cup pasta cooking water.

Add the cheese and half-and-half to the sausage, crank the heat to high, and boil, stirring often, until the half-and-half thickens a bit, 3 to 4 minutes.

Carefully dump the drained pasta into the skillet, reduce the heat to low, and simmer, tossing constantly, until the pasta is cooked through and the liquid has thickened, about 3 minutes more. If desired, thin the sauce with some of the reserved pasta cooking water.

Taste the pasta and season with pepper and salt, if needed.

Divide the pasta among warm bowls and top with more blue cheese and the walnuts. Serve immediately.
Notes
Cooking pasta–Take care to only boil the pasta until al dente as it will continue to cook when added back to the sauce.
Storage–This pasta is best served the day it is made, but leftovers can be stored in an airtight container in the refrigerator for up to 3 days.
Reheating–To reheat leftover blue cheese pasta, place it in a saucepan over low heat and add a splash of half-and-half or cream. Warm until the pasta is heated through and the sauce has loosened.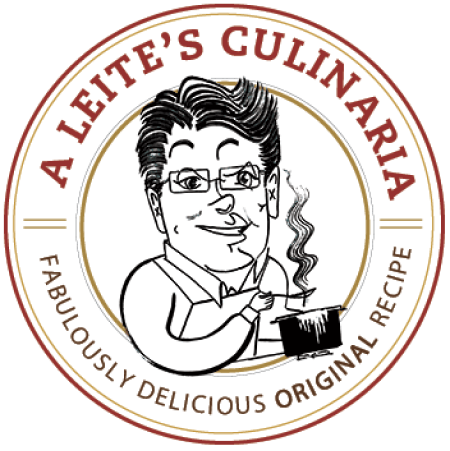 Nutrition
Serving:
1
serving
Calories:
1339
kcal
Carbohydrates:
96
g
Protein:
48
g
Fat:
85
g
Saturated Fat:
33
g
Polyunsaturated Fat:
20
g
Monounsaturated Fat:
27
g
Trans Fat:
0.1
g
Cholesterol:
168
mg
Sodium:
1400
mg
Potassium:
938
mg
Fiber:
6
g
Sugar:
9
g
Vitamin A:
851
IU
Vitamin C:
4
mg
Calcium:
428
mg
Iron:
4
mg
Nutrition information is automatically calculated, so should only be used as an approximation.
Recipe © 2022 David Leite. Photo © 2022
Bob Carey
. All rights reserved.
---
Recipe Testers' Reviews
I'm always willing to go for a recipe when it includes blue cheese—one of my favorites. This was a fast and easy recipe to make, and I thought it was delicious. It was done in around 25 minutes, start to finish.
I will say that my husband isn't a fan at all of blue cheese, so I was going to be intrigued as to whether he would like, or even eat this pasta with blue cheese. This a recipe that will go into my "make again and again" recipes. YUM.
My husband thought the blue cheese flavor was "mild," in his words, and thought the recipe needed something else to kick it up with regard to flavor. I'm thinking if I had used salted butter and added more ground pepper to taste (I added roughly a teaspoon of fresh ground black pepper) it would have been just a little better.
I used unsalted butter since blue cheese, at least to me, has a slightly saltier taste. Instead of toasting the walnuts in a large oven, I did it on the little baking sheet in my toaster oven. It toasts a little unevenly so a couple of my walnuts I had to throw out, but I still ended up with almost a full cup.
I'm sure you could use whole milk for this recipe instead of half-and-half and be happy with the results. I did add about 1/2 cup of the pasta water to thin out the sauce a little.
The leftovers the next day were flavorful, but there was less sauce because more absorbed into the pasta. Still good leftovers.
The flavors in this creamy blue cheese pasta dish are so good and complementary—the ingredients are initially what caught my attention, and in fact right when I read the name of the recipe, I wanted to make it.
The combination of blue cheese, sausage, and walnuts is amazing. The blue cheese sauce is really creamy and rich enough to produce an amazing sauce. It was wonderful and delicious, but because it was so rich, you couldn't eat a lot and it really needed something served alongside it to balance it.
I did add a small amount of pasta water—about 1/4 cup. The sauce thickened beautifully. The consistency of the sauce was silky and creamy and coated the pasta well. Others might not mind the richness, though. All in all, the flavors are fantastic.
I had some leftover broccoli raab in the fridge (that had been briefly blanched and sautéed in olive oil, garlic, and red pepper) and we reheated that and the leftover pasta together the next day. It was really, really, good. I think the greens cut some of the richness of the original dish. You could even drop some fresh kale or spinach into the dish, making it kind of versatile.
I used homemade fettuccine in this dish, which was delicious, however, not necessary. This blue cheese pasta sauce would have been just as good with dried pasta. Any pasta would be great with this sauce. (The second time I made this, I used bucatini, which was heftier.) And I would leave the homemade pasta to a more delicate sauce.
The flavors in the blue cheese pasta sauce were really different both times I made this. The first time I made it, I used Roquefort cheese and the flavor was bold and really nice. The second time, I used gorgonzola dolce and the flavor was very good, but as expected, not as bold. I think that even those that don't think they like blue cheese would have enjoyed this.
We loved both, but wanted to note that the flavor really depends on the type of blue. A few recommendations would be helpful in the recipe, maybe a recommendation for a bold and mild blue. (there are a lot of blue cheeses out there!)
If I made this blue cheese pasta recipe again, for a third time, I would add even less half-and-half, but for a no-fail sauce, the half-and-half worked great.
This blue cheese, sausage, and walnut pasta is spectacularly rich and creamy, making it worthy of a special occasion yet it comes together easily in just 30 minutes. The timing in the recipe was perfect and easy to follow.
I used a mild blue cheese to appease the younger, pickier eaters at the table, but if you prefer a stronger variety, it would translate beautifully to the creamy sauce.