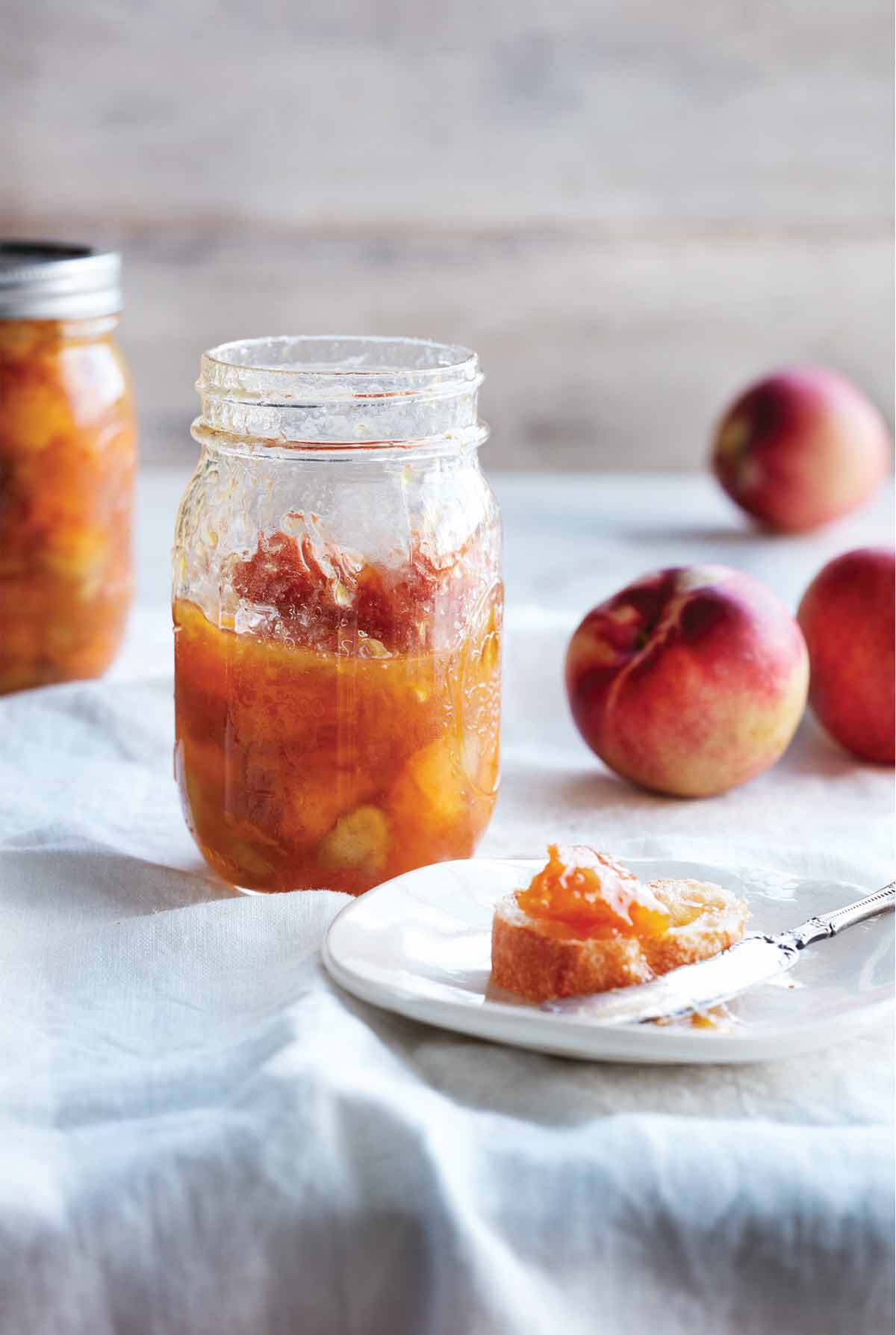 This peach and rhubarb jam preserves the flavor of ripe, juicy peaches and tart rhubarb, which means you can be reminded of summer even on the coldest winter day.
This jam is a melding of two of summers' most iconic ingredients, peaches and rhubarb, and it does so in old-fashioned, almost achingly sweet fashion that will help you re-experience the seasonal indulgence months after the fact, provided you can make your stash last that long. If putting up your own preserves has always seemed somewhat daunting, this is the recipe that will make it worth your while—including the helpful step-by-step instructions that will help make it possible.–Renee Schettler Rossi
Peach and Rhubarb Jam
This peach and rhubarb jam preserves the flavor of ripe, juicy peaches and tart rhubarb, which means you can be reminded of summer even on the coldest winter day.
Equipment
3 pint-size canning jars with lids and bands
Ingredients
5

cups

peeled, pitted, and chopped peaches (about 8 medium peaches)

4

cups

trimmed and diced rhubarb

in 1/3-inch (9 mm) dice

5

cups

granulated sugar

or a little less to taste

24

lemon seeds

tied in cheesecloth or placed in a tea strainer (from 3 lemons)
Instructions
In a large bowl, combine the peaches, rhubarb, and sugar and stir well. Cover and let stand at room temperature for 12 hours, stirring occasionally, to draw out the peach juice and dissolve the sugar.

Transfer the mixture to a heavy 8-quart (8-l) pot over medium heat. Add the lemon seeds and bring to a boil, stirring often and skimming any surface foam.

Adjust the heat to maintain a steady but gentle boil and cook, stirring occasionally to prevent the fruit from sticking to the bottom of the pot, until the mixture thickens to a jam consistency and registers 220°F (105°C) on an instant-read thermometer, 45 to 60 minutes.

☞ TESTER TIP: If you don't have a candy or instant-read thermometer, alternatively, you can test for doneness by slipping a couple of small plates in the freezer while the jam cooks and then spoon a little of the cooked jam onto a chilled plate and return the plate to the freezer for a couple of minutes to cool quickly. The jam should firm to a soft jelly consistency. If it has not thickened enough, cook for a few minutes longer, then test again on another chilled plate.

While the jam is cooking, fill a large pot or canner, fitted with a rack, with enough water to cover the jars. Over high heat, bring the water to a boil. Reduce heat to maintain a simmer and place the clean, empty canning jars in the water for 10 minutes to sterilize them. When the jam is ready, use canning tongs to carefully remove the jars and drain any water inside. Alternatively, you can heat your jars in the dishwasher, however, you will still need the hot water bath ready for canning the jam.

Remove the cheesecloth or tea strainer with the lemon seeds from the jam.

Spoon the hot jam into the jars, filling to within 1/2 inch (12 mm) of the top. Wipe the rim clean with a towel dipped in hot water. Top the jars with the lids and twist on the screw bands.

Set the jars, not touching one another, in the boiling water on the rack in the pot or canner. Make sure the water covers the jars by at least 1 inch (25 mm). Boil for 20 minutes, then turn off the heat and use tongs to transfer the jars to a rack to cool completely.

When the jars are completely cool, press on the center of each lid. If the lid remains concave, the seal is good. Store the jars in a cool pantry for up to 1 year. If a lid failed the seal test, that simply means you get immediate gratification and should store the jar in the refrigerator and consume the jam within 3 weeks.
Nutrition
Serving:
2
tablespoons
Calories:
89
kcal
Carbohydrates:
23
g
Protein:
0.2
g
Fat:
0.1
g
Saturated Fat:
0.01
g
Polyunsaturated Fat:
0.02
g
Monounsaturated Fat:
0.01
g
Sodium:
3
mg
Potassium:
49
mg
Fiber:
0.4
g
Sugar:
22
g
Vitamin A:
63
IU
Vitamin C:
1
mg
Calcium:
10
mg
Iron:
0.1
mg
Nutrition information is automatically calculated, so should only be used as an approximation.
Recipe © 2019 Janet Fletcher. Photo © 2019
Sara Remington
. All rights reserved.
---
Recipe Testers' Reviews
I was very excited to try this recipe as my bonus daughter, who has an affinity for all things peach, was coming for a driveway visit. Also, my garden has started blessing my harvest basket with ruby stalks that beg to be transformed. Overall, this recipe came together in a couple of hours, discounting the 12 hour fruit and sugar macerating time.
I loved the idea of using the lemon pips as pectin. My thickening time was longer than what the recipe suggested by almost 100% and my thermometer reading only made it to 218°F using my new Thermapen.
The consistency turned out fine though and I didn't have the need to boil the jars as I already gave one away and used 1/2 mixed with ricotta to stuff my brunch crêpes. While I enjoyed this jam, we all felt it was a bit too sweet and could either benefit from less sugar or more rhubarb. The best application for this recipe is as a sweetener so that the fruit flavor comes through and the sugar becomes diluted such as how I used it as a fruit bottom for my homemade yogurt and mixed with ricotta cheese in a filling.
I have to admit, this peach and rhubarb combination really is better than peaches alone. It's fantastic, better in both flavor and texture than peach jam. There. I said it.
This recipe was very accurate in terms of the weights and measurements. Just to clarify, the jars should be hot when you spoon in the jam to avoid thermal shock and breakage when the jam hits the jars. This can be achieved by using jars straight out of the dishwasher (including a dry cycle) or you can heat the jars in the very same water bath you will use for canning, with the lids off. If the filled jars are hot when you put them in the vessel, which they will be, adding cool water gives the potential for breakage. So I would recommend heating the water before adding hot jars. If you've already preheated the jars in the water bath, you are all set.
The lemon seeds are a bit fiddly in this jam, but adds natural citrus pectin which will help your jam set. Lemon juice or zest would also add some, but not as much as seeds. If you go with the seeds, I would suggest that you use the cut up and seeded lemons to make preserved lemons. Or you could muddle them into cocktails, which you have certainly earned.
Yield was accurate. I got three pints plus about 1/2 cup. I just stuck the extra 1/2 cup into the fridge instead of processing a smaller jar.
Originally published June 28, 2020