Whether you're observing Lent or eating less red meat these days, you'll find what you need in this collection of simple fish recipes. Cod, salmon, or tuna. Baked, fried, or grilled. Hot or cold. We've got your back.
Truth be told, fish is always low on my list of dinner choices. Somewhere just above calves liver. I love shellfish, though. I'll wolf down fried clams, shrimp risotto, and seared scallops any day of the week. And I'll bravely eat oysters and mussels in months without an "r" in their names. Old folk wisdom be damned.
Whenever The One suggests fish for dinner, my response is always the same: "Blech." It takes some mighty creative mental gymnastics on his part (and some pretty hard-assed negotiation about who'll do the dishes) to get me to the table.
The weird thing is, once I actually sit down and eat fish, I like it. I really do. So, technically, I'm not fish averse. I just have anticipatory aversion about the possibility of having aversion to fish for dinner…. God, I've had too much therapy.
Enjoy.
xo,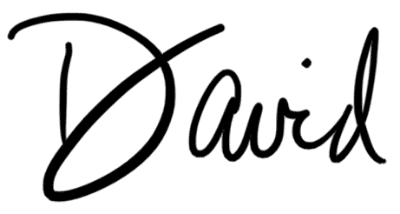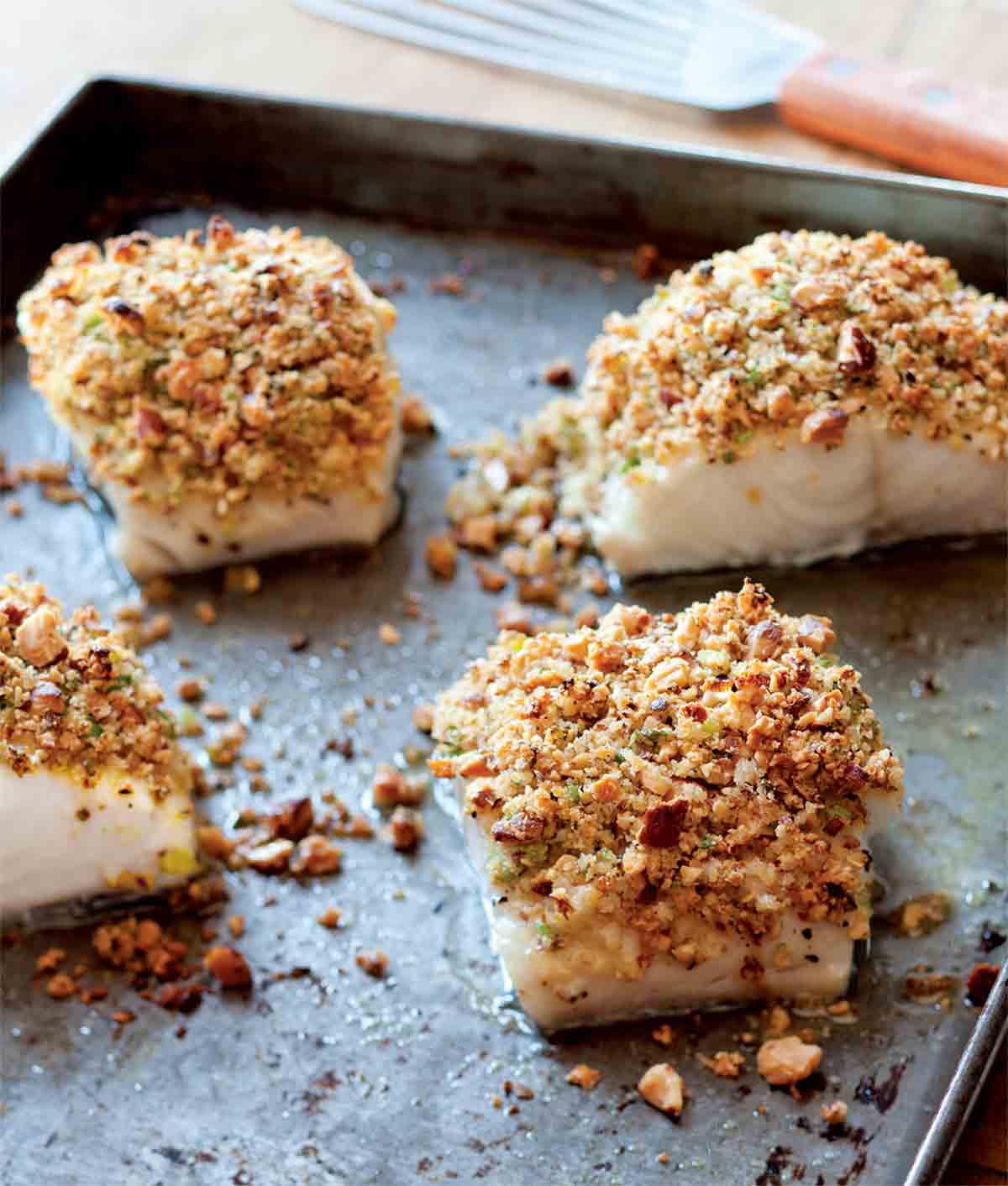 Baked fish is boring, yes? No. Not this lovely little weeknight number with bread crumbs that proves just how spectacularly tender and tasty baked fish can be.
Recipe
---
This baked fish is so delicious and so simple it barely qualifies as cooking! I used sourdough bread for the crumbs and lime because that's what I had. Worked perfectly with ling cod, and I suspect most fish would be just fine.
I have lots of the crumb mixture stashed in the refrigerator; just another reason to make this again very soon. I'm looking forward to trying it with hazelnuts.
Thanks for this gem of a recipe!–Foodelf
---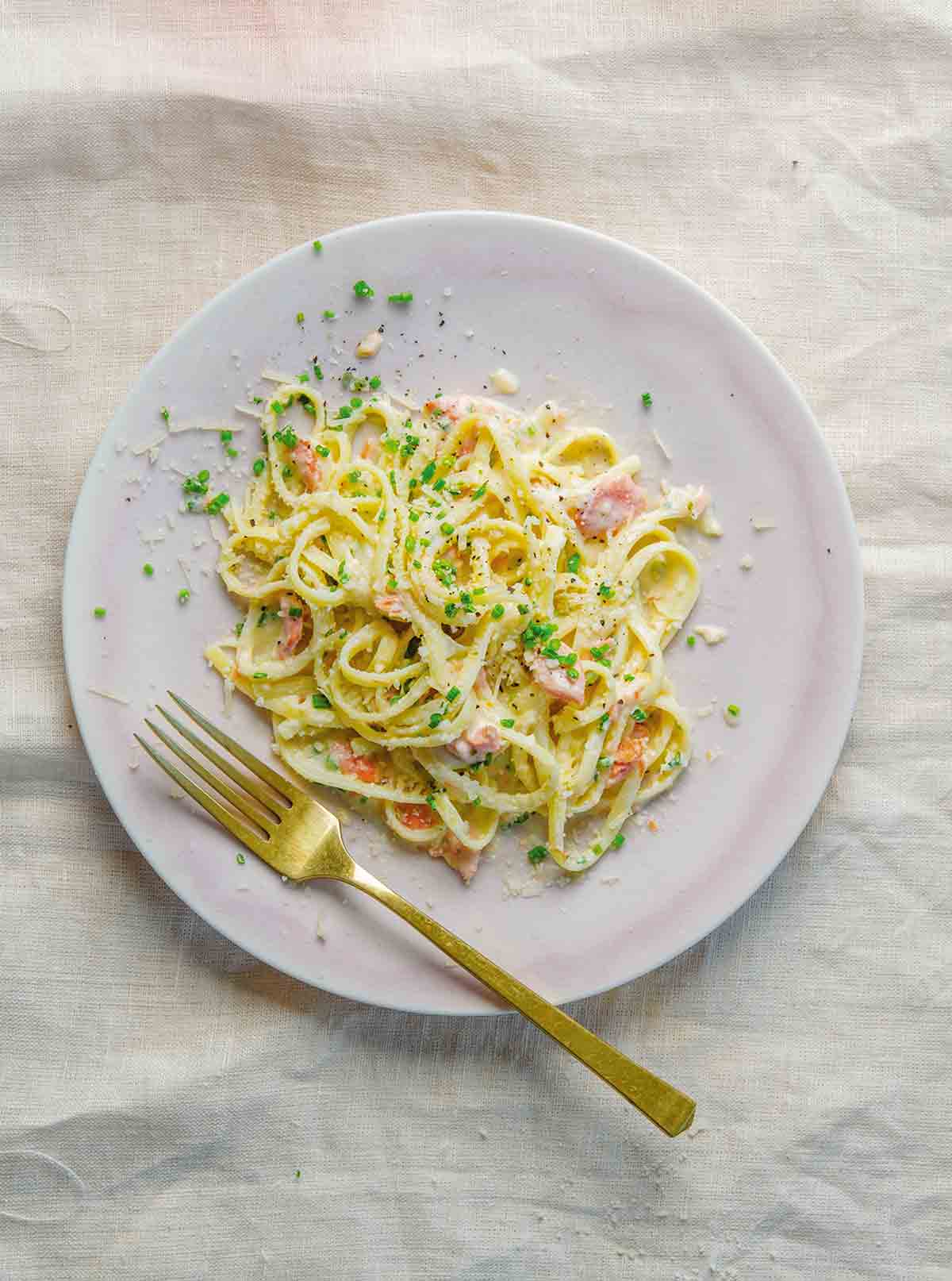 This lemony salmon pasta is an easy weeknight meal that combines leftover cooked salmon with pasta and a creamy lemon sauce. A quick and elegant weeknight winner.
Recipe
---
This salmon pasta is delicious. Roasted asparagus on the side for a spring meal.–Carlin
---
I love the huge flavor you get from roasting the cherry tomatoes, and how the heat of the oven mellows out the red onion, making this effortless sheet pan salmon a superb dinner.
Recipe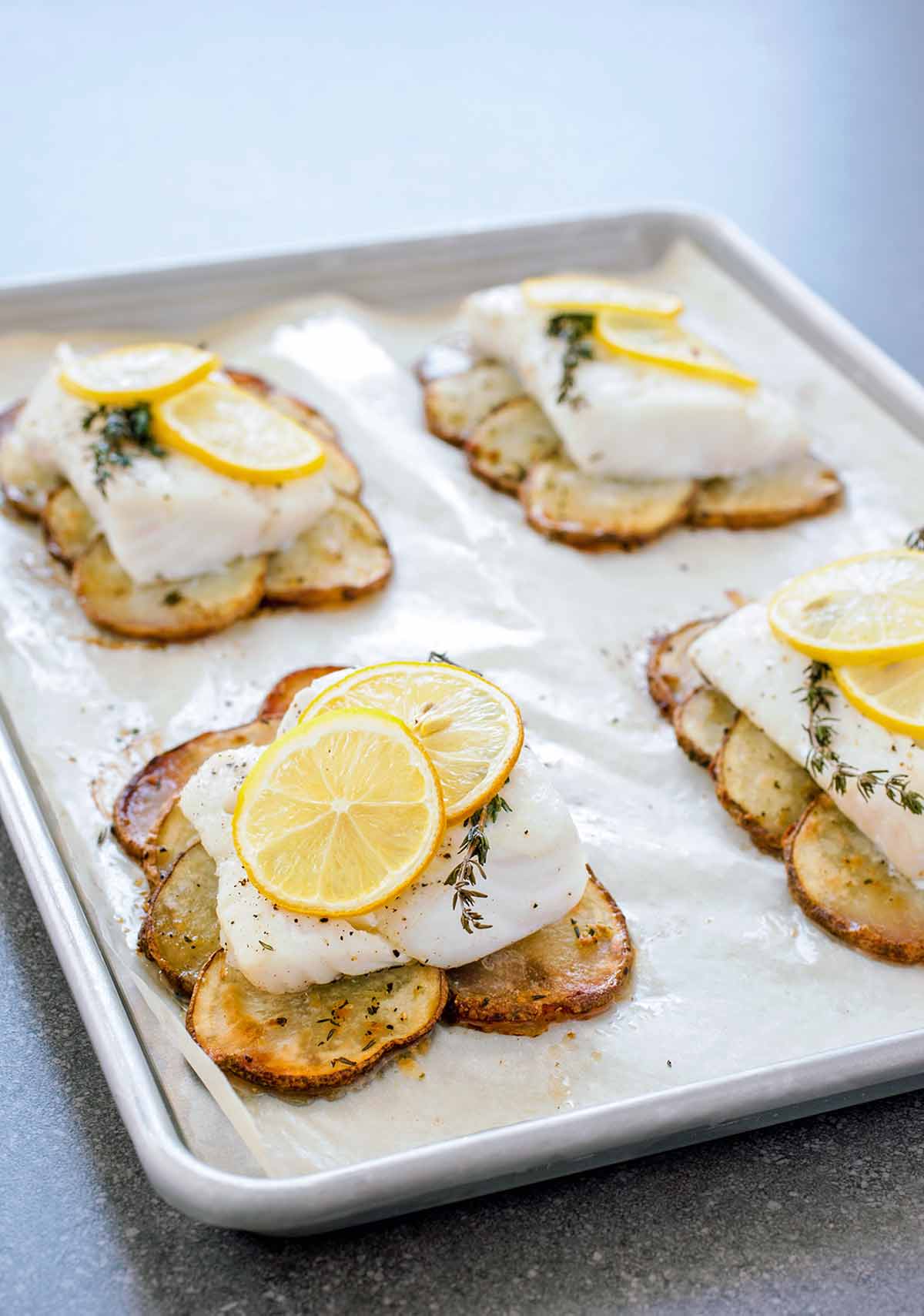 This roasted cod with lemon and potatoes is an easy yet elegant dinner made simply by slicing potatoes and topping them with the fish fillets and a little butter, thyme, and lemon. The whole shebang is roasted in the oven. A cinch.
Recipe
---
WOW! This roasted cod was FANTASTIC!!! It's so simple and yet so tasty. Extra bonus points for a meal that finishes in the oven, so I have time to clean all of the dishes before we eat.
The potatoes are really good with the garlic, and precooking in the microwave guarantees they will be fully cooked and a bit crispy in just a matter of minutes in the oven. My four-year-old loved it too!–Maria G.
---
Pan seared fish fillet. It's what's for dinner. Pronto. And so easy to make and tastes so darn delectable with its lemon butter sauce that you're going to completely forget it's good for you. Here's how to make it.
Recipe
In Texas, fried catfish is incredibly popular, and based on this version, you can see why. A crispy and crunchy coating made from yellow cornmeal infused with spices and a dip in hot oil maked for a delicious dinner.
Recipe
---
I have been cooking catfish for over 50 years, and this recipe is a real keeper!!!–James H.
---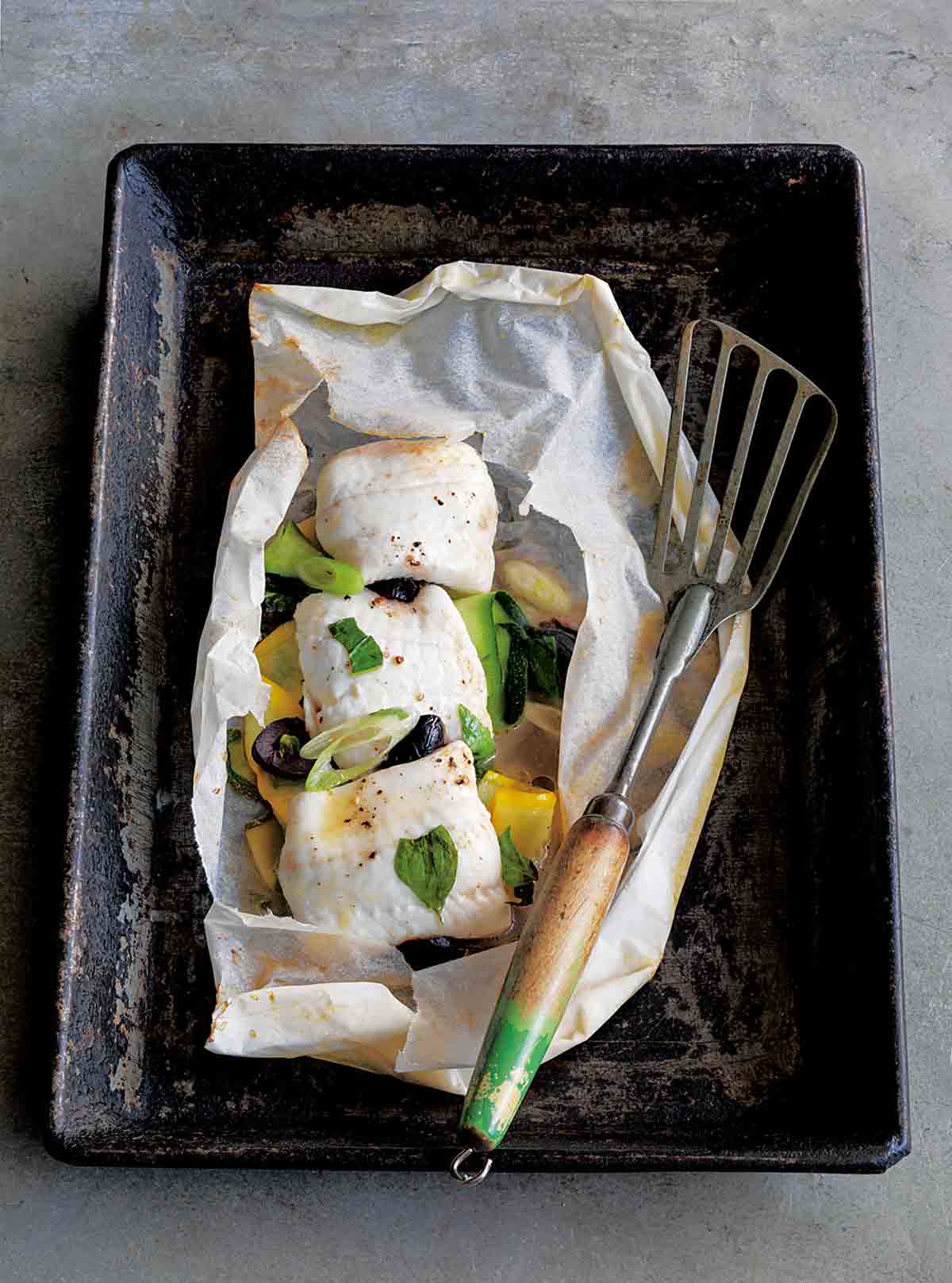 This fish in parchment is a healthy method for cooking fish to delicate perfection along with summer squash, zucchini, and olives in a buttery white wine sauce. And it makes just one serving, though you can easily multiply the ingredients to make more.
Recipe
A fancy tuna melt is definitely the best kind of tuna melt. Swiss (or Gruyere) cheese, cucumber, tomato, and a splash of lemon juice, all served on a warm baguette. This isn't your Mama's tuna sando.
Recipe
---
Amazing tuna melt recipe!I I put it on a thinly sliced everything bagel-yum!–Susan
---
Baking is one of the more foolproof ways to prepare salmon—it always comes out beautifully tender. Here, it's topped with a savory-sweet miso glaze that bakes on during the last few minutes of cooking. For a light and nutritious dinner, serve this with quinoa or rice and a salad or slaw alongside.
Recipe
These easy, healthy fish tacos are loaded with spiced grilled fish, tangy coleslaw, and a chipotle lime mayonnaise.
Recipe
---
Every bit of these tacos hits the mark — the ancho spice, the slaw, and the chipotle mayo. I made them when my best friend came down to visit from Vermont, and when she went home, she made them again! Super easy and absolutely delicious!–Lisa
---
This seared tuna with sweet and sour sauce is a quick and easy and healthy weeknight recipe from Dr. Andrew Weil made with tuna drizzled with a soy, sugar, and black vinegar sauce.
Recipe
Baked fish with tomatoes and olives is sorta Italian, sorta Mediterranean, and completely easy and impressive. Works wonderfully on crazy weeknights as well as dinner parties.
Recipe
---
I have made this baked fish dish easily 10 times. It's so easy, and the outcome is delicious.
I use whatever tomatoes I have on hand and make it a point to leave them in the oven longer than the 20 initial minutes to get more flavor out of them. I also have doubled the tomato/shallot/garlic combo because we used to be left wanting more with the flounder. Thanks for this awesome recipe!–Tannia
---
These salmon burgers, made with salmon, scallions, salt, and pepper—no fancy fillers—and topped with pickled shallots, avocado, and Sriracha mayo are healthy, easy, and guaranteed to satisfy your burger craving.
Recipe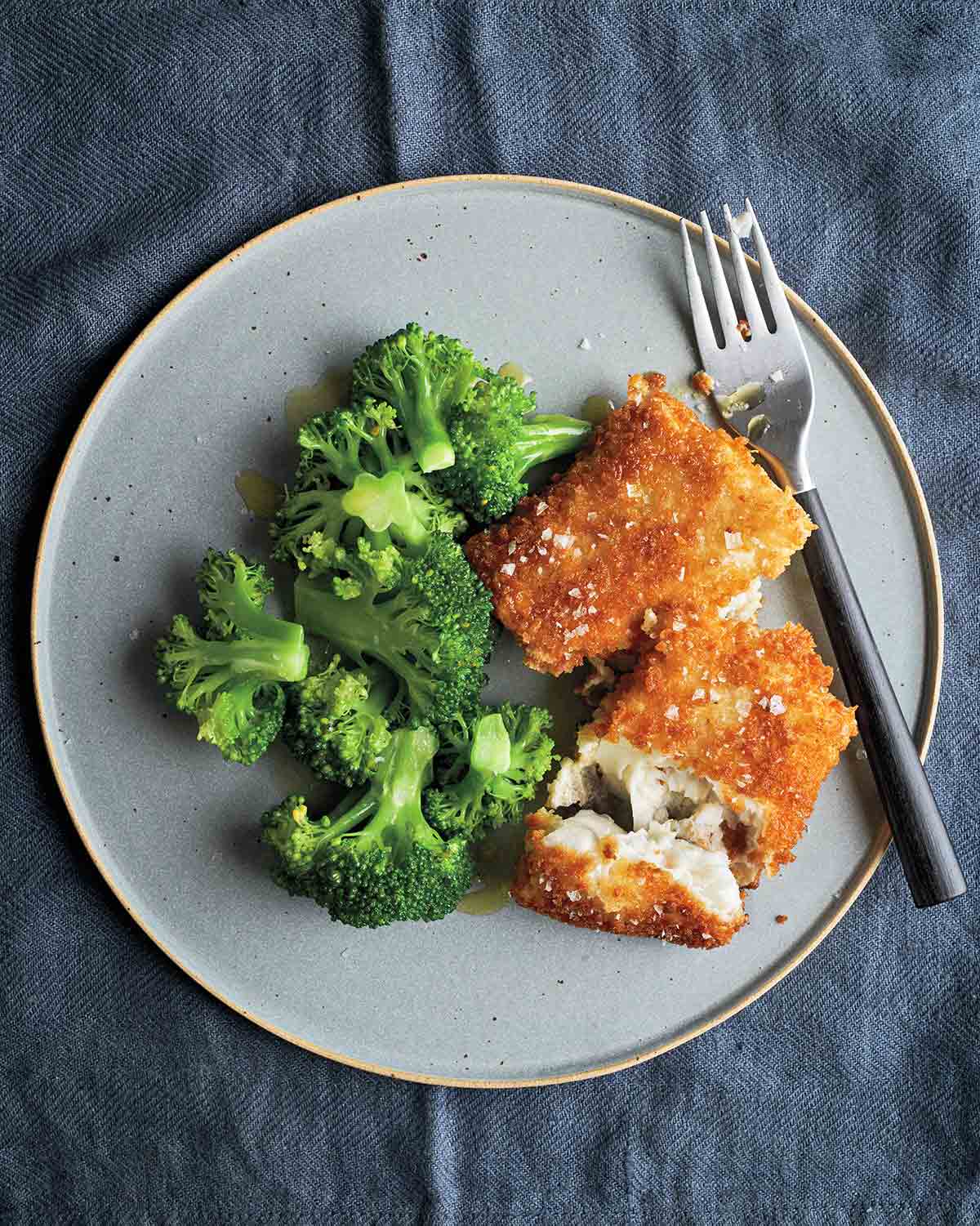 These breaded fish fillets are coated in breadcrumbs and gently pan-fried in oil and butter until crispy, flaky, and golden. They're as fast to make as the frozen boxed variety yet taste infinitely better.
Recipe
Cooking Fish FAQs
These are a few of our favorite ways to create easy fish dinners. Looking for more inspiration? Check out our entire collection of fish and seafood recipes.
© 2021 Leite's Culinaria. All rights reserved. All materials used with permission.