Pan seared fish fillet. It's what for dinner. Pronto. And it's so easy to make and tastes so darn delectable with its lemon butter sauce that you're going to completely forget it's good for you. Here's how to make it.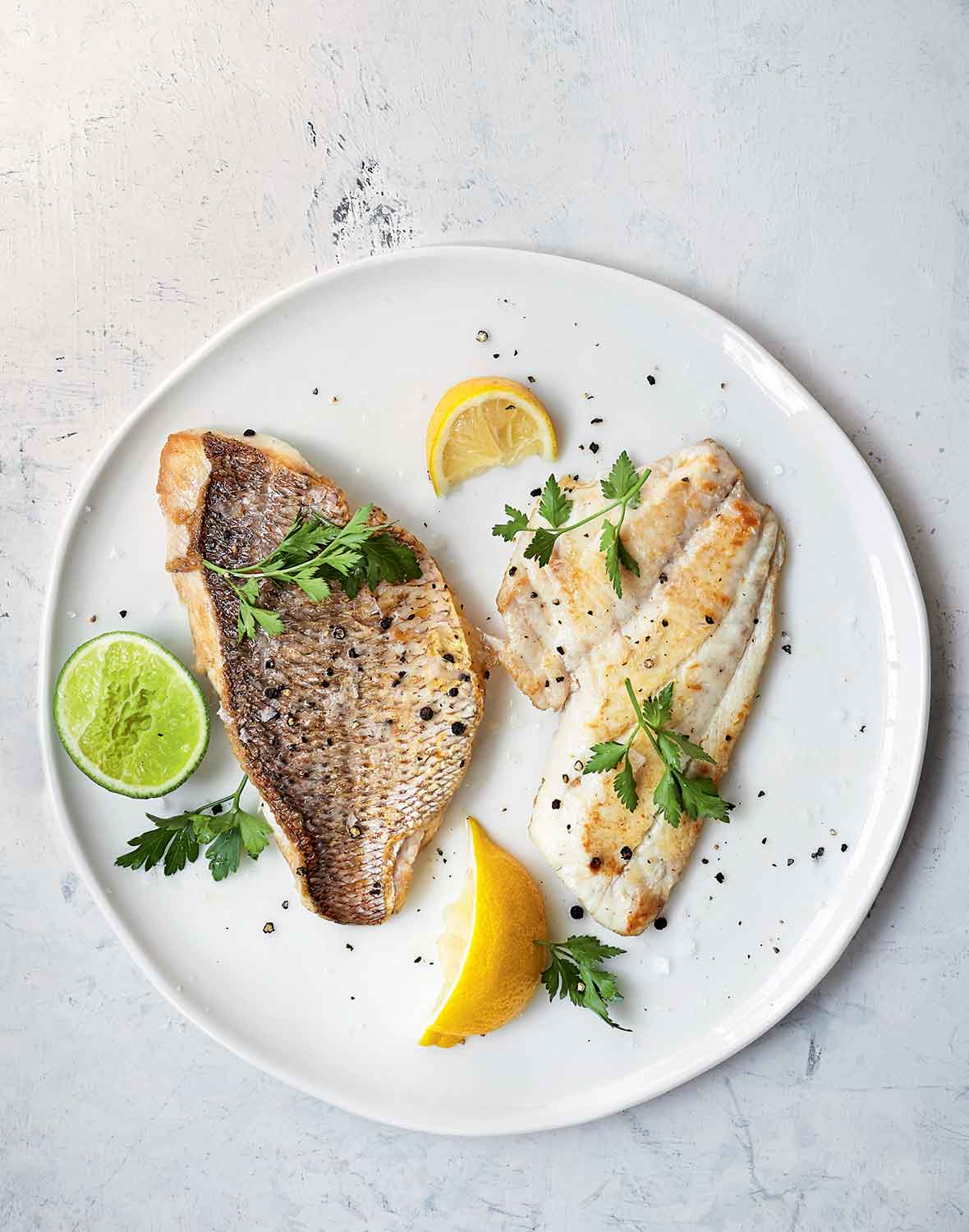 This pan seared fish fillet recipe shows you exactly how to make a restaurant-quality dinner in just 15 minutes. We're talking shatteringly crisp skin and tender fish that's not at all dry. The technique is surprisingly simple but the result is ridiculously good.–Angie Zoobkoff
Pan Seared Fish Fillet
Quick Glance
10 M
15 M

Serves 1 to 2
Ingredients
Email Grocery List
1 fish fillet, such as cod, snapper, sea bass, or salmon, with the skin on (8 oz)

Ghee or grapeseed oil

1 to 2 tablespoons ghee or unsalted butter (optional) (1/2 to 1 oz)

1/2 lemon

Sea salt and freshly ground black pepper
Directions
1. Set a heavy cast iron or stainless steel skillet over medium-high heat until very hot but not smoking, about 3 minutes.

2. While the skillet is heating, wash the fillet, then pat it really dry with paper towels. The drying part is critical, otherwise the skin won't crisp. Season both sides of the fish fillet with salt and black pepper.

3. When the skillet is hot, carefully add just enough ghee or oil to evenly coat the skillet. Wait a few seconds for the oil to heat and then quickly add the fish, skin side down. The fillet will contract and curve upwards. When this happens, take a flexible spatula and press the entire fillet gently back down and hold for a few seconds to ensure even cooking and crisp skin all over. Let the fish cook without messing with it too much. Cook the fish until you can see a golden brown color on the edge of the skin and the edges of the fish flesh become opaque, 3 to 4 minutes. Carefully and gently use a spatula to lift up the fillet and flip it over. Add the butter, if using, and baste the fish until cooked through, 2 to 3 minutes longer. Gently transfer the fish to a plate and serve with a squeeze of lemon.
Recipe Testers Reviews
It's enlightening to review a basic technique once in awhile, even when you think you already have it nailed. This simple pan-seared fish fillet recipe was a good reminder that details matter and made a glorious summer dinner for one. The entire skin of my wild-caught sockeye salmon was excellently crisp and the flesh side also had a beautiful golden crust. Fresh fish doesn't need much help in terms of added flavor, but a tablespoon of butter does wonders here. A few details not to overlook in order to achieve perfect results: 1) you want the surface of the fish to be thoroughly dry before it goes into the pan, 2) to prevent any excess pooling of oil, pour it into the pan (I used my cast iron skillet), then spread it all over the surface with paper towel, and 3) pay close attention to the bottom edges of the fish—golden brown skin and opaque flesh as the recipe describes—for the exact timing for turning it over. I enjoyed my salmon with halved cherry tomatoes and olives simply tossed with olive oil and fresh chopped oregano.
This pan seared fish fillet recipe works perfectly as written. It takes all of 10 minutes from start to finish. Don't skip the butter basting at the end—this will give the fillet flavors that you typically experience only with food served in restaurants. I made this recipe with salmon. A 3/4 pound fillet served 2 of us. I cooked it 3 minutes on the skin side and 1 minute on the second side in a well-heated cast iron skillet. It was cooked to a perfect internal temperature of 140°F. I served the fish with sautéed spinach and garlic, coleslaw, and homemade tartar sauce.
Just as I like cooking meat and poultry bone-in, I prefer fish fillets cooked skin-on. I'm not even all that fond of fish skin (it's not up there with chicken skin, for instance), but I think cooking the fish with its skin produces a better result. It seems to help hold the fish together, for one thing, and, perhaps it's my imagination, but I think the fish stays moister this way, too. The technique in this pan seared fish fillet recipe works quite well. The fish didn't break apart or stick to the pan. I used a cast-iron skillet to cook a red snapper fillet. I got the pan good and hot and added the oil. After about 1 minute, when I saw what might have possibly been the faintest hint of a wisp of smoke, I added the dry, seasoned fish, skin-side down. It got a little opaque on parts of the edges as the fish contracted slightly, but it did not curve upwards. At 3 minutes, after checking quickly to see some golden color on the skin, I pushed down on the fish with my spatula. After 2 more minutes (5 minutes total), it was opaque most of the way around the edges. After 1 more minute, I flipped the fish over. After 2 more minutes I added a knob (about 1 tablespoon) of unsalted butter. I basted with the butter and turned the heat off 1 minute later, The fish never did curl or curve upwards. Red snapper was not the best choice of fish for someone like me who hates dealing with fish bones. It has a lot. But the technique worked fine and the crisp skin was beautiful. I think the added butter really helped make the skin crispier and just put this recipe over the top. I would use it again. This would have been one serving except there was other food and I wasn't that hungry. Easily one serving but could be two, depending. I think some steamed vegetables and a simple grain preparation would be my choice of sides with this in the future. Now that it's getting to be the season, fresh corn on the cob would also be nice.
Pan Seared Fish Fillet Recipe © 2017 Amber Rose . Photo © 2017 Nassima Rothacker. All rights reserved. All materials used with permission.
If you make this recipe, snap a photo and hashtag it #LeitesCulinaria. We'd love to see your creations on Instagram, Facebook, and Twitter.