My son loves crispy skin on his fish, so I have perfected the art of achieving it. This is a super-easy, no-fuss way of cooking fish–great for a quick and healthy mid-week meal. Fish is full of anti-inflammatory omega 3s, brain-boosting healthy fats, and vitamin D, which every single metabolic process in the body requires–and it just happens to be delicious! Fish fillet cooked this way is great as it is, served with a lovely crisp green salad.–Amber Rose
Pan-Seared Fish Fillet
Pan seared fish fillet. It's what's for dinner. Pronto. And so easy to make and tastes so darn delectable with its lemon butter sauce that you're going to completely forget it's good for you. Here's how to make it.
Ingredients
1

(8 oz)

fish fillet, such as cod, snapper, sea bass, or salmon, with the skin on

Ghee or grapeseed oil

1 to 2

tablespoons

ghee or unsalted butter (optional)

1/2

lemon

Sea salt and freshly ground black pepper
Instructions
Set a heavy cast iron or stainless steel skillet over medium-high heat until very hot but not smoking, about 3 minutes.

While the skillet is heating, wash the fillet, then pat it really dry with paper towels. The drying part is critical, otherwise, the skin won't get crisp. Season both sides of the fish fillet with salt and black pepper.

When the skillet is hot, carefully add just enough ghee or oil to evenly coat the skillet. Wait a few seconds for the oil to heat and then quickly add the fish, skin side down. The fillet will contract and curve upwards. When this happens, take a flexible spatula and press the entire fillet gently back down and hold for a few seconds to ensure even cooking and crisp skin all over. Let the fish cook without messing with it too much until you can see a golden brown color on the edge of the skin and the edges of the fish flesh become opaque, 3 to 4 minutes.

Carefully and gently use a spatula to lift up the fillet and flip it over. Add the butter, if using, and baste the fish until cooked through, 2 to 3 minutes longer.

Gently transfer the fish to a plate and serve with a squeeze of lemon.
Notes
*What is ghee?
Ghee, which originated in ancient India, is a form of clarified butter (butter that's been simmered to remove all the water). But unlike regular clarified butter, ghee has been cooked longer, allowing the milk solids to caramelize. As well, it has a higher smoke point and makes it much more shelf-stable. The cooking process also removes lactose, making it perfect for anyone with lactose intolerance.
The flavor is richer, nuttier, and with a slightly sweeter, grassy taste. Ghee can be used in most of the same ways that butter can be, but perhaps its best application is as a finishing oil. Drizzled over roasted vegetables, rice, fish–anything that would benefit from some flavor and richness.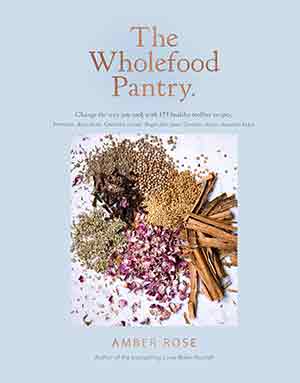 Nutrition
Serving:
1
portion
Calories:
358
kcal
Carbohydrates:
3
g
Protein:
46
g
Fat:
19
g
Saturated Fat:
11
g
Polyunsaturated Fat:
1
g
Monounsaturated Fat:
5
g
Cholesterol:
152
mg
Sodium:
119
mg
Potassium:
725
mg
Fiber:
1
g
Sugar:
1
g
Vitamin A:
6
IU
Vitamin C:
15
mg
Calcium:
30
mg
Iron:
1
mg
Nutrition information is automatically calculated, so should only be used as an approximation.
Recipe © 2017 Amber Rose. Photo © 2017 Nassima Rothacker. All rights reserved.
---