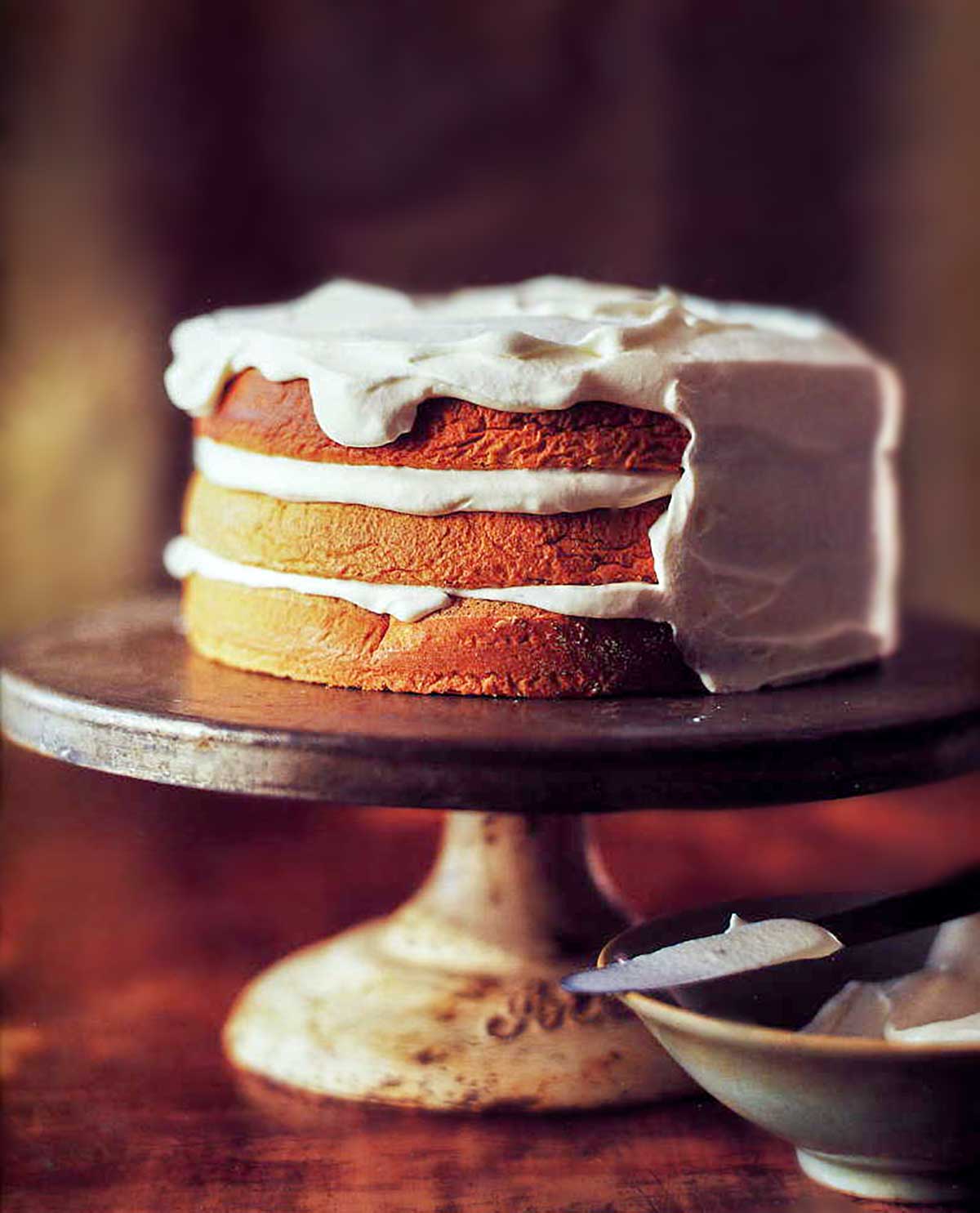 The fine baking traditions of the Austro-Hungarian Empire have traveled far and wide, from Viennese pastries to Danishes, French viennoiseries (white breads and rolls) to strudels, and croissants made in bakeries from Berlin to Boston.
Home bakers, too, carry their traditions with them when they emigrate, so it wasn't all that strange—though it was still wonderful—to come across a recipe for a traditional homemade walnut torte dated 1943 in the Bryn Mawr Cookbook, a small spiral binder passed on to us by a friend. The person who contributed the recipe to the collection says it comes from her family's housekeeper, who had emigrated from Hungary. The cake is made of ground walnuts and fresh bread crumbs, all held up and made airy by well-beaten eggs. The walnuts disappear into the cake, giving it flavor and a little bite. The torte looks like the special-occasion confection it is, a great party cake meant to be demolished by a hungry crowd. The three layers that make up the torte are individual cakes that can be made ahead and assembled in a stack, with a little whipped cream spread between them at the last minute.–Jeffrey Alford and Naomi Duguid
LC Words of Wisdom From the Authors Note
We wanted to impart a few words of wisdom from the authors as to how to pull off this Hungarian dessert with ease…
The bread crumbs can be made simply by cutting slices from a large loaf of good, white bread, trimming the crusts, breaking each slice into several pieces, and then processing them briefly in a food processor until you end up with crumbs.
Vanilla sugar is simply granulated sugar that's been perfumed with vanilla. To make your own, place a vanilla bean in a jar of sugar and seal well. After a week, the sugar will be perfumed with the aroma of vanilla. Each time you use some of the aromatic suager, top off the jar with more granulated sugar. (The vanilla bean should remain potent for months.) We like to keep a supply of vanilla sugar handy for flavoring cakes and cookies, especially those that we'd like to avoid the unfortunate consequence of darkening that comes with extract.
Mixing the ingredients for this recipe, while very simple, requires much beating of eggs. Our rendition of this recipe is an adaptation of an older, bare-bones recipe. In earlier times, all that whisking would have been done with muscle power. With a machine to help, the whole cake takes just minutes–and no sweat–to make.
Three-Layer Walnut Torte
Quick Glance
30 M
50 M

Makes one 7-inch torte
Print Recipe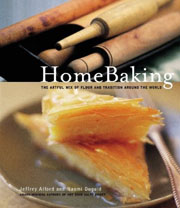 Ingredients
Email Grocery List
For the walnut torte

Flour for the pans

10 extra-large or 12 large eggs, separated, at room temperature

1 cup sugar

3/4 cup fairly tightly packed fresh white bread crumbs (see LC Note above)

2 1/2 cups ground walnuts (pulsed briefly in a food processor until they form fine crumbs but not so long that it turns paste-like)

1 teaspoon ground cloves

For the whipped cream

Scant 1 cup heavy cream

About 3 tablespoons sugar or vanilla sugar (see LC Note above)

2 to 3 drops vanilla extract (optional)
Directions
Make the walnut torte

1. Place a rack in the center of the oven and preheat the oven to 400°F (200°C). Lightly oil three 7-inch round cake pans. Dust them very lightly with flour.

2. Using a stand mixer fitted with the whisk attachment, start to beat the egg yolks, then gradually add the sugar as you continue to whisk. Whisk for a total of 4 to 5 minutes to attain a thick, smooth mixture. Scrape the mixture into a large bowl. Stir in the bread crumbs, walnuts, and cloves to make a thick heavy batter. Loosely cover the bowl and set aside.

3. With a clean whisk attachment in a clean mixer bowl, whisk the egg whites on high speed until you have stiff peaks. Add about 1/4 of the whipped egg whites to the batter and gently fold them in with a rubber spatula, then fold in the rest of the whites. You may feel awkward because there is such a large amount of whites yet the batter seems quite heavy, but just turn and fold gently without worrying too much. Do not overmix.

4. Divide the batter equally among the cake pans, gently smoothing the top of each with a spatula. Bake for about 20 minutes, until a skewer inserted in the center of each cake comes out clean and the cakes look quite brown. They may also appear a little bumpy on top, but don't worry. Let the cakes cool in their pans for 15 to 20 minutes. Then ease a knife around the rim of each cake layer to detach it from the sides of the pan and turn the cakes out onto wire racks to cool completely. (If not assembling the torte immediately after the cakes cool, cover them loosely to prevent them from drying out.)

Make the whipped cream

5. Just before you wish to serve the cake, whip the cream with the sugar and vanilla, if using, until stiff peaks form.

Assemble the torte

6. Place one cake layer on a plate, upside down. Spread about 1/4 cup whipped cream on top of the cake, stopping just shy of the edge of the cake all around. Repeat with a second cake layer and 1/3 of the remaining whipped cream. Place the third cake on top, again with the smooth bottom facing up. Leave the top and sides of the torte plain or spread with whipped cream.

7. When you wish to serve the cake, reach for a serrated knife and slice the cake. If any whipped cream remains, serve a small dollop with each slice.
Three-Layer Walnut Torte Recipe © 2003 Jeffrey Alford and Naomi Duguid . Photo © 2003 Richard Jung. All rights reserved. All materials used with permission.
If you make this recipe, snap a photo and hashtag it #LeitesCulinaria. We'd love to see your creations on Instagram, Facebook, and Twitter.