Trisha Yearwood's chocolate torte is essentially a 12-layer vanilla cake that's smothered with chocolate glaze. A sophisticated dessert that's surprisingly simple to make.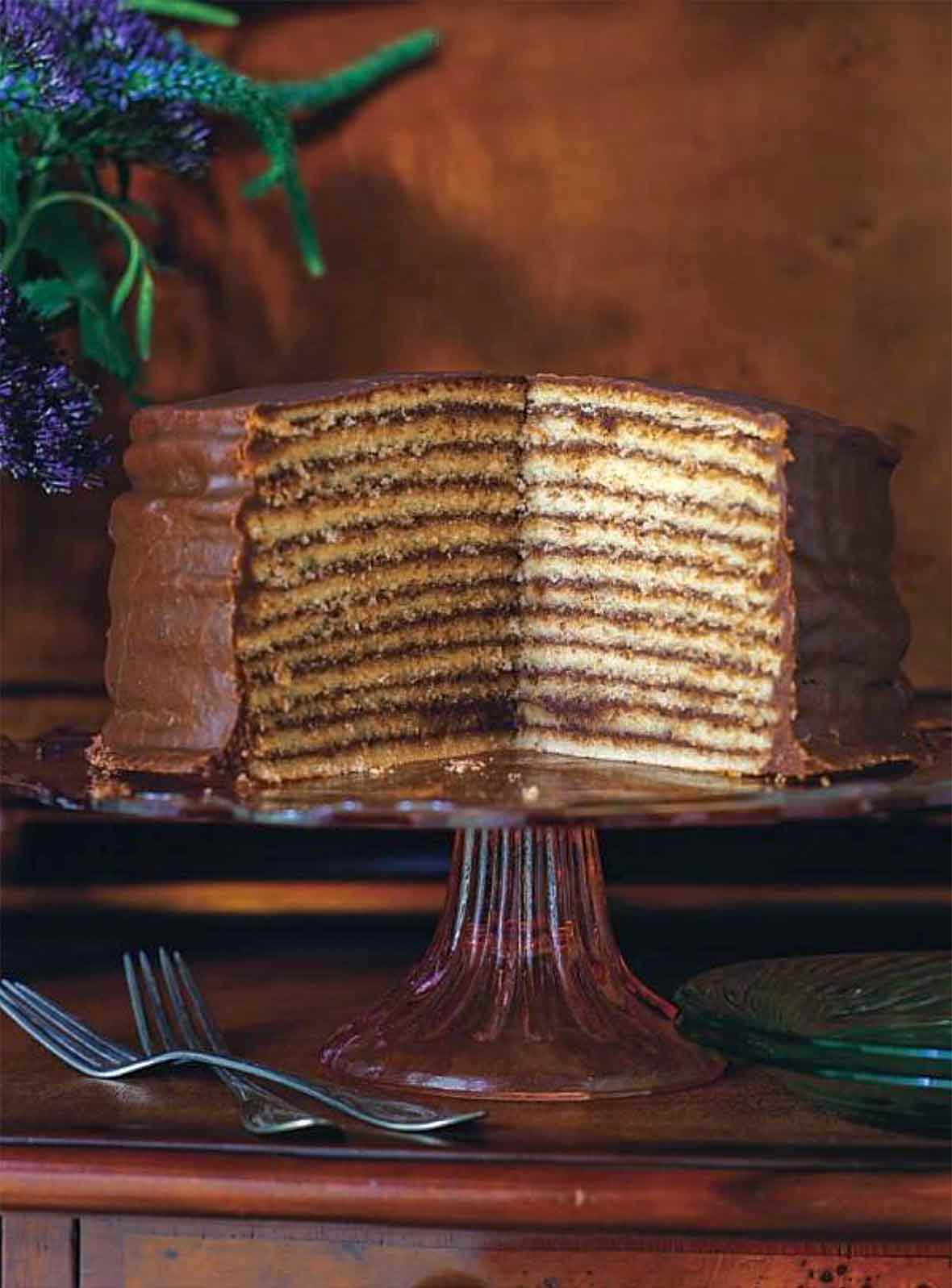 As author Trisha Yearwood says of this cake, you may take a look at the layers and think, "There is no way I'm making this at home!" "But," she continues to explain, "the recipe is both simple and savvy, baking several skinny cakes in 9-inch cake pans. It sure beats making a plain ole double layer chocolate cake and slicing both of those suckers into six with that inevitable and maddening mess of crumbs that comes from hacking away at the cake with a bread knife." Impressive in stature as well as taste. Originally published October 29, 2010.–Trisha Yearwood
How To Make This Torte A Simple Two-Layer Cake
Yes, we understand, you don't always have the time or patience for tradition–or lots and lots of layers. So sure, why not, go ahead, bake the batter in two standard 9-inch round cake pans and then stack and frost the two layers as is, as you would any layer cake. Then call it a day–a darn good day.
Trisha Yearwood's Chocolate Torte
Quick Glance
1 H, 15 M
2 H

Serves 15
Ingredients
Email Grocery List
For the chocolate glaze

3/4 cup (1 1/2 sticks) butter (6 oz)

5 ounces unsweetened chocolate

4 1/2 cups granulated sugar

2 1/4 cups evaporated milk

2 teaspoons vanilla extract

1 tablespoon instant coffee granules, preferably French roast

For the cake

1 cup (2 sticks) butter (8 oz), at room temperature, plus more for the pans

2 1/2 cups granulated sugar

6 large eggs, at room temperature

1 teaspoon vanilla extract

2 cups plus 1 tablespoon milk

4 cups self-rising flour, plus more for the pans
Directions
Make the glaze

1. [Editor's Note: Be sure to make the glaze before you bake the cakes.] In a large saucepan over medium-low heat, melt the butter. Add the chocolate and stir until melted. Add the sugar and stir until it dissolves. Then stir in the evaporated milk, vanilla, and the instant coffee.

2. Cook the glaze over medium-high heat until it boils. Reduce the heat to low and continue cooking, stirring constantly, until the mixture thickens, about 20 minutes.

3. Remove the glaze from the heat. When cooled a bit, return to low heat as needed, as the glaze must be warm to spread on the cake layers.

Make the cake

4. Preheat the oven to 350°F (176°C). Butter and flour at least four 9-inch cake pans.

5. Cream the butter and sugar until smooth. Add the eggs, one at a time, beating just until blended after each addition. In a small bowl, mix the vanilla with the milk. Add the flour to the egg mixture alternately with the milk mixture, beginning and ending with the flour.

6. Pour a very thin layer of batter—about 7 tablespoons—into each pan, shaking the pans to distribute the batter to the edges. Bake the layers for 11 to 13 minutes. Immediately remove the layers from the pans and, working one at a time, place the layers on a cake stand and immediately frost with the rewarmed glaze. Bake all of the remaining batter in this manner. You should be able to get 12 layers from this recipe. Continue to stack the layers, sandwiching them with glaze, reserving the last of the glaze to dribble over the top of the cake.
Recipe Testers Reviews
An impressive cake. The thin layers of both cake and icing were visually appealing as well as delicious. The icing has a taste similar to brigadeiros, or Brazilian chocolate fudge balls, with an almost caramel-like quality to the chocolate and coffee flavor.
The recipe calls for an interesting technique of layering the cake while still hot, and it worked. It's labor-intensive, but the extra time in baking thin layers of batter is definitely offset by not having to cut standard-size cakes into layers and deal with all the crumbs while spreading the icing and assembling them.
I halved the recipe and got 8 layers from it, although I needed more than the amount of icing specified to effectively cover each layer. I also made the cake gluten-free, and the recipe adapted perfectly. The finished cake is not really rich, but is very sweet. I might be inclined to reduce the sugar next time I make this, but it's otherwise a wonderful dessert.
I must admit that when I first read the recipe, I was a bit overwhelmed, but I was quite surprised at how easy this cake is to make and how beautiful and tasteful it is.
I follow a gluten-free diet, so I had to switch the self-rising flour for the exact same amount of all-purpose GF flour ( Bob's Red Mill) and did what Jeane's (http://www.artofglutenfreebaking.com/2012/06/self-rising-flour-gluten-free/) site says with regard to adding the baking powder and salt. Worked beautifully. I was able to divide the batter into 3 pans and divided each cake into 2 layers, so I had 6 layers altogether. I'm sure I could have cut each into 3 layers, but I was too scared of breaking them. We had friends over for dinner and this was an absolutely HUGE success.
Trisha Yearwood's Chocolate Torte Recipe © 2010 Trisha Yearwood. Photo © 2010 Ben Fink. All rights reserved. All materials used with permission.
If you make this recipe, snap a photo and hashtag it #LeitesCulinaria. We'd love to see your creations on Instagram, Facebook, and Twitter.