Chocolate Torte is a traditional Southern recipe and belongs in every Confederate–and Yankee–cook's repertoire. Also known as a Twelve-Layer Cake (or Seventeen-Layer, depending how many layers you can eke out of the batter), this chocolate cake recipe may make you do a double take and think, "There is no way I'm making this at home!" But the recipe is both simple and savvy, baking several skinny cakes in 9-inch cake pans. It sure beats making a plain ole double layer chocolate cake and slicing both of those suckers into six with that inevitable and maddening mess of crumbs that comes from hacking away at the cake with a bread knife.–Trisha Yearwood
LC Lazy Day Note
Yes, we understand, you don't always have the time or patience for tradition–or lots and lots of layers. So sure, why not, go ahead, bake the batter in two standard 9-inch round cake pans and then stack and frost the two layers as is, as you would any layer cake. Then call it a day–a darn good day.
Chocolate Torte
Quick Glance
1 H, 15 M
2 H

Serves 15
Print Recipe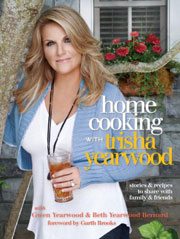 Ingredients
For the glaze

3/4 cup (1 1/2 sticks) butter

5 ounces (5 squares) unsweetened chocolate

4 1/2 cups granulated sugar

2 1/4 cups (18 ounces) evaporated milk

2 teaspoons vanilla extract

1 tablespoon instant coffee granules, preferably French roast

For the cake

1 cup (2 sticks) butter, at room temperature, plus more for the pans

2 1/2 cups granulated sugar

6 large eggs, at room temperature

1 teaspoon vanilla extract

2 cups plus 1 tablespoon milk

4 cups self-rising flour, plus more for the pans
Directions
Make the glaze

1. [Editor's Note: Be sure to make the glaze before you bake the cakes.] In a large saucepan over medium-low heat, melt the butter. Add the chocolate and stir until melted. Add the sugar and stir until it dissolves. Then stir in the evaporated milk, vanilla, and the instant coffee.

2. Cook the glaze over medium-high heat until it boils. Reduce the heat to low and continue cooking, stirring constantly, until the mixture thickens, about 20 minutes.

3. Remove the glaze from the heat. When cooled a bit, return to low heat as needed, as the glaze must be warm to spread on the cake layers.

Make the cake

4. Preheat the oven to 350°F (176°C). Butter and flour at least four 9-inch cake pans.

5. Cream the butter and sugar until smooth. Add the eggs, one at a time, beating just until blended after each addition. In a small bowl, mix the vanilla with the milk. Add the flour to the egg mixture alternately with the milk mixture, beginning and ending with the flour.

6. Pour a very thin layer of batter—about 7 tablespoons—into each pan, shaking the pans to distribute the batter to the edges. Bake the layers for 11 to 13 minutes. Immediately remove the layers from the pans and, working one at a time, place the layers on a cake stand and immediately frost with the rewarmed glaze. Bake all of the remaining batter in this manner. You should be able to get 12 layers from this recipe. Continue to stack the layers, sandwiching them with glaze, reserving the last of the glaze to dribble over the top of the cake.
Chocolate Torte Recipe © 2010 Trisha Yearwood. Photo © 2010 Ben Fink. All rights reserved.
If you make this recipe, snap a photo and hashtag it #LeitesCulinaria. We'd love to see your creations on Instagram, Facebook, and Twitter.