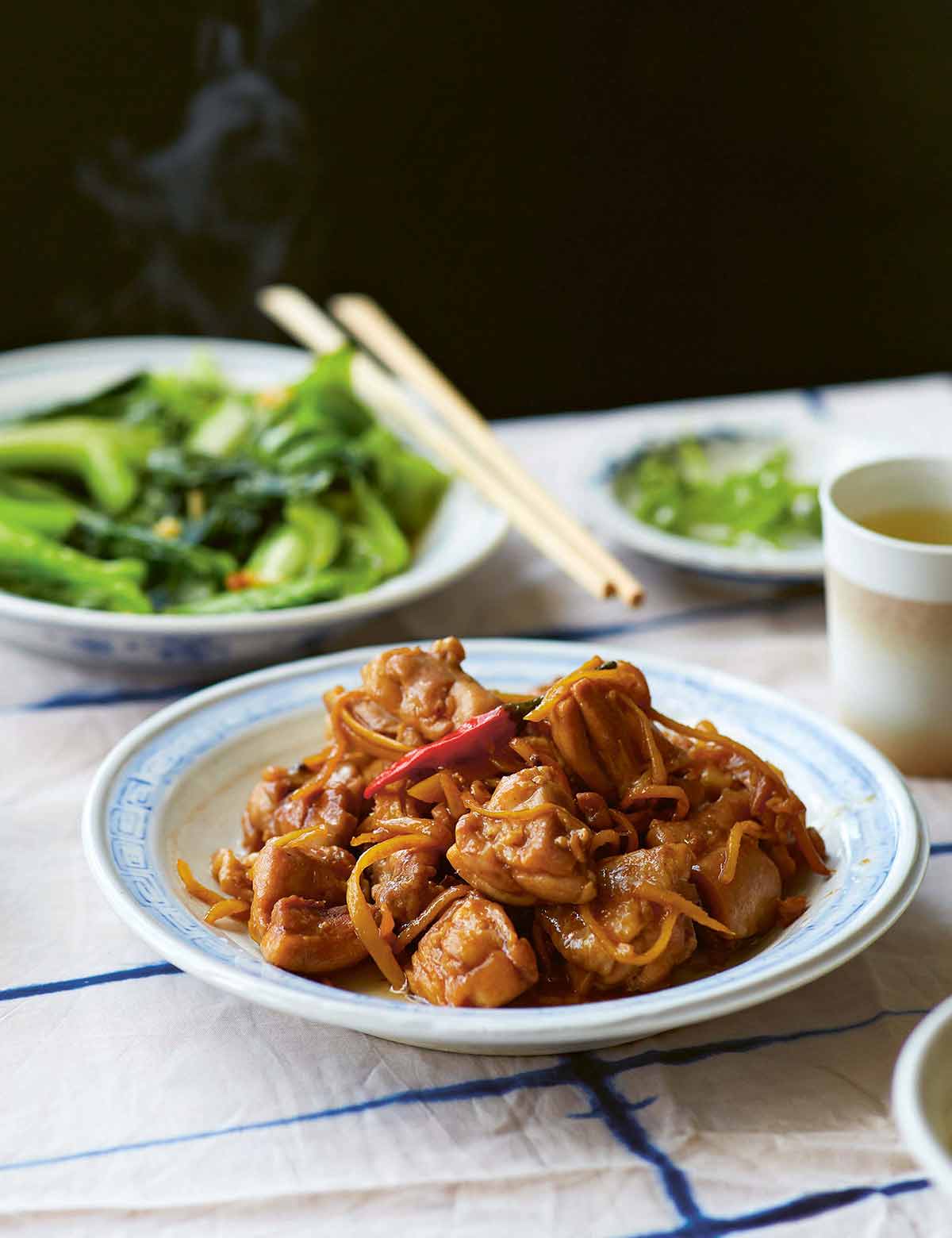 Another classic Kho recipe to do ahead and eat with rice. You can substitute the ginger with two stalks of finely chopped lemongrass or lime leaves. Reduce until it is sticky and caramelized, then enjoy with steamed or sticky rice. You can also use whole drumsticks and thighs, too; if you don't want to remove the bones, just cook it for a bit longer. — Uyen Luu
Ginger Chicken
My favorite midweek meal takes minutes to prepare. Ginger and chiles are great with chicken anytime because they're extra comforting, whether for midweek dinners or in a weekend feast.
Ingredients
1 1/2

tablespoons

mild vegetable oil or coconut oil

2

(2 oz)

shallots

,

sliced

4

garlic cloves

,

finely chopped

3

teaspoons

light brown sugar

1

pound

boneless chicken thighs

,

skin on, sliced into bite-sized pieces (or substitute bone-in thighs or drumsticks)

Sea salt

2 1/2

ounces

fresh ginger

,

julienned

Scant 2/3

cup

coconut water*

2 to 4

bird's eye chiles

2

tablespoons

fish sauce

1

heaped teaspoon

freshly ground black pepper

Scallions

,

sliced lengthways and soaked in cold water until curled, for garnish (optional)

Steamed or sticky rice

,

for serving
Instructions
In a saucepan large enough to hold the chicken snugly with a lid, warm 1/2 tablespoon of the oil over low heat. Fry the shallots until golden, about 10 minutes. Add the garlic and cook until golden, 1 to 2 minutes more. Use a slotted spoon to move the shallots and garlic to a small bowl, leaving any oil in the saucepan.

Add the remaining 1 tablespoon oil to the same saucepan and increase the heat to medium. Spread the brown sugar evenly over the surface of the pan. Watch over the pan for the sugar to caramelize, resisting the urge to stir. It will take 1 to 2 minutes, but don't take your eyes off it as it will burn very quickly.

As soon as the sugar becomes a golden color, watch for it to slightly darken, then immediately add the chicken pieces, season with salt, and let them sizzle away until beginning to brown, 2 to 3 minutes.

☞ TESTER TIP: If using bone-in chicken thighs, start them skin down to render the fat.

Flip the chicken pieces over, add the ginger, and let it sit for 2 minutes, then pour in the coconut water. Return the fried shallot and garlic to the pan with the bird's eye chiles, fish sauce, and black pepper.

Reduce the heat to low, cover and cook for 10 minutes. Remove the lid and continue to cook until the liquid is reduced and the chicken is cooked through and coated in sticky sauce, 5 to 10 minutes more.

When ready to serve, garnish with scallions, if using. Serve with steamed or sticky rice.
Notes
*What is coconut water?
So…you've used coconut milk in a hundred recipes, right? Unless you're buying super amazing smoothies or have been on vacation recently (How? And we're stuck here?!), you might not have been introduced to the brilliance that is coconut water. Now, the liquid inside an actual coconut isn't coconut milk. That's the water if you can believe it, and it's better when it comes from immature coconuts. It's actually pretty great stuff—ounce for ounce, it has half the calories of regular, unsweetened fruit juice. And it's amazing for cooking, rather than drinking. The lighter, much less fatty, liquid doesn't weigh food down like coconut milk or cream might—it just imparts a delicate coconut flavor and a little caramelization, and takes a bow. After you've made this recipe, try the rest of the carton to make rice or just on its own. We hear it's pretty darn good for you.
Nutrition
Serving:
1
serving
Calories:
673
kcal
Carbohydrates:
19
g
Protein:
40
g
Fat:
49
g
Saturated Fat:
19
g
Polyunsaturated Fat:
8
g
Monounsaturated Fat:
17
g
Trans Fat:
1
g
Cholesterol:
222
mg
Sodium:
1680
mg
Potassium:
923
mg
Fiber:
2
g
Sugar:
9
g
Vitamin A:
220
IU
Vitamin C:
13
mg
Calcium:
72
mg
Iron:
2
mg
Nutrition information is automatically calculated, so should only be used as an approximation.
Recipe © 2021 Uyen Luu. Photo © 2021 Uyen Luu. All rights reserved.
---
Recipe Testers' Reviews
This ginger chicken has complexity in flavor and texture, with a great hit of gentle heat from the ginger and chiles–use as much as you dare. I loved that this was a perfect recipe for two, but you could scale it up, move to a larger pan, and maybe enlist your favorite sous chef for the ginger julienne duties. A small santoku or cleaver makes that job go well (my shreds were about ¾ cup).
I didn't have dry bird's eye chiles (and didn't see any fresh ones at my grocer), but I had several similar dry peppers in my pantry. I selected a milder one for my heat tolerance (I used 2 dry Tien Tsin peppers and probably will use 3-4 next time, or could use Chile de Arbole or Japones) and I got a nice result. Although I used bone-in thighs, my heavy bottom saucepan still got the chicken nicely cooked thru in no extra time (checking with a Thermapen). Served with rice and green veg, this was a really nice dinner.
Tool tip: for the scallions, I used one medium scallion and in sections, pulled a Negi cutter thru (yes, there is a nifty gadget designed exactly for slicing scallions into wisps). It earns a place in my kitchen tools and my respect with careful use–they are super sharp, and come with a safety cover. This is something you can do while the lid is on the chicken, and even a few minutes in ice water will make the shreds curl and crisp.
If you are a fan of Thai food, this recipe for ginger chicken is definitely worth making. It can be a bit spicy, so I made it with 2 Thai chiles; you can up the heat by adding a couple more chiles. The flavors are authentic. Like with much Thai food, the layers of taste are distinct and interesting ending with the heat at the back of the throat.
I served this on top of white rice and alongside a green salad topped with pieces of Cara Cara orange. The orange on the salad was refreshing following the heat of the ginger chicken. I'll definitely make this again.
This ginger chicken is very good; however, it's definitely not meant as a weeknight meal. I doubled the recipe and so cutting up twice the amount of ingredients contributed to a longer prep time. BUT that's ok because the finished product was well worth my time.
The ginger in this dish smacks you with flavor. I only used two chiles and although it had a kick I would use three next time, for flavor. I forgot how good birds-eye chile taste. This recipe doesn't skimp on flavor and I appreciate that. 5 oz of ginger (doubled) is a lot of ginger and for good reason, because you get that sweet, aromatic, ginger flavor in every bite. Along with the heavy aroma of garlic, sweetness from the brown sugar, spice, and tang from the chiles, and sourness from the fish sauce, this is the kind of meal that makes you proud of yourself.
There are quite a few things I'd change about the recipe. I think a cast iron skillet would be a good substitute pan to cook this in. I didn't have a big enough saucepan, and a nonstick pan doesn't help with the browning enough. Also, caramelizing brown sugar is a bit tricky, as it's dark and easier to burn. I had to toss out the first batch as I cooked it too long and it hardened, I found that 2 minutes was all I needed for it to caramelize. My kitchen is right off my bedroom and as I was getting ready for bed with a very full stomach, the pleasant smell of garlic and ginger still lingered around and made me hungry for more. I'll definitely be making this again, but next time my veggies will be cooked on the side.