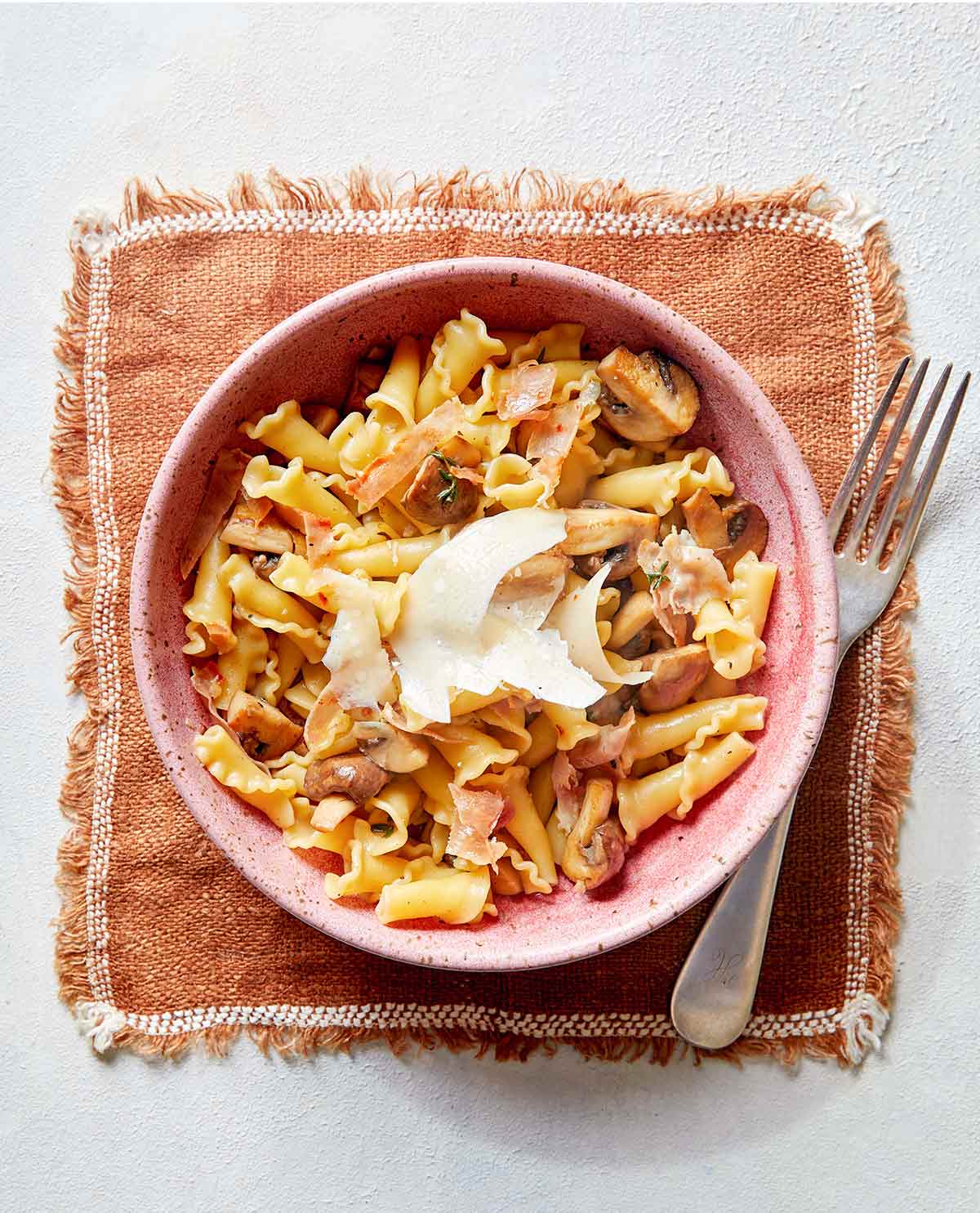 Mushrooms are one of my favorite ingredients to toss into a pasta dish because of how much meatiness they add. By opting for bite-size quarters instead of thin slices, they're easier to grab with a forkful of pasta and they match the pasta's al dente-ness. Although sautéing them is well and good, here I up both their flavor and texture by caramelizing them. To caramelize the mushrooms, sear them in batches to give them the space needed to develop a deep, golden-brown crust, which really helps draw out their umami-rich flavor.–Sheela Prakash
Pasta with Caramelized Mushrooms and Crispy Prosciutto
Add plenty of garlic and thyme to the pasta and caramelized mushrooms, along with crispy shards of prosciutto for good measure and the result is a savory, earthy pasta that's easy to love.
Ingredients
Kosher salt

4

thin prosciutto slices

2

tablespoons

extra-virgin olive oil

1

pound

cremini mushrooms

,

quartered

12

ounces

campanelle*

,

or other short pasta

Freshly ground black pepper

4

garlic cloves

,

minced

1

tablespoon

fresh thyme leaves

1/4

cup

dry white wine

Freshly shaved Parmesan cheese

,

for serving
Instructions
Bring a of salted water to a boil.

Heat a large, high-sided sauté pan or skillet over medium heat. Add 2 prosciutto slices to the pan, in a single layer, and cook until they curl and are lightly browned underneath, 2 to 3 minutes. Flip prosciutto and cook until browned on the other side, 2 to 3 minutes more. Move prosciutto to a paper towel-lined plate and repeat with remaining 2 slices.

Pour 1 tablespoon of oil into the pan. Add half the mushrooms in a single layer (try to get as many cut-side down as you can), cook undisturbed until browned well on the bottom but not fully cooked, 3 to 5 minutes. Transfer to a plate. Add remaining tablespoon of oil to the pan and repeat with remaining mushrooms.

Meanwhile, add pasta to the boiling water and cook for 1 minute less than the package instructions for al dente, about 9 minutes.

Once the second batch of mushrooms is browned on the bottom, return the rest of the mushrooms to the pan and add the garlic and thyme. Season with salt and pepper and cook, stirring once or twice, until mushrooms are fragrant and just tender, about 2 minutes more.

Pour wine into the pan and simmer. Using a wooden spoon, scrape up the browned bits on the bottom of the pan, until some but not all of the liquid has evaporated, about 30 seconds. Remove from heat.

When the pasta is ready, reserve 3/4 cup of pasta water using a measuring cup, then drain the pasta. Add pasta and reserved pasta water to the pan, bring to a simmer. Cook, tossing and stirring until pasta is al dente and the sauce thickens and coats the pasta, 1 to 2 minutes. Remove from heat.

Break prosciutto into small pieces and stir half into the pasta. Serve garnished with remaining prosciutto and shaved Parmesan.
Notes
*What is a good substitution for campanelle pasta?
This recipe is open to a few changes. You can use a variety of mushrooms, not just cremini. And while prosciutto reigns supreme, you might be able to slide in a bit of bacon or pancetta.
As far as pasta goes, campanelle (or gigli) is a lovely little lily-shaped pasta that has ridges and nooks for absorbing sauce. But depending on your geographical situation, you might not be able to find these little beauties. Don't just settle for elbow noodles. Look for something with ridges and a hole in the center like cavatelli, radiatori, orecchiette, or gemelli. Or elbows–if that's your favorite.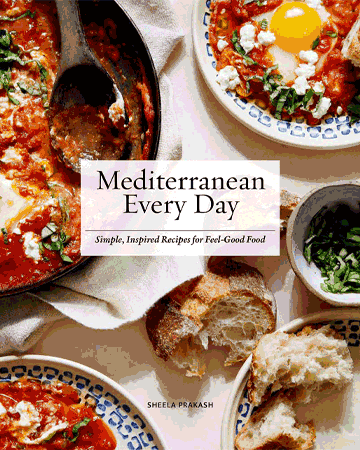 Nutrition
Serving:
1
serving
Calories:
454
kcal
Carbohydrates:
70
g
Protein:
15
g
Fat:
12
g
Saturated Fat:
2
g
Polyunsaturated Fat:
2
g
Monounsaturated Fat:
7
g
Trans Fat:
1
g
Cholesterol:
5
mg
Sodium:
66
mg
Potassium:
747
mg
Fiber:
4
g
Sugar:
4
g
Vitamin A:
86
IU
Vitamin C:
4
mg
Calcium:
53
mg
Iron:
2
mg
Nutrition information is automatically calculated, so should only be used as an approximation.
Recipe © 2020 Sheela Prakash. Photo © 2020 Kristin Teig. All rights reserved.
---
Recipe Testers' Reviews
This recipe for pasta with caramelized mushrooms and crispy prosciutto had a lot of my favourite ingredients in it and I was pretty chuffed to try it. And I enjoyed it a lot. The step of caramelizing the mushrooms goes a long way to add a lot more flavour to the recipe–without it, I think that this dish might have missed the mark.
It was simple to make and hardly took any time at all. And the leftovers were just as good as fresh–I just added a little more cheese and a touch of butter. I used speck instead of prosciutto because I recently discovered a grocer that carries it and I just can't get enough. The subtle smokiness of speck gave the pasta just enough extra to make this dish truly stand out. As well, I used the maximum amount of garlic in the recipe because that's how I roll. My breath is whiffy but I'm happy as heck.
All in all, this is a super easy dish to whip up on a weeknight and it delivers a great result, especially if you use an assortment of top-notch mushrooms. I used a mixture of lovely local cremini, shiitake, oyster, and baby Bellas, from my favourite mushroom farm. And I used a scrummy pantacce Toscane (flat, short, jagged, and rippled) pasta. Served it with nothing–except more cheese than it called for.
This pasta with caramelized mushrooms and crispy prosciutto recipe is quite the mushroom flavor bomb. The umami earthiness of the mushrooms come through loud and clear in this dish, with the garlic and thyme a lingering backdrop in each bite.
While this is a tasty dish, we did think it could use a bit more sauce to take advantage of the wonderful campanelle pasta, which is shaped with nooks and crannies to trap a lot of sauce. Next time I make this I'll add 1/4 cup of cream and probably a tablespoon of freshly grated Parmesan cheese during the final step, as it would give the sauce a bit more body and provide a more luxurious mouthfeel with each bite.
By giving the very few ingredients just the right treatment, this simple method for pasta with caramelized mushrooms and crispy prosciutto elevates a weeknight-easy pasta into a weekend centerpiece. The flavors and sauce are layered, by starting with prosciutto in a bare pan, a few minutes not only transforms the pieces to use when finishing the dish but begins to flavor the pan.
The next step has just a few simple guidelines + patience and trust that this will work. By keeping the mushrooms to a single layer (two batches if you are making a full recipe or just one to serve two people), you never crowd them, and you can develop the desired browning and transformation without additional oil, butter, or cream. The wine deglazing picks up the remaining fond and carries it onto the sauce, capturing as much flavor as possible.
I had my pasta water hot before starting, and adjusting for altitude (usually an extra 1-2 minutes) the timing was just right by starting the pasta as I added the mushrooms. Ordinary mushrooms can deliver superb, deeply developed flavors with just a bit of care. I actually never panic when mushrooms give off a bit of liquid because I know evaporating will concentrate those flavors, but this method completely avoids that and skips straight to searing, undisturbed much like you would sear meat in a wok, and leads directly to a dish that pulls just these few ingredients together in an ensemble performance.
The flavors were very satisfying–and from such a simple list of ingredients, you do not miss a cheesy or creamy sauce at all. The pasta water helps deliver a silky finish that is satisfying yet not heavy in any way. Love to put this in rotation and appreciate yet another way to deliver great texture and flavor from mushrooms, especially humble ones since exotic mushrooms don't work so well for me.
The recipe is budget and time-friendly and is not too meat-heavy, and very light on dairy–generally what I would call 'less-meatarian" in a good, Mark Bittman sense. The mushrooms make this a main dish, and with a simple first-course salad, we had a very complete meal.