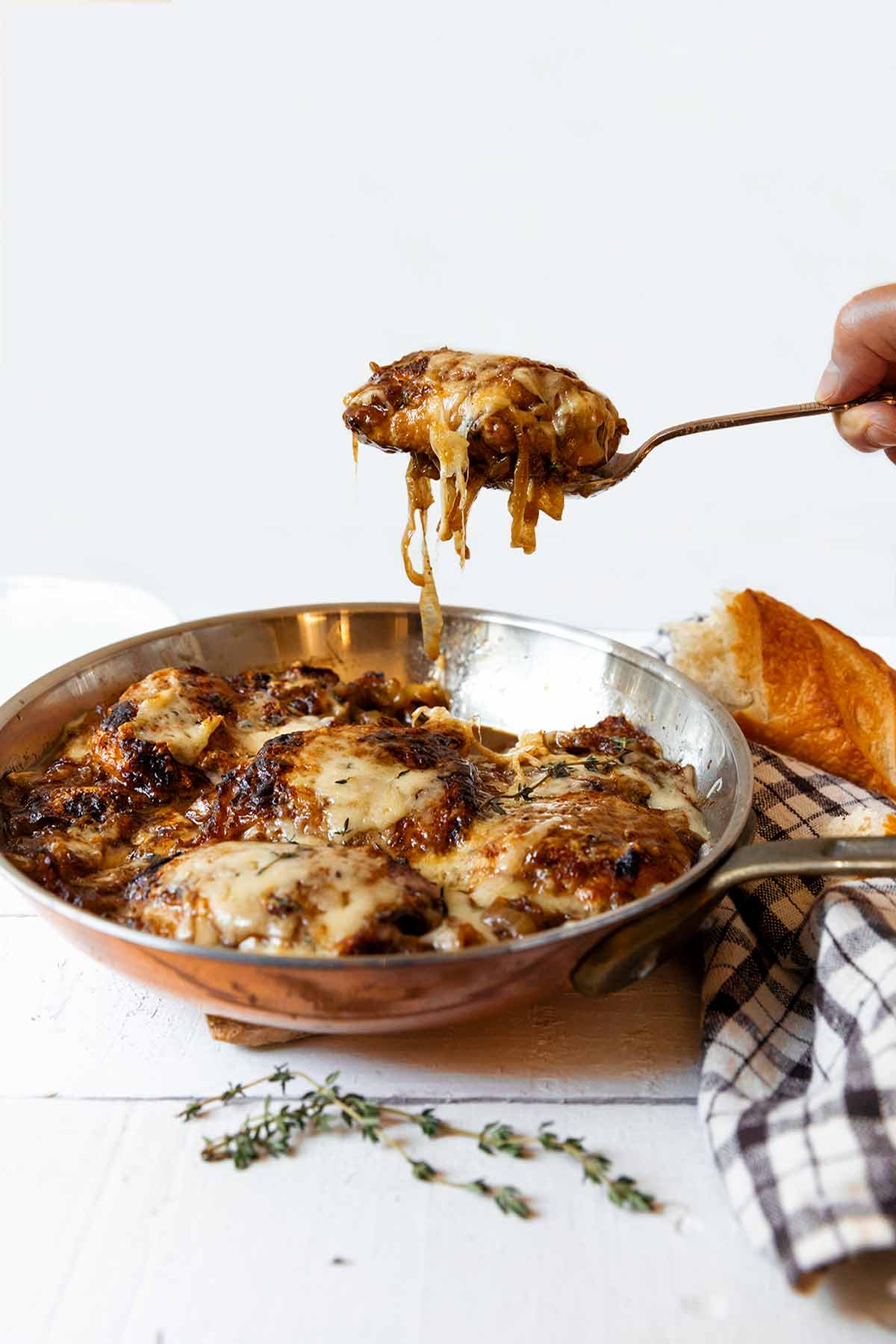 The first time I had French onion soup I was in seventh grade. Our teacher, Mrs. Pelletier, took our French class to a restaurant in Seekonk, MA. I can't imagine it was fancy-schmancy, it was Seekonk, after all, but to me, it was the height of franco-elegance. We had French onion soup, beef bourguignon, and chocolate mousse. I was dead certain I was drunk after hearing it was flavored with brandy. I was a lightweight even then.
After that, I was hellbent on trying every marvelous, classic, obscure, obscenely expensive French dish I could get my hands on. And on that journey, which took me to many countries, I favored the flamboyant over the simple. Well, age has a wicked weird way of bringing you right around to where you started. (Could be laziness, I haven't fully decided.)
These days, it's the simple that I seek. French onion soup is right up there. So are one-skillet dinners. (Told you I was lazy.) When you put them together, you get French onion-skillet chicken. I think the 13-year-old me would have swooned over it.
French Onion-Skillet Chicken FAQS
How can I make this if I am lactose intolerant?
Does cheese tie your stomach in knots? Fear knot. Try our dairy-free version. Simply omit the cheese, and you'll still have a mighty fine-tasting dinner.


Can I make these French onion chicken thighs ahead of time?
You certainly can. Make the recipe up to step 8. Let the skillet and its contents cool, cover with foil, and refrigerate. When ready to serve, slowly heat the skillet over low until the chicken is warmed through then continue with the recipe.
Do I really need to caramelize the onions?
Absolutely. Taking the time caramelizing the onions deepens the flavor of the dish, adds a bit of sweetness, and makes the sauce that much more complex.
Is there a shortcut for this recipe?
Indeed there is. One thing you can do is caramelize a large pot of onions and store them in a resealable container in the fridge. Any time a recipe calls for caramelized onions, just scoop them out of the container and into your pot. Badda bing, badda boom!
French Onion-Skillet Chicken
Take the elements of French onion soup–beef broth, a hunk of bread, tons of caramelized onions, and a raft of cheese–and mash it up with perfectly seared chicken thighs, and you have French onion-skillet chicken. Sounds weird, I know, but I swear it works.
Ingredients
2

tablespoons

mild vegetable oil

6

(about 2 pounds)

skin-on, bone-in chicken thighs

,

(all approximately the same size)

Salt and freshly ground black pepper

3

tablespoons (1 1/2 oz)

unsalted butter

2

large (2 pounds)

onions

,

cut in half and sliced into thin half-moons

1

bay leaf

2

garlic cloves

,

thinly sliced

1/2

cup

dry sherry or dry white wine

1

tablespoon

all-purpose flour

1

cup

store-bought low sodium beef broth or homemade beef stock,

plus more if needed

1

tablespoon

fresh thyme leaves

,

plus more for garnish

1/2

teaspoon

ground sage

1

tablespoon

apple cider vinegar

2

cups

day-old bread

,

torn into 2-inch (5 cm) chunks

2

cups

grated Gruyère

,

Emmental, or Swiss cheese, or a combination of all three
Instructions
Meanwhile, generously season the chicken with 1/2 teaspoon each of salt and pepper. Working in batches, if needed, sear the chicken, skin side down, until deeply golden brown, about 8 minutes. Flip and sear the other side until brown, about 5 minutes. Move to a plate. Drain the fat from the skillet.

Lower heat to medium, add the butter and let it melt.

Strew the onion, garlic, and bay leaf in the skillet and season with salt and pepper. Cook, covered, stirring occasionally until the onions are softened, about 15 minutes. Uncover and continue cooking and stirring until the onions are deeply golden brown, 10 to 12 minutes more.

Pour the sherry or wine into the skillet, scrape up any browned bits stuck to the bottom.

Sprinkle the flour over the onions and stir to coat. Cook for 30 seconds.

Pour in the beef stock, sprinkle in the thyme and sage, and stir to combine. Add the cider vinegar. Bring to a boil.

Nestle the chicken into the skillet. Reduce heat to low and simmer gently until the chicken is cooked through, and has an internal temperature of 165°F (74°C), about 15 minutes. Stir in additional stock if the sauce becomes too thick or reduces too much.

Meanwhile, crank up the broiler.

Tuck the chunks of bread around and between the chicken thighs. Top the chicken and bread with the cheese. Sprinkle a bit of salt and pepper over the top.

Slide the skillet into the oven and broil just until the cheese is browned and bubbly, 3 to 4 minutes.

Garnish with more thyme leaves. Serve immediately.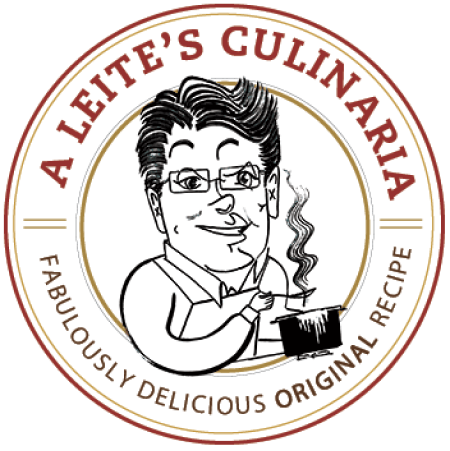 Nutrition
Serving:
1
serving
Calories:
781
kcal
Carbohydrates:
63
g
Protein:
34
g
Fat:
42
g
Saturated Fat:
20
g
Polyunsaturated Fat:
5
g
Monounsaturated Fat:
14
g
Trans Fat:
1
g
Cholesterol:
98
mg
Sodium:
959
mg
Potassium:
429
mg
Fiber:
5
g
Sugar:
8
g
Vitamin A:
992
IU
Vitamin C:
4
mg
Calcium:
852
mg
Iron:
5
mg
Nutrition information is automatically calculated, so should only be used as an approximation.
Recipe © 2021 David Leite. Photo © 2021 David Leite. All rights reserved.
---
Recipe Testers' Reviews
Yes to this French onion-skillet chicken recipe! It turned out beautifully and was worthy of the French onion in its name. It's got the ingredients. It's got the techniques. It's got the flavors. I often mix beef and chicken broths when I make French onion soup, and combining the chicken flavor from the seared and simmered thighs with good beef stock is a genius move.
My husband and I sometimes differ in our assessment of dishes but not on this one. We both felt this was a TC all the way. While he can be averse to skin-on chicken, he raised no objections to this treatment.

The French onion chicken skillet was served with a green salad and buttered green beans.
This French onion-skillet chicken dish was delicious! It was rich and flavorful. Easily put, it tasted like chicken in onion soup but better. Because the "soup" cooked down into a rich and caramelized chutney of sorts, it was thick and hearty. I brought some to my Mom and she just loved it, as did my significant other. How can you not, as long as you enjoy French onion soup and chicken.
If you like French onion soup, this French onion-skillet chicken is really just tender, golden chicken bathed in French onion soup. The entire process takes a bit of time, but the result is a rich, filling dish. And your kitchen smells divine while you are cooking this.
It doesn't need much accompaniment. I added the bread cubes, which I thought were excellent because they soaked up the delicious sauce. It would be just as good without them, especially if you serve the dish with some sort of bread to soak up the sauce. (Obviously, I think the important thing is to soak up the sauce!)
I highly recommend adding extra broth when you add the chicken back to the skillet to simmer–so you have more sauce. I'd also recommend not skimping on the salt and perhaps adding a bit more thyme.
This would be four to six servings, depending on the size of the thighs (and the eaters!) I served it with a Caprese salad and some sourdough bread.