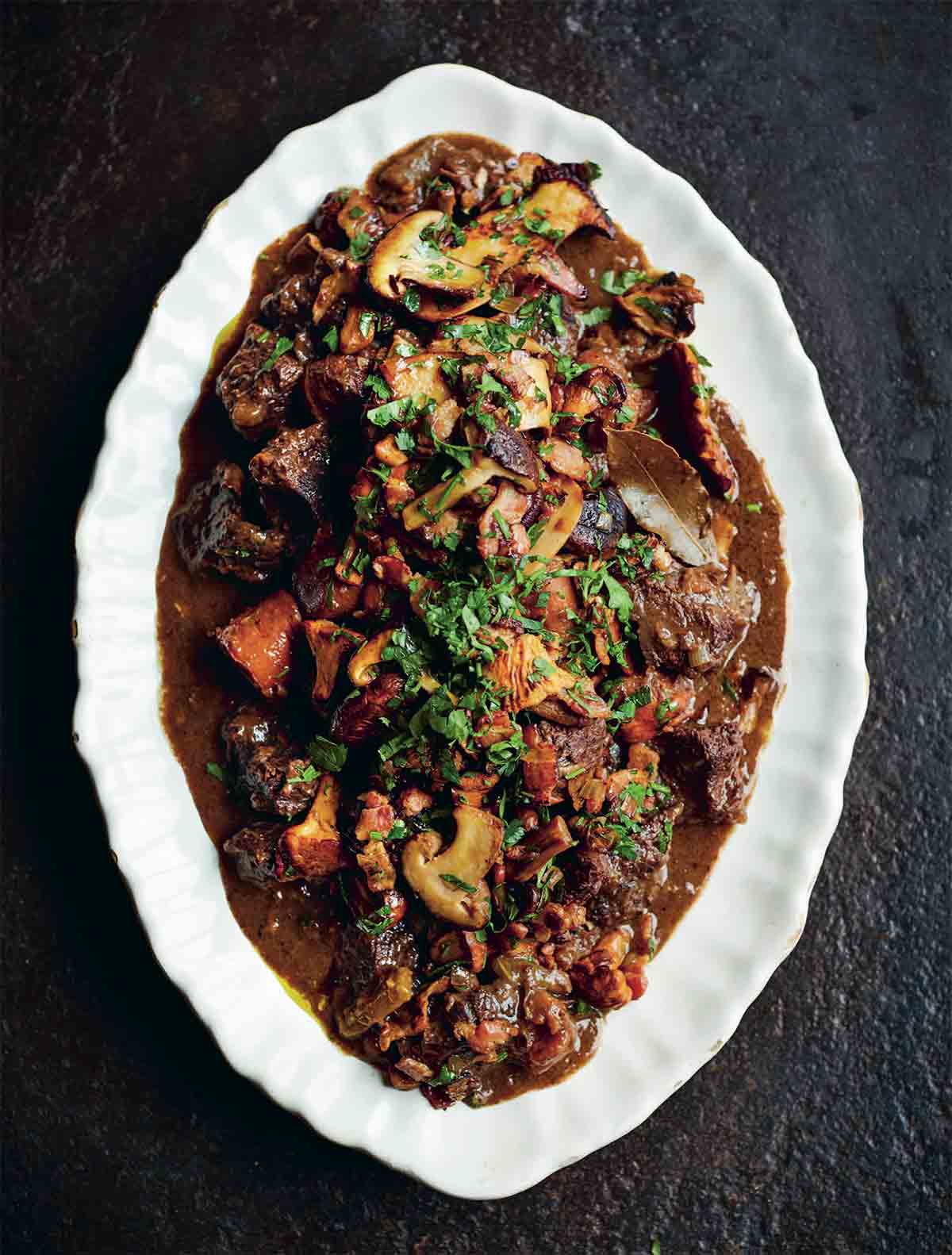 When it comes to good, simple food, Jamie Oliver is at the top of my list. I find his cooking accessible, easy, and delectable. Never pretentious, always special.
And this beef bourguignon is no exception. Yes, it has a long list of ingredients. And, yes, I'll show up at your front door and read you the riot act if you pass on making it because of that. Come on, people!
The work you put into this incredible beef stew is so minuscule compared to the pleasure you and your family and friends will get out of it.
Honest. And 99.999% of the time is hands-off. (Well, I exaggerate, but a lot of time is hands off.) Do yourself a favor and make a double batch and freeze it. You'll thank me. But instead of unrestrained gratitude, invite me to dinner. I'll accept in a heartbeat.–David Leite
Why Our Testers Loved This

Erin Bloys said it was "perfection." Then added, "The overnight marinade…developed such depth of flavor–so satisfying!"

Aryn Snell joined in with: [It's] out of this world delicious and worth every minute of putting it together.

Perhaps Kristen Kennedy said it best. "I'm worried this is sacrilegious, but this may be the best beef bourguignon recipe I've ever made. So sorry, Julia!"
Jamie Oliver's Beef Bourguignon FAQs
Can I make this ahead of time?
Absolutely. I encourage you to do so. In fact, when I make this, I often make it three days ahead of serving. Each day I heat it up, let it cool, then refrigerate it overnight. By the third day, the flavors have married and deepened. Incomparable.
What's the best wine to make and serve this with?
Traditionally, the dish is made with Burgundy wine. Jamie Oliver also specifies Pinot Noir. But any full-bodied red wine will work here. Whatever you do, do not, repeat do not, use cooking wine. It's anathema to good cooking and an insult to palates everywhere.
What is the difference between beef bourguignon and beef stew?
The big difference between classic French boeuf bourguignon and American beef stew is the addition of wine. The French love their vin, and love to cook with their vin, and this dish is no exception.
Helpful Tips
Don't bother seeking out expensive cuts of meat like beef tenderloin or rib eye. This dish, which requires low-and-slow cooking, is best made with tougher cuts of meat, such as chuck or stew meat.
Speaking of low and slow, don't even think of trying to cook this faster by upping the heat. The meat could turn out tough and chewy. By slowly simmering the beef stew, the meat will be so supple, you can cut it with a spoon. (Which you'll want to use to get every drop of that luscious gravy.)
Don't skimp on flouring and searing the beef cubes. The flour helps the beef to brown (and thicken the broth), and the searing lends deep, complex notes to the dish.
When it comes to serving, think carbs, carbs, and more carbs. Bourguignon is best served over mashed potatoes, smashed potatoes, rice (even cauliflower rice), or noodles such as homemade spaetzle.
☞ If you make this recipe, or anydish on LC, consider leaving a review, a star rating, and your best photo in the comments below. I love hearing from you.–David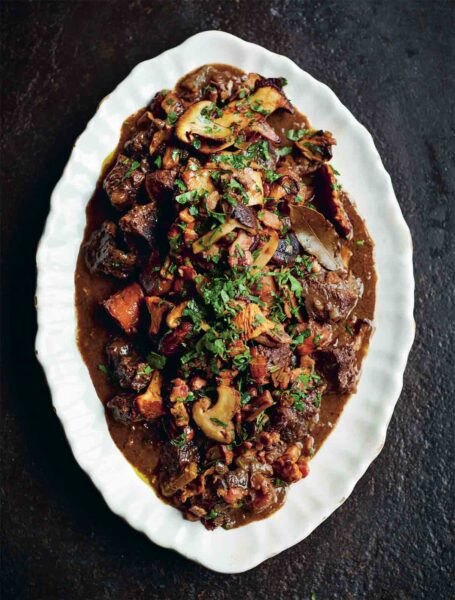 Jamie Oliver's Beef Bourguignon
My sumptuous beef bourguignon is cozy and indulgent. If you can find beef cheeks, they are ideal for this tender beef stew that braises all afternoon.
Ingredients
3

pounds

beef cheeks

,

beef chuck, or stew meat, trimmed and cut into 2-inch (5-cm) chunks

4

large (12 oz)

carrots

,

peeled and chopped into 1 1/4-inch (3-cm) chunks

4

stalks (7 oz)

celery

,

chopped into 1 1/4-inch (3-cm) chunks

4

cloves

garlic

,

coarsely chopped

1

medium (8 oz)

yellow onion

,

coarsely chopped

2

teaspoons

Dijon mustard

4

fresh bay leaves or 8 dried bay leaves

1

small

pinch of ground cloves

Freshly ground black pepper

3

cups

red wine

,

preferably Burgundy or Pinot Noir

1/3

cup

all-purpose flour

1 1/2

tablespoons (3/4 oz)

unsalted butter

,

plus more if needed

2

tablespoons

olive oil

3

cups

boiling water

6

slices

smoked bacon

,

cut into strips

7

ounces

shallots

,

chopped

14

ounces

button mushrooms

,

halved or quartered

1/2

bunch

fresh flat-leaf parsley

,

chopped

Salt
Instructions
In a large bowl, combine the beef, carrots, celery, garlic, and onion with the mustard, bay leaves, cloves, a generous pinch of black pepper, and the wine. Mix well, then cover and refrigerate overnight.

Preheat the oven to 325ºF (163°C).

Set a over a large bowl. Pour the contents of the beef bowl into the colander. Reserve the drained liquid.

Place the flour in a medium bowl. Pick out just the beef and pat dry with paper towel, then toss with the flour.

In a large Dutch oven over medium heat, melt the butter with 2 tablespoons of olive oil. Working in batches, brown the floured beef all over, turning with tongs and removing to a plate with any crispy bits once browned. Add more butter if the Dutch oven becomes dry.

Tip the vegetables into the Dutch oven, and cook until starting to caramelize, 10 to 12 minutes, stirring occasionally and scraping up any sticky bits. Return the beef to the Dutch oven, pour over the reserved wine from the marinating liquid and 3 cups (720 ml) of boiling water, then bring to a simmer.

Cover with a scrunched-up sheet of damp parchment paper and transfer to the oven until the beef is beautifully tender, about 4 hours, topping up with splashes of water, if needed.

In a large non-stick skillet over medium-high heat, combine the sliced bacon, shallots, and mushrooms and cook the mixture until golden, stirring regularly, 20 to 25 minutes.

Toss in the parsley leaves, then pour the contents of the skillet over the bourguignon and season to perfection, tasting and tweaking.
Notes
Beef–Save money and use inexpensive cuts of meat, such as chuck or stew meat.
Low and slow–Slowly simmer the stew so the meat will be so tender.
Flour and dear–The flour helps the beef to brown, and the searing lends a complex flavor.
To serve–Think carbs. This is best served over mashed or smashed potatoes, rice (even cauliflower rice), or noodles such as homemade spaetzle or egg noodles.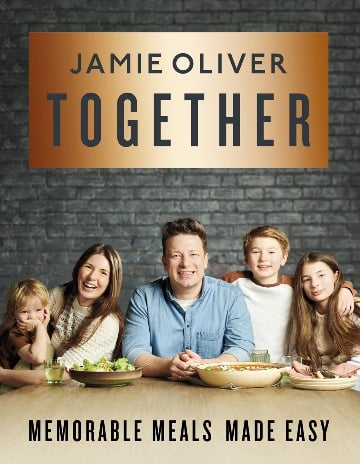 Nutrition
Serving:
1
portion
Calories:
579
kcal
Carbohydrates:
19
g
Protein:
38
g
Fat:
32
g
Saturated Fat:
13
g
Polyunsaturated Fat:
3
g
Monounsaturated Fat:
16
g
Trans Fat:
1
g
Cholesterol:
134
mg
Sodium:
319
mg
Potassium:
1176
mg
Fiber:
3
g
Sugar:
6
g
Vitamin A:
6537
IU
Vitamin C:
12
mg
Calcium:
87
mg
Iron:
5
mg
Nutrition information is automatically calculated, so should only be used as an approximation.
Recipe © 2021 Jamie Oliver. Photo © 2021 David Loftus. All rights reserved.
---