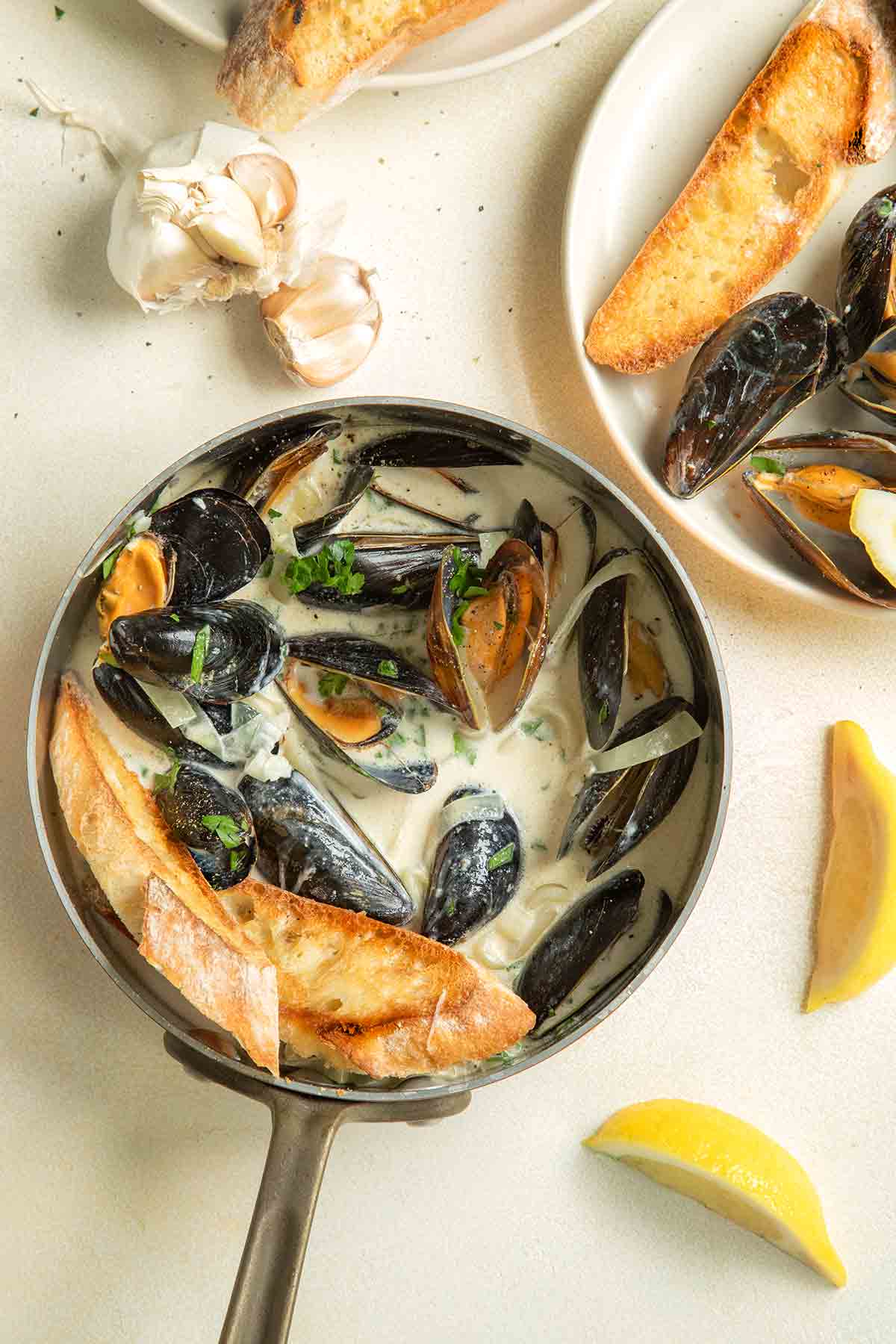 I have been making versions of this recipe for as long as The One and I have been together. There was the bare-bones version with just wine, onions, and bay leaves. There was the time I gussied up the mussels with cream, and it found its way into the food pages of the Los Angles Times.
Sometimes I add Portuguese chouriço to the pot, similar to my clams and sausage cataplana. That's the version The One demanded I make all summer in 2007 when he was kicking back in the Springs out in East Hampton and on his Jackson Pollack kick.
But I keep coming back to this version–wine, onion, garlic, cream, and sometimes parsley. Sometimes cilantro. Sometimes thyme. But every time, fantastic.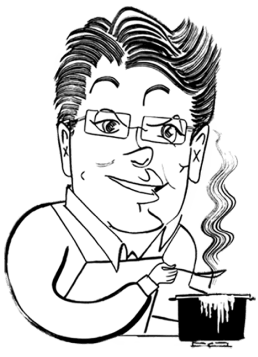 Why Our Testers Loved This
These mussels brought back memories for one of our senior testers, Linda Pacchiano, who said, "This took me back to a time in Brussels when I had the most amazing plate of moules frites." Angie Zoobkoff wrote that they were easy to make and on the table within 30 minutes.
Perhaps the biggest compliment was from The One, who just last week said, "I beg your forgiveness in advance," and then tipped back the bowl with the creamy broth and slurped every last drop. High praise indeed.
What You'll Need to Make This
Mussels–Make sure to find the freshest mussels you can. It makes all the difference in the world.
Heavy Cream–Adds, well, a creamy consistency and taste to the ah-mazing broth. You can use light cream, but stop there. Half and half or milk just doesn't have the brio needed for this dish.
White Wine–Like Julia Child always said, "Cook with wine good enough to drink." I always tip in the same wine we'll drink with the dish.
How to Make This Recipe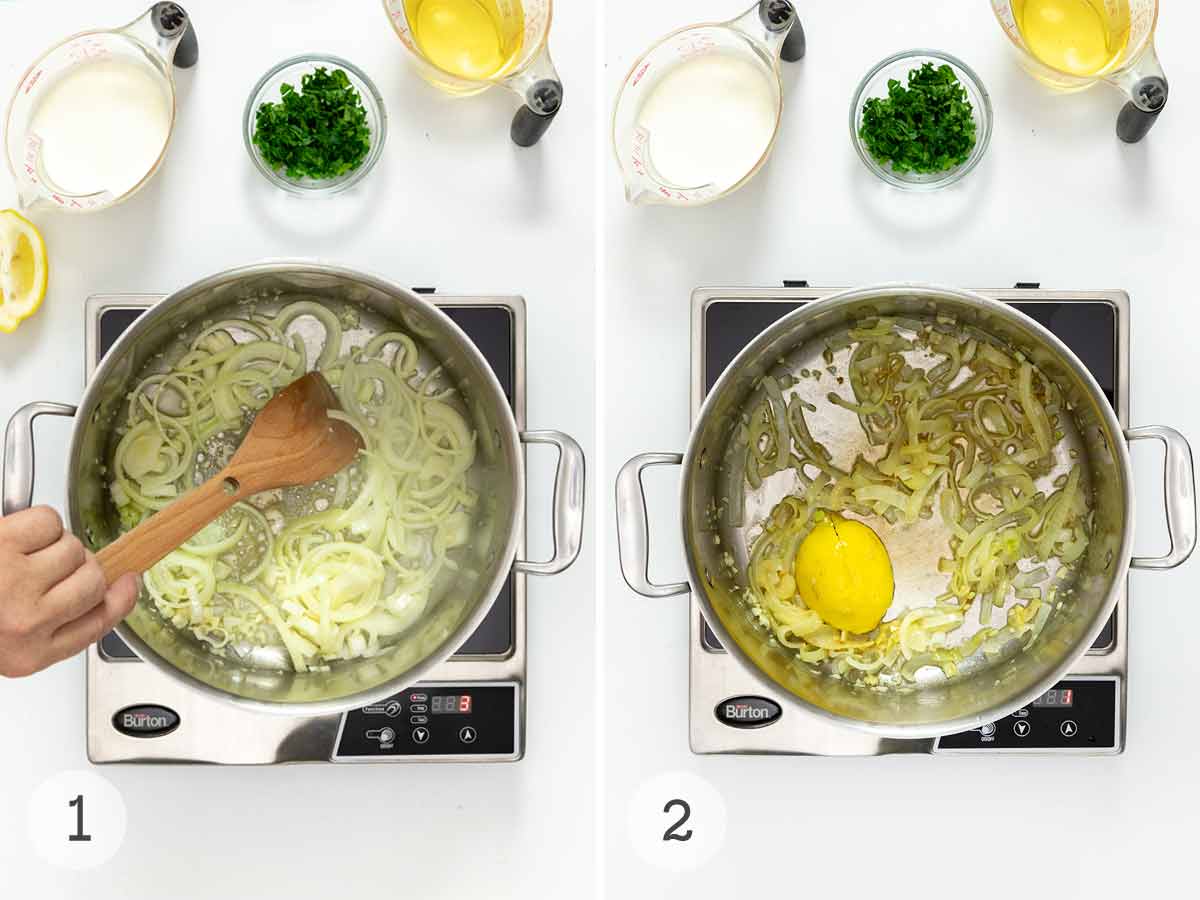 Melt butter over medium heat. Toss in the onion and garlic and cook until soft but not browned, 8 to 10 minutes.

Squeeze the juice from the lemon half and toss it in, letting it sear a bit.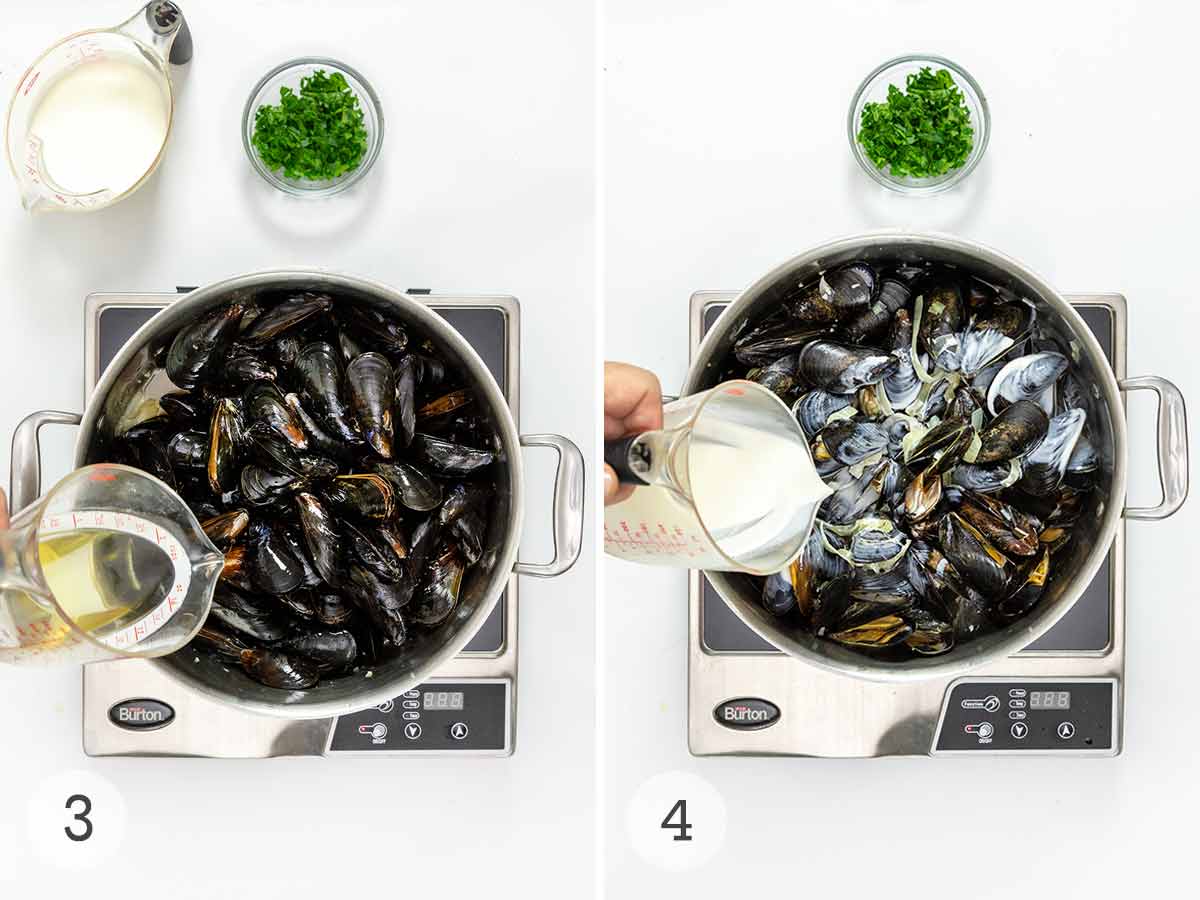 Add the mussels and wine, cover, and steam until most are open.

Lower the heat to a simmer, pour in the cream, cover, and steam until all the mussels open.

Spritz with chopped herbs and serve with toasted, buttered bread and lemon slices.
Common Questions
How much mussels should I buy per person?
Buying 1 to 1 1/2 pounds of mussels per person for a main-course serving is perfect.
What are farmed-raised mussels?
Farm-raised mussels are significantly cleaner and just as flavorful as wild mussels. The most common type is the black-colored "blue mussel," but green-shelled New Zealand mussels are popular, too.

Ask your fishmonger for rope-grown mussels if you can find them, as they tend to be even less gritty. Rope-growing mussels is a technique used by many mussel farmers. In late spring, when mussels begin to spawn and the sea temperatures rise, farmers drop old ropes into the water, which buoys keep afloat. The larvae naturally settle onto the rope surface and grow. It usually takes one to two years for them to reach maturity.
How do I debeard and clean mussels?
It's simple, really. First, toss out any mussels that are cracked or don't close when you tap them on the counter. Place the mussels in a colander and rinse them under cold water. Scrub the shells to remove any mud using a brush (not the one you use to wash dishes!). Rinse again.

To debeard mussels, grab hold of any stringy threads poking out from the mussel. Pull downward toward the hinge of the shells. This takes some muscle (pun intended). Rinse the mussels one more time, and you're good to go.
Helpful Tips
To keep your mussels fresh, scoop ice cubes into two large zip-top bags. Lay one bag on the bottom of a large bowl. Add the mussels and top with the second bag of ice. It's best to cook the mussels the day you bought them.
After you add the cream, heat the broth on low. Boiling the liquid can cause it to separate.
The One and I lay out only soup spoons with this dish. We eat the mussels the way we were taught by a French friend: Use an empty mussel shell as pincers to pluck the plump meat from the shells. Have plenty of napkins on hand!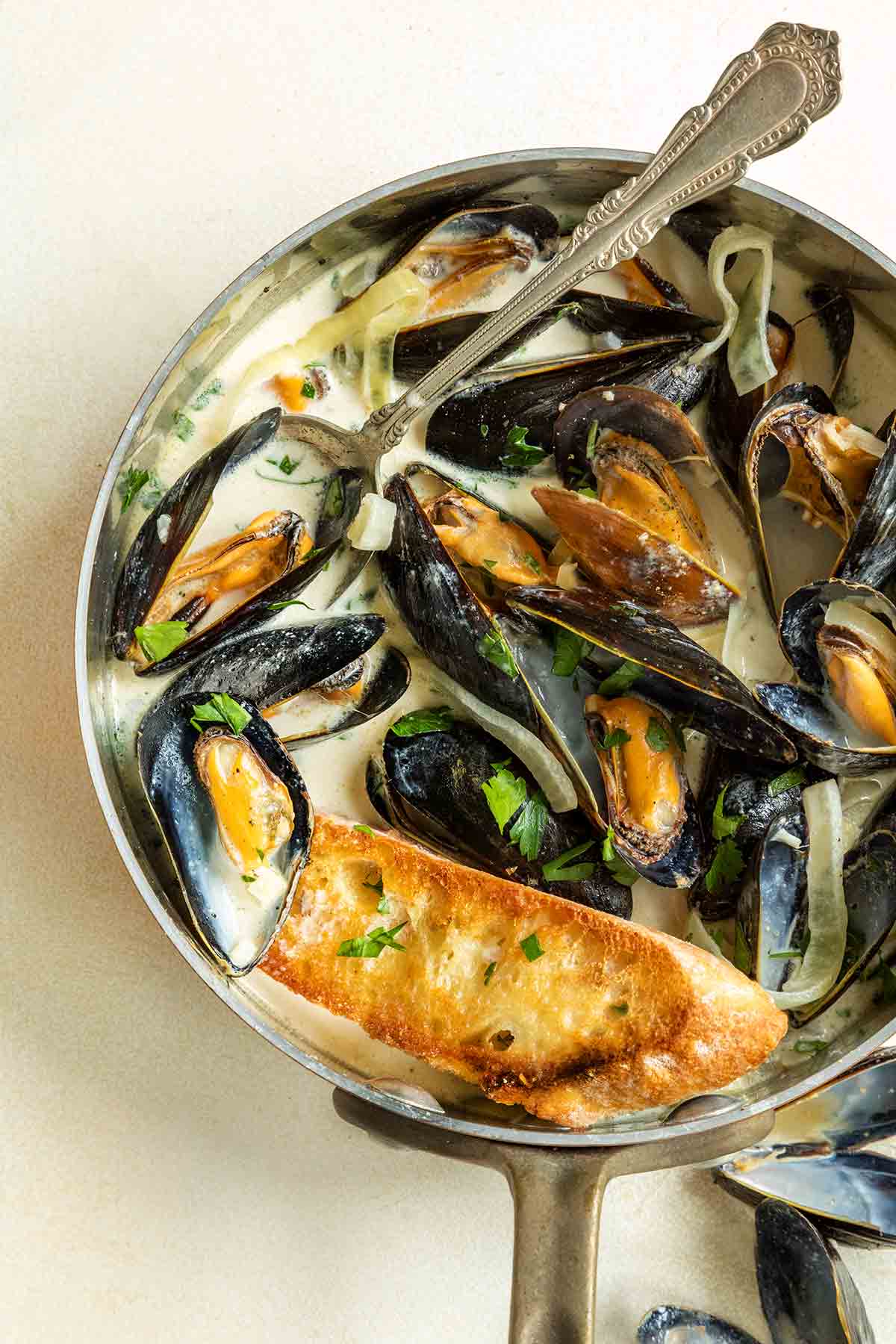 More Oceanic Mussels Recipes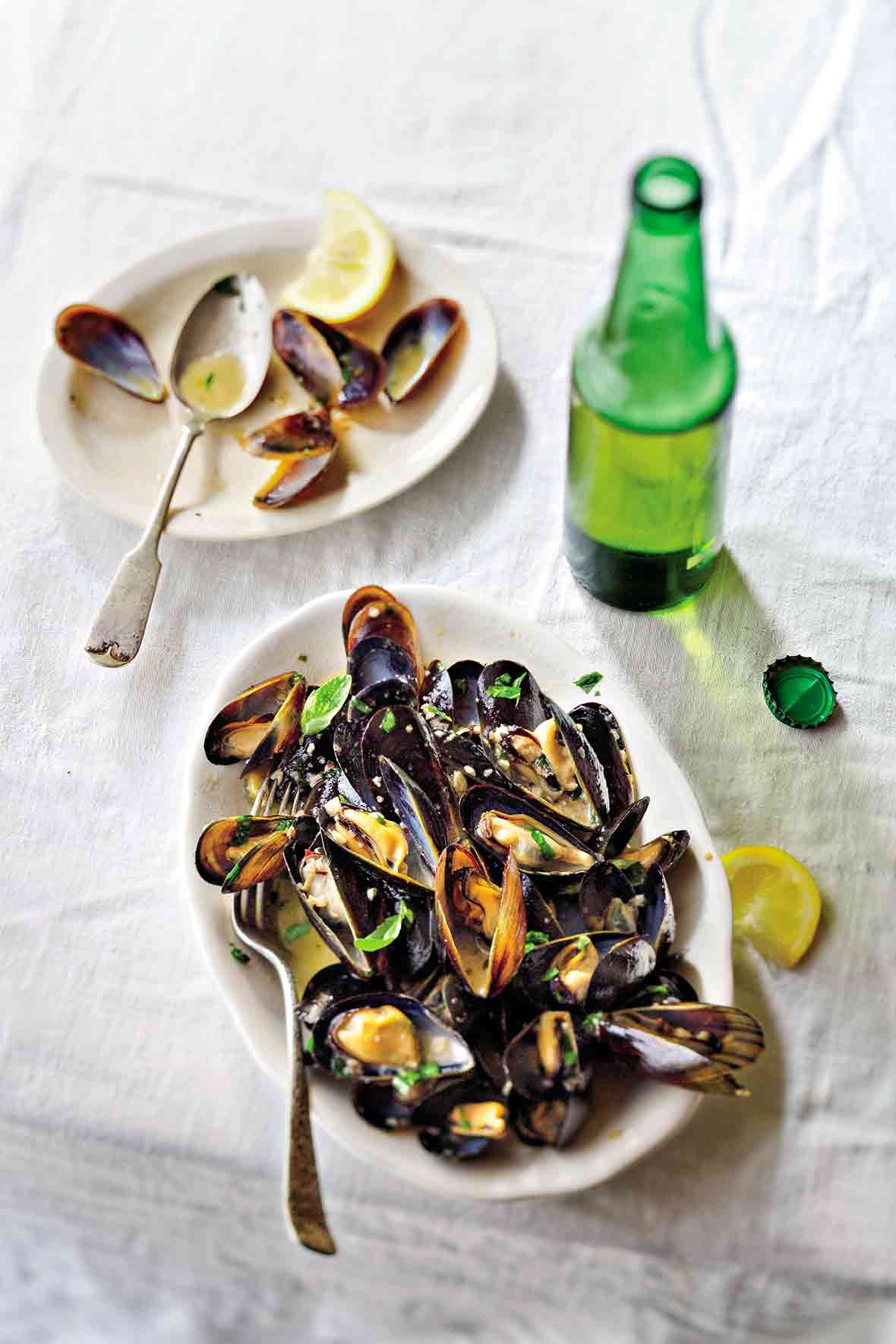 Write a Review
If you make this recipe, or any dish on LC, consider leaving a review, a star rating, and your best photo in the comments below. I love hearing from you.–David
Fantastic! I have always loved creamy sauces but had never had them with mussels. I am bookmarking your page. Thank you.

Paulo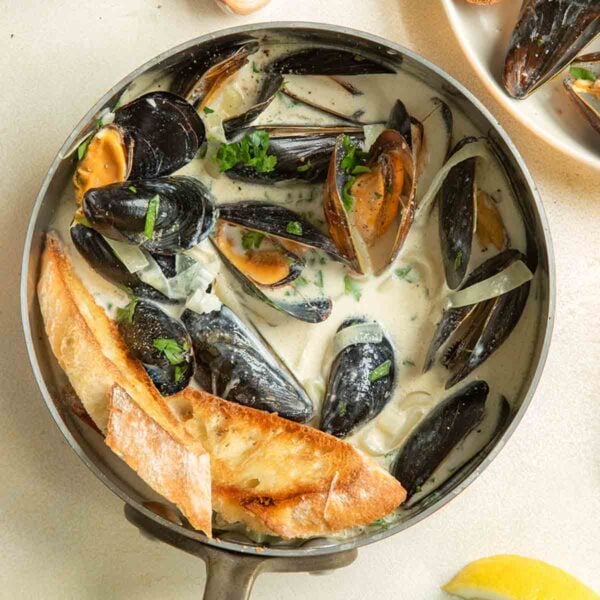 Mussels in a Creamy White Wine Garlic Sauce
Mussels in a creamy white wine garlic sauce is such a quick dish, you almost won't believe that something so devastatingly delish is faster than takeout. Mussels, white wine, cream, lemon, and garlic are just about all it takes.
Ingredients
4

tablespoons (2 oz)

butter

1

(8 oz)

yellow onion

,

cut in half and sliced into 1/2-inch half moons

3

garlic cloves

,

minced

1/2

lemon

4

pounds

mussels

,

scrubbed and debearded

1

cup

dry white wine

1 1/4

cups

heavy cream

Freshly ground black pepper

Flat-leaf parsley (or cilantro or thyme leaves)

,

chopped

Thick slices of toasted, butterd bread

,

for serving

Lemon wedges

,

for serving
Instructions
Melt the butter in a large pot over medium heat. Toss in the onion and garlic and cook, stirring often, until soft but not browned, 8 to 10 minutes. Squeeze the juice from the lemon into the pot and drop in the lemon, too.

Raise the heat to high, scoop in the mussels, pour in the wine, and cover tightly. Steam the mussels until most of them open, 4 to 5 minutes.

Reduce the heat to low, pour in the heavy cream, and add a few grinds of fresh black pepper.

Let the sauce lazily burble until all the mussels are open, 2 to 3 minutes more. Toss the stubborn sons-of-bivalves that refuse to open.

Crown the mussels with parsley. Serve alongside a basket of toasted bread and lemon wedges.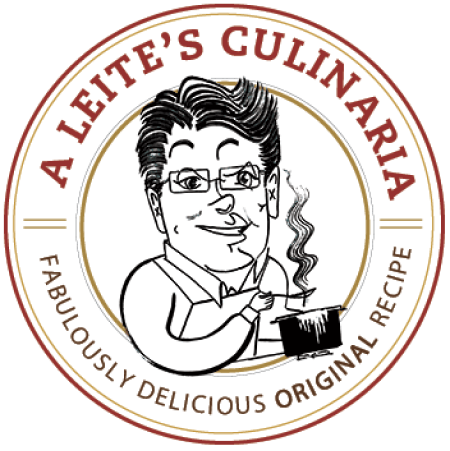 Nutrition
Serving:
1
serving
Calories:
638
kcal
Carbohydrates:
20
g
Protein:
31
g
Fat:
44
g
Saturated Fat:
26
g
Polyunsaturated Fat:
3
g
Monounsaturated Fat:
11
g
Trans Fat:
0.5
g
Cholesterol:
181
mg
Sodium:
691
mg
Potassium:
984
mg
Fiber:
1
g
Sugar:
6
g
Vitamin A:
2090
IU
Vitamin C:
35
mg
Calcium:
143
mg
Iron:
10
mg
Nutrition information is automatically calculated, so should only be used as an approximation.
Recipe © 2020 David Leite. Photos © 2023 David Leite. All rights reserved.
---
Recipe Testers' Reviews
This recipe for mussels in a creamy white wine garlic sauce took me back to a time in Brussels when I had the most amazing plate of moules frites. The recipe produced pretty much the identical dish (minus the frites) with perfectly balanced flavors and a richness that comes from just a few simple ingredients.
Be sure to purchase the best mussels you can find from a reliable source. We were fortunate to find fresh mussels from Maine, which were very clean with almost no beards. Plan on about a pound person with plenty of crusty baguette slices for dipping.
These mussels in a creamy white wine garlic sauce were a treat! They were easy to make and on the table within 30 minutes of starting.
Do take care to make sure the heat is very low before adding the cream, as it can split easily. We served with plenty of crusty bread for sopping up the delicious sauce.