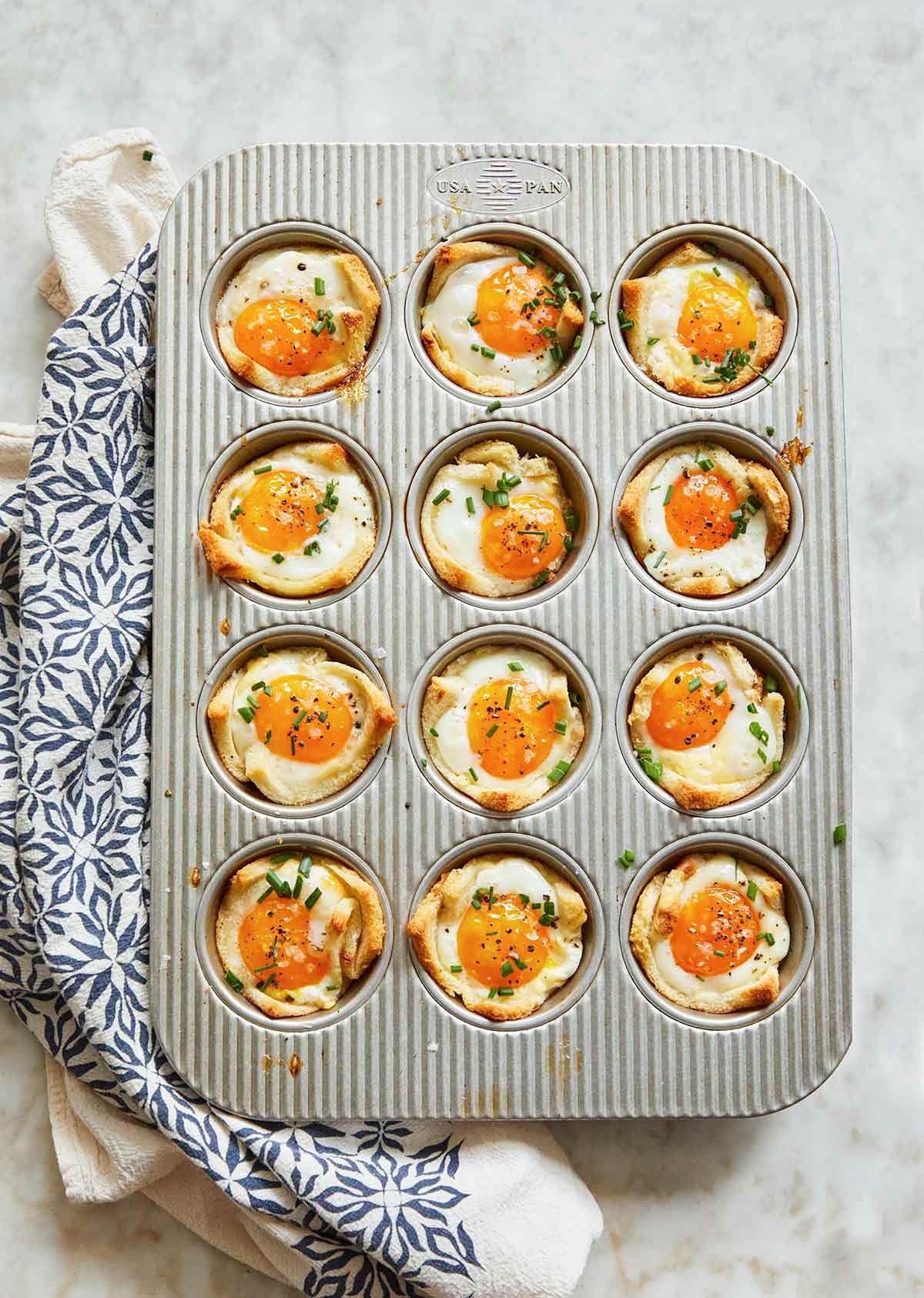 If you're like me and enjoy eating breakfast with one hand, while using the other hand to type or scroll through your social media feed, these egg cups are for you! Eggs, cheese, and crunchy toast combine in muffin tins for a compact, convenient bite.

I usually don't add meat, but if you wish, you could crumble some cooked sausage or bacon in the cups before you add the cheese. These are also easy to make for a crowd because they bake up a dozen at a time and look a lot fancier than they are! I like Gouda or Cheddar cheese in my egg cups, but feel free to experiment.–Lisa Steele
Baked Egg and Toast Cups FAQs
Can I make the baked egg and toast cups ahead and reheat them?
Yes! These egg cups reheat wonderfully. You can reheat them in a microwave, but we recommend a toaster or conventional oven set at about 350°F for ten-ish minutes.
Is it ok to eat an egg that is not fully cooked?
Sure. The United States Department of Agriculture (USDA) says it's safe to use/consume raw or 'undercooked' eggs if the eggs are pasteurized. (If you're like us, that dippy yolk is liquid gold!)
Can I make these gluten-free?
You can use gluten-free bread or if you're looking for a gluten-free option that doesn't include bread, try these easy egg bites.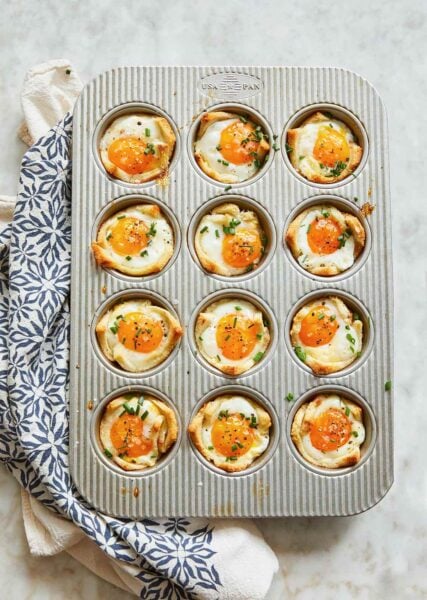 Baked Egg and Toast Cups
Eggs, cheese, and crunchy toast combine in muffin tins for a compact, convenient bite.
Ingredients
12

slices

sandwich bread

6

tablespoons (3 oz)

unsalted butter

,

melted

3/4

cup

shredded Gouda or Cheddar cheese

12

large

eggs

Kosher salt and freshly ground black pepper

Chopped fresh chives

,

for garnish
Instructions
Preheat the oven to 375°F (190°C).

Trim the crust off of the bread slices and use a rolling pin to flatten each slice into a square about 1/4-inch (6-mm) thick. (Save the trimmings to make a bread pudding or strata.)

Generously brush both sides of each slice of bread with the melted butter and then press 1 slice into each cup of a standard muffin tin, forming bread "bowls." Divvy the cheese among the cups, then carefully break and slide 1 egg into each cup. Season with salt and pepper.

Bake the egg cups until the whites are set, the yolks are cooked to your liking, and the toast points are golden brown, 17 to 19 minutes. Remove the pan from the oven and run the tip of a butter knife around the edge of each cup to loosen it from the pan.

Let the toast cups cool for a few minutes, then carefully remove them from the pan (2 forks make this easier). Garnish with chopped fresh chives and serve.
Nutrition
Serving:
1
cup
Calories:
216
kcal
Carbohydrates:
13
g
Protein:
10
g
Fat:
14
g
Saturated Fat:
7
g
Polyunsaturated Fat:
2
g
Monounsaturated Fat:
4
g
Trans Fat:
1
g
Cholesterol:
208
mg
Sodium:
238
mg
Potassium:
106
mg
Fiber:
1
g
Sugar:
1
g
Vitamin A:
516
IU
Calcium:
146
mg
Iron:
2
mg
Nutrition information is automatically calculated, so should only be used as an approximation.
Recipe © 2022 Lisa Steele. Photo © 2022 Tina Rupp. All rights reserved.
---
Recipe Testers' Reviews
Egg-based breakfasts are my favorite – quick, cheap, protein-filled – but add a little cheese and bread? Even better! This recipe has very minimal prep, no hands-on cooking time, and was on the plate in 30 minutes.
We tried it with both aged Gouda slices, ripped up, and with blue cheese crumbles, and really liked adding a little mango habanero hot sauce. It's a flexible recipe, and sure to be one we make again. Works great as a cute little side to a bigger brunch of vegan bacon, berries, and avocado, or as a handheld breakfast on the go.
These baked egg and toast cups were delicious, an easy recipe that's a good option for brunch with a large or small group. I would make this again!
Quick and tasty. These were a nice surprise. I thought there was a chance that they may end up being just another rubbery egg muffin but they were far from it.
I used a store bought "thin" bread so that I could get a nice thin cup. This worked perfectly. I used cheddar cheese and had a few leftover breakfast sausages that I chopped up. I think the sausage added a lot to the flavour so I would use them again. I only had extra large eggs that wouldn't fit in the muffin pan so I used a small strainer to get rid of the really runny white and lessen the volume of egg. I also patted the cheese and sausage down to make more room.
We like our yolks runny so eating them with one hand is out but they will be perfect when we have overnight guests. I'd make some with sausage, some with veg, some plain to accommodate various dietary requirements.
This recipe for baked eggs and toast cups is a simple, delicious breakfast treat or a blank canvas for experimentation. As written, the recipe worked beautifully and was very quick to assemble. I love that it's so easy to scale up or down to either serve a crowd or feed my small family a convenient handheld breakfast to eat on the way to school/ work (because to be honest, that's usually how we eat our breakfast).
For feeding a crowd, I would probably prepare a variety of cups, using different cheeses, adding bacon or sun dried tomatoes to some of the cups, etc. Another way I would love to experiment with this recipe is by adding garlic and seasoning to the butter that each slice is brushed with, so that each cup is like a yummy crouton.
As a brunch recipe, the egg cups would pair perfectly with salads or a topping of fresh tomatoes, onions, and peppers. I served them with Craig Relyea's delicious Apple, Fennel, and Orange Salad, and it was a wonderful combination. This is just the kind of easy, flexible, tasty recipe I'm always on the lookout for.
Select a Tester
This recipe was incredibly simple. I used sharp Cheddar for my cheese. It had great flavor, and great contrast in textures. I do have a rather old oven from the 70s at the moment, so maybe my next comment reflects the oven more than the recipe. The eggs were cooked hard all the way through. I expected the whites to cook all the way through but was hoping for more of a runny egg to be able to put the toast points in. My husband loves to reheat them every morning for breakfast.
Baked egg and toast cups are an easy and fun feature dish for breakfast or brunch. When choosing bread, I found that a square loaf of bread like a sandwich bread makes a larger and more interestingly shaped cup – almost like a tulip shape muffin liner. I buttered the top of the muffin pan around the egg cup for ease of removing them from the muffin pan. My egg cups were perfectly baked at 17 minutes with creamy yolk centers (not runny but not hard either). They lifted out of the pan with ease and were devoured with sides of thick cut bacon and fresh squeezed orange juice. I can't wait to make these for a celebratory brunch!
This recipe is a winner, both upfront and with leftovers. It's not often that my husband asks before we've even finished eating when I'm going to make something again. This simple recipe is that good. I added the optional bacon and am glad I did, as it enhanced the saltiness and crunchiness of the dish.
We had 3 of these for lunch along with chicken noodle soup. We sprinkled some Cholula hot sauce on the eggs at the table, which added both to the color and the flavor.
I halved the recipe because there are only two of us, and I had no idea how well the leftovers would keep and reheat. This gave a small enough left over to experiment with without risking having to throw away a lot of food. The leftover 3 toasty egg cups were set out at room temperature for about 30 minutes. They were then topped with enough extra Gruyere cheese to cover the tops and went into the upper third of the oven in a small skillet at 350 for about 11 minutes. They came out with the cheese just melted. It's a winner.