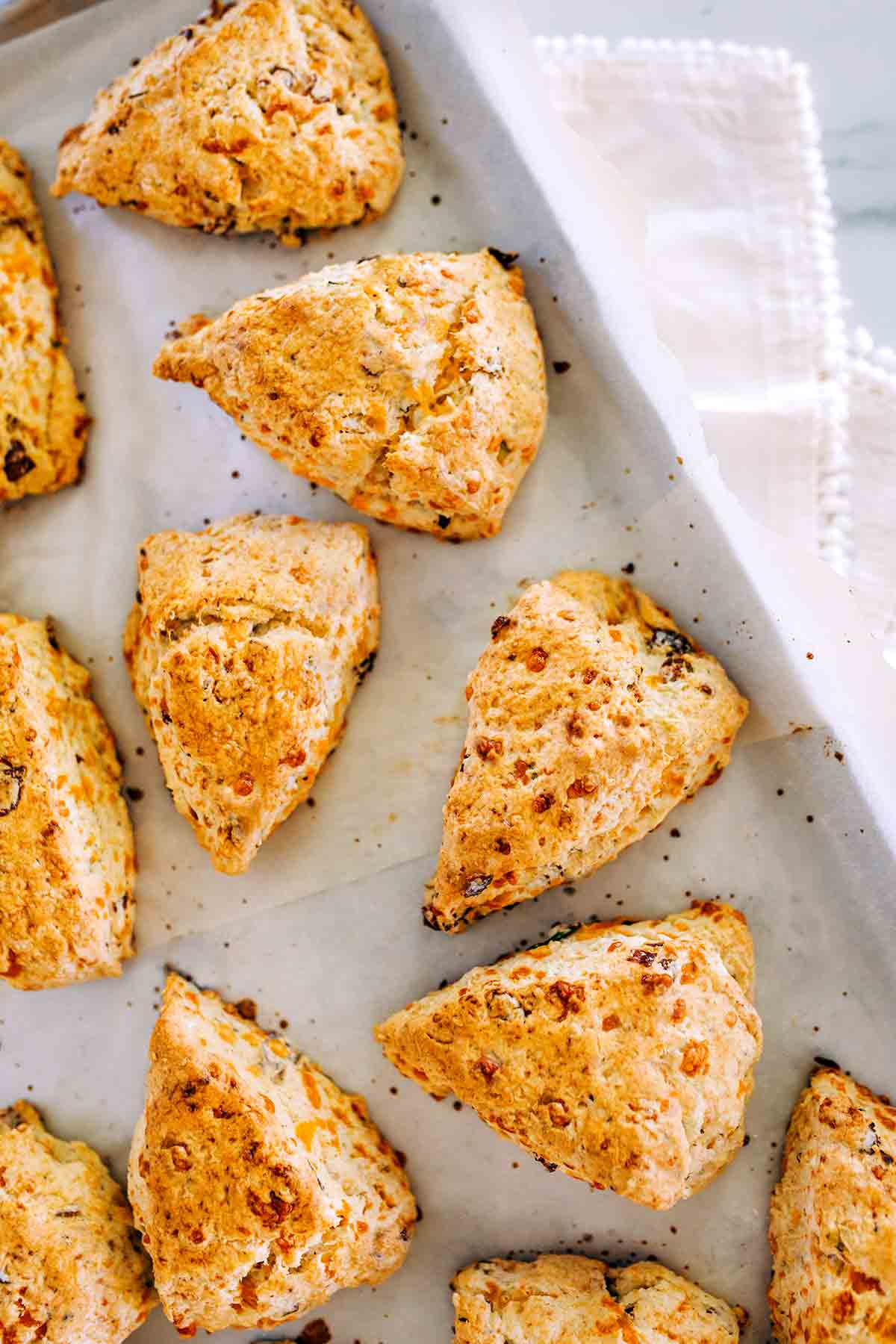 Scones, which originated in England, are similar to biscuits, but they are much richer. They are made from a short pastry, with lots of butter and cream incorporated into the dough. They are very flaky and tender. They are usually cut into large triangles. Once on a morning walk, I passed an elegant coffee bar in downtown Seattle. There on the counter were the most gorgeous scones, labeled bacon and egg scones. I had never heard of this variation before, but I thought it was a great idea, combining all the ingredients for a complete breakfast into a handheld meal.–Paula Lambert
What's the secret to making scones?
What we really mean is what's the secret to making tender yet superlatively flaky scones? Here, a few simple things to make certain you achieve scone satisfaction.
Keep your ingredients cold
What causes scones to be flaky is the moisture in the cold butter meeting the hot blast of the oven and evaporating into steam, which lifts and separates the layers of scone. You want to ensure the butter stays as cold as possible until it goes into the oven. Keeping the other ingredients cold helps keep the ambient temperature of the dough nice and frigid.
Don't overmix the dough
Handling the tough can toughen the resulting scones. So be delicate.
Use as little flour as possible
Too much flour can create a dense dough that's more reticent to let those layers lift. The dough may be slightly sticky but that's fine. Don't add more flour than the recipe indicates.
Bacon, Egg, and Cheddar Scones
These bacon, egg, and Cheddar scones combine all our breakfast faves in a scrumptious handheld package that's less messy than an English muffin with parts that can slide in all directions. You're welcome.
Ingredients
2

cups

unbleached all-purpose flour

4

teaspoons

baking powder

1

teaspoon

salt

5

tablespoons (2 1/2 oz)

unsalted butter

,

cold

3

large

eggs

,

cold

3/4

cup

heavy cream

,

cold

2

ounces

Cheddar

,

shredded (1/2 cup), cold

2

large

eggs

,

lightly scrambled and broken up into pieces about 1 inch square

3

strips

bacon

,

partially cooked and cut into 1/2-inch-wide strips
Instructions
Preheat the oven to 450°F (230°C). Lightly butter a baking sheet or line it with parchment paper.

In a large bowl or the work bowl of a food processor fitted with a steel blade, sift the flour, baking powder, and salt together. Cut the butter into the flour until it's completely incorporated by using 2 knives, a pastry blender, your hands, or the food processor.

In a medium bowl, beat 2 of the raw eggs and the cream until combined. Gently stir or process just to incorporate the eggs into the flour and butter; do not overmix. If using the processor, dump the flour-and-butter mixture into a clean bowl.

Fold the cheese, scrambled eggs, and bacon into the flour mixture. The dough will be sticky and chunky. Stir and knead the dough as little as possible while evenly distributing the cheese, scrambled eggs, and bacon throughout.

Transfer the dough to a well-floured work surface. Pat the dough into a rectangle about 12-by-4-by-3/4 inch high. Cut the dough into three 4-inch squares. Cut the squares on the diagonal to form six triangles.

Place the scones at least 1 inch apart on the baking sheet. Beat the remaining 1 egg with 2 tablespoons water and use this wash to brush the tops of the scones. If you have the time, place the baking sheet in the fridge for 30 minutes to help set the dough so it doesn't spread during baking.

Bake for 10 to 12 minutes, or until golden brown. Remove and serve warm. (The scones truly are best served straight from the oven and not hours or days later although you can refrigerate any leftovers and heat them in a warm oven.) Originally published January 1, 2010.
Nutrition
Serving:
1
portion
Calories:
461
kcal
Carbohydrates:
34
g
Protein:
14
g
Fat:
30
g
Saturated Fat:
17
g
Polyunsaturated Fat:
2
g
Monounsaturated Fat:
8
g
Trans Fat:
0.4
g
Cholesterol:
229
mg
Sodium:
588
mg
Potassium:
430
mg
Fiber:
1
g
Sugar:
1
g
Vitamin A:
1067
IU
Vitamin C:
0.2
mg
Calcium:
235
mg
Iron:
3
mg
Nutrition information is automatically calculated, so should only be used as an approximation.
Recipe © 2000 Paula Lambert. Photo © 2021 Ursula Page. All rights reserved.
---