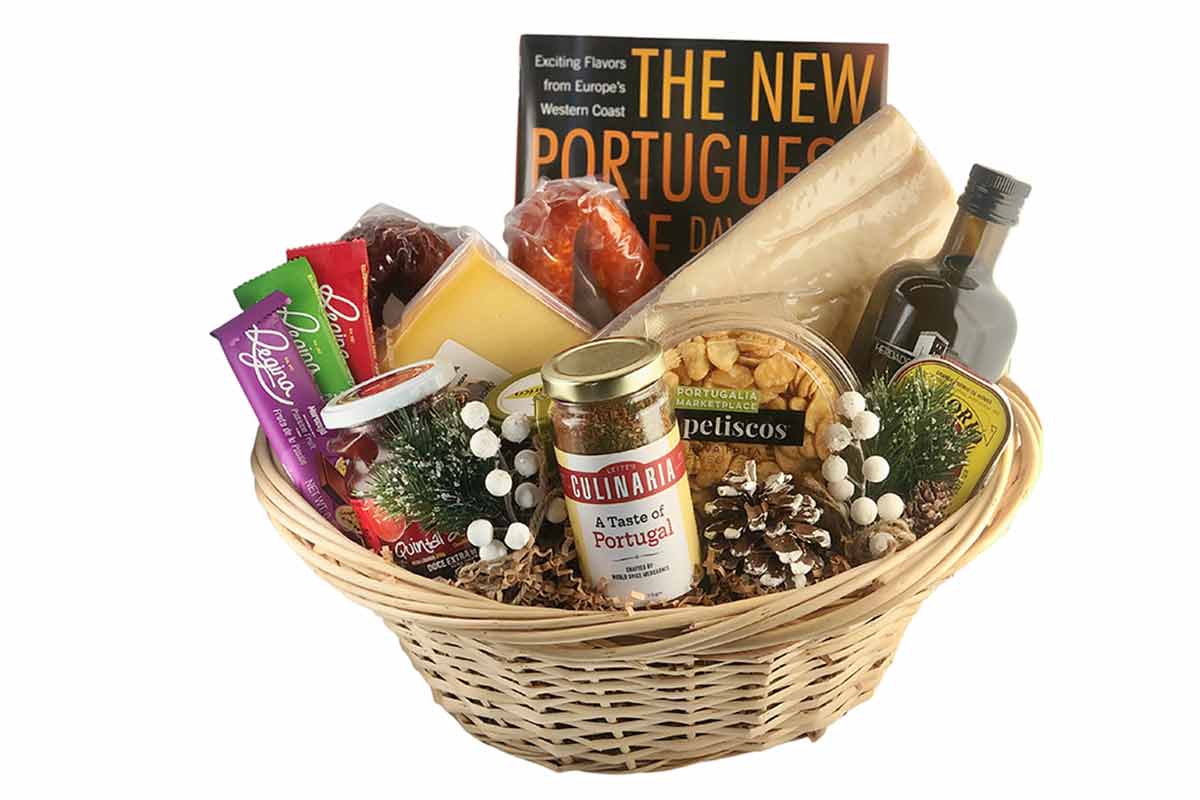 This year's collection of Portuguese treats from LC is now available for shipping! The gift basket is filled with sausages, cheese, salt cod, pastes, snacks, and sweets. Plus this is the first year we're including my Taste of Portugal spice blend. Happy holidays!
Bom Apetite! It's December again, and I'm is thrilled to partner with Portugalia Marketplace once more to offer you another unique gift basket filled with what I think are some of the finest and tastiest Portuguese products.
I personally pored over the offerings at Portugalia and curated this must-have collection that will get you in the kitchen and cooking from my cookbook (included in the basket) in no time.
While there are lots of new items this year, there's one in particular that I'm quite proud of: my A Taste of Portugal spice blend. I've been developing it for quite a while and am delighted that World Spice Merchants agreed to produce it. I call it "Portugal in a bottle" because it has all the flavors I grew up with as well as cook with today.
The gift baskets are available up to New Year's Eve, while supplies last!
$150.00
What's in this year's gift basket
The gift basket makes a wonderful holiday gift for friends and family, a corporate thank you, or even a starter kit for your favorite food adventurer.
Wondering what to make with my spice blend?
Each 4-ounce jar packs about 1 1/2 cups (or 24 tablespoons) into it. One of my all-time favorite uses is to sauté large shrimp in olive oil and butter. Just when they're done, add a few more tablespoons of butter and two tablespoons of the spice blend. Swirl the skillet, and it's dinner time. Make sure to have plenty of crusty bread on hand for dipping!
I've also used the spice blend in marinades for Portuguese pork and clams or my mom's Azorean carne assada, swirled it into olive oil for a dipping sauce, and rubbed it on meats that I smoked or grilled. You can spoon some into broths, such as my clams and sausage in a cataplana, and brines for extra flavor.
Also, give these recipes on World Spice Merchant's site a try: Presunto and Cheese Rolls (above), Portuguese Vinho Verde Mussels, David Leite's Portuguese Roast Chicken and Potatoes, and David Leite's Favorite Portuguese Paste
The gift baskets are available up to New Year's Eve, while supplies last!
$150.00
Felicidades!
Once your pantry is fully stocked with an array of Portuguese goodies, don't forget to try these other unforgettable Portuguese recipes. All of which are sure to become family favorites in no time at all!
Wishing you and yours a memorable, peaceful, and delicious holiday season!
xo,