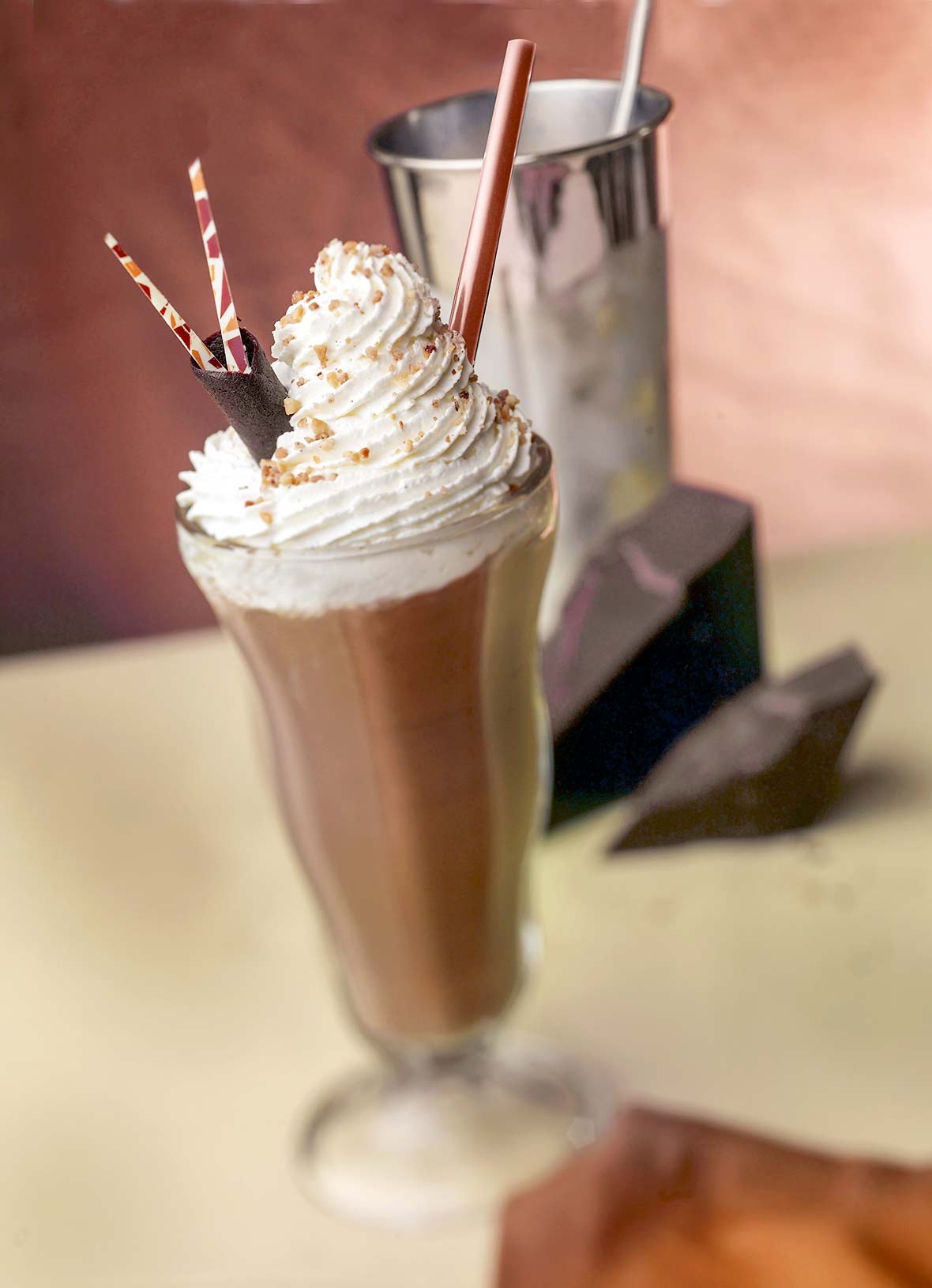 There's a darn good reason why even those with sophisticated palates chase burgers with milkshakes. It works.–Renee Schettler Rossi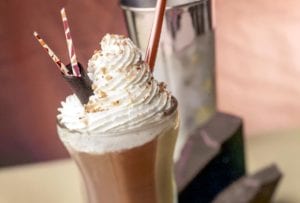 How to Make a Milkshake
How to make a milkshake teaches you the perfect proportions of cream, whole milk, and ice cream for a milkshake that's easy, thick, creamy, classic, and indulgent as heck. And done in 5 minutes.
Ingredients
1/4

cup

heavy cream

1

teaspoon

superfine sugar

,

(or just blitz granulated sugar in a blender until finely ground but not powdery)

Dash

vanilla extract

1 1/4

cups

uber premium ice cream

,

(vanilla, strawberry, chocolate, etc.)

1/3

cup

whole milk

1

teaspoon

very finely chopped nuts of any sorts

Chocolate curls
Instructions
In the bowl of a stand mixer or in a large bowl with a hand mixer or whisk, beat the cream until frothy. Continue whipping, gradually adding the sugar, until firm peaks form. Gently fold in the vanilla.

In a blender, process the ice cream and milk until smooth, about 1 minute.

Pour the milkshake into a tall glass. Either spoon a generous mound of the whipped cream on top or spoon the whipped cream into a pastry bag fitted with a star tip and pipe it onto the milkshake. Sprinkle with the chopped nuts and chocolate curls and stick a straw in it. Originally published April 30, 2009.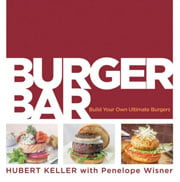 Nutrition
Serving:
1
milkshake
Calories:
638
kcal
Carbohydrates:
50
g
Protein:
11
g
Fat:
45
g
Saturated Fat:
27
g
Polyunsaturated Fat:
2
g
Monounsaturated Fat:
12
g
Cholesterol:
150
mg
Sodium:
180
mg
Potassium:
537
mg
Fiber:
2
g
Sugar:
45
g
Vitamin A:
1702
IU
Vitamin C:
1
mg
Calcium:
354
mg
Iron:
0.4
mg
Nutrition information is automatically calculated, so should only be used as an approximation.
Recipe © 2009 Hubert Keller | Penelope Wisner. Photo © 2009 Bill Milne. All rights reserved.
---
Recipe Testers' Reviews
This is the great tasting, creamy, and classic milkshake we couldn't get enough of as kids, with the updated toppings of freshly whipped cream, shaved chocolate, etc. When I was growing up, we thought toppings likes Reddi-whip in a can and chocolate chips were considered fancy! It's not super thick like you might find at Steak-n-Shake, but if you like your shakes thicker, just add more ice cream.
I used Haagen-Dazs Strawberry ice cream for the first one. It had nice big chunks of frozen strawberries in the ice cream so it took about 1 1/2 minutes to blend it up smoothly with the whole milk.
This milkshake made the perfect amount for one tall glass that also accommodated the whipped cream and added toppings, along with the maraschino cherry on top. Of course, you save that for the very last bite after fishing it out with your straw!
I made a second shake using Haagen-Dazs Vanilla ice cream and added a shot of cooled espresso to that one. So many wonderful possibilities, you get the idea!!!
It's a very nice little treat to bring back wonderful memories. Thankfully, there is a gym nearby! I whipped the cream with a whisk (I doubled the whipped cream ingredients since I was making two shakes).
• I went the easy route and dolloped the whipped cream onto the shakes before sprinkling on the added toppings.
• Serves 1 each.
Today my milkshake was plain vanilla because that's my favorite flavor and that's the only ice cream I had on hand. I put it all together and added a few chocolate shavings on top and sat down to enjoy my drink. I hadn't planned on my 11-month-old granddaughter taking it away from me. She loved it. When she started getting the slurping noise from the straw that meant it was all gone, she starting hitting the side of the glass like that would give her more. It was so funny. I can't wait to try this with different flavors of ice cream.
I love the fact that this recipe makes only 1 serving, and that it's just the right amount so you don't feel overly stuffed after drinking it. [Editor's Note: Well, one serving, provided no one takes it from your hands as you're slurping it!]
"Danger, Will Robinson, Danger!" With my first sip I quickly declared, "Oh, that's dangerous!"
I don't make milkshakes. I like to enjoy sweets such as ice cream and gelato in small doses. That way I can indulge more often. However, if I am going to make a milkshake, this will be the one I will make. The consistency of this milkshake was wonderful.
I used Whole Foods 365 Chocolate Valencia Orange ice cream which is rich, and dark, with small swirls of orange here and there. It took only 20 seconds to attain a smooth mixture in the blender. I used crushed pistachios for my nuts, because they just seemed like the right nut to choose. (It was like pairing a wine.) I even toasted them in a cast iron skillet before crushing.
For my chocolate curls I used a 72% chocolate bar, because, well, why not? Although this indeed made 1 milkshake, I did not want to overindulge. I happily shared this milkshake with my husband. Neither of us felt we were short-changed. Drinking the entire milkshake, I feel would have been overkill.