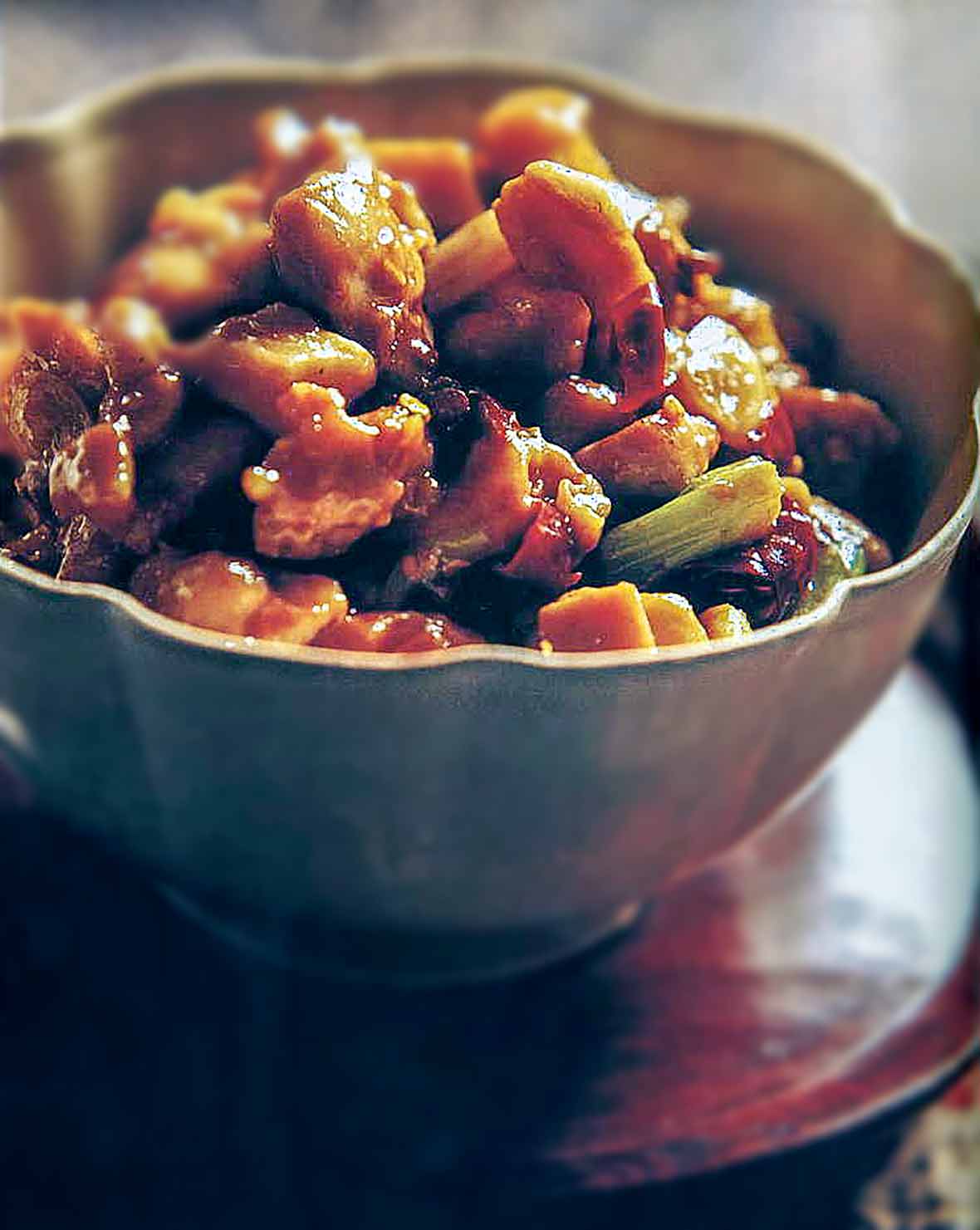 I've adapted this recipe from instructor chef Kevin Chuk of the Chinese Cuisine Training Institute in Hong Kong by making it only medium hot. For more heat, increase the amount of chile oil. Sichuan peppercorns add a wonderful aromatic taste.–Grace Young
LC WOK THIS WAY NOTE
In the spirit of full disclosure, author Grace Young notes that chef Kevin Chuk, who created this recipe, stir-fries using a northern-style wok. Although it's swell if you, too, wish to wok this way, we're quite certain this stir-fry will come together just fine no matter what type of wok you rely on. (Those who are intrigued can learn more insider-y info about which way to wok via any of Young's cookbooks-cum-textbooks, including The Breath of a Wok and Stir-Frying to the Sky's Edge.) Oh, and that black rice vinegar mentioned in the recipe below? It lends a complex, smoky taste to anything you dribble it into, including soups, sauces, and stir-fries. Look for it at Asian markets or online, being careful to scrutinize the label to discern that it doesn't contain caramel flavoring or sugar. You want the real deal here. (Balsamic vinegar will sorta work in its place, lending a similar yet distinctly different depth to the dish.)
Chicken Stir-Fry with Sichuan Peppercorns
Chicken stir fry with sichuan peppercorns is a simple stir-fry of chicken, ginger, and chile peppers enveloped in an aromatic, velvety, mildly spiced Sichuan-style sauce.
Ingredients
12

ounces

boneless, skinless chicken thighs

,

cut into 1/2-inch (12 mm) cubes

3

teaspoons

Shao Hsing rice wine or dry sherry

1

teaspoon

cornstarch

3/4

teaspoon

salt

1/4

teaspoon

ground white pepper

1

teaspoon

black soy sauce

1

tablespoon

Chinkiang (black rice vinegar) or balsamic vinegar

2

teaspoons

sesame oil

1

teaspoon

granulated sugar

1/4

teaspoon

chile oil

2

tablespoons

homemade chicken stock or canned chicken broth

1

tablespoon

vegetable oil

8

small

dried red chiles

1

teaspoon

thinly sliced peeled ginger

1

small

garlic clove

,

thinly sliced

1/4

teaspoon

roasted and ground Sichuan peppercorns

1

scallion

,

chopped
Instructions
In a medium bowl, combine the chicken, 1 teaspoon rice wine, the cornstarch, 1/4 teaspoon salt, and the white pepper. In a small bowl, combine the black soy sauce, vinegar, sesame oil, sugar, chile oil, broth, the remaining 2 teaspoons rice wine, and the remaining 1/2 teaspoon salt.

Heat a 14-inch flat-bottomed wok over high heat until a bead of water vaporizes within 1 to 2 seconds of contact. Swirl in the vegetable oil, add the dried chiles, and carefully add the chicken, spreading it evenly in the wok. Cook undisturbed 1 minute, until the chicken begins to brown. Then, using a metal spatula, stir-fry 1 to 2 minutes or until the chicken is browned on all sides but not cooked through. Transfer to a plate and set aside.

Add the ginger, garlic, ground Sichuan peppercorns, and scallion to the dry wok and stir-fry for 15 seconds. Return the chicken to the wok and toss to coat. Stir the sauce mixture and carefully swirl it into the wok and stir-fry 30 seconds or until the chicken is just cooked through and the sauce is slightly thickened. Remove and discard the chiles. Serve immediately.
Nutrition
Serving:
1
portion
Calories:
176
kcal
Carbohydrates:
4
g
Protein:
17
g
Fat:
9
g
Saturated Fat:
4
g
Polyunsaturated Fat:
2
g
Monounsaturated Fat:
3
g
Trans Fat:
1
g
Cholesterol:
81
mg
Sodium:
609
mg
Potassium:
261
mg
Fiber:
1
g
Sugar:
2
g
Vitamin A:
317
IU
Vitamin C:
1
mg
Calcium:
15
mg
Iron:
1
mg
Nutrition information is automatically calculated, so should only be used as an approximation.
Recipe © 2004 Grace Young. Photo © 2004 Alan Richardson. All rights reserved.
---
Recipe Testers' Reviews
We really enjoyed this quick and easy stir-fry. As with most stir-fry recipes, all the work lies in getting the ingredients prepped and set up in order. Once that's done, dinner is going to happen fast. I'd suggest having the other dishes you want to have alongside the chicken already made so that you can eat as soon as the chicken is cooked. I'm a big fan of fried rice, so I made that in the wok first. After a quick brush of the wok, you're ready to cook the Sichuan Peppercorn Chicken. I also made a bok choy dish to go along with the chicken stir-fry because, unlike many chicken stir-fries which have vegetables such as onions, peppers, and snow or snap peas, this dish doesn't have any vegetables in it. (I'm not counting one scallion as a full serving of vegetables.) Cooking the dried chiles in the oil first proved to be a problem for me. Perhaps I'm a bit sensitive to the fumes, but I found it difficult to breathe while the chiles were cooking. So much so that I ended up taking them out of the wok. They'd already flavored the oil and chicken quite a bit, so I wasn't concerned about the finished dish. When I make this dish again, I'd like to try adding the chiles a bit later in the cooking process. The chicken thigh meat ended up being very silky and succulent. Quite lovely. The dish does seem to cry out for vegetables. Perhaps I'll try adding something the next time I make this. Snow peas would be nice. This time of year makes me think of asparagus. Experimenting sounds like fun.
Leave it to Grace Young. I'll admit a bias here, as I've cooked many of her recipes and found them to be unfailingly reliable while also being weeknight doable. This one is no exception. I'm a sucker for the combination of Sichuan peppercorns and hot chiles, so this recipe was right up my alley. And it comes together in a snap. I cook in an outdoor wok with very high heat, so I pushed the chiles up the side of the wok before adding the chicken so they wouldn't burn. The important instruction here is to let the chicken sit undisturbed for a minute before starting to toss it in the wok. Do this and it will not stick. This recipe comes together in the blink of an eye and is delicious. I confess to not removing and discarding the chiles as instructed. I think they add beauty to the dish, and you can eat around them.