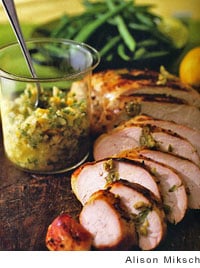 There are several ways of stuffing ingredients into a solid hunk of meat, like our lemon turkey breast. You can cut a pocket in the center, butterfly it, or disperse the stuffing throughout the roast as is done here, a technique known as larding. Classically, larding is done to game meats to get fat (lardons) deep into the interior of meats that lack marbling. In this recipe, you make holes all over a meaty turkey breast and then plug them up with a tangy paste of green olives, garlic, and lemon. Try to space the holes evenly so that every slice gets its share of the flavor.
Grill Settings
Gas grill: indirect heat, medium [325°F to 350°F (160°C to 175°C)];on a 3-or-4-burner grill, turn middle burner(s) off, and on a 2-burner grill, turn 1 side off; clean, oiled grate.
Charcoal grill: indirect heat, medium ash; split charcoal bed (about 2 dozen coals per side); heavy duty drip pan set between banks of charcoal; clean, oiled grate on medium setting.–Andrew Schloss and David Joachim
Grilled Turkey Breast
Quick Glance
30 M
1 H, 40 M

Makes 6 to 8 servings
Print Recipe
Ingredients
For the preserved lemon relish
2 preserved lemons, coarsely chopped, seeds discarded

1/2 cup cilantro leaves and stems

4 cloves garlic, coarsely chopped

1/4 cup olive oil

For the turkey breast

18 large pitted green olives, coarsely chopped (about 3/4 cup)

4 tablespoons extra-virgin olive oil

2 cloves garlic, minced

Kosher salt and ground black pepper

1 boneless turkey breast half, preferably with skin on, about 3 1/2 pounds

Juice and finely grated zest of 1 lemon

1/4 teaspoon dried thyme

Oil, for coating grill grate

1/2 cup Preserved Lemon Relish
Directions
Make the preserved lemon relish

1. Place all of the ingredients in a food processor and process until finely chopped.

2. Use as directed in a recipe; can be stored in a tightly closed container in the refrigerator for up to 1 month.

Prepare the turkey breast

3. Heat the grill as directed above.

4. Mix the olives, 1 tablespoon of the olive oil, the garlic, and salt and pepper to taste in a bowl.

5. Plunge a long, thin-bladed knife into the turkey breast and twist to make a hole. Stuff the hole with some of the green olive tapenade. Repeat until the turkey breast is uniformly punctuated with tapenade, making about 12 holes in all.

6. In another bowl, mix the lemon juice, 1 tablespoon of the olive oil, and the salt and pepper to taste and coat the outside of the turkey breast with this mixture.

7. Mix the remaining 2 tablespoons of the olive oil, the lemon zest, thyme, and salt and pepper to taste in another bowl; set aside.

8. Brush the grill grate and coat it with oil. Put the turkey breast on the grill away from the heat, cover the grill, and cook until an instant-read thermometer inserted into the thickest part of the breast registers about 165°F (74°C), about 1 hour. Baste the turkey breast twice with the olive oil-lemon zest mixture during the last 30 minutes of cooking. If your grill has a temperature gauge, it should stay at around 350°F (175°C).

9. Transfer the turkey breast to a large serving platter, using tongs and a spatula for support. Let rest for 8 to 10 minutes; carve and serve with the Preserved Lemon Relish, if desired.
Grilled Turkey Breast Recipe © 2007 Andrew Schloss and David Joachim. Photo © 2007 Alison Miksch. All rights reserved.
If you make this recipe, snap a photo and hashtag it #LeitesCulinaria. We'd love to see your creations on Instagram, Facebook, and Twitter.