Corn sticks were a big part of my childhood. When I was growing up, we often had dinner at Morrison's Cafeteria. My favorite part of the outing was reaching the end of the line where the hot corn sticks were served. They were crisp on the outside, soft on the inside, and topped with pats of butter that melted over them. The cafeteria is long gone, but not the corn sticks. They survive in this recipe.
Corn sticks call for baking the batter in a hot, well-greased pan with long, narrow corn-shaped wells, which is what produces the crisp exterior. Southerners pass well-seasoned pans from generation to generation; you can also find them in most cookware stores. Traditional pans are made of cast iron and usually have seven wells.–Elinor Klivans
LC Lucky Seven Note
We know. You're thinking, "I don't have a corn stick pan and I'm not going to buy one." Yet part of what makes this corn stick recipe from baker Elinor Klivans so spectacular, as she explains above, is the lovely old-fashioned cast-iron pan in which its baked. The batter just doesn't actualize its fullest potential when made in a baking dish or muffin tins. (Though we've been told by Southerners that, in a pinch, a madeleine pan turns out not at all shabby, albeit rather squat, corn sticks.)
What we think is a shame? That the darn pan affords only seven corn sticks. How often do you have seven people at your table? What happens if you've invited six guests? It could get not so pretty if anyone finds out there's a single, lonely leftover corn stick hanging out in the kitchen. Or, heaven forbid, what if you're expecting eight?! It's far beyond the normal call of host or hostessing to ask us to do without one of these little lovelies. It's a problem that's easily remedied, though. Simply double the recipe and make the corn sticks in batches. Or invest in a second pan. Trust us.
Southern Corn Sticks
Quick Glance
15 M
35 M

Makes 7 corn sticks
Special Equipment: 1 cast-iron corn stick pan with 7 wells
Print Recipe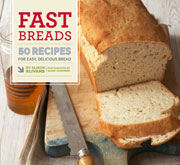 Ingredients
Email Grocery List
2 teaspoons unsalted butter, melted

1 tablespoon plus 1 teaspoon mild vegetable oil

2 tablespoons unbleached all-purpose flour

3/4 cup fine-grind stone-ground yellow cornmeal

1 tablespoon granulated sugar

1/2 teaspoon baking powder

1/2 teaspoon baking soda

1/4 teaspoon kosher salt

1/2 cup buttermilk (either low-fat or full-fat)

1 large egg, lightly beaten
Directions
1. To prepare the corn sticks, position the oven rack in the center position and preheat the oven to 425ºF (218°C).

2. In a small saucepan over low heat, melt the butter with 1 teaspoon of the oil. Use a pastry brush to coat each corn stick pan well generously with the butter-oil mixture. Place the corn stick pan in the oven to heat while you mix the batter.

3. In a large bowl, stir together the flour, cornmeal, sugar, baking powder, baking soda, and salt. Add the buttermilk, egg, and the remaining 1 tablespoon oil and use a large spoon to stir the batter slowly, just until the ingredients are combined. There will be some small lumps; that's okay. No need to panic.

4. Remove the corn stick pan from the oven and spoon about 2 tablespoons of the batter into each well. The batter should fill the well to the rim.

5. Bake the corn sticks until the tops are lightly browned and a toothpick inserted in the center comes out clean, about 15 minutes. If you peek at the bottom of the corn sticks, they will be browned. Let the corn sticks cool in the pan on a wire rack for 5 minutes (but no longer than that).

6. Use a small, sharp knife and your fingers to loosen the edges of the corn sticks and carefully transfer the sticks from the pan to the rack. Do not turn the pan upside down to release the corn sticks because its weight may break them. Serve warm. (The corn sticks can be baked a day ahead, covered, and left at room temperature. To serve, preheat the oven to 275ºF (135°C) and reheat the corn sticks, uncovered, just until warmed through, about 10 minutes.)
Recipe Testers Reviews
Southern Corn Sticks Recipe © 2010 Elinor Klivans. Photo © 2010 Susie Cushner. All rights reserved. All materials used with permission.
If you make this recipe, snap a photo and hashtag it #LeitesCulinaria. We'd love to see your creations on Instagram, Facebook, and Twitter.