Lobster thermidor is a luxe French dish that consists of lobster meat, cooked in a rich wine sauce. Presented by placing the meat back in the original shells and broiling the cheese until bubbling, it will also knock the socks off your guests.
Ideally, the lobster flesh, smothered in the finished sauce, is piled back into the two half-shells and finished under the broiler. If you should happen to make a mess of splitting the lobster (I often do) and thereby spoil the shell, you can pile the lobster thermidor filling into one or two individual ovenproof dishes. It may look slightly less spectacular, but it will taste every bit as good. Most recipes stipulate heavy cream for the sauce, but I find it almost too rich, so I prefer to use béchamel sauce.–Hugh Fearnley-Whittingstall
Lobster Thermidor FAQs
How do I buy a lobster?
First, always remember that lobsters can only live for about 48 hours after they've been removed from saltwater so buy them as close to serving time as possible. When choosing, look for the ones that are the most lively and have all of their legs, claws, and intact shells. If you have to move the lobsters, pick them up by their body, not claw or tail—especially if it's still alive.
Okay, now I've got it home. How do I store my lobster?
As soon as you get your lobsters home, put them in the refrigerator to keep them cold. Don't store them in tap water, just put them in a paper bag. In this recipe, Fearnley-Whittingstall suggests putting them into the freezer for about 2 hours before cooking to put them into torpor, which is his preferred method. Don't store them in the freezer for much longer, though, or they'll freeze. If you'd rather use the boiling water method to the freezer method, feel free to do that instead–some people feel that it's preferable for both you and the lobster.
How do I know when my lobster is cooked?
Like a lot of things in life, timing is everything. Take note of the timing when the water returns to the boil again after you add your lobster to the pot. Note that some lobsters, especially larger ones, will turn bright red before they're cooked through, so don't use that as your only way to gauge if it's ready. Lobster meat needs to be fully opaque to be ready.
Lobster Thermidor
This lobster thermidor is a classic dish and an unbeatable one. One good-sized lobster serves two people to make one of the finest special-occasion dishes I can think of.
Ingredients
1

live lobster

weighing 2 to 3 pounds

2

shallots

finely chopped

2

tablespoons (1 oz)

butter

A small glass of

white wine

3/4

cup

thick béchamel sauce

1

tablespoon

heavy cream

(optional)

1

teaspoon

strong English mustard

Leaves from a sprig of tarragon

finely chopped

1/2

cup

shredded Gruyère cheese

A good pinch of

cayenne pepper

Salt and freshly ground black pepper
Instructions
Kill your lobster by the officially sanctioned method of putting it in the freezer for about two hours to reduce it to a torpid state, then put it straight into a large pan of rapidly boiling water (salt water in the ratio of 2 tablespoons of salt per 4 cups water). Cooking times are 12 minutes for a minimum-size lobster of 1 pound, 15 minutes for anything up to 1 1/2 pounds, and an extra 5 minutes for every pound after that. Then let cool.

Twist off the claws, crack them with a hammer or nutcracker, and remove all the meat. Set this aside. The body of the lobster should be split lengthwise along the lateral line with a large, heavy, and very sharp knife. This is most easily done if you lay the lobster on its back on a large wooden board, press the point of the knife into the tip of the tail, and bring the knife down the length of the lobster, bisecting it evenly between the two sets of legs—do this carefully, so as not to damage the shell. Once you are through the flesh to the shell at the back of the lobster, press hard on the knife with your free hand to cut through the shell. You may want to use a pair of kitchen scissors to snip through any bits of shell that are not quite cut through.

Carefully remove the tail meat from each half of the lobster, chop coarsely, and add to the claw meat. Scrape out any brown meat from the head, along with any pink coral, and add that to the white meat from the claws and tail. Remove the nasty bits and discard. You should be left with 2 empty shell halves, with plenty of space in the head and tail cavities to replace the finished meat.

In a frying pan, cook the shallots in the butter over medium heat until soft and lightly browned. Add the white wine and simmer until reduced to a scant tablespoon of liquid. Stir in the béchamel sauce and the cream, if using, plus the mustard and tarragon, and allow to bubble in the pan for just a minute. Remove from the heat and stir in three-quarters of the cheese and the cayenne pepper. Then mix in all the meat from the lobster until it is well coated in the thermidor sauce. Season to taste with salt and black pepper.

Pile the meat back in the shell, sprinkle over the remaining cheese, and place under a hot broiler for 5 to 10 minutes, until brown and bubbling. Serve at once.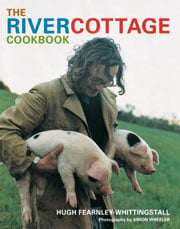 Nutrition
Serving:
1
serving
Calories:
360
kcal
Carbohydrates:
7
g
Protein:
34
g
Fat:
22
g
Saturated Fat:
13
g
Polyunsaturated Fat:
1
g
Monounsaturated Fat:
6
g
Trans Fat:
1
g
Cholesterol:
264
mg
Sodium:
3233
mg
Potassium:
561
mg
Fiber:
1
g
Sugar:
3
g
Vitamin A:
803
IU
Vitamin C:
69
mg
Calcium:
299
mg
Iron:
1
mg
Nutrition information is automatically calculated, so should only be used as an approximation.
Recipe © 2008 Hugh Fearnley-Whittingstall. Photo © 2008
Simon Wheeler
. All rights reserved.
---
Recipe Testers' Reviews
This dish reminded me of what used to be served in high-end restaurants during the later quarter of the 20th century, and so I knew it was one I had to make and share with my wife. It's really a simple dish to make, and dispatching the lobster is not as scary as one would think.

While the lobster was boiling and cooling, I prepped the shallots and made the béchamel. It all comes together pretty quickly and is a nice special occasion meal to make for two! Next time I make this, I'll kick up the cayenne a bit more.
Lovely recipe for a Lobster Thermidor- flavours are well balanced, and the final dish is decadent. Nothing overly complicated in terms of preparation. It would make a great celebratory main course for a special occasion. A great do-ahead dish.
[recipe-testers-choice]
Originally published October 6, 2008