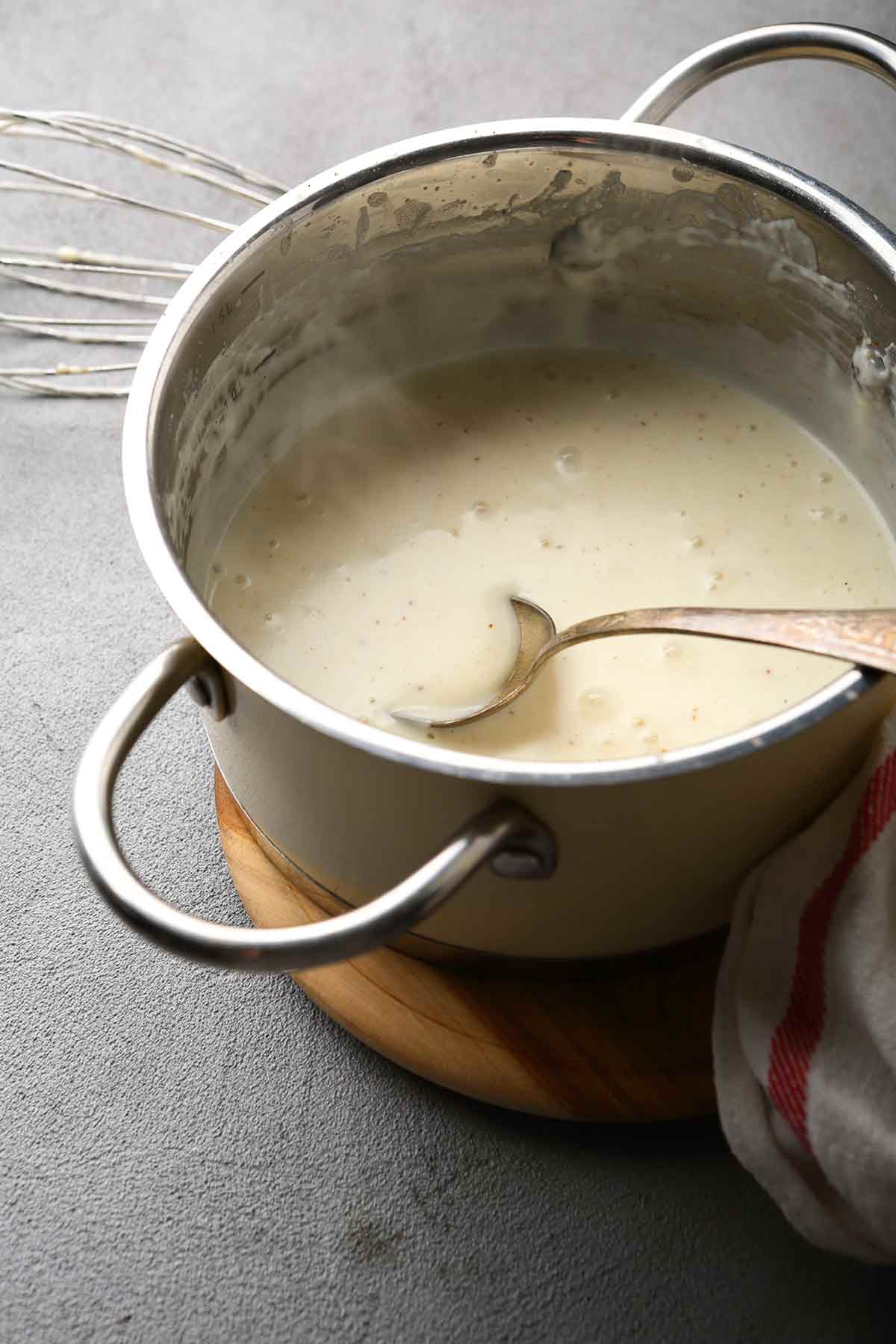 Raise your hand if you've attempted to make béchamel in the past and ended up scrubbing burnt roux from your favorite pan as you curse under your breath. You're not alone. All of us were led to believe that the proper way to make béchamel is to cook flour and butter, stirring until it forms a paste over just the perfect heat and stirring just enough so that it doesn't scorch, and then slowly add the milk until you end up with a lump-free sauce worthy of June Cleaver.
This proposition is more than a little precarious. And that's because the excellence of your béchamel sauce depends not just on your ability as a cook but on the exact temperature of the butter, the exact weight of the flour, the events of the day, and how heavily they may be weighing on your mind and distracting you from the task at hand, whether your kid started screaming and you turned your back on the stove, and, we swear, the precise alignment of the planets. There's an easier way. Simply simmer some milk and butter and then stir in the flour. Faster. Foolproof. And a lot easier on your ego. You're welcome.–Angie Zoobkoof
WHAT CAN I USE BÉCHAMEL SAUCE FOR?
Once you've seen how easy it is to whip up a pot of creamy béchamel, you'll want to use it often. Jim Lahey uses it as the sauce on white pizza and we suggest you start there because it's just so good. But don't stop there–put it in lasagna, use it as a base for the best mac and cheese ever, whip up a croque monsieur casserole. Moussaka, fish pie, pasta bakes. Add puréed, sautéed onions and you've got yourself a classic soubise, a sauce that goes on nearly everything. See? Béchamel is the answer to all your sauce questions.
Easy Béchamel Sauce
This easy béchamel sauce is simply flour, butter, milk, and nutmeg stirred together into a rich and creamy and classic white sauce. The method here is quick and easy, fast and foolproof, yet creates classic results.
Ingredients
2

cups

whole milk

1

stick

unsalted butter

About 2 1/4

tablespoons

all-purpose flour

1/4

teaspoon

fine sea salt

3

grates of nutmeg on a rasp or 1 pinch ground nutmeg
Instructions
Pour about 2/3 cup milk into a saucepan. Cut the butter into a few chunks (the exact size isn't important, it's just so it'll melt more easily) and toss them into the milk. Heat over medium-low heat, stirring, until the butter melts, being careful not to let the milk reach a boil.

Meanwhile, dump the flour in a medium bowl, add the remaining milk, and whisk it into a slurry.

Once the butter has been completely incorporated into the hot milk, ladle some of the warm mixture into the cold flour mixture and whisk until it's warm. Pour the contents of the bowl back into the saucepan and whisk it in. Stir in the salt. Place the pan over medium-low heat and whisk the mixture frequently to prevent sticking as it cooks and thickens. The béchamel is done at about 180°F (82°C), or when it has reached the consistency of a runny sauce or heavy cream.

Grate in or add the nutmeg, remove from the heat, and let the sauce cool slightly or all the way to room temperature. It will continue to thicken a little as it cools.

Use the bechamel immediately or cool, cover, and refrigerate for up to 5 days (if refrigerating the béchamel, bring it back to room temperature before using).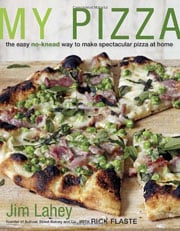 Nutrition
Serving:
1
serving
Calories:
73
kcal
Carbohydrates:
2
g
Protein:
1
g
Fat:
7
g
Saturated Fat:
4
g
Polyunsaturated Fat:
1
g
Monounsaturated Fat:
2
g
Trans Fat:
1
g
Cholesterol:
18
mg
Sodium:
50
mg
Potassium:
43
mg
Fiber:
1
g
Sugar:
2
g
Vitamin A:
226
IU
Vitamin C:
1
mg
Calcium:
36
mg
Iron:
1
mg
Nutrition information is automatically calculated, so should only be used as an approximation.
Recipe © 2012 Jim Lahey. Photo © 2012 olga afanasieva. All rights reserved.
---
Recipe Testers' Reviews
I had never used this technique to make béchamel sauce, but I'm absolutely sold. It's much easier and certainly faster than the usual method. The sauce came out at just the right consistency and I could spread it in a nice, even, thin layer. I actually used gluten-free all-purpose flour and had no trouble with it.
This recipe for béchamel sauce is a little involved but works perfectly. I really liked this technique because the sauce was very smooth. This is one of the most basic of sauces that could be used in many ways.