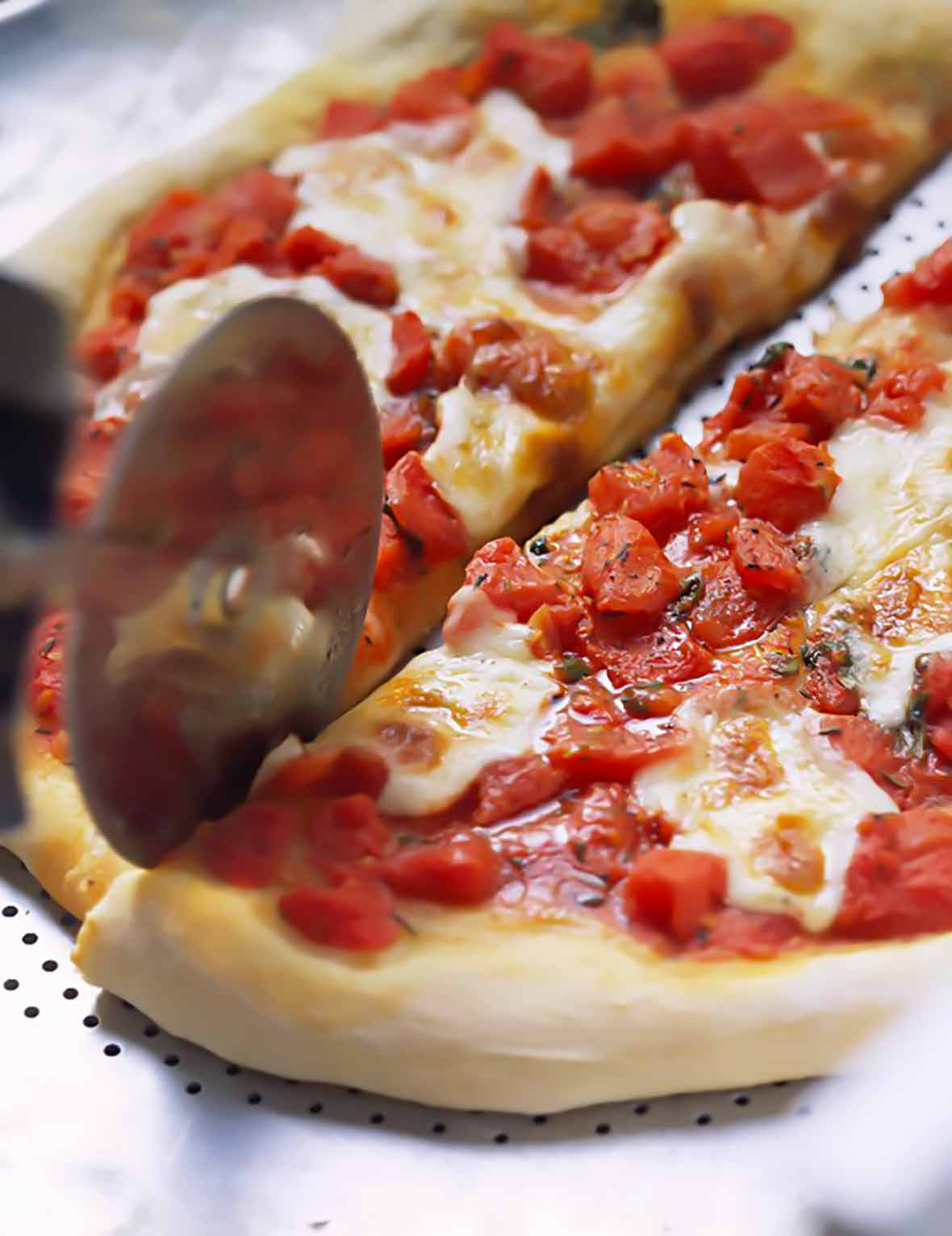 Eileen Cora, whose husband, John, sells specialty pizza equipment through his Illinois-based company, Cora Imports Ltd., doesn't know exactly where her recipe came from. She learned the technique for making the dough by watching her mother-in-law, Maria Angiolino, a native of Cerignola in southern Italy. "She always made the sign of the cross in the dough before she set it down for raising," says Eileen. "I think she was blessing the bread." Angiolino did everything by hand — a tradition Eileen respects but can't follow to the letter. "Her hands were so strong, she could do anything. I have to use a Cuisinart to mix the dough. But my mother-in-law taught me how to cook — so I could cook for her son."–Penny Pollack and Jeff Ruby
LC Just Like Mama Used To Make Note
This recipe is the epitome of a genuine family heirloom, a recipe transcribed faithfully for future use. From the habit of proofing the yeast in the oven to the unusual cross shape cut in the dough, there is a homeyness to the Cora family pizza. Little wonder—it's literally just like mama used to make. (If you must, go ahead and use a food processor to help with the hard part at the beginning. You'll have your chance to knead in some love later.)
Tomato-Fresh Mozzarella Pizza
Quick Glance
35 M
2 H, 45 M

Makes one 11-by-17-inch pizza
Print Recipe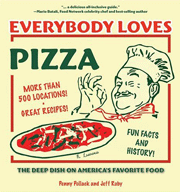 Ingredients
For the dough

1/4 cup warm water at 105°F (41°C)

1 package active dry yeast

1 tablespoon sugar

Extra-virgin olive oil

3 cups flour, plus more for sprinkling

1 teaspoon salt

1/4 cup room-temperature water

For the topping

One 28-ounce can plum tomatoes

Oregano, to taste

Fresh buffalo mozzarella (enough to cover the pizza in one layer)

Salt and pepper, to taste

Olive oil, to taste
Directions
Make the dough

1. In a glass, mix the water, yeast, and sugar. Place the glass inside of a turned-off oven, as the inside of the oven is warmer than the kitchen. The yeast should grow in fewer than 10 minutes.

2. Lightly coat a mixing bowl with olive oil. Brush a shallow 11-by-17-inch baking pan with the olive oil and sprinkle it evenly with flour. Set both dishes aside.

3. Place the 3 cups of flour, salt, and yeast mixture in a food processor fitted with a metal blade and drizzle with 1 circle of olive oil. Process the mixture only until a dough ball forms, adding the water only if needed to form the ball. Do not overmix.

4. Flour a work surface and knead the dough. Form it into a ball and place it in the oiled bowl. Slash cross marks on top of the dough with a sharp knife. Drape the bowl with a damp towel and place it in the oven. After 30 to 40 minutes, the dough should be bulging around the slash marks.

5. Take the bowl from the oven and punch down the dough. Knead it again and return it to the bowl and place in the oven for a second 30- to 40-minute rise.

6. Remove the dough from the oven, hand-stretch it on the baking pan, and place it back in the oven to rest for no more than 10 minutes. The dough is stressed from being worked and needs time to relax. Once again, remove the dough from the oven, preheat the oven to 200°F (95°C), and bake the crust for 10 minutes. Remove and let cool.

Make the pizza

7. Raise the oven temperature to 450°F (230°C). Rinse the sauce off the plum tomatoes, drain them well, and chop them or mash them with a fork. Sprinkle them with oregano and spread the sauce on the lightly baked crust.

8. Cover the sauce with sliced mozzarella, season to taste with salt and pepper, and drizzle with olive oil. Bake the pizza for 10 minutes. Watch carefully, though, to make sure the cheese doesn't burn before the crust is done.
Tomato-Fresh Mozzarella Pizza Recipe © 2005 Penny Pollack and Jeff Ruby. All rights reserved. All recipes and photos used with permission of the publisher.
If you make this recipe, snap a photo and hashtag it #LeitesCulinaria. We'd love to see your creations on Instagram, Facebook, and Twitter.