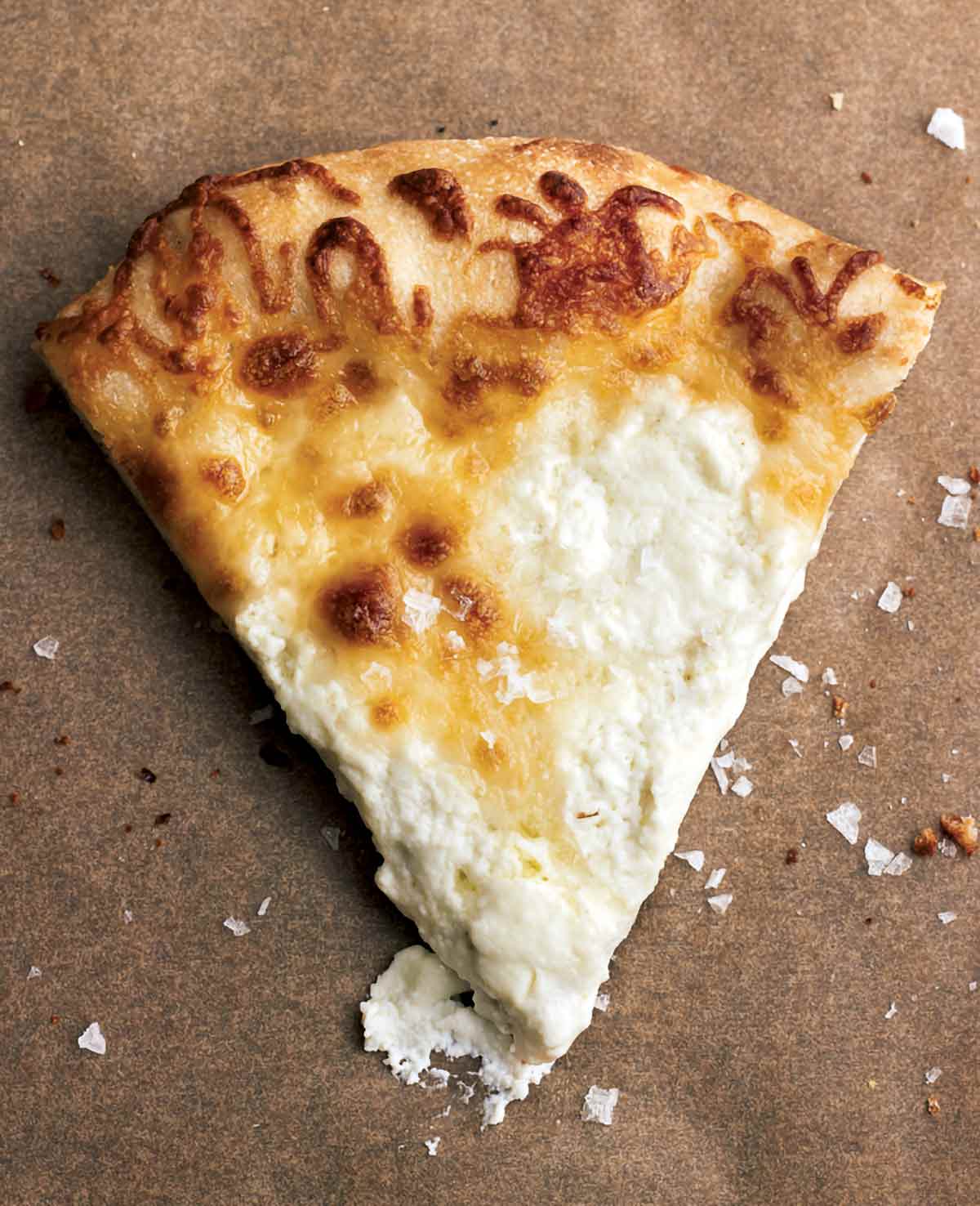 This subtly-flavored white pizza is what author Jamie Geller refers to as "dressed down." Her words. Forgive me, but those of us who delight in simpler pleasures consider plain white pizza plenty dressed up. Spiffy, in fact.
Still, for those of you who prefer to be knocked giddy with flavor, you may wish to strew this pizza with sautéed garlic and freshly torn basil leaves (as the author suggests), top the white pizza with salad, or go all out and make a white pizza with broccolini, fontina, and sausage. Suit yourself.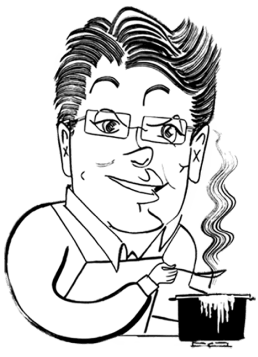 Why Our Testers Loved This
There are a whole bunch of reasons our recipe testers devoured this classic pizza. They loved that it is uncomplicated, simple, and delicious, as pizza bianca should be. They were also thrilled that it pleased everyone at their dinner tables and was simple enough for kids to make.

Renee H. summed it us best: "This white pizza recipe is simple yet scrumptious. In fact, it's simple enough for teen boys—teen boys who can't even find the hamper—to make when I call upon them to cook dinner, and that's a win in my book!"
Notes on Ingredients
Pizza dough–You can use your favorite store-bought or homemade pizza dough here. Our testers were partial to the Jim Lahey dough, but if you're in a hurry, this quick pizza dough is ready in just over an hour.
Mozzarella cheese–For best results, use the best-quality, low-moisture pizza mozzarella you can find, and shred it yourself. Pre-shredded cheese doesn't melt well.
Ricotta cheese–This adds a creamy richness to your pie and shouldn't be skipped. If you've got the time, we highly recommend making your own ricotta.
How to Make This Recipe
Heat the oven to 450°F.

Sprinkle two pizza stones or baking sheets with cornmeal.

Divvy the dough in half. Stretch each piece into a round and place it on the prepared pizza stone.

Drizzle each pizza with oil and sprinkle with salt. Top with mozzarella and dollop with ricotta.

Bake the pizzas until golden brown. Sprinkle with salt and drizzle with oil before serving.
Recipe FAQs
What wine can I pair with white pizza?
One last word of wisdom from the author. Geller posits, "Never thought of Champagne with pizza? Think again." White pizza and white wine are a marriage made in heaven. Pinot grigio and sauvignon blanc are a terrific match but something bubbly is even better. And don't worry if it's not the expensive stuff—sparkling white wine does just as well as the fancy bottles.
How do you stretch pizza dough without tearing it?
It takes a little practice, but the key to getting evenly stretched dough is to drape it over your knuckles and gently rotate it. For step-by-step instructions (with photos) check out this tutorial from Jim Lahey on How to Stretch Pizza Dough Like a Boss.
Can I add any other toppings to my pizza?
This recipe is a classic for a reason, but if you want to fancy it up a little bit, we highly recommend the addition of blue cheese and pears.

Instead of drizzling the dough directly with olive oil, first arrange 2 unpeeled, cored, and very thinly sliced pears on the dough, leaving a 1/2-inch border all around. Then drizzle with the olive oil and sprinkle with salt and freshly ground black pepper to taste.

Bake until the crust is just starting to turn golden brown, about 10 minutes. Sprinkle 2/3 cup crumbled blue cheese over the pears and scatter 1/2 to 1 cup baby arugula over the top. Drizzle with more olive oil, if desired. Serve immediately.
Helpful Tips
Store leftover pizza in the refrigerator for up to 3 days. Rewarm on a baking sheet in a 300°F oven until heated through.
This recipe is suitable for vegetarian diets. To make it gluten-free, use gluten-free pizza dough.
Write a Review
If you make this recipe, or any dish on LC, consider leaving a review, a star rating, and your best photo in the comments below. I love hearing from you.–David
Despite being quite simple with no more than five ingredients, this white pizza recipe combines everything perfectly to create a delicate dish that's undoubtedly one of the most famous pizzas in the world.

The softness of mozzarella with the depth of the ricotta brings great flavor to the recipe, which would not be the same without the ricotta. Salt also prevents it from being too plain a dish.

However, as suggested, the pizza becomes better with a bit of garlic and some basil leaves sprinkled on top, so I wouldn't hesitate to incorporate these ingredients.

cinto
White Pizza
My grandmother didn't like sauce and always ordered white pizza–before fancy white slices were en vogue. This white pie with a dollop of ricotta is an ode to her.
Equipment
Baking stones (optional), but worth it
Ingredients
Finely ground cornmeal

,

for the baking sheet

1

pound

pizza dough

All-purpose flour

,

for the work surface

3

tablespoons

extra-virgin olive oil

,

plus more for drizzling (optional)

1/2

teaspoon

kosher salt

1 1/2

cups

shredded mozzarella

1

cup

ricotta

Coarse sea salt

,

(optional)
Instructions
Preheat the oven to 450°F (232°C). Lightly sprinkle 2 pizza stones or baking sheets with a dusting of cornmeal.

Separate the pizza dough into 2 equal pieces. On a lightly floured work surface, roll or stretch out each piece of dough, then transfer it to a prepared pizza stone or baking sheet.

Drizzle each dough round with 1 1/2 tablespoons olive oil and sprinkle with 1/4 teaspoon salt. Top each with 3/4 cup shredded mozzarella and dot all over with 1/2 cup ricotta (about 10 dollops per pizza).

Bake for 8 to 10 minutes, rotating the pans once halfway through baking.

Finish with a sprinkle of sea salt and an additional drizzle of olive oil, if desired.
Notes
Skip the pre-shredded cheese–Use the best-quality low-moisture mozzarella you can find and shred it yourself. Don't use pre-shredded cheese as it does not melt well.
Storage–Store leftover pizza in the refrigerator for up to 3 days. Rewarm on a baking sheet in a 300°F oven until heated through.
Dietary–This recipe is suitable for vegetarian diets. To make it gluten-free, use gluten-free pizza dough.
Nutrition
Serving:
1
slice
Calories:
302
kcal
Carbohydrates:
28
g
Protein:
12
g
Fat:
16
g
Saturated Fat:
6
g
Polyunsaturated Fat:
1
g
Monounsaturated Fat:
6
g
Cholesterol:
32
mg
Sodium:
638
mg
Potassium:
48
mg
Fiber:
1
g
Sugar:
4
g
Vitamin A:
279
IU
Calcium:
170
mg
Iron:
2
mg
Nutrition information is automatically calculated, so should only be used as an approximation.
Recipe © 2013 Jamie Geller. Photo © 2013 Andrew Purcell. All rights reserved.
---