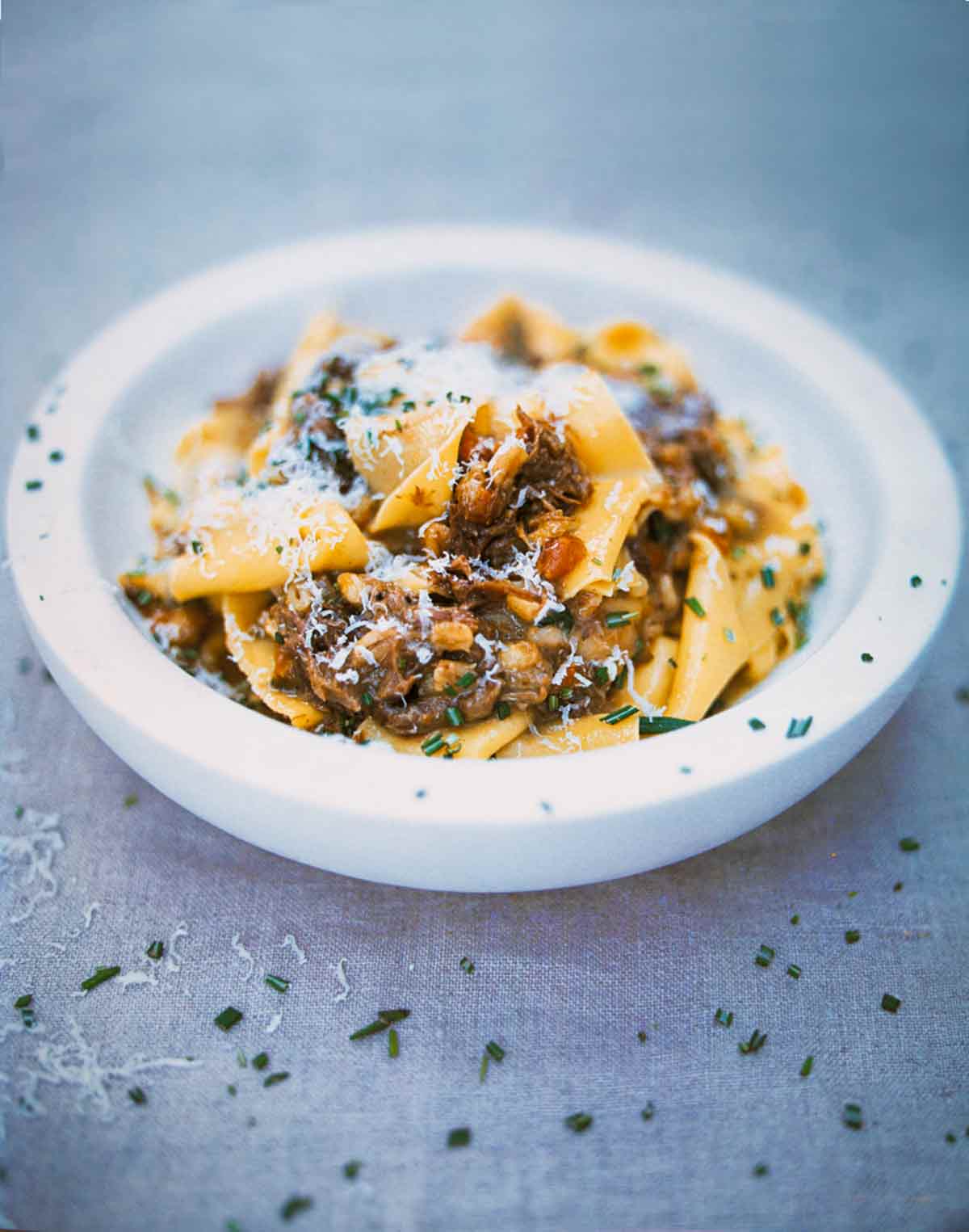 This pappardelle with beef ragu from food crusader and chef Jamie Oliver is, as the name implies, truly amazing. It's essentially a braised meat sauce, although he notes that you could use venison or boar or squab or rabbit. Either way, it's fabulously easy to make on the stovetop or in a slow cooker.
If you love the idea of saucy pappardelle, but don't have 3 hours to spare, Jamie has a quick and easy sausage pappardelle that's equally good.–David Leite
Pappardelle & Beef Ragu FAQs
What is pappardelle?
Pappardelle are long, wide ribbons of pasta, customarily made with egg, originally from the Tuscany region of Italy. Its rough surface makes it ideal for hearty sauces typical of the region.
How wide should pappardelle pasta be?
Its width varies between .75 to more than 1 inch. It's the widest of all the long pasta shapes.
What is beef ragu?
Beef ragu is just another name for beef sauce. It's a hearty, seasoned sauce that customarily contains beef (ground), tomatoes, and finely diced onions, celery, and carrots called soffritto. Jamie Oliver's beef ragu is made from meat that's slowly braised so that it's falling apart tender.
What is the best cut of beef for beef ragu?
If you chose to pass on venison, boar, squab, and rabbit and prefer beef for Jamie Oliver's beef ragu, the best thing to do is think cheap. Even the least expensive cut of beef, such as chuck or rump, will morph into something meltingly tender after a long, slow simmer in wine and aromatics, whether on the stovetop or in the slow cooker.
Jamie Oliver's Pappardelle with Beef Ragu
This pappardelle with beef ragu is essentially a braised beef sauce that can be made on the stovetop or, better yet, in the slow cooker. If your want to use beef, I suggest you reach for chuck.
Equipment
Slow cooker (if following the slow cooker method)
Ingredients
1 1/2

pounds

boneless chuck or rump

,

(beef or venison or boar or squab or rabbit, per note above)

Extra-virgin olive oil

1

handful

each rosemary and thyme

,

stems discarded and leaves finely chopped

1

small

red onion

,

peeled and finely chopped

4

garlic cloves

,

peeled and finely chopped

1

carrot

,

peeled and finely chopped

1

celery stick

,

finely chopped

2

wineglasses

Chianti

Two

(14-ounce) cans

plum tomatoes

2

tablespoons

pearl barley

Salt and freshly ground black pepper

14

ounces

fresh or dried pappardelle

7

tablespoons

unsalted butter

2

handfuls

grated Parmesan cheese

,

plus more for garnish
Instructions
To make the pappardelle in your slow cooker, see the Slow Cooker Variation below. To make the pappardelle on your stovetop, season the meat with salt and pepper. (It can be cut into large 2-inch chunks if it's beef, venison, or wild boar; left whole if it's squab; or cut into 5 or 6 pieces if it's rabbit.)

Place a Dutch oven over medium-high heat. Add a little olive oil and the meat, being careful not to crowd the pot, and cook until golden brown on all sides. It may be necessary to work in batches; if so, return all the meat to the pot after it's browned.

Add your herbs, onions, garlic, carrot, and celery to the meat in the pot, reduce the heat, and continue to cook, stirring occasionally, until the vegetables have softened, about 5 minutes.

Pour in the wine and simmer just until the liquid has almost completely cooked away but has left you with a fantastic color and fragrance. Add the plum tomatoes, the pearl barley, and just enough water to cover the meat by about 1/2 inch.

Gently place the parchment circle directly on the surface of the liquid. Put a lid on the pot as well to retain as much moisture as possible while cooking.

Reduce the heat to low and gentle simmer for 2 to 3 hours. The exact timing will depend on the tenderness and type of meat. You'll know that the meat is ready when you can literally tug on it with a fork and it easily pulls apart in strands.

Season the beef ragu with salt and pepper to taste and let it cool slightly before removing the meat from the pan. Using 2 forks, pull apart all the chunks of meat, throwing away any gristle or bits of undissolved fat. Skim any fat from the surface of the braising liquid. Return the shredded meat to the pot and place over low heat.

Bring a pot of heavily salted water to a boil and cook your pappardelle for 3 minutes if using fresh pasta or according to the package instructions if using dried. Once it's cooked, drain it in a colander, saving some of the cooking water.

Remove the meat sauce from the heat and stir in the butter and Parmesan along with a little of the reserved pasta cooking water—this will make it juicy and shiny.

Toss the beef ragu with your drained pasta and, if desired, serve sprinkled with a little finely chopped fresh rosemary and some more grated Parmesan. Serve immediately.
Notes
Jamie Oliver's Pappardelle with Beef Ragu: Slow Cooker Variation
Toss everything in the slow cooker. No need to brown the meat or vegetables in a skillet first (although if you can spare the time to do so, you will be justly rewarded with a slightly more complex flavor). No need to add any water. And you may want to consider either swapping fresh herbs for dried or, if you prefer fresh, adding them only during the last hour or so of cooking.
Cook on low for 8 or so hours, until the meat is fall-apart tender. If the beef ragu seems too liquidy, simply remove the meat, crank the slow cooker up to high, and simmer until the liquid is reduced to the desired consistency. Continue with step 4 in the instructions above.
[Editor's Note: Bear in mind, no two slow cookers are exactly alike, just as no two cooks are exactly alike. This slow-cooker approach worked really, really well for us, although if you have a different slow-cooker cooking technique you want to try by all means, do so. And, natch, we'd love if you'd share it with us in a comment below.]
Nutrition
Serving:
1
serving
Calories:
1159
kcal
Carbohydrates:
93
g
Protein:
59
g
Fat:
55
g
Saturated Fat:
26
g
Polyunsaturated Fat:
5
g
Monounsaturated Fat:
21
g
Trans Fat:
2
g
Cholesterol:
284
mg
Sodium:
436
mg
Potassium:
1527
mg
Fiber:
8
g
Sugar:
9
g
Vitamin A:
5023
IU
Vitamin C:
31
mg
Calcium:
227
mg
Iron:
7
mg
Nutrition information is automatically calculated, so should only be used as an approximation.
Recipe © 2003 Jamie Oliver. Photo © 2003 Jamie Oliver. All rights reserved.
---
Recipe Testers' Reviews
Ah, Jamie Oliver recipes. Sometimes they're more a list of suggestions than a strictly written recipe. This beautiful meat sauce is a classic example. The butcher is out of one cut of meat? That's fine, just move on to the next. I used a rump roast because it looked much leaner than the chuck, and the flavor was still great. Don't forget the final step of adding Parmesan and butter! Wow! That added so much flavor and texture. If—I mean when—I make this again, I may give it a little whirl with the immersion blender before returning the meat to the pot.
I love this Jamie Oliver's recipe for pappardelle pasta! I can't believe something that tastes so divine requires so little work. For the beef ragu, I used grass-fed beef roast and grass-fed beef stew meat already cut into chunks. I wouldn't recommend using stew meat; the chunks were tender, but the meat remained as chunks even after cooking, whereas the roast practically fell apart. I browned the meat and veggies before throwing them into my slow cooker, and I didn't add fresh herbs until the last hour of slow cooking. I used about a half bottle Chianti. This needed very little seasoning. I almost left out the butter, as it was delectable without it, but it was even more delicious with the butter. I cannot wait to make this again. It's definitely a great dish to serve to company.
I made this pappardelle with beef sauce in the slow cooker, and it smelled amazing! It wasn't as intensely flavored as I thought it would be, but it was really tasty nonetheless. I used half a bottle of Chianti and the full 28 ounces tomatoes, although I didn't add any water.
I had to go out today, so I let it do its thing on low for 8 hours. The family really loved it. I think when I make this again—and I will make it again—I'll try dried herbs instead of fresh, as I think the fresh may be too delicate for such a long cooking time, and I believe dried herbs will retain their flavor better. Or maybe I'll add the fresh ones towards the end for a little more punch. I think this might be one of those recipes that's better the next day, so I've packed some up for my lunch tomorrow.