There is something very satisfying and tranquil about preparing this root vegetable gratin. If the thought of peeling and slicing these vegetables puts you off, think again. It sounds perhaps more daunting than it really is. You'll be done in no time and it'll be well worth the effort. This is a very simple dish, very impressive, and hugely delightful. Serve with a cheese platter, bread, and a green salad.–Laura Washburn
LC Rudimentary Roots Note
Can't tell a celeriac from a turnip from a rutabaga? We've been there. It may seem as if it doesn't matter whether you get the right root vegetables given you're only going to bury them under behemoth amounts of cream and cheese. And, truthfully, this gratin works just as well with just one type of root rather than three. Still, here's a cheat sheet for the curious as well as ideas on what to do with odds and ends leftover from this rich, gooey gratin.
Celeriac–This roundish root vegetable is rather alienesque, with a greenish tinge to its fuzzy creamy coloring and a bumpy, lumpy, somewhat fuzzy appearance. Not surprisngly, it's rather celery-like in taste. Slip some in place of up to half the potatoes in a mash or thinly shave it and toss it with a creamy dressing as a raw winter slaw.
Turnip–The most common is white with a purplish halo near its crown. Rather sharp when tasted raw, turnips soften in both texture and taste when cooked. Something akin to a potato with a hint of horseradishy heat. Seek them out at farmers' market, where you can find them with their tops still attached in fall. The green leaves are unspeakably healthful and actually quite compelling when sautéed in olive oil with garlic. The root part is lovely in any manner of kitchen sink soups.
Rutabaga–Resembling a large turnip but with a yellowish cast that's often coated with wax, rutabagas bear a more robust, earthy, bitter taste than turnips. That said, this root vegetable, too, mellows considerably with long, slow cooking. Try thickly slicing them, tossing with olive oil, and roasting in a 450°F(232°C) oven until soft and sweet.
Root Vegetable Gratin
This root vegetable gratin, made with turnips, rutabaga, celeriac, and potatoes that are cooked in a cheesy cream sauce, tastes so comforting and indulgent you'll find it hard to believe it's full of vegetables.
Ingredients
Butter

,

for the baking dish

3

small

turnips

,

peeled, halved, and very thinly sliced

1/2

about 11 oz

celeriac

,

peeled, halved, and very thinly sliced

1/2

1 lb

rutabaga

,

peeled, halved, and very thinly sliced

1 1/2

pounds

waxy potatoes

,

peeled, halved, and very thinly sliced

1 scant

cup

heavy cream

6

tablespoons

crème fraîche or sour cream

1

cup

whole milk

1 1/2

cups

grated Gruyère or medium cheddar

Sea salt and freshly ground pepper

,

preferably white
Instructions
To make the root vegetable gratin, preheat the oven to 400ºF (204° C). Butter a 12-by-8-inch baking dish.

Place all the root vegetable slices in a large bowl and toss gently to combine.

In a small saucepan over low heat, combine the cream, crème fraîche or sour cream, and milk and heat until the crème fraîche has melted into the cream. Remove from the heat, season with salt and pepper to taste, and stir well.

Arrange half of the root vegetables slices in the baking dish. Sprinkle with a little salt and about 1/3 of the cheese. Pour 1/3 of the cream mixture over the cheese. Top with the remaining vegetable slices, the remaining cheese, and a sprinkle of salt. Pour the remaining cream mixture over cheese.

Bake the root vegetable gratin for 1 to 1 1/2 hours, until browned on top. Serve immediately.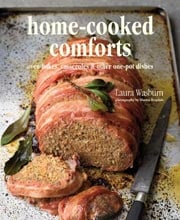 Adapted From
Home-Cooked Comforts: Oven-Bakes, Casseroles and Other One-Pot Dishes
Buy On Amazon
Nutrition
Serving:
1
serving
Calories:
579
kcal
Carbohydrates:
36
g
Protein:
18
g
Fat:
42
g
Saturated Fat:
25
g
Polyunsaturated Fat:
2
g
Monounsaturated Fat:
10
g
Cholesterol:
128
mg
Sodium:
383
mg
Potassium:
1065
mg
Fiber:
4
g
Sugar:
9
g
Vitamin A:
1522
IU
Vitamin C:
25
mg
Calcium:
463
mg
Iron:
2
mg
Nutrition information is automatically calculated, so should only be used as an approximation.
Recipe © 2010 Laura Washburn. Photo © 2010 Martin Brigdale. All rights reserved.
---