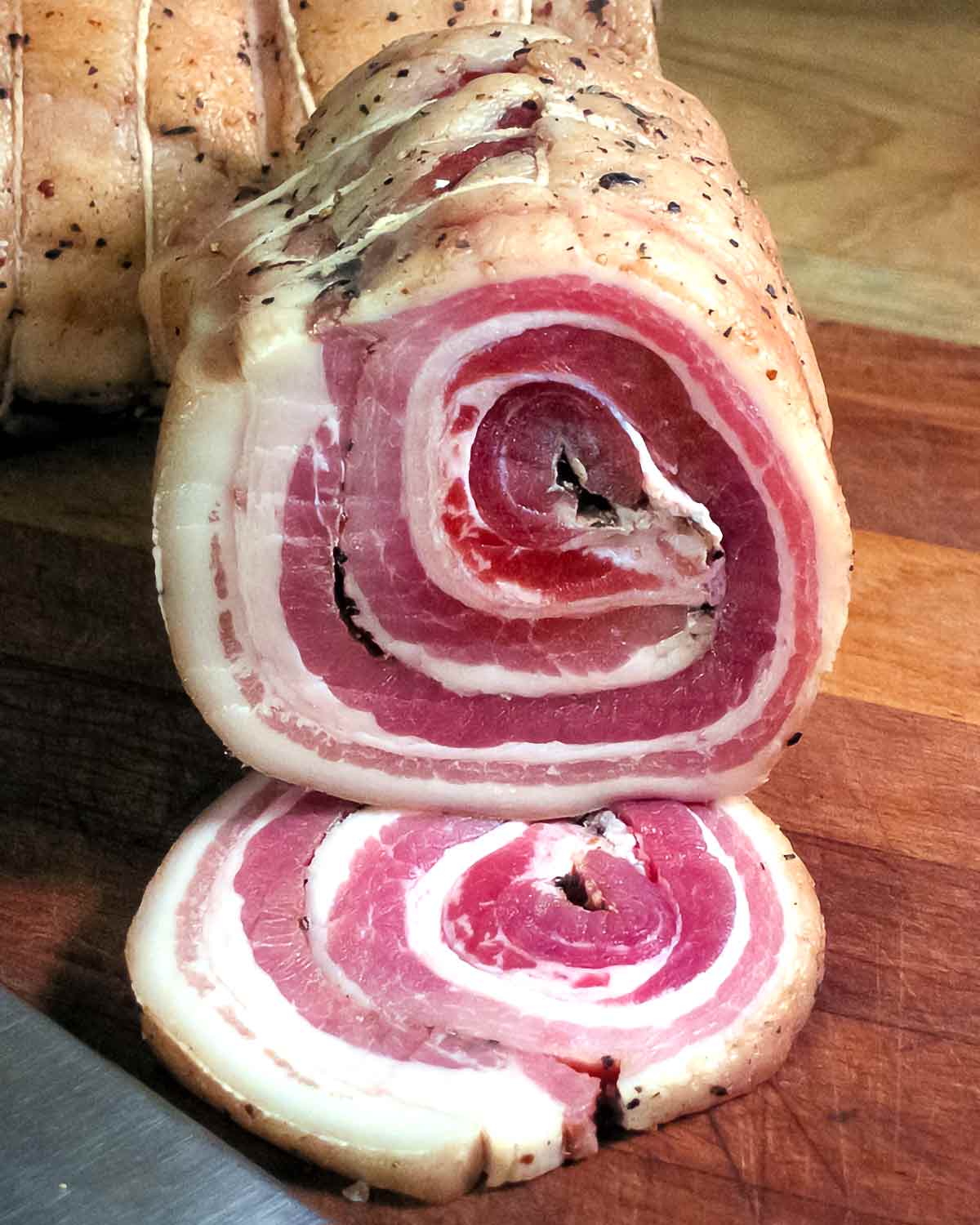 Homemade pancetta is kind of like Italian bacon. It's pork belly cured with salt and seasonings which is then rolled into a log and hung to dry for a couple weeks rather than being smoked. It's typically thinly sliced or diced and then sautéed to add complexity to other dishes. The traditional process of curing and drying pancetta takes about 3 weeks but the timing varies depending on whom you ask. You could also choose not to roll it and use it as is, treating it as you would fresh bacon.–Michael Ruhlman and Brian Polcyn
Homemade Pancetta FAQs
What can you do with pancetta?
Marcella Hazan, in The Essentials of Classic Italian Cooking, notes that pancetta's "savory-sweet unsmoked flavor has no wholly satisfactory substitute." Truth. Chunks of homemade pancetta can be added to stews, beans, and soups. The classic Roman dish spaghetti alla carbonara (photo below) is made with sauteed pancetta and eggs. Cabbage and Brussels sprouts are superb when sautéed with pancetta. Hazan suggests sautéing it with spring peas (a traditional preparation) or braising Boston lettuce with it. And pasta with pancetta and Brussels sprouts is a perfect dish to add your homemade charcuterie.


What is pink curing salt?
First it's not Himalayan pink salt. Pink curing salt, a curing salt with nitrite, is called by different names and sold under various brand, such as tinted cure mix or T.C.M., DQ Curing Salt, Prague Powder #1, and Insta Cure #1. The nitrite in curing salts does a few special things to meat: It changes the flavor, preserves the meat's red color, prevents fats from developing rancid flavors, and prevents many bacteria from growing.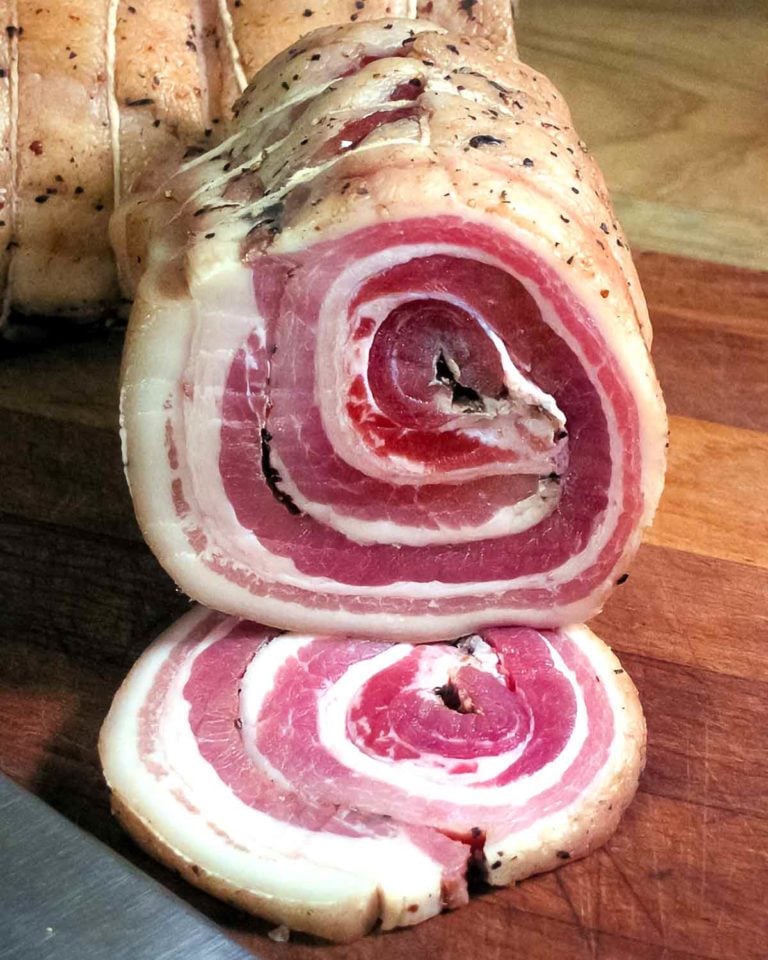 Homemade Pancetta
This homemade pancetta is unsmoked bacon or pork belly that's cured with salt, sugar, pepper, juniper berries, bay leaves, nutmeg, and thyme. It's an ingredient in many Italian pasta dishes such as carbonara and as a substitute for guanciale in all'Amatriciana and can be hard to find.
Ingredients
One

(5-pound)

slab pork belly,

skin removed

4

garlic cloves

,

minced

1

teaspoon

pink curing salt

,

known as DC Curing Salt, Prague Powder #1, and more (see FAQ above)

1/4

cup

kosher salt

2

tablespoons

dark brown sugar

4

tablespoons

coarsely ground black pepper

,

divided

2

tablespoons

juniper berries

,

crushed with the bottom of a small saute pan

4

bay leaves

,

crumbled

1

teaspoon

freshly grated nutmeg

4 or 5

sprigs

fresh thyme
Instructions
Trim the pork belly so that its edges are neat and square.

Combine the garlic, pink salt, kosher salt, dark brown sugar, juniper berries, bay leaves, nutmeg, thyme, and half the black pepper in a bowl and mix thoroughly so that the pink salt is evenly distributed.

Rub the mixture all over the pork belly to give it a uniform coating over the entire surface.

Place the belly in a 2-gallon resealable plastic bag or in a covered nonreactive container just large enough to hold it. Refrigerate for 7 days. Without removing the pork belly from the bag, rub the pork belly to redistribute the seasonings and flip it over every other day—a process called overhauling.

After 7 days, check the pork belly for firmness. If it feels firm at its thickest point, it's cured. If it still feels squishy, refrigerate it with the cure for 1 to 2 more days.

Remove the pork belly from the bag or container, rinse it thoroughly under cold water, and pat it dry. Sprinkle the meat side with the remaining black pepper.

Starting from a long side, roll up the pork belly tightly, as you would a thick towel, and tie it very tightly with butcher's string at 1- to 2-inch intervals. It's important that there are no air pockets inside the roll. In other words, it can't be too tightly rolled. Alternately, the pancetta can be left flat, wrapped in cheesecloth, and hung to dry for 5 to 7 days.

Using the string to suspend it, hang the rolled pancetta in a cool, humid place to dry for 2 weeks. The ideal conditions are 50°F to 60°F (8°C to 15°C) with 60 percent humidity, but a cool, humid basement works fine, as will most any place that's out of the sun. (I often hang mine in our kitchen next to the hanging pans on either side of the stove.)

☞ TESTER TIP: Humidity is important: If your pancetta begins to get hard, it's drying out and should be wrapped and refrigerated. The pancetta should be firm but pliable, not hard. Lort of like an almost ripe avocado.

Because pancetta isn't meant to be eaten raw, the drying isn't as critical a stage as it is for items such as prosciutto or dry-cured sausages. But drying pancetta enhances its texture, intensifies its flavor, and helps it to last longer.

After drying, the pancetta can be wrapped in plastic and refrigerated for 3 weeks or more, or frozen for up to 4 months. Freezing makes it easier to slice thin.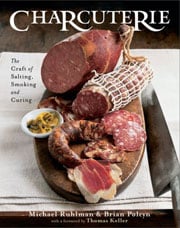 Nutrition
Serving:
1
slice
Calories:
121
kcal
Carbohydrates:
1
g
Protein:
2
g
Fat:
12
g
Saturated Fat:
4
g
Polyunsaturated Fat:
1
g
Monounsaturated Fat:
6
g
Cholesterol:
16
mg
Sodium:
373
mg
Potassium:
47
mg
Fiber:
1
g
Sugar:
1
g
Vitamin A:
9
IU
Vitamin C:
1
mg
Calcium:
3
mg
Iron:
1
mg
Nutrition information is automatically calculated, so should only be used as an approximation.
Recipe © 2005 Michael Ruhlman. Photo © 2007 Kevin D. Weeks. All rights reserved.
---
Recipe Testers' Reviews
By far, the best pancetta I've ever tasted, superior to anything you can buy at the store. Floral notes from the thyme and juniper as well as a little bit of funk from the hanging cure, permeated the meat.
The week I cured the belly was the ideal climate here in Seattle. I rolled the pork and hung it in my fruit cellar, where the average daily temperature was 63°F and the average humidity was 59, according to the little gizmo I keep in the cellar. I let the belly hang for 9 days, after which it looked and smelled so good I couldn't wait to try it. The belly was medium firm and just a little dry on the ends. The outside fat had a smooth dry quality to it.
How did I use my pancetta? First, I trimmed off the dried ends and added them to some soup I was making. I sliced in between the strings, dividing the log into about 5 manageable sections.
The next night I cut some thick slices for lardons and used them in place of croutons in my Caesar salad. And again the next night in a Cobb salad for dinner. Carbonara is next up in the dinner plan. I froze the remaining sections, waiting for use. This was so easy to do, I imagine when I'm down to the last chunk of pancetta I'll be heading out to the market for more pork belly and get my cure on.
One of the things that makes cooking so fun and exciting for me is trying something new. And like in other areas of life, I often find it helpful to push myself out of my comfort zone. So it was with this homemade pancetta recipe. At first I thought, "No way." But that morphed into "Why not?" So I gave it a shot.
The recipe was fairly straightforward. Since we're talking about curing meat, I kept it in the fridge for an extra week. I refrigerated the pork belly for 14 days. Then I rolled the pancetta and hung it in the basement for 2 weeks. So start to finish, it took 4 weeks to get to the final product and I don't know why. But I was surprised (happily, to be sure) to see that my pancetta looked pretty much like the picture. But of course the real key is the taste.
Our first use was chopped up and sautéed and then mixed in with some scrambled eggs and cheese. Pretty standard fare. But I figured it would be a good platform for the flavor, which was really good. You could taste pretty much all the spice flavors from the cure. It was a little on the salty side but that was to be expected.