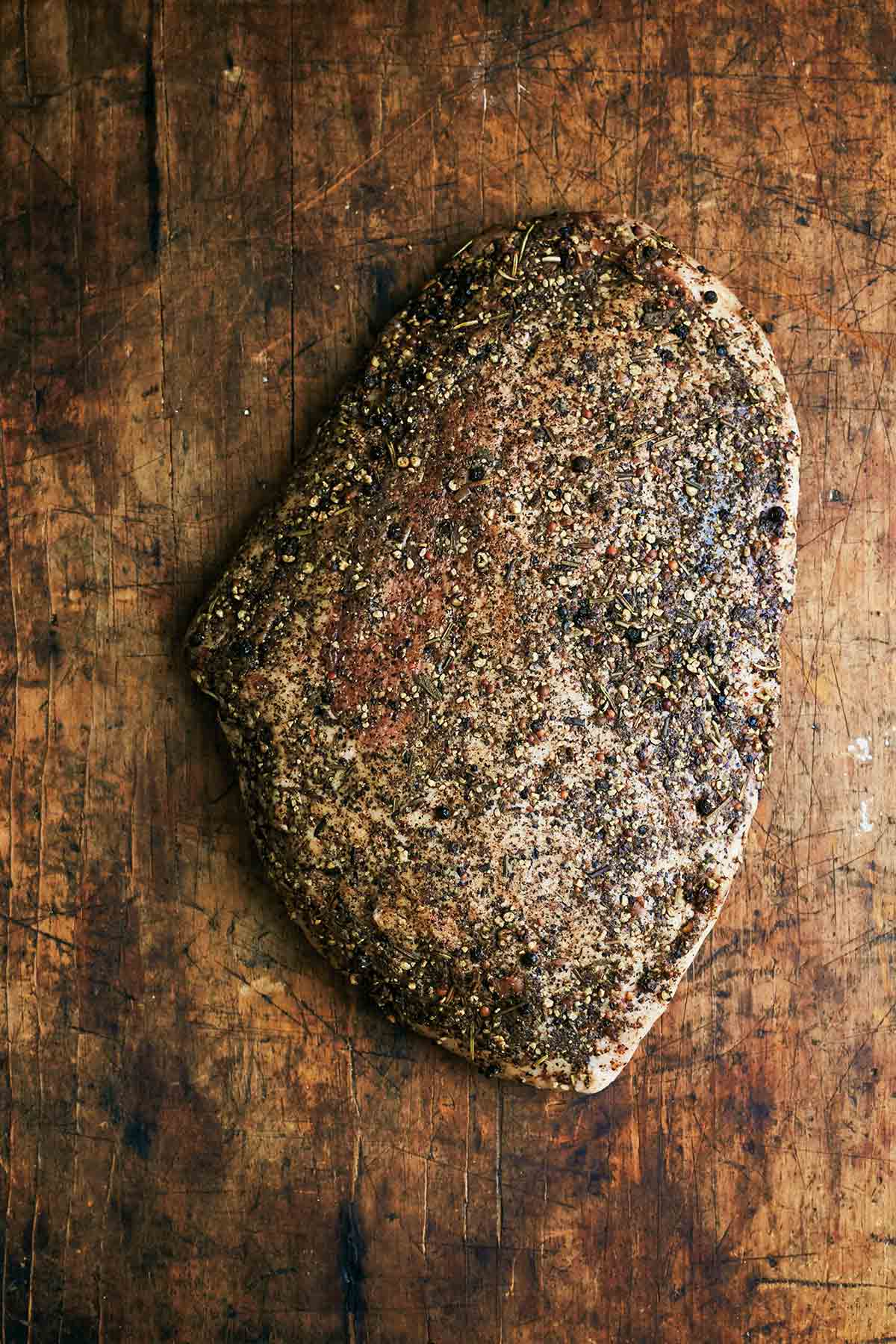 Guancia is Italian for "cheek," and guanciale, a specialty of central Italy, is cured pork jowl that has been rubbed with an aromatic blend of black pepper, hot chile, and dried rosemary. Although it can be used in many of the same ways that pancetta is used, guanciale definitely has a personality all its own. When slowly crisped in a pan, it gives off an intriguing, spicy, sharp fragrance that awakens the hunger. Sauté thin shards of guanciale with peas, asparagus, and spring onions, or toss crispy bits of sautéed guanciale with shredded Lacinato kale, pecorino cheese, plumped currants, and toasted pine nuts for a satisfying salad. Or, use it as the Romans do, for a robust bowl of bucatini all'amatriciana or spaghetti alla carbonara.–Domenica Marchetti
What's the difference between guanciale and pancetta?
Both guanciale and pancetta are cured pork. Although they tend to be used interchangeably stateside, there are distinct differences. Guanciale comes from the jowl, or cheek, whereas pancetta tends to be made with the belly. And guanciale tends to have a more complex and slightly more robust mingling of spices whereas pancetta takes a quieter approach.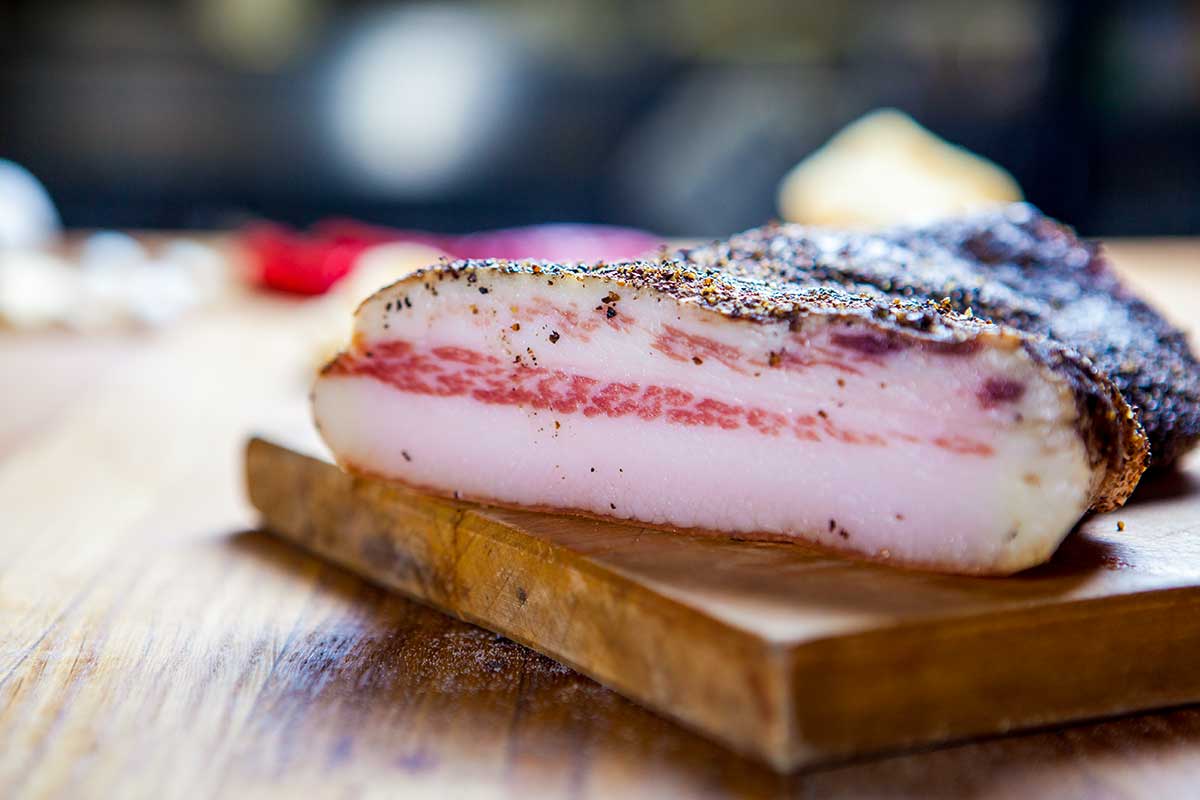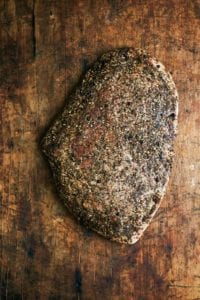 Homemade Guanciale
This homemade guanciale, made with pork jowl, seasoning, and white wine, is easier than you may think. Here's how to make it.
Equipment
Kitchen scale; kitchen twine or meat hook
Ingredients
1

good quality hog jowl

,

glands removed, trimmed of excess fat and meat (have the butcher do this for you!); about 2.2 pounds (1 kg) after trimming

About 1

scant teaspoon

pink curing salt,,

such as Prague powder #2

3

cloves garlic

,

minced

4

tablespoons

coarsely ground black pepper

1

teaspoon

dried crushed rosemary

1

teaspoon

dried crushed sage

1 1/2

cups

dry white wine

,

such as Sauvignon Blanc or Pinot Grigio
Instructions
Wear clean gloves while handling the pork.* Pat the trimmed jowl completely dry and place it on a cutting board.

You'll want to measure the amount of salt you use. It will be approximately 1 tablespoon of both sea and pink salt but the precise amounts for curing depend on the exact weight of the jowl. You want the weight of the sea salt to be 3 percent the weight of the trimmed meat. And you want the weight of the pink salt to be 0.25 percent the weight of the trimmed meat.

In a bowl, combine the sea salt, pink salt, garlic, pepper, rosemary, and sage and mix well. Sprinkle the cure all over the meat and rub it in well to coat all sides.

Place the pork in a resealable plastic freezer bag. Scoop up any stray rub and add it to the bag. Squeeze out the air and seal. Place the bag in a baking dish and refrigerate for 1 week. Turn the bag once a day and give the pork a little massage through the plastic each time you turn it.

After 1 week, remove the sealed bag from the baking dish. Pour the wine into the baking dish. Wearing gloves, remove the pork jowl from the bag and use your (gloved) fingers to brush off as much brine as you can. Immerse the pork in the wine to dislodge more brine; then transfer it to a clean cutting board.

Use a sharp paring knife to cut a hole in one corner of the jowl about 1 inch from the edge. Thread a length of kitchen twine through the hole and knot it where it meets the pork. Tie the ends together tightly to create a long loop for hanging. Alternatively, if you have a sterilized meat hook, this can be used in place of the twine.

Weigh the meat and note the weight. If using a meat hook, note the weight of it as well.

If you have a curing space, hang the guanciale in in it. This is ideally a dark space that's 41 to 43°F (5 to 6°C). Weigh the guanciale every 7 to 10 days until it's lost 20 to 30 percent of its weight, which could take anywhere from 2 to 4 weeks.If you don't have a separate curing space, place the guanciale on a rack set inside a shallow pan in the refrigerator and let it cure, uncovered, until it's lost 20 to 30 percent of its weight, which could take anywhere from 1 to 2 weeks. Turn the guanciale over every few days to ensure that all sides are exposed to air.

☞ TESTER TIP: You can slow the drying process and allow even more flavor to develop by placing a container of a simple saltwater brine beneath the meat.

To store the guanciale, cut it into 4- or 8-ounce (113- or 227-g) pieces and vacuum-seal it or wrap it tightly in plastic wrap and seal in a resealable plastic bag. Store in the freezer for up to several months. Once opened, store the guanciale in plastic wrap in the refrigerator for up to 1 week.
Notes
How To Ensure Your Homemade Guanciale Is Safe To Eat
We can't emphasize enough the need to precisely adhere to the instructions in this recipe. This applies to everything—the weights of the salt in proportion to the pork, the wearing of gloves, and the temperature of the environment in which you keep the pork. Preserving food is an age-old technique yet it also relies on a healthy respect for precision and science in order to do so safely.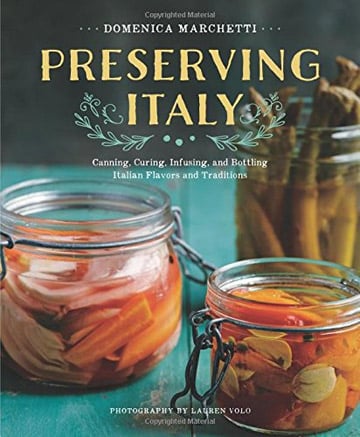 Nutrition
Serving:
1
portion
Calories:
272
kcal
Carbohydrates:
3
g
Protein:
17
g
Fat:
22
g
Saturated Fat:
9
g
Polyunsaturated Fat:
2
g
Monounsaturated Fat:
10
g
Trans Fat:
0.04
g
Cholesterol:
67
mg
Sodium:
1084
mg
Potassium:
61
mg
Fiber:
1
g
Sugar:
0.4
g
Vitamin A:
14
IU
Vitamin C:
0.3
mg
Calcium:
22
mg
Iron:
1
mg
Nutrition information is automatically calculated, so should only be used as an approximation.
Recipe © 2016 Domenica Marchetti. Photo © 2016 Lauren Volo. All rights reserved.
---
Recipe Testers' Reviews
I have never cured meat before. I have always wanted to try it, but somehow didn't have the balls to do it. However, I saw this, and I thought, "I can do it." It's a great introduction to curing meat. The size of the meat is manageable. It didn't take up a lot of space. I didn't need to live in Italy. I could even do it in the fridge as Vancouver can be a little damp. It's beautiful. It's satisfying. Above all, it's delicious. It tastes of a cross between lardo and prosciutto. A really rich, almost buttery, creamy taste. It really tastes of pork.
I ordered a free-range Berkshire jowl for this. The recipe didn't specify whether skin should have been removed. My butcher had. I am not sure whether this had any effect.
I put everything into the bag and into the fridge. I was concerned no brine had formed. It stayed dry. After a week, I washed the jowl in Canadian Pinot Gris.
I placed it in my space fridge in the basement. I turned it weekly. After 34 days, I couldn't wait any longer. I sliced it. It was a beautiful color. It smelled cured. It went straight into a carbonara.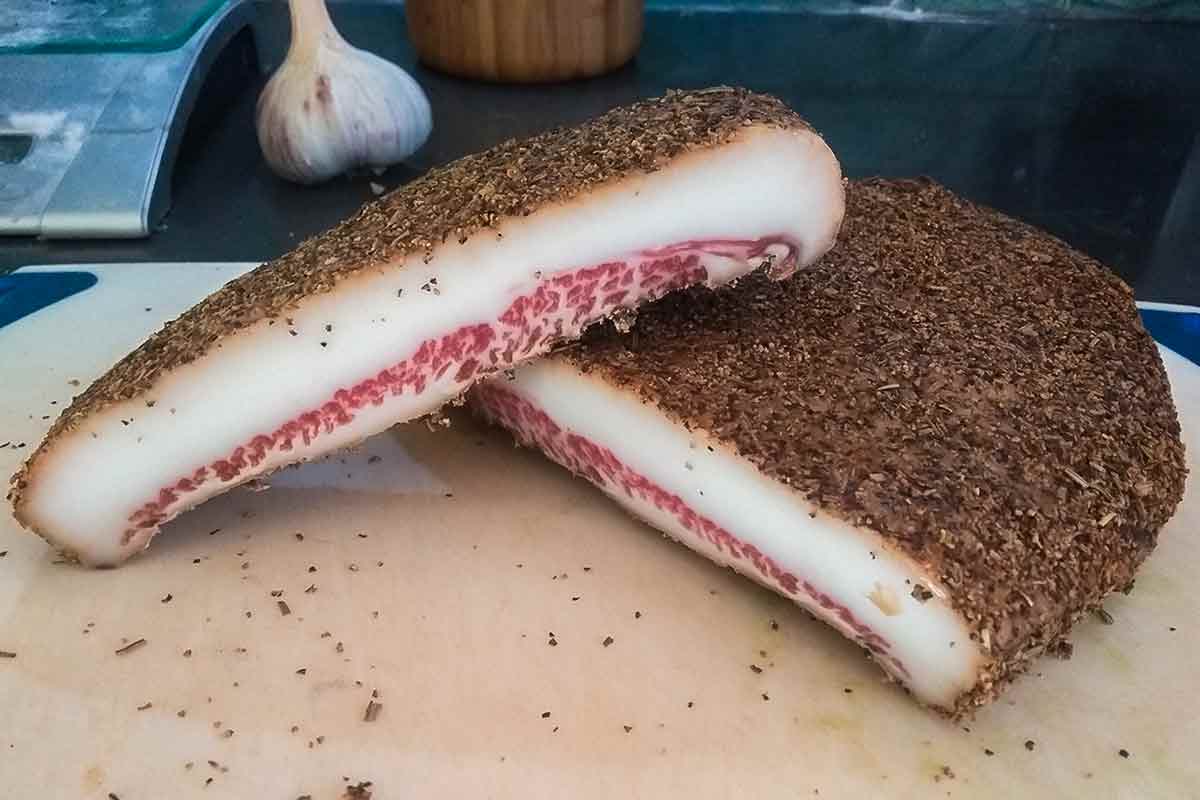 Meat curing is not an activity to be adopted on a whim. It's a serious activity that requires discipline and adherence to food safety practices. Having said this, it's also an incredibly fulfilling activity. This is not only because of the rewarding end product but the journey and the commitment to foresee the transformation of raw meat into a culinary delicacy. In this 42-day guanciale journey, 4 hours were hands-on time. These were made up of preparation time, weekly inspecting, turning, weighing, and final slicing and packaging. These were meditative and rewarding tasks. Not once did I find the maintenance activities daunting.
My first experience making guanciale taught me several lessons. First, start with excellent quality meat from a reputable butcher. The pork jowl in my first experience came from a pork head I auctioned at a Portuguese Pork Fest (Festa da Matança do Porco). I had no auctioneer experience which is why I came home with two pork heads (some alcohol was also involved) and no idea as to how to butcher a pork head as this was a Saturday night, I had no professional butcher until Monday, no fridge space for whole pork heads, and I had to report to work on early Monday morning. My trusty Facebook friends from various groups had given me over thirty ideas about what to make before I even made it home. I "learned" everything there was to know about butchering pig heads by staying up all night watching YouTube videos. By Sunday evening, with the help of my husband and my neighbor who has a chainsaw, all the piggy head parts were either in brines, cures, or fridges (yes, I have more than 1). The jowl pieces were really "butchered" as I was adamant that no pig hair was to be found on the skin and I ran out of new razors so I actually cut out some skin pieces here and there. Really long story short, I ended up with a good, not great tasting, and overly dry guanciale. I vowed to try again but there were too many other projects on the go. When I saw this recipe, I knew this was my opportunity for redemption. Plus, I loved the idea of washing off the curing spices with white wine! Who's never wanted to bathe in wine?!
I ordered 1 kg of ready trimmed, glands removed, Berkshire pork jowl from my local butcher. I knew there would be a monetary and time commitment and I wanted both investments to be worthwhile. When I called to see if my order was ready for pick up, I was told that the butcher was skinning the second of 3 pieces that made up the kilogram. My heart sank. First, I was expecting one piece. Second, I couldn't remember if I needed skin on or off. Third, I knew this was going to be an expensive venture and didn't want to have to order another batch. As it turned out, I asked that the third piece come with the skin. This gave me a control piece to assess for drying rate versus no skin. The total weight of the raw product was 1246g which worked great for doing the math. Yes! Percentages of ingredients to meat are important! The recipe specified this.
I used Prague Powder #2 because I had previously researched this for other curing projects. For my 1246 g of jowl I needed 3.1 grams, 0.25%. A microgram scale is very important here. For the first step I treated the 3 pieces of jowl as a whole and enjoyed massaging these pieces daily all in one bag, but not touching, for a week. My fridge was consistently 3.5 to 4°C.
For step 2, after washing off the curing spices, I started treating each piece of jowl as a stand alone. I weighed and recorded each jowl weight. In my mind, I named each piece as one of the 3 musketeers. The skin-on jowl piece was Aramis (this seemed fitting as one side of the meat was going to miss out on air…haha).
Because I own a smoker, I also own meat hooks. I sterilized these and used one per piece of jowl instead of cutting a hole and threading twine. My hooks each weighed 35 grams, so I had to keep this in mind for subsequent meat weights. I labeled each piece of jowl with the original weight and the target weight loss of 30 percent. I knew from my previous experience that I probably would be content at 20 percent weight reduction but I wanted to ensure I wasn't going to be in a hurry to start slicing. Also, to ensure a slow drying rate and enable time for the meat to develop character, I hung the pieces of jowl in a deep acrylic container fitted with a bowl in the bottom half filled with 10% saline water absorbed in a cheese cloth and covered with a mesh in case a hunk of jowl happened to fall off the hook and ended up in the water. I don't think the salt water requires any specific salinity but I had extra brine in the fridge (I also make cheese). I also hung a mini thermometer/hygrometer in the bin to monitor temperature and humidity.
This allowed me to make adjustments based on the meat weight loss. Handing the meat also removed the task of having to turn the meat daily. Instead, I was just eye-balling the bin every 2-3 days. Every 7 to 10 days I removed the jowl pieces from the bin and weighed and recorded data on each one. The wine scent was consistently perceptible to week 4. There was never an off smell or any unwanted growths. The curing bin temp was 5-6C and 50-60% humidity. The rate of weight loss after the first week was 15% for the larger piece, 13% for the smaller piece, and 12% for the skin-on piece which also weighed in between the other two pieces. To slow down the drying rate, I filled the water bowl and added a partial cover to the top of the bin. This increased the bin humidity to 65-78%. My weight reductions were subsequently 3%, 2% and 1 % per week by week 6. At this point, I was very happy with the texture, firmness and aroma, and I didn't see any point of drying my guanciale any further past 22% weight reduction.
For storage purposes, I chose to slice the guanciale for ease of future use. Some packages I thinly sliced but most were thicker, probably 3- to 4-mm slices.
The taste was incredible! I thoroughly enjoyed sneaking and tasting some paper-thin slices that exuded character and unctuousness. In the end, the skin-on guanciale was somewhat creamier, but the flavor and final texture wasn't significantly different. It was also a fattier piece so perhaps this accounted for the slight increase in plumpness, despite also having a 21% weight reduction. I was happy about this as my skinless guanciale would be easier to use. I started with 1246 grams of raw jowl and ended with 977 grams of an absolutely delicious cured jowl bacon. The sliced pieces were placed on small sheets of parchment paper and vacuum packed in individual use packages of 100 to 150 g.
Guanciale is a cured meat celebrated for its porky unctuousness, and this recipe gives you just that!
Temperature and humidity are important variables in meat curing. A slower curing will assist with flavor development. Apparently, this isn't as critical for guanciale. Nonetheless, humidity alters the curing rate. The recipe indicates a wide range of time from 1 week to a month in an open container in, I'm assuming, regular fridge temperatures. I can't see a 20% loss of weight taking more than 2 weeks in these drying conditions.
There are also no references to food safety practices. Given the awesomeness of my end product, I believe this recipe deserves a TC grading but only if this recipe is part of a collection that describes the importance of safe food handling practices (other than wearing gloves), the appropriate pink curing salts, the temperature and humidity expectations, and importance of starting with great-quality pork. If not, this recipe will require additional guidance for the meat curing newbies. I suspect that most recipe searches for guanciale will come from people with enough experience to carry out this recipe safely, but there's always the chance that a reader with no prior knowledge will want to try this and underestimate the inherent risks. I would really love to see this recipe on the site so that others can experience this porky ingredient!