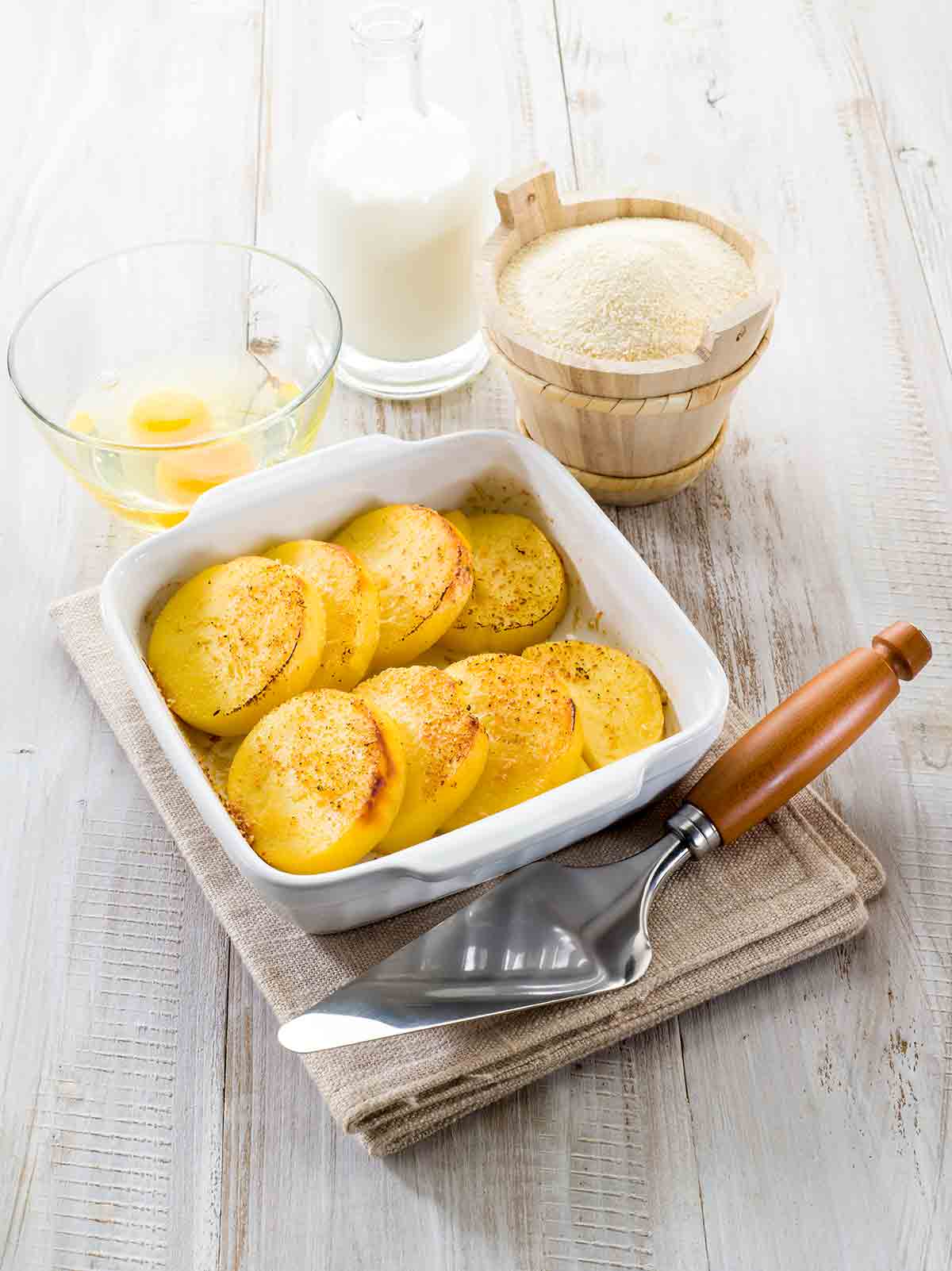 Semolina gnocchi isn't little pillows of fork-dented potatoes. Instead, this gnocchi comes from Rome and is made with cornmeal, parmesan, milk, and eggs. Disks of puffy, caramelized, semolina are dusted with lots of cheese and breadcrumbs, then baked. So good, you won't even think twice about those potatoes.
To form the gnocchi, a rich polenta-like paste is prepared, cooled, and then cut into disks using the wet rim of a small glass. The disks are then sprinkled with Parmesan and bread crumbs, and baked in a hot oven to puff them up.–Jessica Theroux
LC Gnot Your Gnormal Gnocchi Note
Nope. No potatoes or fork tines or tiny little pillows in sight. And that's not a terrible thing, not when you consider how light and airy this intriguing approach to gnocchi can be. Still, they're quite indulgent, much more a starter or a side than a centerpiece to a meal. So indulgent that we think you, like us, won't want to waste a single scrap of dough.
This calls to mind Marcella Hazan's tactic for dealing with gnocchi trimmings in Essentials of Classic Italian Cooking. Just knead the trimmings together into a ball (you can wrap and refrigerate the trimmings for up to a day or two). Then pinch off croquette-size pieces and shape them into short, plump forms that are tapered at both ends, about 2 1/2 inches in length. Roll the forms in dry, unflavored bread crumbs and fry them in hot vegetable oil until they take on a light, golden crust. Sounds lovely, yes? And that's just the trimmings. Wait until you try the actual gnocchi…–Renee Schettler
WHAT IS THE DIFFERENCE BETWEEN SEMOLINA AND POLENTA?
These little disks of goodness are made from semolina–which is wheat flour. Polenta is made from cornmeal. So, while they look similar to polenta, this gnocchi is all wheat. Semolina is used in lots of things but pasta and couscous are 2 of the biggest applications. Semolina comes in fine, medium, and coarse grind; this recipe uses coarse grind semolina to give it more body and sturdiness to the finished disks. Fine semolina is used in pasta.
Semolina Gnocchi ~ Gnocchi alla Romana
In keeping with the dish's Roman roots, this semolina gnocchi is made from coarsely ground semolina flour, hot milk, and eggs. A side of marinara sauce makes a perfect dip for these crisp, puffy, cheesy bites.
Ingredients
1

quart (4 cups)

whole milk

2 to 3

teaspoons

salt

7

ounces (just over 1 cup)

semolina flour

1

cup

finely grated Parmesan cheese

2

large

eggs

lightly beaten

1

tablespoon

butter

1/2

cup

bread crumbs
Instructions
To make the semolina gnocchi, heat the milk and salt in a medium saucepan set over medium heat. When the milk starts to simmer, slowly sprinkle the semolina flour over the surface, whisking constantly to make sure that lumps do not form. Once all the semolina has been added, reduce the heat to medium-low.

Continue to whisk for 7 to 10 more minutes, until the gnocchi-to-be mixture becomes thick and velvety. The mixture may thicken considerably after just a few minutes, but try to continue to cook it for the full 7 to 10 minutes.

Remove the pan from the heat and stir in 1/2 cup of the Parmesan, the eggs, and the butter. Turn the mixture onto a rimmed baking sheet, spreading it evenly into a 1/2 inch thickness. Set aside in the fridge, if there's room, or set aside at room temperature until cool and firm, about an hour.

Preheat the oven to 400° F (200°C). Using a cookie cutter or the mouth of a glass that's about 2 inches wide, cut the cooled semolina into gnocchi. Dip the cutter or glass into water between each press to prevent the dough from sticking. Place the cut gnocchi on a parchment-paper-lined baking sheet, making sure to leave at least 1/2 inch between them so that their edges can caramelize.

Sprinkle the remaining 1/2 cup Parmesan and the bread crumbs on top of the semolina gnocchi. If you don't want them thickly coated, don't use all of the cheese and crumbs. Bake until the semolina gnocchi are golden brown, slightly puffed, and crisp around the edges, 30 to 40 minutes. Serve hot.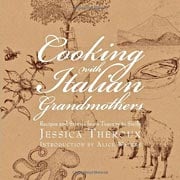 Nutrition
Serving:
1
entrée serving
Calories:
545
kcal
Carbohydrates:
58
g
Protein:
28
g
Fat:
21
g
Saturated Fat:
12
g
Polyunsaturated Fat:
2
g
Monounsaturated Fat:
6
g
Trans Fat:
1
g
Cholesterol:
146
mg
Sodium:
1782
mg
Potassium:
498
mg
Fiber:
3
g
Sugar:
13
g
Vitamin A:
822
IU
Calcium:
593
mg
Iron:
4
mg
Nutrition information is automatically calculated, so should only be used as an approximation.
Recipe © 2010 Jessica Theroux. Photo © 2010
Marco Mayer
. All rights reserved.
---
Originally published April 6, 2011