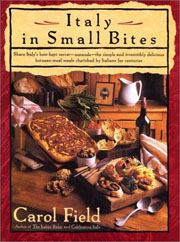 A delicious focaccia that actually stays moist for a day or two. By itself, the red pepper topping makes a delicious antipasto, pasta sauce or vegetable dish.–Carol Field
LC Thank You, Carol Field Note
We'd like to take a moment to sound like we're accepting a Grammy nomination and say thank you to Carol Field for dedicating herself to the noble task of helping Americans perfect our Italian bread-making abilities. And not just focaccia but ciabatta, too. Carol, your efforts have not gone unnoticed or unappreciated. Mille grazie.
Focaccia with Red Pepper Topping
Quick Glance
1 H
3 H, 30 M

Makes one 10 1/2- x 15-inch focaccia
Print Recipe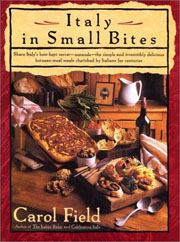 Ingredients
Email Grocery List
For the dough

2 medium-size cloves garlic, lightly crushed

2 tablespoons plus 1 teaspoon olive oil

2 1/2 teaspoons active dry yeast (1 package)

1 1/3 cups warm water (105° to 115°F)

3 3/4 cups unbleached all-purpose flour

1 1/2 teaspoons sea salt

20 sage leaves, roughly chopped, or 2 teaspoons chopped rosemary leaves

For the topping

3 red or yellow peppers

3 medium-sized onions, thinly sliced

1/4 cup plus 3 tablespoons olive oil

3 or 4 medium-size ripe tomatoes, seeded and squeezed dry

A handful of basil leaves, torn in pieces

1 to 1 1/2 teaspoons sea salt
Directions
Make the dough

1. Warm the garlic cloves in the olive oil over very low heat just until the garlic begins to brown. Discard the garlic and cool the oil to room temperature. Meanwhile whisk the yeast into the warm water and leave until creamy, about 10 minutes. Add the cooled olive oil.

2. Stir in the flour, salt, and herbs, and mix until the dough comes together; you may need to add 1 more tablespoon of water. Knead by hand on a lightly floured work surface for 6 to 8 minutes, or if you are using a heavy-duty mixer, change to the dough hook and knead on medium speed for 3 minutes. The dough will be silky and elastic.

3. Place the dough in a lightly oiled bowl, cover tightly with plastic wrap, and let rise until doubled, 1 hour.

4. Set the dough in an oiled 10 1/2 x 15-inch pan. Stretch the dough to cover as much of the bottom as possible; the dough will be very springy and cooperative. Cover with a towel and let it relax for 15 minutes. Then dimple and stretch the dough some more, until it covers the bottom in a very thin layer. Leave to rise until puffy, about 50 minutes.

Make the topping

5. While the shaped dough is rising, toast, peel, and slice the peppers into thin strips. Saute the onions in the 1/4 cup olive oil over very low heat for 25 to 30 minutes, until they are soft and limp.

Assemble the focaccia

6. Preheat the oven to 400°F (200°C). If you are using baking stones, set them in the oven and preheat for 30 minutes. When the dough is ready, lightly dip your fingertips into the remaining 3 tablespoons olive oil and dimple the tops of the dough. Distribute the vegetables over the surface of the focaccia; sprinkle with the basil and salt; and finish by drizzling the remaining oil over the tops.

7. Bake for 25 to 30 minutes, until the dough is crispy at the edges and the vegetables are soft but still very slightly crisp. Let cool briefly, then remove from the baking pan and let cool on a rack. Serve tepid or at room temperature.
Recipe Testers Reviews

I bake bread often, but even a beginner will find this recipe straightforward and easy to follow. And an experienced focaccia maker will learn a tip or two. The addition of garlic-infused oil and herbs to the dough added a terrific layer of flavor. The topping incorporated several of my family's favorites. It could easily be varied to suit other tastes, perhaps some olives or a little cheese. I made this to be part of dinner, but the smells while it baked were so enticing that as soon as it came from the oven we cut into it. Ms. Field suggests serving at room temperature. How does she wait that long?
Focaccia with Red Pepper Topping Recipe © 2004 Carol Field. All rights reserved. All materials used with permission.
If you make this recipe, snap a photo and hashtag it #LeitesCulinaria. We'd love to see your creations on Instagram, Facebook, and Twitter.