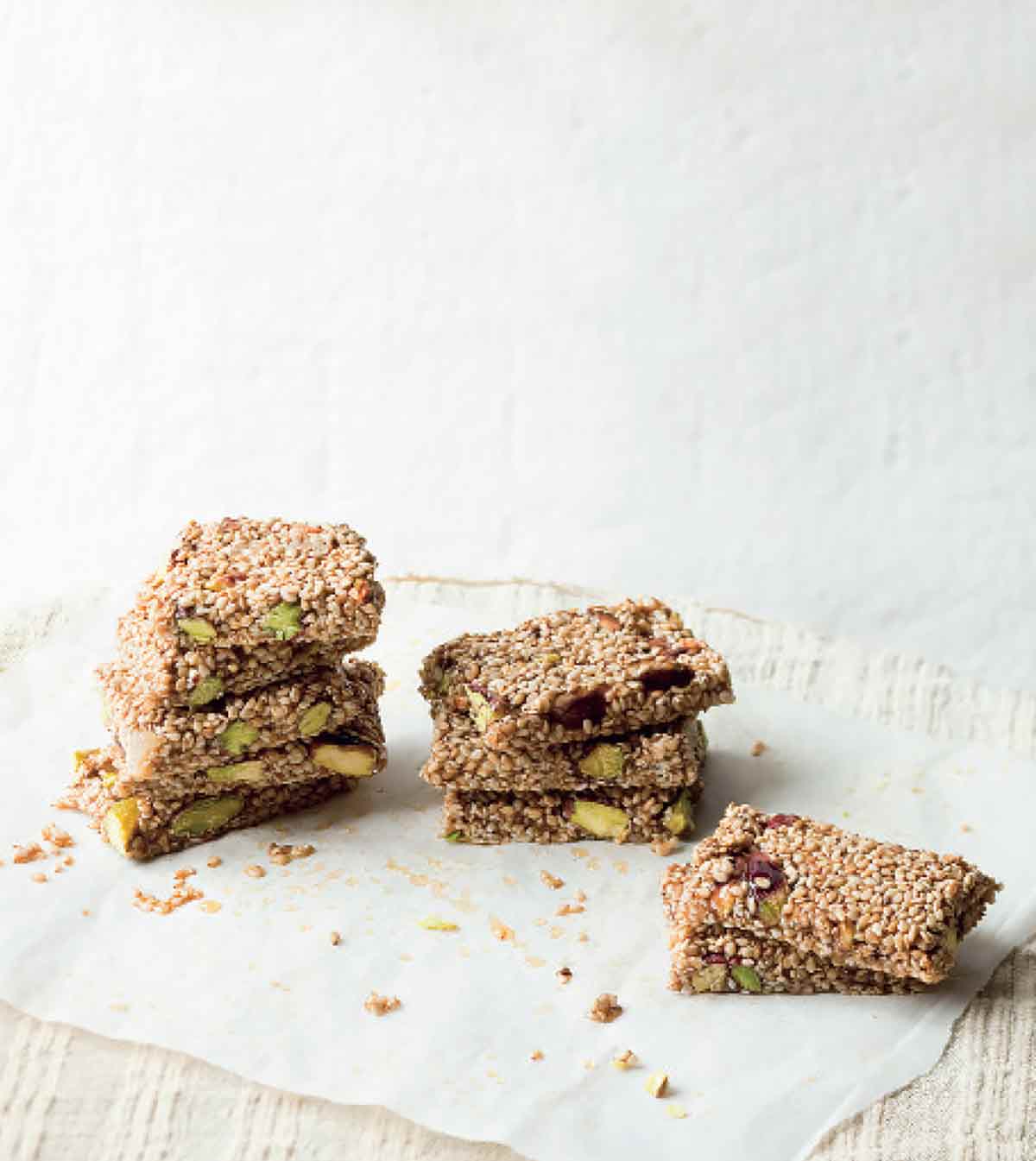 This pastelli recipe is a very good, nutritious, sweet snack. In the good old days it was seen as a good thing, an extravagance, along the lines of ''Finish your food and you can have a piece of pastelli.'' I love it with the pistachio nuts that the island of Aegina is so well known for. It's very easy to make yourself, and the amount can easily be doubled.–Tessa Kiros
Pastelli
In the good old days it was seen as a good thing, an extravagance—''finish your food and you can have a piece of pastelli.'' I love it with the pistachio nuts that the island of Aegina is so well known for.
Ingredients
Mild vegetable oil for the work surface

3/4

cup plus 2 teaspoons

sesame seeds*

1/3

cup

shelled pistachios

,

broken in half

1/4

cup

granulated sugar

1/4

cup

mild-flavored runny honey
Instructions
Lightly oil a wooden spoon and a flat, heatproof work surface, such as a slab of marble, a plastic pastry sheet, even a large, flat plate. Have a small bowl of ice water ready and your rolling pin ready.

Place the sesame seeds and pistachios in a nonstick skillet and toast them lightly over low heat just until they take on a hint of color. [Editor's Note: You want to be careful not to overdo the toasting, as the seeds and nuts will remain in the skillet and will continue to take on a deeper, richer hue and taste. If you happen to turn your back and accidentally toast them a little too much, transfer them to a plate and continue with step 3, melting the sugar without the seeds and nuts in the skillet. Then return the seeds and pistachios to the skillet when you add the honey. Trust us. We've been there.]

Add the sugar to the seeds and nuts in the skillet and cook, without stirring, over low heat until the sugar melts and takes on a pale golden hue.

Standing back so as to avoid any potential splatters, carefully add the honey to the skillet. Working quickly, stir the honey into the sesame seeds and pistachios and mix it while you can, as the mixture will soon turn sticky and thick. Scrape the pastelli out onto the oil-slicked work surface and flatten it a bit with the back of the oiled spoon. Still working fast and furious, dip your hands in the cold water and then use them to form the pastelli into a rectangular shape. Grab your rolling pin and level the surface, stretching it to a rectangle that's about 1/4 inch thick and roughly 6 by 7 inches in length.

Let the pastelli cool for just a few minutes, and then cut the pastelli into 1 1/4-inch squares. But don't dally or the pastelli will become too hard to cut. (The pastelli keeps in an airtight container for many days.)
Notes
*Can I use black sesame seeds in my pastelli?
Black and white sesame seeds come from the same place—white is simply the seed with the hull removed. But that doesn't mean that they're strictly interchangeable. The hull is sorta bitter, so black sesame seeds are generally used with other ingredients that can stand up to the flavor. They do make a striking garnish so a sprinkle wouldn't go amiss, here.
Nutrition
Serving:
1
square
Calories:
44
kcal
Carbohydrates:
5
g
Protein:
1
g
Fat:
2
g
Saturated Fat:
1
g
Sodium:
1
mg
Potassium:
33
mg
Fiber:
1
g
Sugar:
4
g
Vitamin A:
6
IU
Vitamin C:
1
mg
Calcium:
38
mg
Iron:
1
mg
Nutrition information is automatically calculated, so should only be used as an approximation.
Recipe © 2011 Tessa Kiros. Photo © 2011 Manos Chatzikonstantis. All rights reserved.
---
Recipe Testers' Reviews
Simple, straightforward, and satisfying, these little squares make an ideal snack or light dessert; they're almost like Greek granola bars. They're also incredibly quick and easy to make – if you can turn on a stove, you can make them. The only tricky part is turning them out of the skillet and shaping them into a rectangle.
Because they're quite sticky, they're difficult to handle. I found that turning the mixture onto a Silpat worked very well and that letting them cool for less than a minute made them easier to shape. I'd also recommend using your hands to shape them instead of a spoon or spatula – both get too sticky to be of much use.
I made this three times in the last week, each time making small changes, but each batch disappeared very quickly. The directions say to toast the seeds and nuts lightly. The first time, I toasted them for a little longer than I should have, trying to get a pretty color, but the final product had too much of a toasted—almost burnt—sesame taste to me, but was still good. The second batch I only lightly toasted, and it was much better. The recipe was so easy, the seeds and pistachios were easy to mix with the honey (not sure why you're told to stand back – the honey did start to sizzle each time, but no splatters).
I used a silicone spatula sprayed lightly with oil to stir, and then the same spatula instead of a spoon or my hands to smooth and shape the candy. It was very easy to control, smooth, and shape into a rectangle. The third time I made the recipe, I used a little lemon zest and cinnamon to give it a little more baklava flavor—this was by far everyone's favorite. A great recipe that is easy and fun to play with. I'm sure you could change the type of nuts, too, and it would still be a hit.