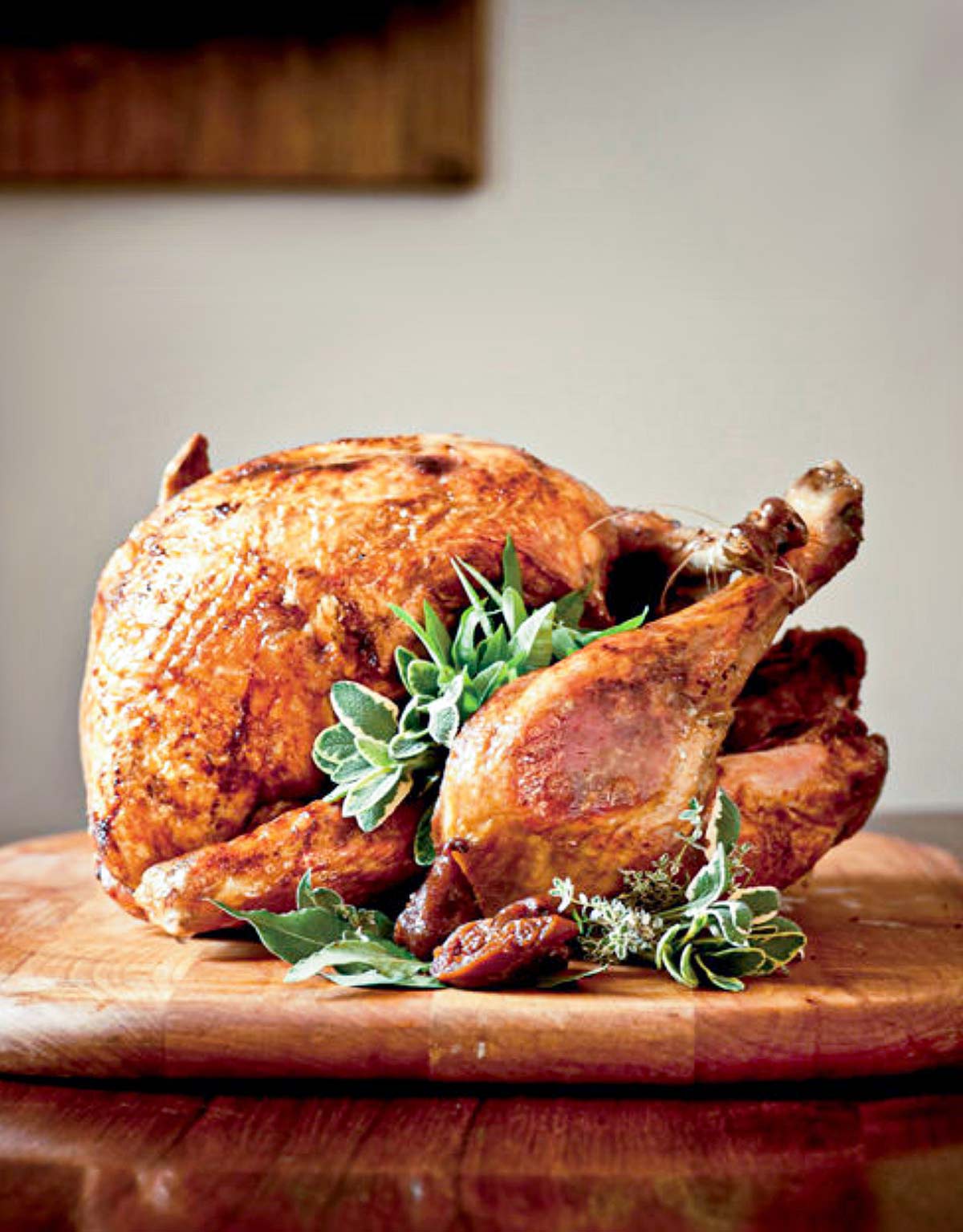 We're just going to say it like it is. This deep-fried turkey is the best damn turkey most of us have ever had. You may have heard others brag about the burnished appearance, crackly skin, and impossibly tender, juicy-beyond-belief meat of a deep-fried turkey. It's true. And a deep-fried turkey frees up your oven for all those side dishes. Deep-frying a turkey has acquired something of a bad rep because, well, accidents happen. But there are precautions that can and should be taken which make this as mundane an act as boiling water. You'll find them below the recipe. Heed them.–Renee Schettler Rossi
Deep-Fried Turkey
This deep-fried turkey, which requires no brine and no injection, is the juiciest and most tender we've ever tried and has just the slightest Cajun lilt. Here's how to (safely) make it.
Ingredients
One

(12-pound)

fresh turkey

,

(preferably fresh; if previously frozen, it must be COMPLETELY thawed)

Sea salt and freshly ground black pepper

1

stick

unsalted butter

,

room temperature (optional)

2

tablespoons

ground cayenne pepper,

(optional)

2 1/2 to 3 1/2

gallons

peanut oil

,

(the amount of oil depends on the size of your fryer; better to err on the side of buying too much since you can always return any unused, unopened containers)

Sprigs of fresh herbs

,

(sage, thyme, or bay) for garnish (optional)

Dried figs

,

for garnish (optional)
Instructions
Rinse the turkey inside and out and pat it completely dry with paper towels. We mean REALLY, REALLY dry. (The turkey must be dry beyond a doubt, inside and out. If you're using a frozen hen, it must first be thoroughly defrosted with no trace of ice. Any droplets of water or chips of ice can cause spattering—or worse, much worse–during frying.) Discard the bag of giblets as well as any pop-up timers or other plastic paraphernalia found in your turkey.

Trim the excess fat from around the turkey neck. Trim the tail. Fold the wings beneath the turkey as if it were lying on its back with its arms, er, wings tucked beneath its head. Truss the turkey if you like, though it's not at all necessary.

Season the turkey all over, inside and out, with salt and black pepper to taste. If desired, rub the turkey all over with the butter and, again if desired, sprinkle the turkey with the cayenne. (Do not, under any circumstances, consider stuffing the turkey.)

Situate the fryer far from your house, garage, and any other buildings or overhangs. Pour enough oil in the turkey fryer to reach the fill line, which is usually found inside the fryer about halfway between the bottom and the top. Heat the oil to 350°F (176°C). It could take an hour or more to get the oil to the proper frying temperature.

Don your apron, goggles, and gloves and have the fire extinguisher within reach. (Seriously.) Turn off the burner. Place the turkey in the fry basket and, holding the turkey away from you, slowly, slowly, slowly submerge the turkey in the hot oil. The oil will start to bubble. This is normal although at times you may need to lower the turkey an inch and then pull it back up and wait a little before lowering it again so the bubbling oil doesn't come dangerously close to the top of the fryer. The oil temperature will drop, but don't adjust the temperature just yet as it should bounce back relatively quickly.

Turn the burner back on and fry the bird until it's golden brown and an instant-read thermometer inserted in the thickest part of the thigh reads between 170°F and 180°F (76°C and 82°C). This should take about 3 minutes per pound (that's 36 minutes for a 12-pounder). Start timing the bird as soon as you plunge it into its oil bath. Maintain the temperature of the oil as best you can at 350°F (176°C) but do not cover the fryer at any point and do not allow the oil to go above 360°F (182°C). And for the love of all things good, do not leave the fryer unattended. Ever.

When the turkey is done, turn off the fryer. Line a rimmed baking sheet with brown paper bags and have someone hold it steady. Carefully, carefully, carefully lift the turkey from the fryer as if your life depended on it, because in a sense, it does. Pause, with the turkey hovering above the fryer, a few moments to allow any excess oil to drop back into the fryer. Carefully place the bird on the baking sheet. Place it on the counter, loosely cover with foil, and let it rest for at least 15 to 20 minutes. Let the oil cool completely in the fryer until after dinner.

Carve and serve as soon as possible, before you snitch so many pieces of crisp, crackly skin that your guests become wise to you. Garnish, if you please, with sage leaves or sprigs of herbs and dried figs, cranberries, or whatever else you please. Behold!

After dinner, when the oil is completely cool, pour or siphon it into empty resealable containers and dispose of it according to the rules in your city. (Don't know? Google it.)
Notes
*What You Need To Know About (Safely!) Making Your Deep-Fried Turkey
You'll need a few things to make this deep-fried turkey, including the following items and insights:
An outdoor deep fryer, either gas or electric (check that it comes with a fry basket; you may need to purchase this separately)
Long-sleeved fireproof gloves
Heavy apron
Safety goggles (in a pinch, a clear-bottomed plastic bowl will suffice)
Shoes (um, something other than flip-flops; leather boots with steel toes do quite nicely)
Stopwatch or kitchen timer some sort
Instant-read thermometer (deep-fry or candy)
Fire extinguisher (for the love of all things good, if you've never used one, read the directions; if, heaven forbid, you need to use an extinguisher, there'll be no time to reach for your reading specs)
A turkey that will easily fit in your fryer (preferably no more than 12 pounds).
Common sense
Don't even consider jury-rigging a hot-frying contraption. Pony up the money for a proper outdoor deep fryer. Trust us.
And for the love of all things good, be absolutely certain to actually read (and follow!) all the manufacturer's instructions for your fryer. While you can get away with not reading the instruction manual for your espresso maker, this isn't the same. Those instructions will no doubt reinforce this, but it can't be stated enough–set up the fryer outside on a flat, flame-retardant surface. Think concrete.
Do not–we repeat, do not–even consider frying in your house, garage, or even on your porch. In fact, set it up at least 10 feet from your home, your garage, your fences, or anything else you treasure and don't wish to see go up in flames. (Just saying.)
If using a gas fryer, position the gas tank at least 2 or 3 feet from the fryer, preferably more. And the fryer must, must, must be situated so that the wind will carry the heat that emanates from the fryer away from the tank, not toward it.
Now have fun. And give thanks.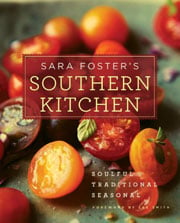 Nutrition
Serving:
1
portion
Calories:
1111
kcal
Carbohydrates:
1
g
Protein:
105
g
Fat:
76
g
Saturated Fat:
15
g
Polyunsaturated Fat:
23
g
Monounsaturated Fat:
31
g
Trans Fat:
0.3
g
Cholesterol:
348
mg
Sodium:
542
mg
Potassium:
1116
mg
Fiber:
0.5
g
Sugar:
0.5
g
Vitamin A:
964
IU
Vitamin C:
1
mg
Calcium:
56
mg
Iron:
4
mg
Nutrition information is automatically calculated, so should only be used as an approximation.
Recipe © 2011 Sara Foster. Photo © 2011 Peter Frank Edwards. All rights reserved.
---
Recipe Testers' Reviews
Deep-frying a turkey is a very unique experience. If you have the chance, visit someone who's done it before, so you have the benefit of experience. The finished turkey tasted as good as it looked! It had a clean flavor hinting of the deep-frying treatment, and a nicely browned and crisp skin.
There seems to be some fundamental differences between electric and gas fryers. It took close to 1 hour with my electric fryer to get the turkey cooked. There was very little splatter and no flare-ups. I mixed equal portions of fresh ground black pepper and sea salt to season the turkey. I would suggest a minimum of one tablespoon, but if you start with two tablespoons, there should be plenty, with a bit left over. The amount of cayenne had me concerned, but there really wasn't much heat to the skin and definitely none in the meat. The white meat was just a tad on the dry side, but the dark meat was quite moist. My thermometer registered between 160 and 180, depending on where I stuck it — difficult to gauge through bubbling oil. So it may have overcooked a bit. There was no greasiness to the meat at all. I can say the roast is very "pick-able" — I had to force myself away from the table to avoid overeating! My 12-pound turkey would probably serve eight people, but there'd better be a lot of other fixin's on the table if it's going to serve 12.