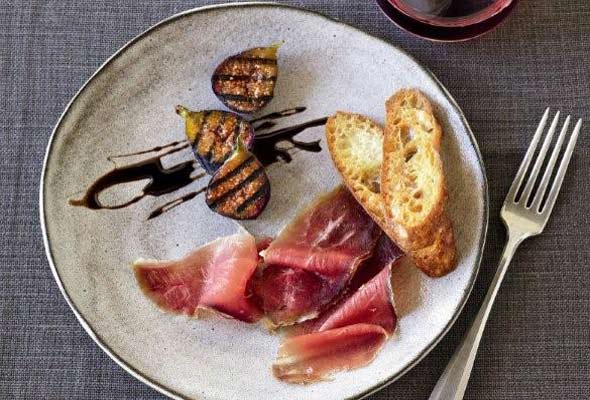 This duck prosciutto recipe began with my realization that what makes ham taste like itself has less to do with the meat than its cure. My quest for kosher prosciutto—nothing less!—led me first to smoked turkey leg, which is hammy all right, but hardly like the Italian specialty. I went to work, and, happily, scored a triple bull's-eye by giving duck breast a really easy salt cure—just fifteen minutes of prep followed by a "set-it-and-forget-it" refrigerator stay. The resulting "prosciutto" is so much like the real thing, but with a special character all its own, you'll be amazed. Try it draped atop sliced melon, wrapped around asparagus spears, or diced and sautéed as a salad garnish.–Geila Hocherman and Arthur Boehm
LC Ducking Duct Tape Note
Glance at this unassuming duck prosciutto recipe, and you may notice something rather unusual, aside from the fact that it calls for making prosciutto out of duck rather than pig. Yup. It relies on that handy dandy, every man's favorite tool kit mainstay, duct tape. Not as an ingredient, as a means of hoisting the duck from the top of the refrigerator where it needs to dangle for a couple of weeks. If you're not the duck, er, duct tape type, you can follow the inspired lead of one of our recipe testers, Jo Ann Brown. When Brown was getting ready to hang the meat in the fridge, she sent her husband out to find, in her words, "a super duper suction cup with a hook to hang the meat from." Not only did he find what she wanted, he brought back two. What a keeper!
Duck Prosciutto
Quick Glance
15 M
15 M

Serves 4
Print Recipe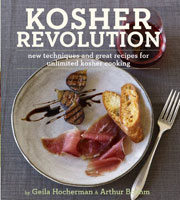 Ingredients
One 6 or 8 ounce duck breast

4 cups kosher salt

1/2 teaspoon ground coriander

1/2 teaspoon ground fennel

1/2 teaspoon freshly ground black pepper

1 cup white wine vinegar

1 medium cantaloupe, galia or honeydew melon, rind removed, sliced 1-inch thick, or several figs (optional)
Directions
1. To make the duck prosciutto, rinse the breast and dry it with paper towels. Scrounge through your cupboards until you find a dish just large enough to hold the duck breast. Make a 1-inch bed of salt on said dish. Place the breast on the salt and cover it with another inch of salt. Cover the entire situation with plastic wrap and refrigerate for 24 to 48 hours.

2. In a small bowl, combine the coriander, fennel, and pepper. Unwrap the duck breast and, holding it over the sink, rinse it with the vinegar to remove the salt and then rinse it under cold running water. Pat the duck breast completely dry and then rub it all over with the spice mixture.

3. Wrap the breast in cheesecloth and knot the cloth at both ends. Using sturdy household tape (duct tape works well), attach one end of the cheesecloth to the top of the refrigerator interior or hang the breast from a high refrigerator shelf. Place a small rimmed plate or dish beneath it. Let the duck cure until it feels firm but not dry, about 2 weeks. Thinner or smaller breasts will take less time. Start checking after a week or so.

4. Using a sharp carving knife, slice the duck prosciutto paper thin or as thin as possible. Drape ribbons of the prosciutto onto a plate and serve with the melon or figs. (The very ends of the cured breast will be quite dry. Save them for flavoring soup.)
Duck Prosciutto Recipe © 2011 Geila Hocherman and Arthur Boehm. Photo © 2011 Antonis Achilleos. All rights reserved. All recipes and photos used with permission of the publisher.
If you make this recipe, snap a photo and hashtag it #LeitesCulinaria. We'd love to see your creations on Instagram, Facebook, and Twitter.