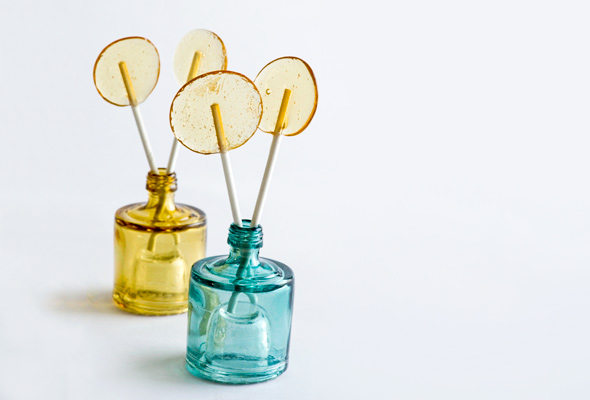 Beautifully presented lollipops in an array of flavors make a creative gift for a liquor aficionado. While these lollipops are quick to make, you need to wait a day for their flavor to develop–the subtle and intriguing results are worth it. Lollipop molds make the process quicker, but you can also use a baking sheet and silicone mat instead.–Nina Wanat
LC Our Wish List Note
We just added these subtly flavored lovelies to our Christmas wish list. If anyone needs our mailing address, just email us.
Liquor Lollipops
Quick Glance
20 M
20 M

Makes 16
Special Equipment: Lollipop molds or a silicone baking mat, lollipop sticks (available online or at specialty stores), pastry brush, candy or deep-fry thermometer.
Print Recipe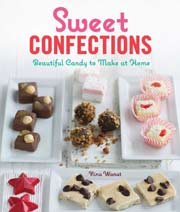 Ingredients
1/4 cup plus 1 teaspoon hard liquor, such as bourbon, tequila, or rum

2 tablespoons cold water

3/4 cup sugar

3 tablespoons corn syrup

1/8 teaspoon kosher salt

1/4 teaspoon food coloring of your choice (optional)
Directions
1. If you don't have lollipop molds, place a silicone mat on a baking sheet.

2. Mix together 1/4 cup of the liquor, and the water, sugar, corn syrup, and salt in a 1- or 2-quart saucepan until all of the sugar is wet. If sugar crystals cling to the sides of the pan, dissolve them away with a wet pastry brush.

3. Bring the mixture to a boil over medium heat, stirring occasionally and gently with a heatproof spatula until all of the sugar is dissolved. Then boil to 300°F (149°C) without stirring.

4. Remove from the heat, and, working quickly, mix in the remaining 1 teaspoon liquor and food coloring, if using. Still working with haste, drop the syrup into either lollipop molds or onto a silicone mat.

If using lollipop molds, quickly drop the syrup from the tip of a large spoon into the cavities of the lollipop molds. Place a lollipop stick in the center of each disk, and twist it 180 degrees so that it's fully covered in syrup. Let cool completely.

If using a silicone mat, quickly drop the syrup onto the silicone mat so that it forms 2-inch disks and immediately after plopping the syrup on the sheets place a lollipop stick in the center of each disk and twist it 180 degrees so that it's fully covered in syrup. Let cool completely.

5. Peel the lollipops from the molds or silicone and store in an airtight container, preferably at least overnight to allow the flavors to develop, until ready to indulge.
Recipe Testers Reviews

Liquor Lollipops — love this idea. The liquor lollipops make me think of a grown-up treat, like Jello shots, which is fitting as we have a 21st birthday in the house this week. I could have gone overboard on the different varieties to make up after raiding the liquor cabinet, but I settled on making one pop with tequila with a little fresh lime added; I also used green food coloring. These came out very flavorful, but also tasted the most of alcohol. I also made a peach-flavored vodka, and I added one tablespoon of peach schnapps as the kicker after cooking (and yellow and red food coloring that came out a perfect peachy color) which came out delicious. In all these were a tasty and unique homemade treat that was easy to put together and very simple to clean up — my idea of a good recipe. Only, I have a toothache today — wonder why?

This was my first excursion into candy making, and what an adventure it was. Because I had never tried to make candy before, I had no equipment. This gave me an opportunity to go to the local kitchen shop and browse through their candy-making supplies. While there, I picked up a candy thermometer (a must), a silicone candy tray (I could not find lollipop molds), and some lollipop sticks. I measured all the ingredients into my pan and clipped the thermometer on the side of the saucepan. Getting to the required 300 degrees seemed to take a while, so I decided to go and accomplish some other task. This was a big mistake. Within moments, my kitchen was filled with smoke and my saucepan had bubbling black goo in it (not a fun clean-up job). At this point, I decided to calibrate my candy thermometer. While doing this, it became apparent my candy thermometer did not work. It would not go much above 100 degrees – even after boiling for 10 minutes. This necessitated another trip to the kitchen store. After bringing the new candy thermometer home, I began again (calibrating this one first – it worked). It only took a few minutes for the temperature to rise to 300 degrees. I pulled the sugar mixture off the heat and poured into my candy molds. I then placed the lollipop sticks into the molds and gave them the 180 turn. To my surprise, my sticks began to fall over. It was then that I realized I was making lollipops, not suckers. I found a way to get the sticks to sit-up somewhat straight and waited for the lollipops to cool. While their appearance gave us all a giggle, the pops themselves are delicious. The texture is smooth, and the taste was so good. All of this to say, if I could mess the recipe so badly and still have a tasty product result, it is a keeper. I think these lollipops (made correctly next time) will make excellent gifts. My suggestions? One: Calibrate the candy thermometer first. Two: Do not leave unattended. Three: Find lollipop molds and use them.
Liquor Lollipops Recipe © 2011 Nina Wanat. Photo © 2011 Diane Cu | Todd Porter. All rights reserved. All materials used with permission.
If you make this recipe, snap a photo and hashtag it #LeitesCulinaria. We'd love to see your creations on Instagram, Facebook, and Twitter.