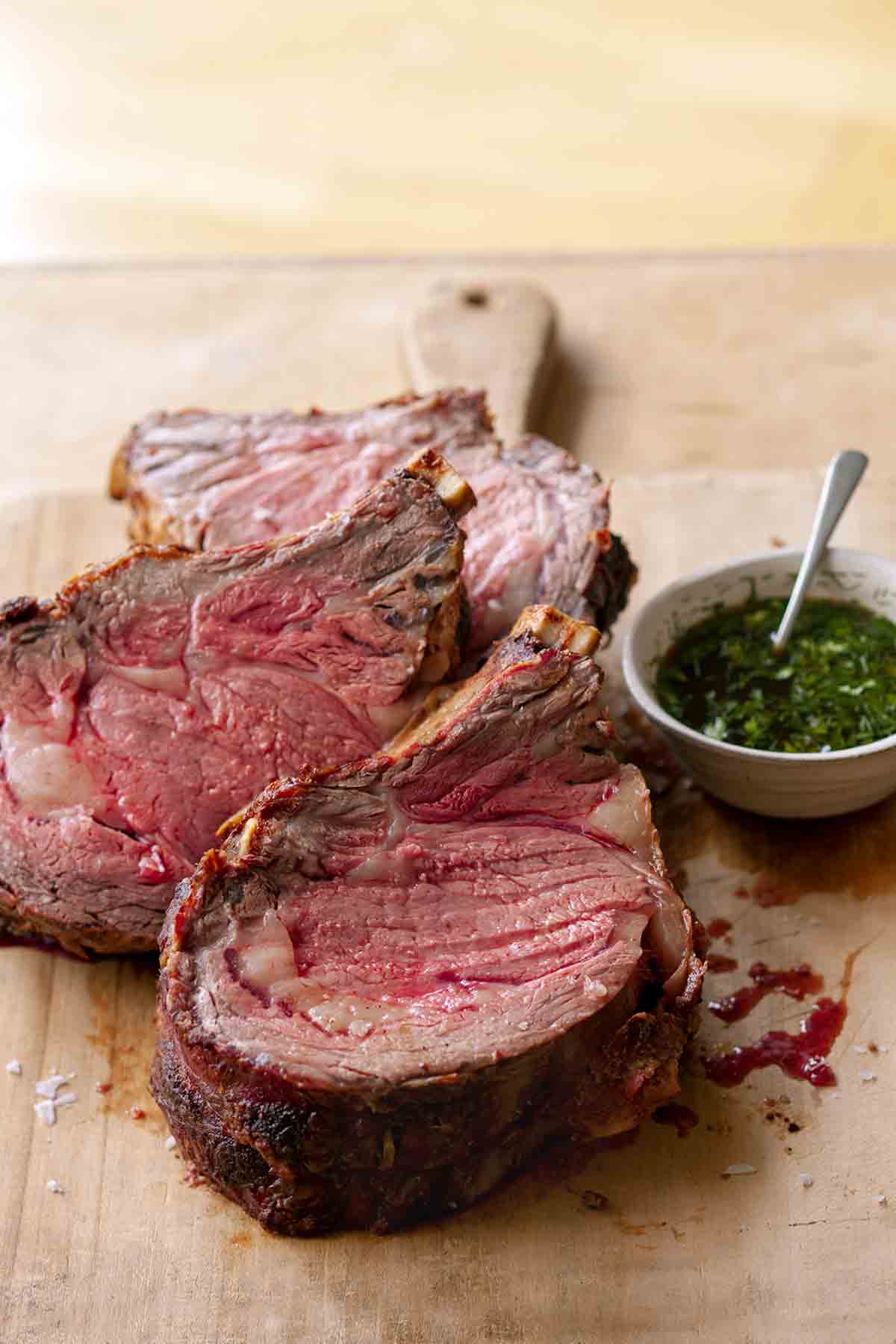 This standing rib roast is one of the most luxurious pieces of meat, often reserved for holiday dinners and other special occasions. Leftovers, in the unlikely case there are any, can be turned into exceptional sandwiches. Be sure to bring the meat to room temperature first.–Brigit Binns
Why are some cuts of beef so expensive?
It's not uncommon to spend darn near half a paycheck on a standing rib roast–a worthy investment if ever there was one. It may seem ridiculous, although the thing is, scarcity is a commodity. A cow has a lot of tougher cuts of beef that can be made into burgers but the tender, succulent bits like rib roast take up far less real estate, and that's what you're paying for. With that much money at play, you don't want to goof around with iffy cooking techniques. This recipe calls for a rather ingenious–and darn near goofproof–approach that's certain to yield exactly your idea of perfection, whether rare, medium-rare, or something a wee less bloody.
Standing Rib Roast with Jus
A standing rib roast with jus is an absolute show-stopping dinner. And not to mention the parsley and dill-infused herbaceous jus that'll make you the toast of your social circle. Seriously, get ready to be a hero.
Ingredients
For the standing rib roast
One

(11-pound)

standing rib roast with 5 or 6 ribs

, patted dry and frenched, if desired

4

large

garlic cloves

,

cut into thin slivers

2

tablespoons (1 oz)

salted butter

,

melted, or grapeseed oil

Kosher salt and freshly ground black pepper

Flour for dusting
For the jus
1 1/4

cups

homemade beef or veal stock

2

teaspoons

flat-leaf parsley leaves

,

minced

2

teaspoons

dill leaves

,

minced

Kosher salt and freshly ground black pepper
Instructions
Make the standing rib roast
Pat the meat dry. Place the roast, fatty side up, in a large roasting pan. Drape it with paper towels and let stand at room temperature for 2 hours.

Preheat the oven to 500°F (260°C). Make sure to let it preheat for about 30 minutes.

Using the tip of a sharp knife, cut 10 to 15 small slits all over the roast. Insert the garlic slivers in the slits far enough so they do not protrude beyond the surface of the meat. Let it stand while the oven preheats.

Brush the meat all over with the butter or oil and season generously with salt. Place the pan in the center of the oven. Roast for 7 minutes per pound if using an electric oven, 6 minutes per pound if using a gas oven. Turn off the oven. Let the roast rest in the oven, without opening the door, for 2 hours. Take note of the internal temperature of the roast, inserting a thermometer into a cut side of the roast as close to the center as possible. This is very important. Then pour off any juices that have pooled in the pan and reserve.

Remove the roast from the oven. If you like your beef bloody rare, it's probably ready now. If you like your beef anything but absolutely rare, sprinkle the top of the meat with a generous grinding of pepper and dust lightly with flour. Let it set at room temperature while you preheat the oven to 500°F (260°C).

When the temperature is reached, place the roast in the oven for 5 to 25 minutes, depending on the internal temperature you noted at the end of the resting period and how well done you like your roast. If the internal temperature was 125°F (52°C), warm the meat for 15 minutes; if it was 115°F (46°C) or so, warm it for 20 to 25 minutes. If after 10 minutes the pan drippings smell as if they are burning, reduce the oven temperature to 450°F (230°C).

Transfer the roast to a platter, tent loosely with aluminum foil, and let rest for 15 minutes.
Make the jus
Meanwhile, in a small saucepan, combine the stock, parsley, and dill over medium-low heat and warm just until the liquid is steaming. If desired, stir in the reserved juices from the roasting pan. Taste and adjust the seasonings with salt and pepper.

Carve the rib roast crosswise between the bones for large, bone-in serving pieces (as shown in the photo above). Or, cut the roast crosswise into thick or thin boneless slices. Serve at once, with the herbed jus on the side.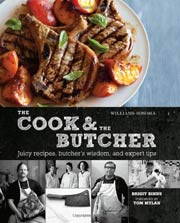 Nutrition
Serving:
1
portion
Calories:
1216
kcal
Carbohydrates:
1
g
Protein:
55
g
Fat:
108
g
Saturated Fat:
46
g
Polyunsaturated Fat:
4
g
Monounsaturated Fat:
47
g
Trans Fat:
0.1
g
Cholesterol:
248
mg
Sodium:
274
mg
Potassium:
953
mg
Fiber:
0.03
g
Sugar:
0.2
g
Vitamin A:
92
IU
Vitamin C:
1
mg
Calcium:
37
mg
Iron:
6
mg
Nutrition information is automatically calculated, so should only be used as an approximation.
Recipe © 2011 Brigit Binns. Photo © 2011 Kate Sears. All rights reserved.
---
Recipe Testers' Reviews
I rarely make a standing rib roast at home. The reason for that is I am always afraid of overcooking it and ruining an expensive piece of meat. When I saw this recipe, I was drawn to the cooking method as it seemed to be a foolproof recipe and it was. The simple seasoning for this roast was perfect. My husband thought it was better than any he had eaten at restaurants. If you're looking for an impressive meal with little chance of failure, this is your recipe.
I used my gas oven to cook the roast and the timing per pound was perfect. After it sat in the turned-off oven for 2 hours, it was rare. I prefer a medium-rare roast and baked it for another 15 minutes after preheating the oven to 500°F. It was done perfectly.
I used beef stock and added the reserved pan juices from the roasting pan. I didn't strain enough fat off before adding the pan juices and I didn't like the flavor the additional fat added. Next time, I'll do a better job of straining the fat off of the pan juices.
My mother has cooked the best prime rib for Christmas for the last 30-plus years, so I wasn't going to try a new recipe. I showed her this one while she was visiting for Thanksgiving, and she said, "Oh, that looks so much like mine, but even better." Sold—I had to try it.
I have to admit I made one mistake—which was a big one. The recipe calls for a five- or six-rib roast, and 11 pounds, but I was so focused on the other parts of the recipe that I didn't check this. Mine was seven ribs and 13.4 pounds, according to the package. The timing was still perfect for us. We like it very red-rare, and all our guests cleaned their plates with smiles and rave reviews.
The jus was nice but almost not needed. I also made a sour cream, dijon and horseradish sauce that people usually love, but my personal favorite was just the prime beef — perfect. We had very little left over, but it was still wonderful heated the next day and served in small rolls with the jus for dipping — they went so fast I didn't get to try one, but I heard they were wonderful and the meat was amazing.