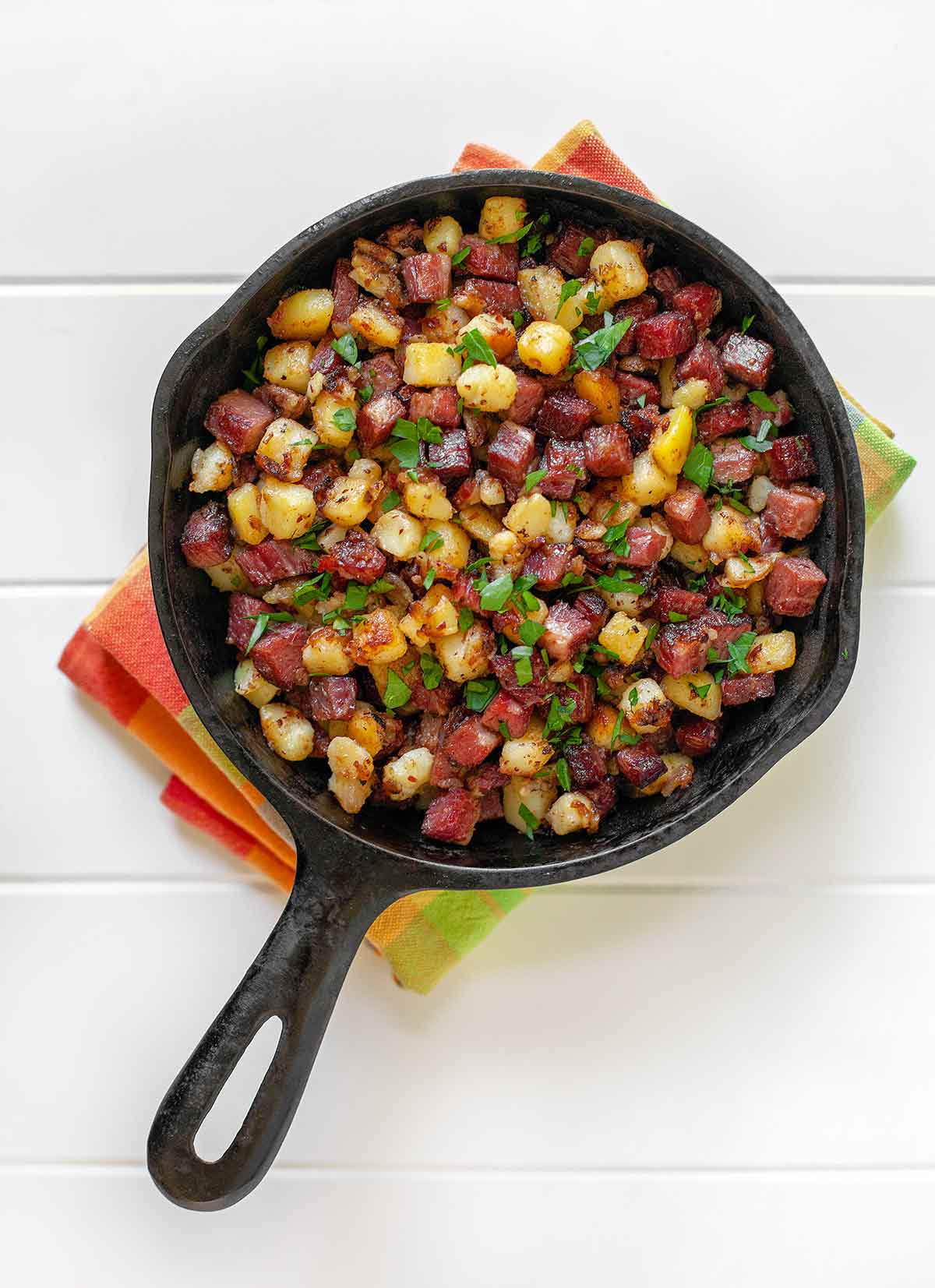 As part of his wooing ritual way back in 1994, The One lured me up to his country house, in Barryville, New York, one weekend. The blush was very much on the rose back then. It was a time when I learned something new about my inamorato almost daily—such as how, on Saturdays, he would sun himself until he was the color of a number-two eraser (a practice cut short by skin cancer); how he's constitutionally unable to lie; and how he simply must drive whenever he's in a car, no matter whose it is. (Control issues, anyone?)
One Sunday morning, as I sat cross-legged at the kitchen table, all moony-eyed as he prepared breakfast, The One rifled through the cupboard and pulled out a can. He cranked open the lid, wrapped both hands around the inverted can, and pumped it up and down over the skillet as if he were pile driving a wooden post into the ground. On the third try, it happened—the long, slow can fart as the contents loosened and plopped into the pan. There it sat, a giant plug of gelatinous substance, the tin can's bands embossed around its middle.
"What's that?"
"Corned beef hash."
Not even a mutt with a rib cage like a xylophone would be tempted by that. "You eat that?" I grabbed a fork and began mashing it down in the skillet.
"Yes," he said, looking at me as if l'd insulted the dowager queen. He explained that corned beef hash was a staple of his father's family, who live in Pennsylvania Dutch country, where weekends mean hash.
When I was growing up, corned beef hash and other such delights of delis and diners never crossed our threshold. It's not that Momma Leite was anti-delicatessen in the least. She cooked what she knew, and what she knew was Portuguese. Corned beef hash was so foreign to our table that I'd actually thought it was called "torned beef hash" because of the small chunks of meat.
The One slid a plate with a mound of the stuff, along with two eggs, in front of me. It was now his turn to moon. He watched, waiting for me to take a bite. I took a forkful, wondering if Dinty Moore is owned by Alpo, and manned up. I mostly tasted salt with a slight tang. The meat had no integrity, no muscle. But I knew the act of eating it somehow closed a circle that started at that table, looped around Freeburg, Pennsylvania, and returned to The One. Regardless, for years after that I stayed away from corned beef hash, passing over it on diner menus and choosing instead as accompaniments to my eggs a side of bacon, sausage, or steak—meats that cut a fine figure on the plate rather than sitting slouched over in a pile.
What's curious, though, is corned beef itself is another story. When I moved to New York, I was introduced to Reuben, of the Lower East Side Reubens, and had a dalliance so consuming, so enraptured, that had I been dating someone at the time, I would've surely felt the prickles of infidelity on the back of my neck. But the life span of these kinds of passions are brief, and I eventually grew weary and moved on to other heroes of Second Avenue delis.
Recently, the urge returned, and Reuben came a-knocking. By now I knew I could make my own—-the sandwich, the bread, and the meat. For some reason, I'd long thought that corning was a process that could only be accomplished by a rabbi of considerable girth presiding over large wooden barrels hidden in the bowels of a deli. When I went on my own beef corning-bender, I churned out slab after slab of meaty pink striations. (No, sir, I ain't 'fraid of no nitrates.) But despite my legendary Fatty Daddy appetite, there are only so many sandwiches I can consume before monotony once again descends.
That's when The One chimed in: "Why not make corned beef hash?"
Recalling that gelatinous tower belly-dancing in the pan, I decided I'd be damned if I couldn't build a bigger, better, more manly-man version. Into the kitchen I stepped, and there on the cutting board and in the skillet, not only did I succeed in giving corned beef hash the cojones it deserves, I closed another circle—ours, this time. A circle that began in that other kitchen all those Saturdays ago, when Buddig turkey, Burger King, and Betty Crocker dominated, and when a can stuffed with food of questionable origins served as an unlikely aphrodisiac.
ox,

Manly or petite-diced potatoes? It's your choice. I prefer my corned beef hash in larger chunks, but The One is partial to smaller. Either way, you'll get a refresher course on knife skills with this corned beef hash recipe. lf you're feeling lazy on a Sunday morning (and who of us hasn't felt lazy on a Sunday morning?), you can just grate the potatoes on the large holes of a hand grater and cook them in the skillet like rösti. Once they're browned, toss in the corned beef.
*What is corned beef made out of?
This recipe turns leftovers into a luscious mess of lusciousness that starts with a big heap of corned beef. And unless you made it yourself, you might not know exactly what you're dealing with. Corned beef typically is made by salt-curing beef. Usually, it's brisket that's used, because brisket is a tough cut of meat that's pretty inexpensive but tastes so very, very good. The brine used to cook the brisket down into corned beef is not unlike a pickling liquid, which is probably why they go together so well.
Corned Beef Hash
This corned beef hash, made of potatoes, onion, butter, and corned beef, turns St. Patrick's Day leftovers into homemade lusciousness any time of day. Even if you're not Irish. Just look at me!
Ingredients
1 portion

pound

Yukon Gold or red bliss potatoes

,

cut into 1/2-inch (12-mm) dice

2

tablespoons

unsalted butter

1

medium

onion

,

cut into 1/2-inch (12-mm) dice

Kosher salt

2 to 3

cups

chopped corned beef*,

cut into 1/2-inch (12-mm) dice

Freshly ground black pepper

4 to 6

eggs

,

cooked as you like

Flat-leaf parsley leaves

,

chopped (optional)
Instructions
Bring a pot of salted water to a boil and carefully slide in the potato cubes. Cook the potatoes just until tender, about 3 minutes, checking them a few times for doneness, as the last thing you want is corned beef mush.

Meanwhile, heat the butter in a large skillet–we always use our cast-iron beauty–over medium-high heat. Scrape in the onion and a good pinch of salt and sauté, stirring occasionally, until glossy and tinged with brown, about 5 minutes.

Dump the potatoes into the skillet and cook, stirring occasionally, until browned around the edges, about 5 minutes.

Stir in the corned beef, sprinkle with a wee bit more salt and a generous grinding of pepper, and cook, stirring only occasionally, until crisp and browned. The trick here is to let the hash crisp but not burn, seeing as too much stirring or fussing will cause the potatoes to break.

Scoop the hash onto plates, top each portion with an egg, and sprinkle with parsley, if desired. Serve pronto.
Notes
How to make Corned Beef Hash Toad-in-the-Hole
If you want to fancy up this corn beef hash recipe, rather than just plonk an egg on top, you could make a hash rendition of toad in a hole. After the hash is almost completely cooked, make four holes in the hash and carefully break an egg into each. Lower the heat to medium, cover the skillet, and let the eggs set just so the yoke is runny and oh so luscious.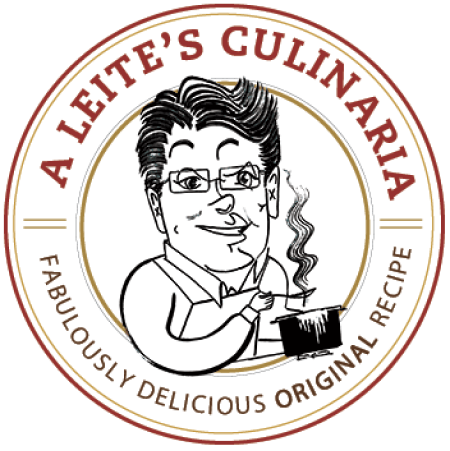 Nutrition
Serving:
1
portion
Calories:
477
kcal
Carbohydrates:
23
g
Protein:
28
g
Fat:
30
g
Saturated Fat:
11
g
Trans Fat:
1
g
Cholesterol:
324
mg
Sodium:
1552
mg
Potassium:
963
mg
Fiber:
3
g
Sugar:
2
g
Vitamin A:
535
IU
Vitamin C:
56
mg
Calcium:
67
mg
Iron:
4
mg
Nutrition information is automatically calculated, so should only be used as an approximation.
Recipe © 2013 David Leite. Photos © 2013 David Leite. All rights reserved.
---
This post is part of Twinkl's VE Day Campaign, and is featured in their Best Wartime Recipes to Celebrate VE Day from Home post.
Recipe Testers' Reviews
For St. Patrick's Day this year, I decided to make corned beef from "scratch" using the recipe on the site. (It's a good one.) One of the best things about corned beef, to me, is being able to make corned beef hash with the leftovers. This corned beef hash recipe is exactly what I did with most of the corned beef that I made. It was brunch one day, breakfast another, and lunch a few days later.
I cut my potatoes into 1/2- to 3/4-inch pieces. My corned beef was cut into 1/2-inch pieces. I poached eggs to go on top of the corned beef. The oozy yolks dribbled down through the pile of crisp potatoes and corned beef. So simple and so very good.
And a really big plus—no need to get up, get dressed, put your name on a waiting list, and stand in line at the local or latest "in spot." You can make at home what you were going to get there, and you will probably be using much better ingredients. All in the comfort of your own home.