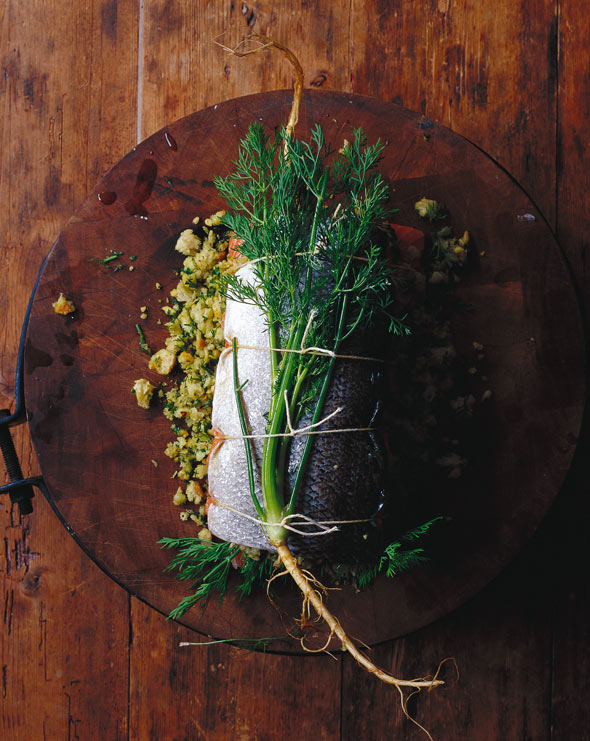 This is a stuffed side of salmon rather than a whole stuffed fish, and it's lovely. I made it for my wife, Johanne, on Mother's Day and served it with a peppery watercress and potato salad. She loved it so much she wanted it again for her birthday two weeks later.–Guy Mirabella
LC Salmon Skin Serenity Note
A superlatively sumptuous, stupendously simple side of salmon. No swimming upstream with this easy peasy yet impressive recipe. But You've not truly lived—not sumptuously, anyways—until you've indulged in crisped salmon skin. That's right—skin. The uber-crisped, ocean-y riff on a pork rind tastes even better than its piggy counterpart as there's still some supple, vibrant salmon clinging to the underside of the skin. Go ahead. Take a nibble as you transfer the fish from pan to platter. We'll never tell. One last boon to this recipe is it makes ample servings for you to take some to work the next day. It's lovely cold, so although you'll have to set aside that soggy skin, you'll spare your colleagues the stench of fish reheated in a microwave. Trust us. It's better this way. For everyone.
Herb-Stuffed Baked Salmon Recipe
Quick Glance
25 M
1 H

Serves 8
Ingredients
2

thick slices

sourdough bread

, torn into chunks

1/2

cup

pine nuts

1

garlic clove

, chopped

Handful

mixed fresh herbs

, such as parsley, oregano, and thyme leaves, chopped

Pinch

dried chile flakes

One

3- to 4-pound

side of wild salmon

, skin on, pin bones removed

1/3

cup

olive oil

, plus more for the roasting pan

Salt and freshly ground black pepper

1

bunch

dill

2

large

lemons

, thinly sliced
Directions
1. Preheat the oven to 350°F (176°C).

2. Combine the sourdough bread, pine nuts, garlic, mixed fresh herbs, and chile flakes in a food processor and blend until you end up with coarse breadcrumbs.

3. Wash the salmon and pat it dry. Trim the thin ends and sides to create a neat rectangular shape, reserving the scraps for another dish such as pasta or salad. Rub the salmon skin and flesh with the oil, salt, and pepper. Cut the rectangle in half to create 2 squarish pieces.

4. Place 4 lengths of kitchen string (each about 18 inches) on a work surface perpendicular to you and parallel to one another, spacing them about 2 inches apart. Place half the dill sprigs on the strings, placing the dill perpendicular to the strings. Place a square of salmon on the dill, skin-side down. Place a quarter of the lemon slices along the center of the salmon and then press the breadcrumb mixture onto the lemon and salmon. Make another row with 1/3 of the remaining lemon slices along the top of the breadcrumb mixture. Place the other square of salmon on top, skin-side up, placing the thick end of the top piece over the thin end of the bottom piece so you get a roughly even thickness all over.

5. Cover the salmon with the remaining dill sprigs and tie the strings, securing the salmon squares together. Don't tie the salmon too tightly. You want it just secure enough to hold everything in place.

6. Generously oil a roasting pan just large enough to hold the salmon. Arrange the rest of the lemon slices in the pan and place the stuffed salmon on top of them. Bake for 30 to 35 minutes if you like the thicker parts of the salmon to be a little rare in the middle. If you don't like it this rare, cook it for a little longer. Let the salmon rest for 5 minutes, then transfer it to a serving platter and cut the strings. Slice the salmon with a sharp knife-it will fall apart as you do so-and make sure you scoop up ample stuffing and lemon with each slice that you serve.
Hungry for more?
Chow down on these:
Herb-Stuffed Baked Salmon Recipe © 2009 Guy Mirabella. Photo © 2009 Earl Carter. All rights reserved.
Hey, there. Just a reminder that all our content is copyright protected. Like a photo? Please don't use it without our written permission. Like a recipe? Kindly contact the publisher listed above for permission before you post it (that's what we did) and rewrite it in your own words. That's the law, kids. And don't forget to link back to this page, where you found it. Thanks!